Your kid has grown out of electric dirt bikes and now you are thinking of getting them an actual one. Or, you're a beginner in riding bikes who is not a fan of heavyweights. But, which one to choose? It's often a tough call.
If you are looking for an affordable and good enough bike to get, the Apollo DB-X18 125cc dirt bike can be considered as one of the best there is.
In this Apollo 125cc dirt bike review, I'll be providing you with the information on this bike to help you out with your research. Let's go deep then, shall we?
Introducing Apollo DB-X18
Being an ideal ride for learners, Apollo DB-X18 125cc dirt bike offers a strongly built frame, enough brake, and suspension for safety, and 55mph speed with 4-gears for the thrill! And the design of the bike is eye-catching and comes in three colors, so you can choose your favorite color.
Not only that, the engine that the bike runs on has an air-cooled feature that keeps it cool and prevents any mischance that might occur on the go. For a gas-run dirt bike, Apollo DB-X18 is quite easy to use and exceptional in design.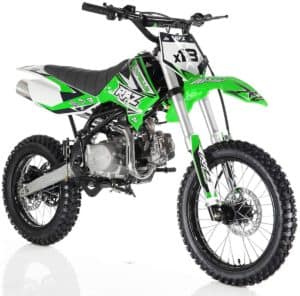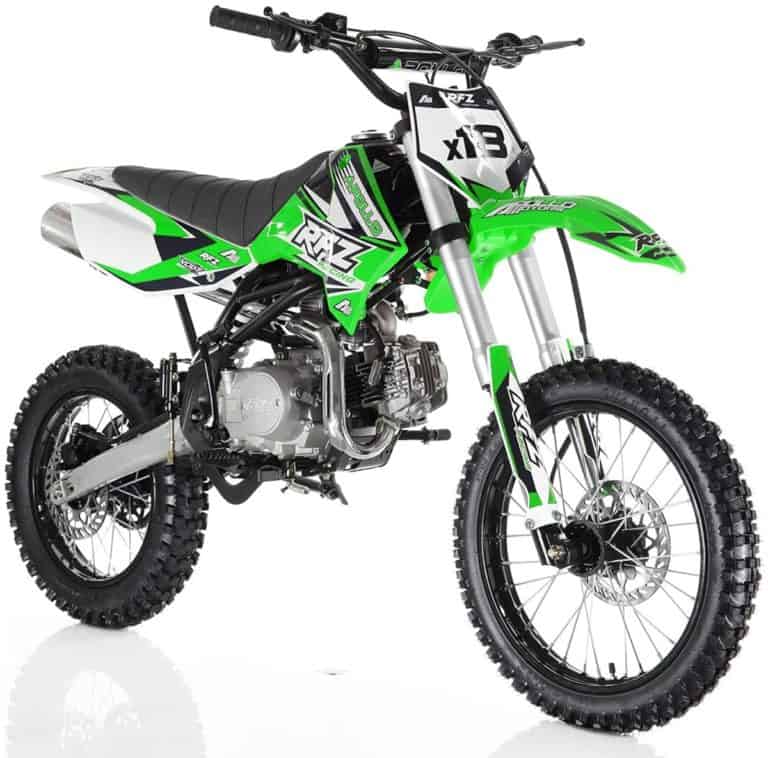 Who is this product for?
Apollo DB-X18 is the ultimate beginner dirt bike perfect for teenagers to adults. The bike has a weight capacity of 220lbs and anyone over 5'2" can ride the bike very easily. It is actually a good enough and cost-effective dirt bike to start your dirt bike journey.
Problems you might face
1. Tricky Assembling
Assembling the bike can be an issue. If you are into motorbike maintenance, this should not be a problem. But if you are not, assembling the handlebar, the front wheel and the rear shock may take more time.
2. Carburetor
Many users have complained about the carburetor on this model that it does not do its job well. The carburetor is not as efficient as those on other similar bikes, but you can always replace it with a better one and enjoy it to the fullest.
Pros and Cons of Apollo DB-X18
Things We Liked About It
Lightweight
4-speed clutch
Makes less noise
Beginner-friendly
Excellent fuel economy
Sturdy construction
Air-cooled 4-stroke engine
C.D.I. starting system
Things We Didn't Like
Not good for racing
Inefficient Carburetor
Unsecured engine and transmission
Apollo DB-X18 125cc Dirt bike review: Features and benefits
Before deciding on Apollo DB-X18, let's look into some of the features and see if these are the functions that you are looking for in a dirt bike. So, let's dig in.
1. Air-cooled Super Engine
A motorcycle's horsepower or cylinder capacity (cc) determines how heavy or light it can be. Before buying a bike, it is the most important thing that you need to consider. Apollo DB-X18 comes with an engine with 125cc volume, which makes the bike lighter in the weight scale.
The gasoline-run engine itself is quite powerful to take you on long runs. But restrain yourself from racing on this bike. The DB-X18 is strong enough to train, but not as strong to be used as a racing bike because the wheels are not the ones to take the stress that racing imposes.
For lower cc volume, this dirt bike covers up to 55mph of smooth and fast ride, and is very efficient in lower fuel consumption. Also, this particular bike offers a maximum power of 7500 rpm/6.5 kW.
Another amazing feature of this model is the air-cooled system. This feature is super effective for keeping the engine cool so that the engine does its term without any interference.
2. Four-speed manual clutch
This amazing bike performs its operation with the help of four gears that are installed in it. Each gear covers up to 15mph, meaning 45mph in total.
The gears do speed up the bike, but the speed may vary in rough terrains and the rider's weight.
3. Sturdy Structure
Apollo DB-X18 has a body made out of high-quality and heavy-duty twin Spare steel frame, which makes it both lightweight and strong. The seat height is 32.28" and can carry riders weighing up to 220lbs. The bike's measurements are 65"x32.2×43" (L x W x H) and weighs only a little over 80kg.
Being lightweight, the Apollo DB-X18 is super easy to control, and a sturdy, petite bike perfect for off-road adventure.
4. Safety
The bike comes with a hydraulic braking system on the front and back that allows the bike to be handled easily in tough and complicated conditions- means you can bring the bike to a complete stop whenever you need. They are well-functioning brakes and can be controlled by both hands and feet.
The suspension on DB-X18 is really cool! The front and rear non-adjustable suspensions measure 760mm and 320mm respectively, which allows the rider to have a pretty smooth ride.
5. Wheels and more
The 17" front and 14" rear wheels are placed on a cool 49.6" wheelbase. The wheelbase actually delivers great stability and speed to the bike. Also, it enables the bike to turn better but can make it edgy.
The tires have big knobs that allow the bike to maintain a hard grip in different terrains. They are made with high-quality rubber and are reasonably durable.
Apollo DB-X18 doesn't produce large noises even on rough and bumpy trails. So, riding on it is peaceful for both the rider and other riders around.
Frequently asked questions
Can you Race on Apollo DB-X18?
Racing is not recommended using this bike. The wheels are not strong enough to take the stress developed while racing. But you can expect to train and go for a long run smoothly from this bike.
How fast can Apollo DB-X18 get?
The bike can reach up to 55mph with a lightweight rider. But the bike should speed fine with any rider of its weight capacity.
Is Apollo DB-X18 kid-friendly?
The bike is mainly targeted at adults but can be used by teens with a minimum of 5.2" height.
Is the bike compatible to do a wheelie?
It is not the great option to do so, but Apollo DB-X18 can be used to learn and practice wheelie.
Let the adventure begin with the Apollo 125cc!
If you ask me, Apollo DB-X18 is a great bike for those who haven't mastered speed control. It is reliable, sturdy, safe, and easy to maintain. Also, it is much more on the affordable side.
Hope this Apollo 125cc dirt bike review has provided you with enough information for your research before buying one, and also believe that with the help from this review, you'll see why this bike is the ultimate choice as a beginner bike. Have fun!