Following the complicated and outdated style of carrying a motorcycle or dirt bike may harm your expensive bike. Yes, transporting a dirt bike using a trail can be a solution, but why should you spend money on an expensive trail if you can do the same thing using one of the best dirt bike hitch carriers?
Allow us to review some of the big names of the motorcycle hitch carrier. So, stay tuned and calmly decide the most suitable option for your next tour.
What Is A Dirt Bike Hitch Carrier?
Hitch carriers are vehicle loading equipment that attach themselves on the back of a vehicle, or sometimes the front; using a 2″ receiver. A dirt bike hitch carrier will pick up your motocross machine and transport it wherever you want to with minimal effort.
Dirt bikes are generally heavy, so you'll need a Class III/IV hitch to haul them wherever you want to go. Overall, it's a great tool to have, you can move multiple dirt bikes together all by yourself!
Top 10 Best Dirt Bike Hitch Carrier Reviews
There are hundreds of motorcycle hitch carriers with lots of advantages and disadvantages. It would be a tough task for you to pick one among so many options. That's why I've narrowed down the list and decided to write an in-depth review and comparison among 10 top-notch bonafide motorcycle hitch carriers.
So, without further ado, let's jump to the review section.
1. Black Widow AMC-400L Aluminum Motorcycle Hitch Carrier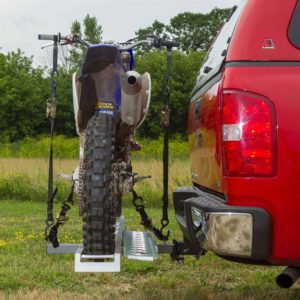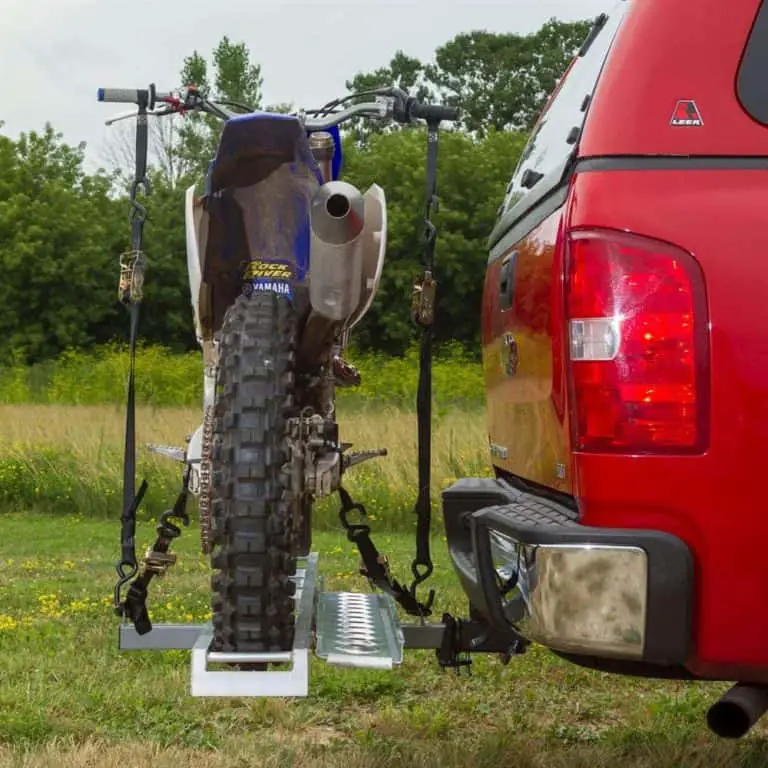 When we talk about motorcycle hitch carriers, the first name that comes across our thoughts is Black Widow. It's because the brand has offered some top-grade bike carriers to make our life easy. And, this AMC-400L carrier is one of the finest.
This extremely strong thing is made with heavy-duty Aluminum to deliver a long-lasting and durable performance. This powder sturdy construction allows the hitch carrier to withstand 400lbs of weight capacity. Despite being that robust, this guy only weighs 38 lbs. As a result, you can lift it alone to attach your car's back.
The tool is 6 ft 3.5 inches long and the ramp's length is 6 ft 1.125 inches. However, both the ramp and hitch carrier are 5 ft 5 inches wide. So, wheels having 5 ft 5 inches width can easily fit in it. The exciting thing about its self-storing ramp is that it can be attached to both sides of the carrier for bilateral roll-on and roll-off actions.
In addition to that, it comes with an anti-tilt bracket and a mini bike adapter bar. These features ensure that you can take your youngster's bike with you and both bikes will sit pretty stably in their position. This stunning equipment fits most 2-inch class III, IV receivers.
Things We Liked About It
Super easy to mount on your vehicle's backside
Can bear 400 lbs weight
Heavy-duty build quality and lightweight
Things We Didn't Like
No folding system makes it slightly difficult to store
2. TMS T-NS-MRC001 500-Pound Dirt Bike Carrier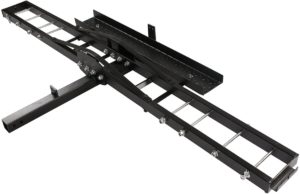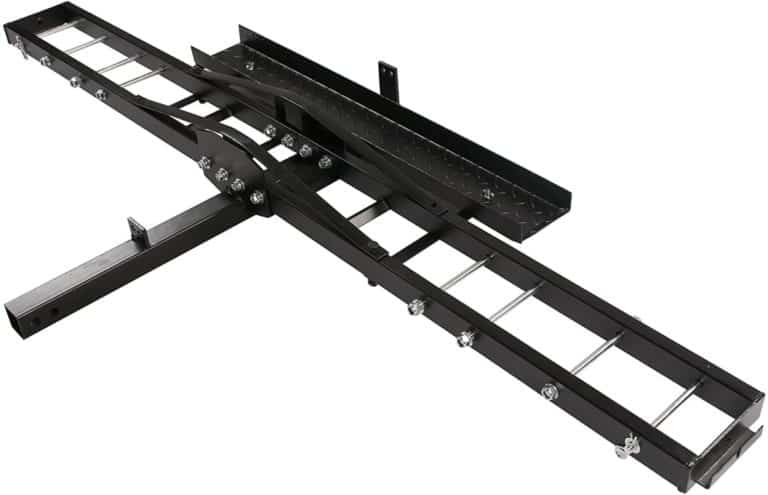 TMS motorcycle hauler makes it to our list of the best motorcycle hitch carriers because it's not just sturdy, but also lightweight compared to its competitors. The motorbike transporter is made with top-grade steel to remain intact after multiple uses. Also, the frame is powder-coated to resist scratching, wearing, fading, and chipping.
Additionally, the unit easily attaches with a 2-inch receiver of Class III to Class V vehicles. Credit goes to its anti-tilt locking device, your motorbike won't wobble during your long ride. As a result, you can concentrate more on your journey's enjoyment rather than worrying about the mounted bike.
The best thing about the TMS carrier is that its heavy-duty ramp can be connected to both ends of the rack. It makes the bike loading and unloading task super easy especially in busy parking areas. Though this ramp fits smoothly with the carrier, it's only 38.5 inches long. So, if you love a long ramp for any reason, this would disappoint you.
Moreover, you won't face any issue assembling and installing the tool. Plus, it weighs only 48 lbs which makes it super portable. Less heaviness also allows ladies to mount it on the car's back easily.
Overall, this 500lbs hauling enabled rack could be the most reliable solution for you with its rigid structure.
Things We Liked About It
Powder-coated durable steel for more robustness
Easy to set up and assemble
The ramp could be attached to both sides of the rack
Things We Didn't Like
The ramp is shorter in length which may not work properly for taller vehicles.
3. Black Widow 400 lbs Hitch-Mounted Aluminum Motorcycle Carrier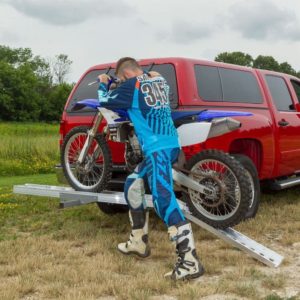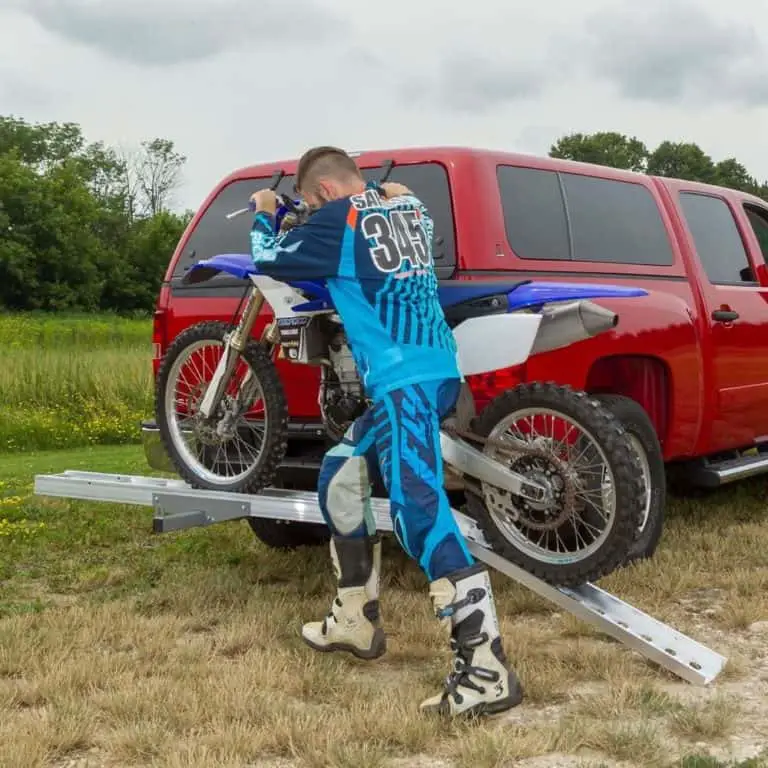 You can call this one the budget version of the first black widow carrier. Unlike the first one, which is the Black Widow AMC-400L, this is just called the AMC-400.
The AMC-400 and AMC-400L have different ramp sizes. While the 400L is 6 ft and 1.5 inches, the 400 one is just 3 ft 11 inches. In case you have a small sized bike, it'd be a smarter option to go for this one. And since a small bike won't need a large ramp, you'll be loading and unloading quickly.
Another advantage of the small ramp is that you'll be able to store it easily when you're not using it. And it's easy to carry as it weighs only 36 lbs. There is an anti-rattle device that'll help you keep the dirt bikes steady as you travel with them.
It's an absolute bargain of a carrier. If I really had to pick a flaw it'd be that the bolts aren't that strong, it's better to buy a set of new ones and changing them if you have to carry heavy bikes on a regular basis.
Things We Liked About It
Being 36 lbs only, it's easy to carry
Includes spacer bar adapter for 50-80cc dirt bikes
The ramp self stores it when not in used so it won't get lost
You can setup the ramp both on the left and right sides
4. Ecotric 500lbs Hitch Mount Rack With Loading Ramp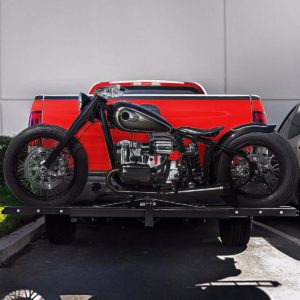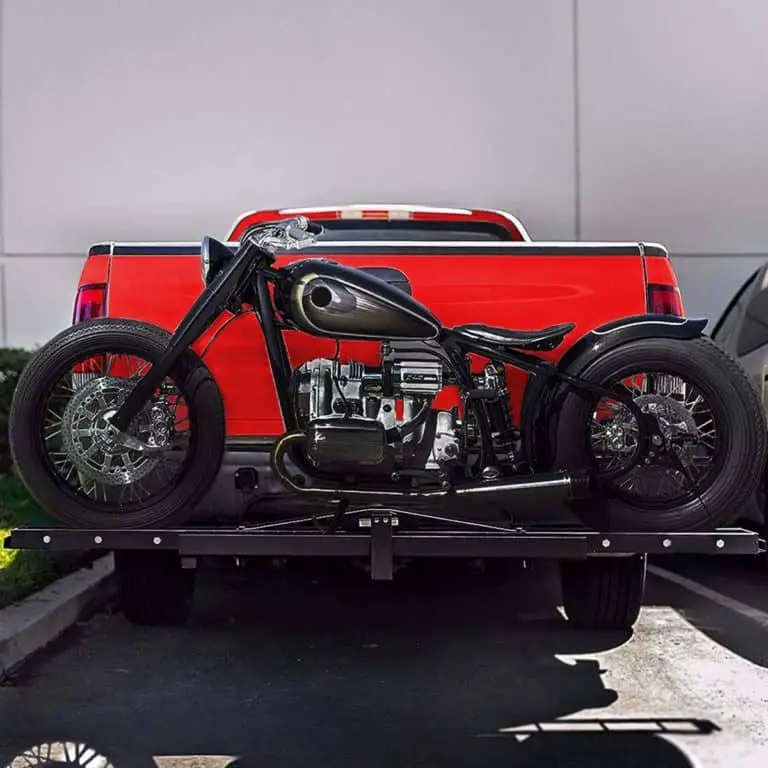 If you are looking for a dependable and professional-grade hitch-mount rack for carrying your pit bike, this Ecotric hauler could be the best hitch mount dirt bike carrier for your upcoming tour.
With a maximum hauling capacity of 500lbs, this steel-made item can effortlessly carry any heavy dirt bike, scooter, or sports bike for transporting purposes. To make the transportation stable, this 76-inch long rack comes with some well-placed holes for connecting straps.
Moreover, it is also equipped with a handy 38.5- inch ramp. You can attach this heavy-duty ramp to both sides of the rack to get hassle-free bike loading and unloading. This ramp can be easily stored near the carrier frame.
You will appreciate its compatibility with class II to Class V vehicles with a 2-inch square receiver. The robust hitch tube is 18-inch long to keep the bike far from your car's glass while transporting. The unit is also equipped with an anti-tilt locking device to prevent wobble.
Moreover, the building and installation process of the product is pretty simple and because of its lightweight nature, you would be able to mount it alone. The thing can accommodate up to 7-inch fat bike tires.
Things We Liked About It
Its hitch tube length is 18 inches
Has an Anti-tilt locking device for smooth transportation.
You can load or unload your bike from both ends of the rack
Things We Didn't Like
The shorter ramp may cause problems while mounting heavy bikes on it.
5. Goplus 600 lbs Hitch-mounted Motorcycle Carrier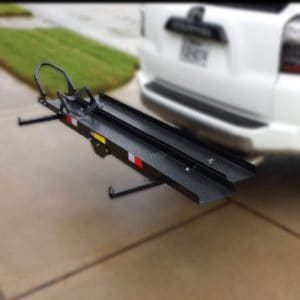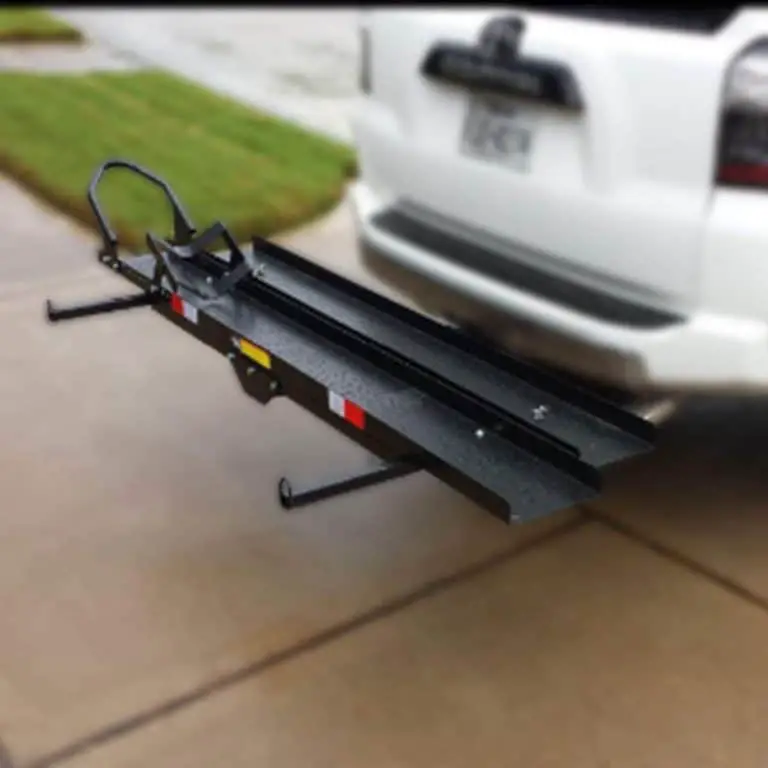 Here is another top-quality motorcycle hauler and it is manufactured by Goplus. This hitch-mounted carrier comes with a super-firm loading and unloading ramp. As this thing is crafted with robust steel, it demonstrates supreme toughness and strength. So, the solid construction allows you to securely transport any off-road, on-road, and sports bikes over long distances.
Also, the carrier mounts using your vehicle's 2″ receiver and includes a 3/4″ hitch pin for a secure mount. Plus, a raised adjustable wheel-stop is included that serves to stabilize the bike after loading. The powder-coated bike transporter won't rust or dent in rough weather conditions.
Furthermore, the 72-inch long ramp provides an easy way to load your motorcycle onto this platform. Don't worry, the ramp itself stores right on the carrier for more convenience! Two quick-release locks hold the ramp in its position tightly.
However, this unit weighs 98 lbs, and any female can't do its mounting job due to such weight.   Overall, the Goplus bike rack with an 8-inch track safely transports your adorable bike holding behind your expensive car without putting any scratch.
Things We Liked About It
It can carry 600 lbs of weight
Powder-coated rigid steel structure
Holds bike securely with the help of wheel chock cradle
Things We Didn't Like
Installing the rack on the car's back may seem difficult due to its excessive weight
6. EGO BIKE Steel Dirt Bike Carrier Hitch Mount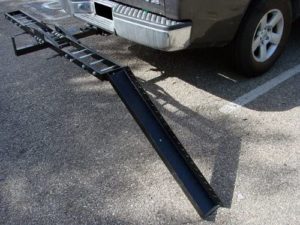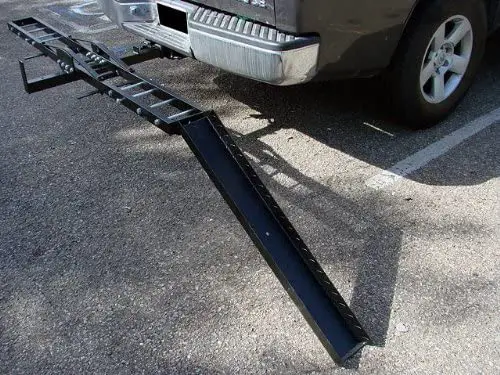 This heavy-duty dirt bike carrier will put a smile on the buyers' faces who have a tight budget. It has a high value for money, with first-rate features that are absolutely necessary for a good mount.
Amongst all the motorcycle hitch carrier romps of this style, it's the most affordable one which doesn't compromise quality. It can hold up to 500 lbs of weight, which means you'll have no trouble carrying most regular dirt bikes on the back of your vehicle.
The carrier is plenty strong, it won't move at all. It has a 2″ square receiver, ⅛" wall steel, and the difference between the outer rails is 5″. It's a bit narrow, but for a dirt bike, it's the right size. You might find the front loading ramp a bit too narrow for your liking, it can be solved with a little welding.
You'll get an anti-tilt device on the receiver that will make sure your bike doesn't sway even when you're freeway driving. Just connect the two straps and rely on this magnificent hitch carrier to deliver its promise.
I have a tip regarding this product, cut a 4×4 and drive it through the tubing, then you'll get much better support.
My biggest complaint would be that you need to bend a bolt to fix different elevations of the rails and loading ramps.
Things We Liked About It
Perfect fit for dirt bikes
Lightweight and space-saving
Dirt bike won't move
Solid attachment from support bolt
7. Black Widow MCC-600 Steel Motorcycle Carrier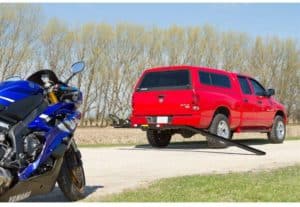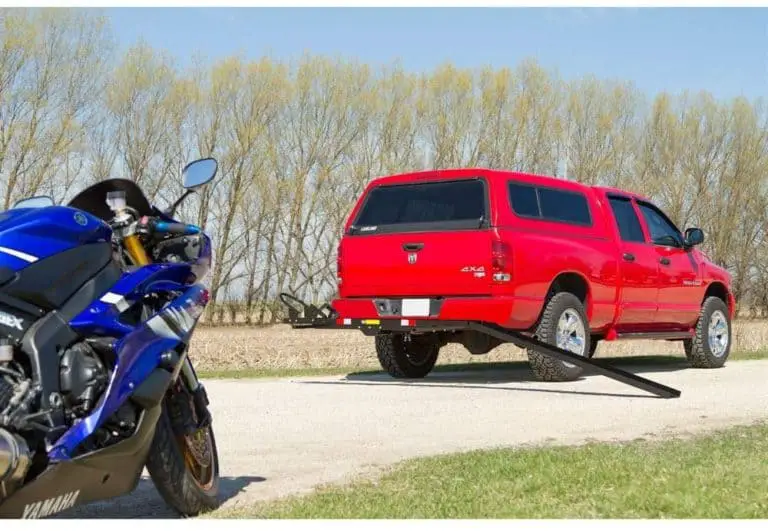 A dirt bike hitch carrier review article will seem biased if it doesn't contain multiple products from the Black Widow brand. Yes, you read it right! To be honest, Black Widow has come up with some of the market-leading bike racks in different categories to make things simple for us. And, this MCC-600 is another hit.
The gigantic hauler will surely grab your attention with its solid steel construction. The 14-gauge powdered-coated alloy offers a lifetime service no matter how many times you use it to carry vehicles every year.
Also, they have provided traction coating on the ramp and rack to ensure smooth grip while rolling the bike on or off. To make the bike loading and unloading further straightforward, its ramp is armed with diamond tread. Though the 71-inch extra-long ramp can be attached to only one side of the hauler, it makes a gentle slope to offer more convenience.
The main track is 79 inches long and supports up to 8-inch wide wheels. So. no matter how big and weighty your bike is, this easy-to-install and 600 lbs weight holding hitch carrier with 7-point adjustable wheel chock and the anti-rattle device will eliminate any wobbling and tilting issues.
Things We Liked About It
Includes built-in wheel chock with 7 adjustable points
Has traction coating on the ramp and rack for smooth bike loading and unloading
It can carry 600 lbs of weight
Things We Didn't Like
The ramp can't be mounted from both sides. The ramp can be attached only to the right side of the rack.
8. Rage Powersports Tilt-A-Rack Aluminum Hitch Mounted Carrier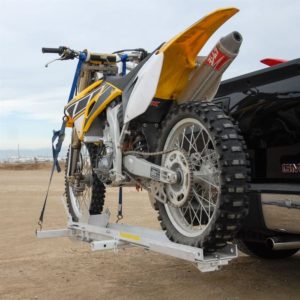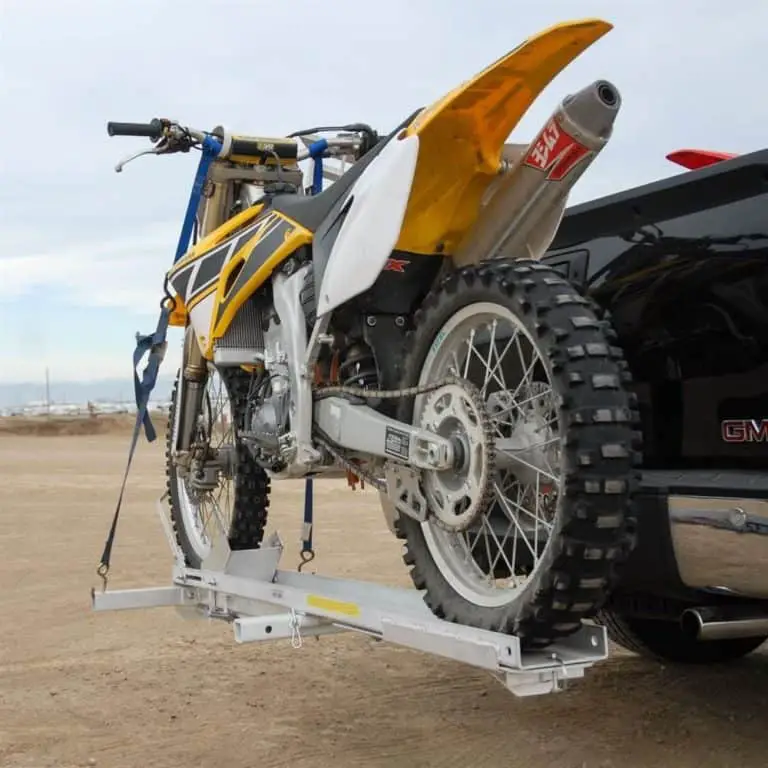 Now here's one carrier which has one of the easiest loading and unloading options. The Motorcycle Hitch carrier from Rage powersports is a beast of an equipment, yet so simple that only one person can do the job. The best hitch carriers for dirt bikes should have this quality.
You get a 19″ clearance off of this one's hitch pin and the carrier. If you ask me that's a decent enough distance.
It is made out of high-class aluminum that can bear 400 lbs without a cinch. There's another variant with a maximum capacity of 600 lbs. You might think this 2″ class III/IV carrier itself might be heavy to carry that load, but no! It only weighs 60 lbs itself. I was amazed when I found out.
The rack is able to fit all dirt bike sizes, it's a major plus point. The secret ingredient behind its smooth loading and unloading is actually a simple tilting rack and integrated ramps that you can bring out for large-sized bikes.
Plus, the wheel chock keeps the wheels in place and prevents the bike wheels from slipping off, and it's adjustable too! There is a quick-release tilt handle that lets you adjust the tilt for the rack. Just little add-ons can bring out so much potential!
Things We Liked About It
Pinch bolt keeps the dike steady
4 tie-down options instead of 2
Easily installed
Level locking mechanism
9. VersaHaul Dirt Bike Hitch Carrier With Ramp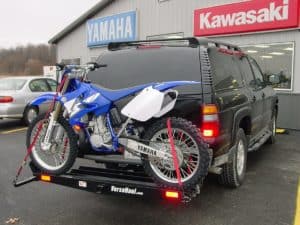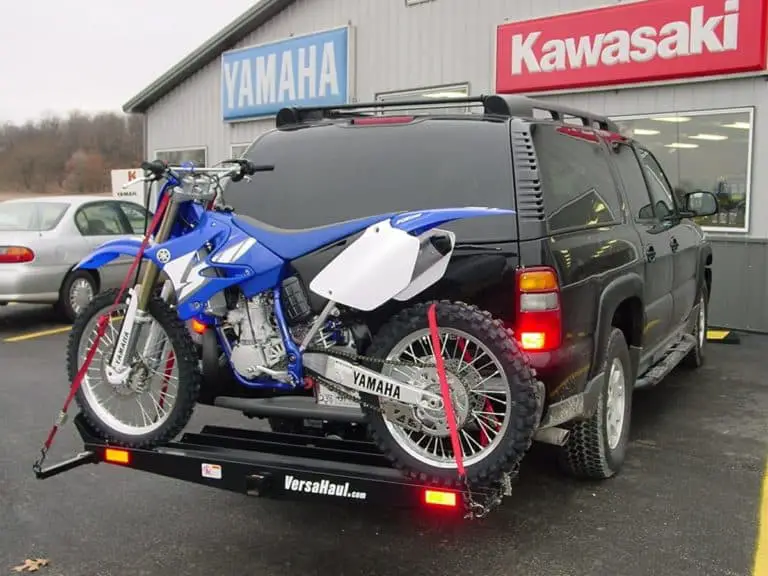 Products crafted in the USA always show better performance without compromising their quality. And, if you are a big fan of these USA-made things, this Versahaul Motorcycle carrier with plenty of outstanding features will be the best trailer hitch dirt bike carrier for you.
To transport your bike without any issue, this rack comes with an extremely durable build quality. This heavy-duty steel structure can carry 500 lbs of weight. So, you don't need to worry about your bike's compatibility with it. Plus, you will surely be amazed by the carrier's stability.
Apart from that, this Versahaul unit has an aesthetically pleasing appearance with a black paint finish. It seems cool while connected to your vehicle. You can easily mount this motorcycle hitch carrier on 2-inch class III or Class IV hitch receivers.
Not only it features a simple mounting mechanism but also includes a top-class self-storing ramp. This sturdy ramp can be affixed with the rack within a few seconds allowing hassle-free bike loading and unloading.  It also enables you to mount your bike alone.
Keep in mind that this bike carrier supports up to 6 ft 37 inches wide wheel. So, motorbikes having larger wheels won't fit inside. However, those supported vehicles can be attached super securely using 4 tie-down points.
Things We Liked About It
Manufactured in the USA
Very Easy to assemble and install
Hold the mounted bike very firmly for secure transportation.
Things We Didn't Like
Instruction manual isn't well written
10. VersaHaul VH-55DMRO Double Motorcycle Carrier


Introducing another VersaHaul dirt bike carrier, but this one can carry not one but two dirt bikes at the same time. It has a maximum load-bearing capacity of 600 lbs. For a better perspective- there aren't many dirt bike transport that can bear this much load.
You can set it up on your class III/IV hitch receiver with 4 tie-down points to securely place the dirt bike. Compared to other aluminum-made carriers, this is a solid upgrade. The complete steel construction makes it solid as a tank.
A tip for all the manufacturers out there, if you want to make the best dual dirt bike hitch carrier, then steel is the way to go. It might be heavy and expensive compared to the other competitors, but it provides super solid support. When you're riding with 2 bikes on your back, you'll definitely appreciate such sturdiness.
The metal is powder-coated, so there are minimal risks of corrosion or rusting from riding in harsh weather conditions. It has a 33.5″ clearance, so even scooters can fit in easily.
There's an anti-tilt mechanism that will lock both the bikes and prevent them from moving while you're driving. From my research, I've seen that it grapples them perfectly, not letting them move at all.
Things We Liked About It
Sturdy build frame with stylish black color
600 lbs load-bearing capacity
33.5″ clearance is perfect enough for bigger bikes
Powder-coated for rust-free
Things We Didn't Like
135 lbs are quite heavy to carry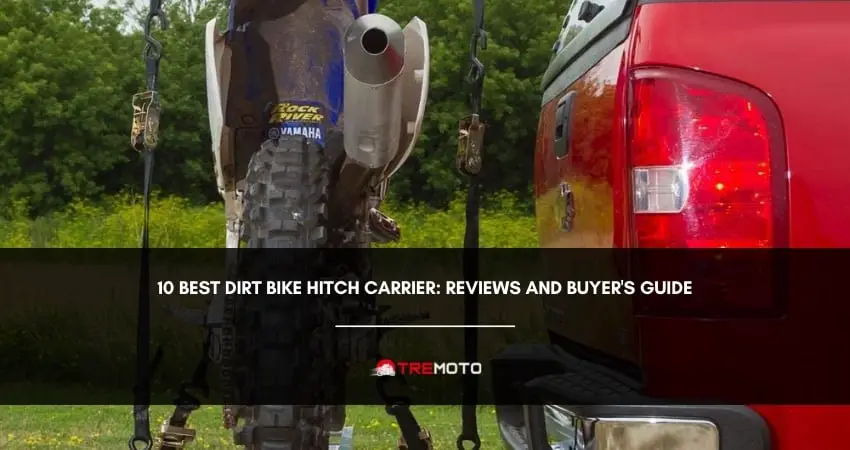 Buying Guide: Things to consider before buying a Dirt Bike Hitch Carrier
You need to pick your dirt bike hitch carriers meticulously. Otherwise, you'll feel like you've thrown the money down the drain. The problem with choosing the right carrier isn't that there are too many, it's that every single one looks great. But looks are deceiving.
So I'll give you a head-on on what you should look for when buying a hitch carrier:
Load bearing capacity
If your dirt bike falls off the carrier while you're transporting it, then you've got a failed investment. To avoid that, you must know how much it can bear. Most of these have a maximum weight capacity of 400 to 600 lbs, try to get one in this range. Some expensive ones can carry even heavier loads.
Hitch compatibility
Generally, there are 5 groups of hitch receivers. Different vehicles use different classes. An SUV, pickup truck, or sedan would use class I receivers that can handle 300 lbs, while class V can bear 2700 lbs but are only made for pickup trucks.
Bike weight
Knowing your bike is equally essential when you're out shopping for a hitch carrier. If your bike isn't heavy, then a carrier with 400 lbs load capacity is enough. But heavy bikes need steel frame ones which can carry bigger weights.
Durability
Is your carrier durable enough to handle the abuse you throw at it while driving is indeed an important factor. Do you want a fragile carrier that will break down while you're in the middle of nowhere? Of course not!
Ideally, you want your dirt bike hitch carrier to be able to last long, and hold its own as you travel through various terrain and harsh climates.
User friendly
You can't be counting on other people all the time, especially if you go on dirt bike rides on a regular basis. So, more often than not you'll depend on only yourself to get the job done. That's why you must pick a product that's easy enough for a one-person job.
Since most carriers have ramps to assist you in loading and unloading the bike, you definitely have no reason to settle for one without it.
Material
Motorcycle carriers are mostly made out of either steel or aluminum. Both have their perks and perils. An aluminum-made carrier is lightweight, more affordable, and easier to carry for a single person. But they aren't able to take on massive loads.
Steel ones are heavy-duty, they can take much more loads and even carry multiple bikes, in fact, some of the best double dirt bike carriers are often made of steel. But, they're prone to corrosion unlike aluminum, so you need to be careful.
Few More Interesting Articles For You
How To Install A Dirt Bike Hitch Carrier
Installing a dirt bike carrier isn't that hard. It's just methodological. You need to go through the entire process one by one, each step needing finesse and a lot of care. Thankfully, these come with an instruction manual so it'll be a bit easy.
But let's walk you through anyway, here's a motorcycle hitch carrier installation guide in 7 easy steps:
Step 1: Putting The Carrier In
You might need the help of a friend for this. Both of you will pick up the carrier, line it up, and insert it into the hitch tube. The pinholes should be aligned together.
Step 2: Bolt it Down
Next, you tighten it with a bolt through the pinhole. For this, you need to get a pinch bolt and a sleeve. Slide the bolt through the sleeve and put it through the pinhole. Use a wrench to tighten the bolt.
Step 3: Fix It On The Vehicle
Most modern dirt bike hitch carriers have an anti-tilt tool to keep the dirt bike from tilting as it raises the risk of falling. Definitely get one if they don't come with your carrier.
Slide the device through the hitch carrier, and tighten the bolts in place so that it's stuck there for good. Use a 17mm socket to ensure they have a firm grip.
By now your carrier is fixed with the hitch. But we're not done.
Step 4: Bring Out The Ramps
Loading ramps usually come lying over the carrier. Unscrew them and take them out of the carrier. Now connect the one end of the carrier on one side of the ramp. The mounting pin on the ramp will enter the hole on the carrier, thus making a wing ramp.
Step 5: Use Straps
Although it's solid as it is, you can take further security by binding the carrier with the hitch using a strap. This way, the weight of the bike won't jerk open the carrier.
A smart move would be to tie down the bike as well after it's loaded on the carrier, just in case.
Step 6: Load The Bike
Now your ramp is set, take your bike and push through the ramps and up the carrier. If it's too heavy for you, take some help. After it's on the carrier, place the dirt bike appropriately so the wheel chocks are right under the wheels to keep them from moving. By now, the bike is secure.
Step 7: Start driving
After putting the bike on the hitch carrier, check if everything has fallen into place. Jerk it a little to see if it nudges, if not then take out the ramp and place it back where it was and fasten its screws again. Your bike is ready for transport.
And… just following these simple steps you can install your dirt bike hitch carrier without any problems at all.
Why Choose A Hitch Carrier Over Other Options?
One of the key reasons for choosing a hitch carrier over other alternatives is that there are not many good options to begin with. The only other viable and worthy option I can think of are the trailers.
Now, I believe a hitch carrier is definitely a better option than a trailer. Why choose a hitch carrier over a trailer? You'll find the answers to it right now:
Trailers are easily blown away
During harsh weather, a trailer can break down
A hitch carrier is comparatively lightweight and smaller, so it's easier to move around with them.
Hitch carriers are safer since there are more security options like tie downs, straps, bolts, wheel chocks, and wing nuts, etc.
It is easier to load and unload from a hitch carrier.
Trailers are more expensive and require frequent maintenance.
So for these reasons, it's better to pick up a dirt bike hitch carrier instead of a trailer, or any other alternatives that aren't even worth mentioning. So get yourself one of these and chill!
Benefits Of Using Hitch Mount Motorcycle Carriers
Transporting bikes using a hitch-mount rack offers lots of benefits. Without further delay, let's see what makes this innovative piece of equipment stand out.
Wobble-free transportation
When we haul our adorable bikes on any truck's bed or traditional trails, in most cases, our motorcycles get scratched or damaged.  But, these hitch mount haulers have come up with innovative anti-rattle and anti-tilt locking mechanisms to take this wobbling issue out of the equation. So, these racks allow you to carry your bike smoothly.
Super safe
We hear of lots of incidents where a motorcycle or dirt bike falls from its carrying vehicle and gets completely crashed. As a biker, it could be the worst nightmare for you. Here, you can remain worry-free during bike transportation if you use the best motorcycle hitch carrier.  These bike racks offer plenty of safety features to ensure a secure bike transfer.
Simple to use
Another striking reason behind the hitch-mount rack's high acceptability is that you can assemble and mount almost all models in a flash. Also, you can easily load or unload your bike on them using the sturdy ramp that comes with the rack.
Budget-friendly
Other options of carrying a heavy dirt bike from point A to B can be ten times more costly than this option. Though you need to spend at least 2 or 3 hundred bucks to buy a hitch mount motorcycle carrier, it would prove very economic in the long run as you will use it several times.
Weight carrying capacity and compatibility
This is one of the greatest benefits of these bike racks.  Some bike racks can bear up to 600lbs of weight which is super handy for carrying large sports bikes. Also, these carriers easily fit 2-inch receivers of class II to class V vehicles.
Final verdict
We have reached the last section of this best dirt bike hitch carrier review article and I know you have already made up your mind after reading all of these mind-blowing bike carriers' descriptions.
In case you're still undecided and would like an inside suggestion, then VersaHaul VH-55DMRO is a good one to go for.
Having a superior load bearing capacity as well as enough clearance to get two dirt bikes or a scooter is a good carrier in my opinion.
No matter which one you prefer, always make sure that it's supported by your bike and the vehicle that will carry the bike by reading the brochure. Ride Safely!