The best dirt bike handguards are a must for any biker who wants to protect their hands, clutch levers, and cables. They're essential for dirt bike activities, especially trailing and motocross. You also get protection from the harsh cold of winter and wet environments.
When shopping for handguards, you will want to find ones that offer the desired level of protection without sacrificing comfort or style. There are plenty of options available at all price ranges, so it's not difficult to find a great pair that fits your individual needs!
Check out this article to find out more! I've rounded up some of our favorite models below so take a look, maybe one of these would be a perfect fit!
What are dirt bike handguards?
Consider dirt bike handguards as safety gear. It primarily consists of a mount and/or a clamp. The shield guard and the mounts or clamps.
Depending on the price range, the material used to build a handguard will differ. Low-cost ones will often consist of plastic mounts/clamps and a hard plastic shield. While premium could possibly have 6061 aluminum billet mounts with composite shields.
Some of them come with vents, earning the name cold weather handguards or mud handguards. Having so many types of handguards gives a biker the blessing to nitpick and find their best match, at the cost of momentary confusion. It's a good dilemma to have.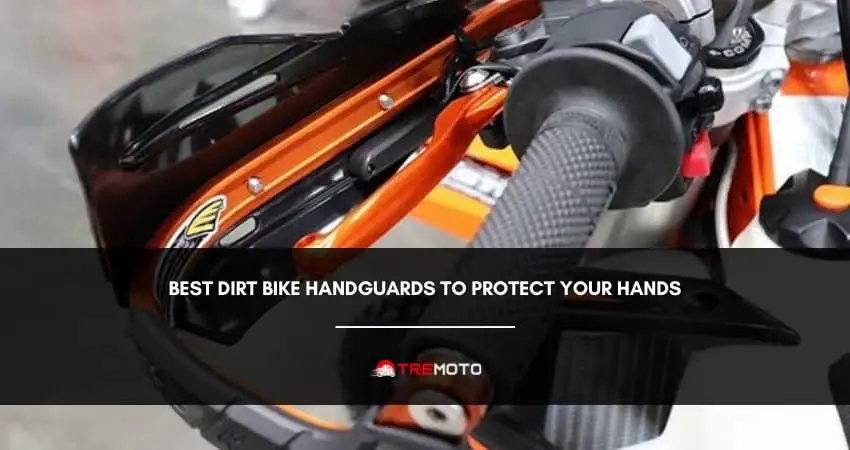 best dirt bike handguards Reviews & Comparison
If you're a dirt bike rider, your hands are what keep you in control of the bike. But when you're going down a steep hill or through rough terrain, it's easy to lose grip and let go of the handlebars. That's where handguards come in!
Handguards will protect your hands from scratches and abrasion while also keeping them on the bars so that you can steer clear of danger. And they don't have to be expensive either – I've got some great options for a great price.
I have categorized the reviews in two sections – Enduro Handguards and Motocross Handguards.
Best Enduro Handguards Reviews (Wrap-around Handguards)
1. Cycra Probend CRM Handguards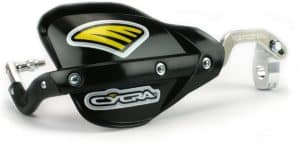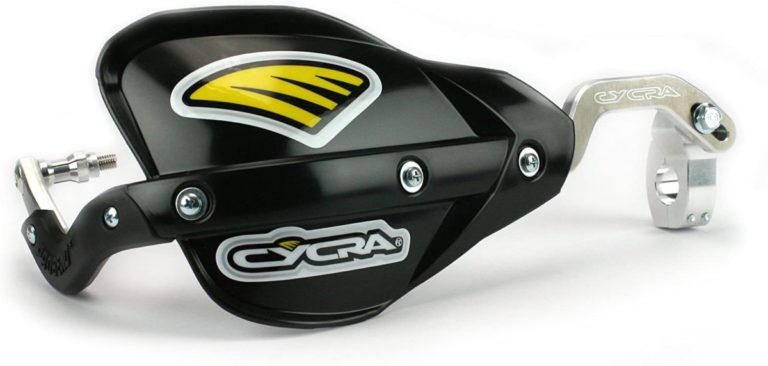 I'll kick things off with a secure handguard from the brand Cycra. One thing that immediately would catch your eye about this product is the full wrap design. They're bigger than your typical handguards, covering more area.
When you're out on a trail through the hills, you should be careful about falling once or twice. And when you do, these will protect your hands fully. With these, not only you protect your hand but your 1-⅛" handlebars and controls too. This design is the flagship Cycra trademark, and it's effective.
Interestingly, these handguards have a dipped shape on the outer edge. It gives your fingers space to avoid getting your hand stuck.
There are vents to keep your hand cool in warm temperatures, and inserts to screw in some covers while it's cold. You'll also find enough clearance for the pesky cables.
Overall, it's a comfy and reliable handguard.
There's a ⅞" version too that you could check out.
Things We Liked About It
3 mounting positions for smooth fitting
Extremely easy to install
Tightly fit with Allen and flange bolts
Solid protective alloy guards
Things We Didn't Like
Self-taping screws don't allow much customization
2. Acerbis Rally Pro Handguards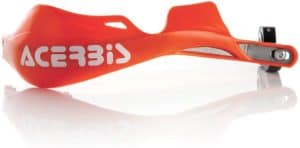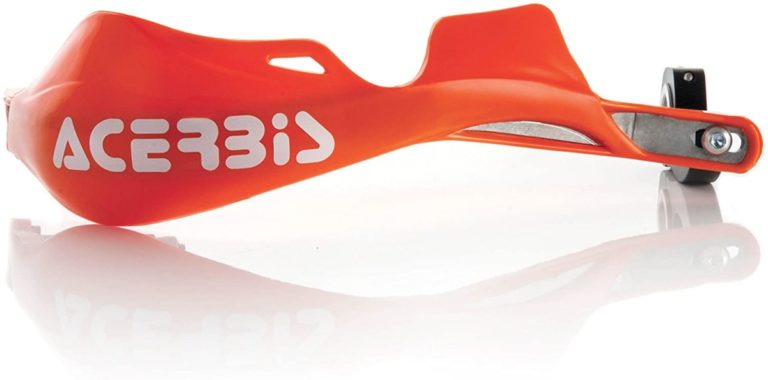 Acerbis is another big hitter in the handguard market, this particular model is one of the reasons behind it. It's made out of composite injected nylon, so they're not so rough on the hands, but are solid enough to provide security.
The anodized aluminum bar adds extra protection and stability that will help keep the guards steady and prevent bending or spinning. It has a universal mount system that fits handlebars of multiple sizes. You just have to adjust the diameter with a screw, that's it!
This handguard is really sturdy and will not move an inch after you install it. How am I so sure? Because when you tighten up the system, it'll lock the shoulder into place with the help of a steel bar.
It has a stylish design & multiple color options, giving your dirt bike some plus points on aesthetics. These asymmetrical guards are capable of protecting your clutch and throttle levers as well as your hands.
Things We Liked About It
Highly adjustable to fit different handlebars
Durable aluminum bar
Extremely solid hard plastic
Easily accommodates cables
Things We Didn't Like
A little tricky to install
3. Tusk D-Flex Pro Handguards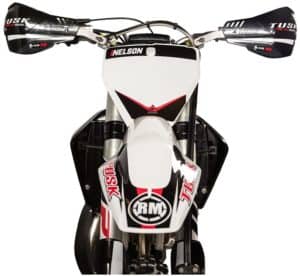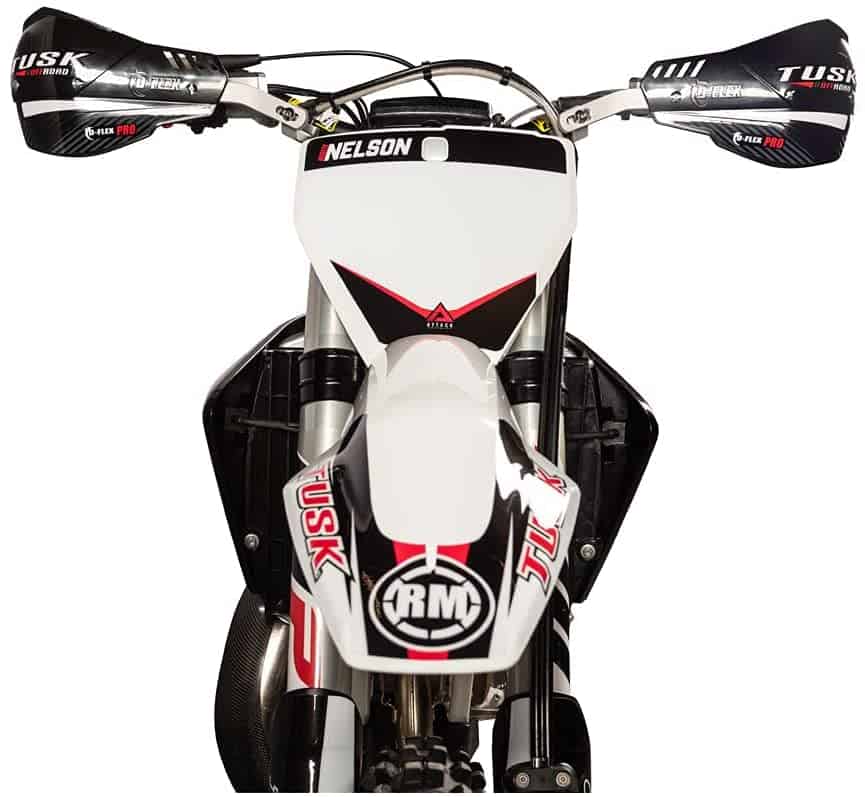 Featuring the strongest handguards from Tusk, the D-flex pro! It's in the sweet middle of the previous two handguards, having the best features of both. These have similar aluminum bars covered behind hard plastic shields, but at the same time have a dip to allow hands some extra space. Plus it has vents on the sides.
You'll find the ⅞" handlebar mounting pretty easy to install, and you can easily adjust it to suit your needs. Also, I appreciate its design a lot. The full wraparound shape is just right, it covers the throttle and clutch perfectly, giving them protection from fall damage.
Also, the tampered aluminum they use provides more rigidity and longevity. It's better than a typical aluminum alloy. They're excellent at absorbing vibrations, so you'll feel less bothered when you're out on a ride.
Things We Liked About It
Easily replaceable guards
Extra clearance for hands and levers
Solid clamping with Allen bolts
Things We Didn't Like
Needs a bit of tinkering to find the right angle
4. Cycra Probend Ultra Hand Guard Kit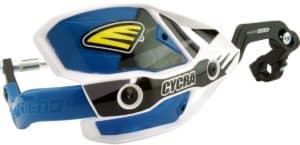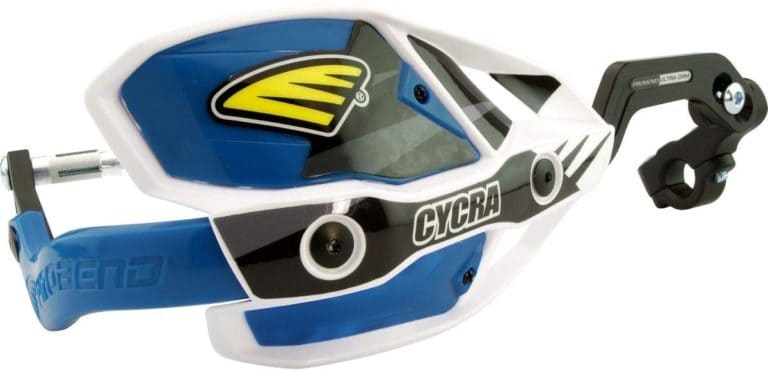 I'm back with another Cycra handguard. This one's also from the Probend series. So you already know it'll have superior durability, excellent design, and the trademark Probend shape.
It's made out of a 6061 aluminum billet that can handle tremendous tensile forces. There are also plastic abrasion guards that span over the entirety of your hands, as well as the clutch and throttle, providing complete protection.
Just like the previous Cycra handguard, it also comes with a bit of dip so your hands have space to roam, especially if you get jolts while riding on a bumpy trail.
The CRM clamps keep the guards stay in place as well as make room for cables. The abrasion guards are ergonomic, to my surprise. This is a welcoming change from the past products. Plus, the billets give it a slimmer look while providing more heavy-duty aluminum bars.
Things We Liked About It
Extra space from the dipped shape
More room for air fork top caps
Removable ventilation system
Tightly mounts the handlebar
Avoids cable snags
Things We Didn't Like
Takes a little time to align properly
5. Fastway FIT Handguard Shields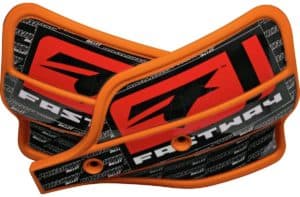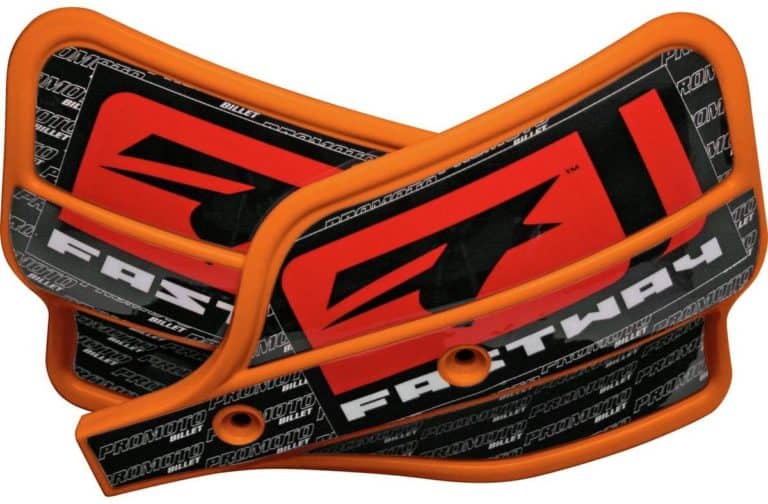 I can't have a handguard review article without mentioning Fastway. They're known for making stylish yet strong hand protection on dirt bikes.
Unlike other enduro handguards that clamp on the triple clamp, or fasten themselves between the bends of the handlebar like Cycra, Fastway does it differently. It's bolted to a replacement or a modified handlebar. It has a clamping system that is pretty easy to install.
There are 3 versions of it, the "integrated" that features a robust handlebar. The "handguard" system replaces two of the upper clamps and also acts as a solid clamp.
I find the third one the best, it's a "universal-fit" system that has two 6.2 oz handlebars that you can use a clamp to attach. All of them provide a clean stylish look. They mount so well that they won't rotate at all in the event of a crash.
Things We Liked About It
Reinforced aluminum handlebars
Can be modified
Spectacular design
Cleanest mounting system
Things We Didn't Like
The large clamps could get intertwined with cables
6. JFG Dirt Bike Handguards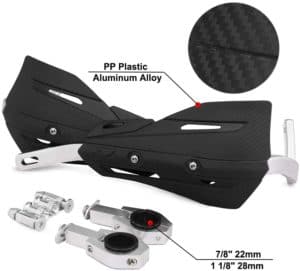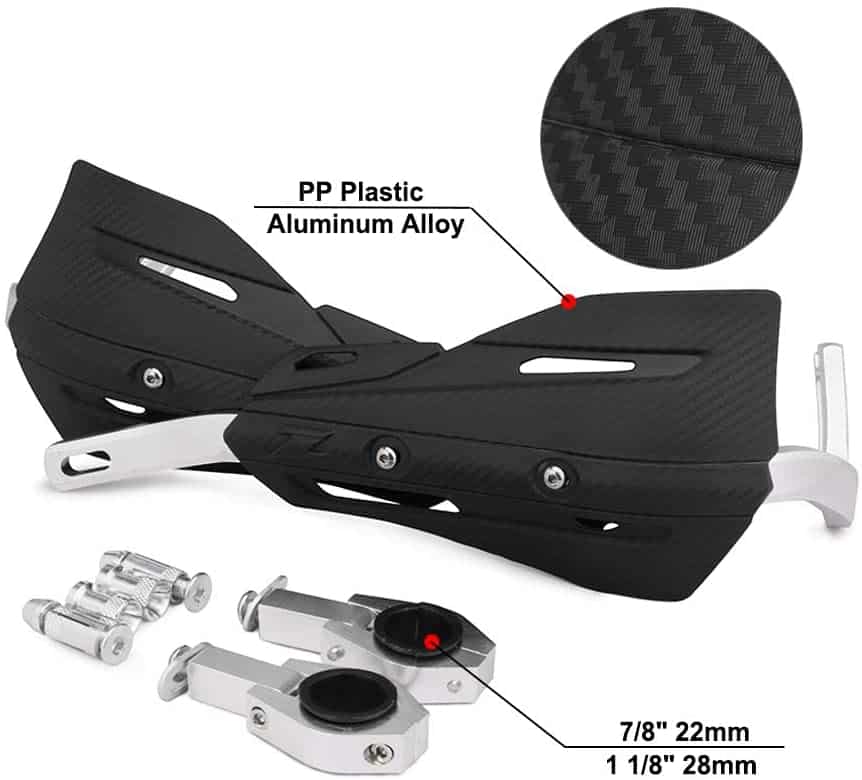 Next, we have a set of handguards that are good for not only dirt bikes but for ATVs too! JFG's made some handguards that are all-rounders. The mounting they use is a universal fit. You can put them on any motocross vehicle as long as they're inside the range of ⅞" 22mm to 1-⅛" 22 mm.
These handguards are made of extremely durable 6061-T6 aluminum alloy that is more resilient than regular aluminum. The plastic materials are also made out of upgraded pp materials. Overall, this makes it more durable.
This one also has enough clearance for the cables and your hands to move around. Although it also bends to provide room, the angle it bends is different from other enduro handguards, you have a bit more room to maneuver around.
Plus, the dexterity of this handguard is amazing, your fingers will feel less fatigue.
Things We Liked About It
Smooth texture provides a good feel
Super tight bar clamp
Has two insert sizes
Stylish design
Things We Didn't Like
Uncommon bending alignment is hard to adjust at first
Best Motocross Handguards Reviews
1. Acerbis Uniko Vented Handguard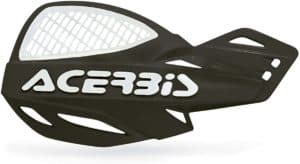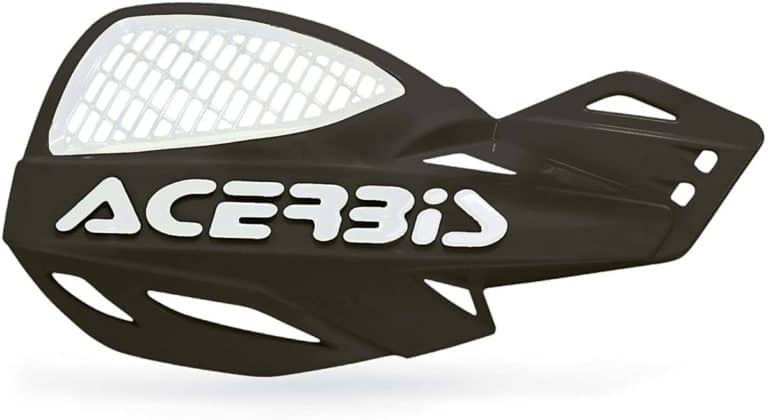 Acerbis handguards have attained a special place in dirt bikers' hearts and this lightweight edition of the renowned brand will offer protection against tree branches, twigs, and bushes. Yes, this super affordable guy doesn't have aluminum bars for tackling the hardest of hits but it will safeguard your hands and bike's frontal part from roost and other disturbing small things.
In addition to that, this thing incorporates a large venting system to ensure proper airflow through the levers. This excellent venting style makes the handguard perfect for hot and dry conditions. It keeps your hand cool and you will have a comfy ride.
However, it comes with a plastic mounting system which is easy and quick. You don't need to use any special tool to mount it. Just an Allen wrench and screwdriver will do the trick. And, it is designed in a flexible way so that it won't break easily.
Things We Liked About It
Easy to mount with clear instructions
Well ventilated system makes it user friendly
Lightweight and perfect for summer times
Things We Didn't Like
Not sturdy enough to survive massive hits.
2. Acerbis Uniko Handguard (Non Vented)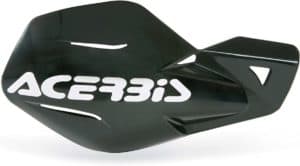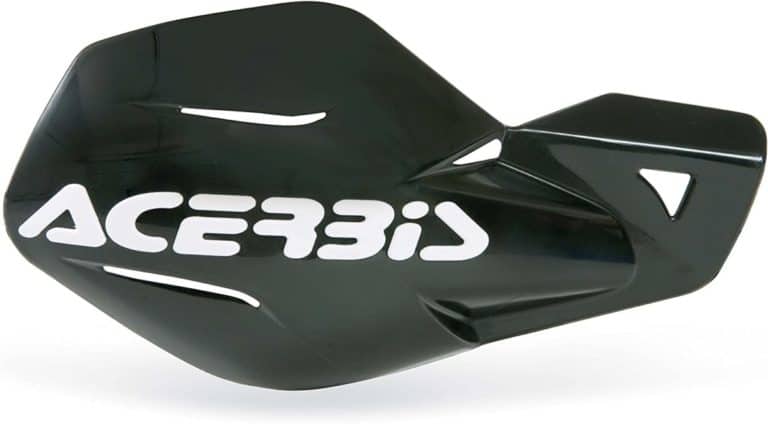 If you're looking for a beautifully designed wind-blocking handguard at a reasonable price, then this one from Acerbis will be the ultimate option. These eye-catching MX handguards are made with high-quality materials to provide long-lasting performance. Don't worry, these Uniko handguards won't break if you go down on any rough terrain.
But, like the above reviewed Acerbis vented handguard, this thing is also built to block small obstacles such as small branches, roosts, and small bushes. That means it won't stand any chance if stuck against any solid stuff.
Moreover, this motorcycle part can be easily mounted with simple mounting facilities. To securely mount the handguard, it comes with two mounting clamps, 4 socket head bolts (5mm X 16mm), two nuts(5mm), two hex head bolts(5mmX16mm), and an instruction manual. These things will help you fit this product on all standard bars.
You will be glad to know that these handguards are corrosion-resistant so they won't dent over time.
Things We Liked About It
Exotic look with an affordable price tag
Top-grade construction offers durability
Comes with all mounting equipment
Things We Didn't Like
May not fit some bikes. So, check before you buy this.
3. Cycra Stealth MX Black Handguards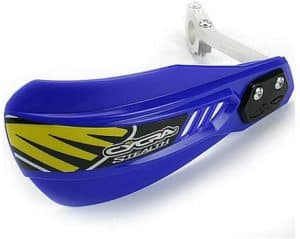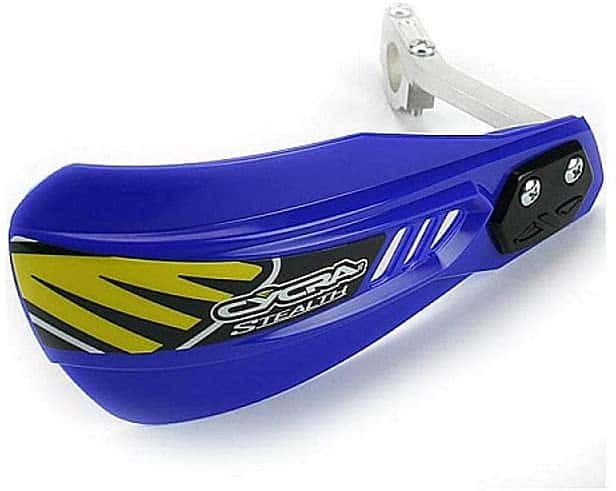 For those who love to have a hot bike setup like Kevin Windham and Mike LaRocco, this Cycra Stealth handguard with its lavish look is going to fulfill their dream. Not only the elegant appearance, but this Cycra guy also has an extremely robust structure. It is equipped with an aircraft-grade aluminum handlebar for more rigidity.
Despite having heavy-duty build quality, this MX riding style supported handguard feels super lightweight, and this low-profile plus slim design makes it user-friendly for riders who enjoy traveling really quick. Also, its lightweight nature makes its presence negligible.
You will also admire the unique mounting system (alloy bar mount) of this Cycra product as it can be attached to any off-road motorbike instantly without any mounting hassle. Guess what? This gear fits almost any machine no matter whether it's a 50cc 0r 500cc one.
Another special feature of the mounting style is that it offers maximum freedom regarding adjustability. It also incorporates aftermarket folding levers and clutch perches.
Things We Liked About It
Very flexible and independent bracket mount
Quick mounting system and comes with necessary mounting equipment
Feels very lightweight and fits 7/8 handlebars
Things We Didn't Like
You may face difficulties finding a mounting place on a modern 4-stroke bike such as YZ250F.
4. Renthal (HG-100-WT) White/Black Universal Fit Moto Handguard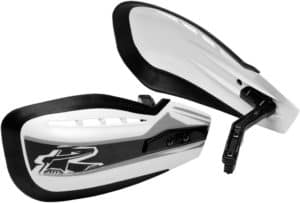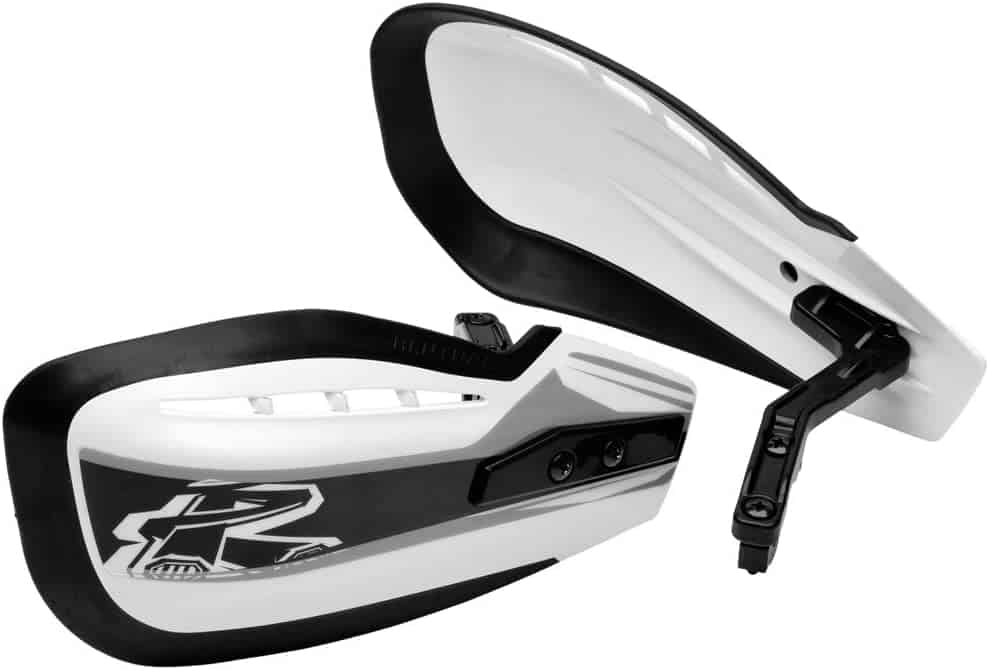 When it comes to world-class bike gears and parts, everyone can't match the quality provided by the famous Brand Renthal. And, this HG-100-WT handguard is no exception.
The first thing that catches everyone's attention is the stunning black and white design of the product. They also offer red and blue design handguards too. So, you can pick one that suits your requirement and goes well with your bike's style.
Apart from its catchy appearance, this guy is crafted in a special way to safeguard your hands and fingers from roost, mud, and small rocks. You will surely love its simple but effective structure.
To make it ultra-strong, Renthal made the gear with a dual compound. As a result, it will ensure top-notch protection to your hands and bike's frontal parts while maintaining its flexibility. Plus, the universal fit system allows you to attach the guard below or above the handlebar controls. Don't worry; this multiple mounting adjustabilities enabled moto handguard won't cause any bike controlling issue for you.
Things We Liked About It
It offers high levels of protection at an affordable price tag
You can mount the handguard on multiple positions according to your preference
Sturdy and dual-compound design ensure more durability
Things We Didn't Like
Plastic mounting brackets may not last like aluminum ones.
5. Cycra Primal Stealth Handguards Racer Kit 1CYC-0055-42X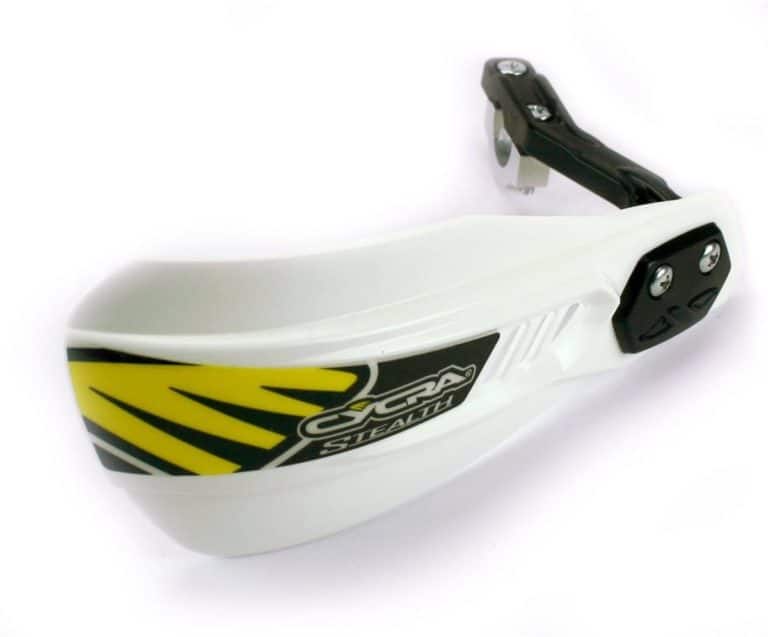 Ever since the Primal Stealth handguards were released by Cycra, they've been dominating the MX hand shields' world. And, they become an ideal choice for mini bikes all the way up to large bikes too.
Moreover, the guards are made of robust and composite plastic. But the composite plastic is extremely lightweight so you won't feel weighed down while riding your bike! Also, this handguard set is durable enough to last through your toughest adventures.
With rotating mounting plates, it's not hard at all for you to get these installed perfectly above or below the levers. Yes, its low-profile, slim, and easy mounting facilities make it further attractive.
Plus, this complete racing pack includes all necessary accessories to attach the gear to your bike. Included are brackets with injection-molded composite construction, slim low-profile design, and a simple installation process for easy mounting. They also fit 7/8″ handlebars smoothly and you can install this universal product to any brand's bike too.
Things We Liked About It
Top-notch built quality
Looks and feel good after mounting on bikes
Unique injection-molded composite Brackets
Things We Didn't Like
Aluminum brackets may offer more sturdiness compared to plastic
6. Acerbis 2170320001 x-force handguards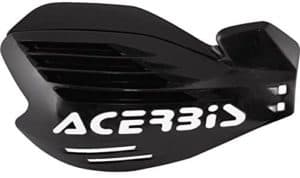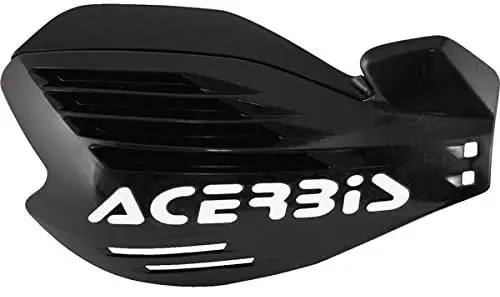 Here is another mind-blowing handguard from Acerbis, this x-force hand shield set will offer superb protection at a very reasonable price.
These Guards are crafted with high-quality polypropylene and nylon. These materials make them tough and durable so that they can protect your hands and bike in different riding conditions. Undoubtedly; robust construction ensures high impact resistance! Also, you will surely be pleased with its versatility.
It includes a removable spoiler. During off-road adventures, this spoiler will play a vital role in shielding your hands from rocks and debris to ensure maximum protection. In addition to that, this guy comes with an optimized venting system to keep your hand relaxed on burning hot summer days.
With an easy to install universal mounting kit, you will be able to attach the handguard both below and above the lever. It incorporates a 7/8 handlebar without any issue.
Things We Liked About It
Beautiful design
Sturdy construction
Very user-friendly
Things We Didn't Like
Plastic may feel a bit flimsy
7. PowerMadd 34210 Star Series Handguard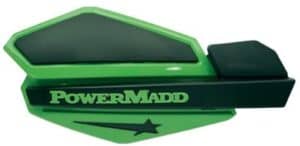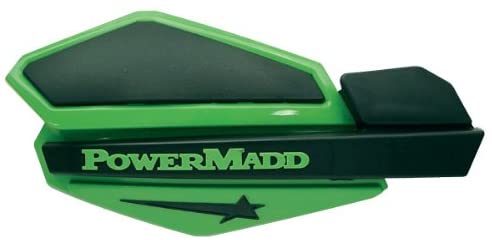 You've reached the last product of our today's list and these handguards come in 11 different colors to suit your style and preference.  These PowerMadd hand shields are designed in a special way to offer protection to your hands in both hot and cold weather. Guess what? This excellent star series handguard set comes with a removable vent cover design to increase its versatility.
Also, this innovative design ensures that your hands remain uninjured while you can enjoy a comfy ride no matter how extreme the weather is. The sturdy plastic construction of the product shields your hands and fingers from all incoming roosts, small tree branches, and rocks.
The modern and lightweight design makes the handguards suitable for any on and off-road bikes and as a rider you won't feel its presence. It means these guys won't disturb or hamper the control of the bike. You can also attach add-on mirrors and snap-in extensions with it to make it more user-friendly.
Things We Liked About It
Removable vent cover system for airflow
Heavy-duty build quality
Looks cool while mounted on the bike
Things We Didn't Like
These handguards don't come with a mounting kit.
Why do you need dirt bike handguards?
Dirt bike handguards exist for a sole purpose- to protect your hands. In a lot of scenarios, dirt biking is rather dangerous than normal roads. There are hundreds of rules, regulations, and etiquette you need to maintain while you're on a highway. But on a mountain or a hill? No rules. This makes a rider reckless.
And a reckless rider is often an injured rider. There is no dirt biker who hasn't fallen once or twice. And if there are rocks or boulders that happen to be nearby, your arms or fingers could get broken. But if you'd be lucky to just come out injured from an accident.
In 2018 alone, 74 people died just from dirt bike accidents, the number of sustained injuries is well over 100. So, ignoring safety is not an option.
With a handguard, you can keep your hands safe. Most handguards nowadays are made of a solid alloy that can withstand impact from logs and hard boulders.
Modern handguards not only protect your hands but also your levers and cables too. Some of them also provide ventilation in summer and block cold wind during winter.
With one of these, you can save yourself from unwanted injuries and bike repair costs.
What Are The Types Of Dirt Bike Handguards?
We could classify all types of dirt bike handguards into two main categories:
MX handguards/Motocross handguards
Full wrap handguards (Enduro)
Motocross handguards are also known as open-style handguards. Another name for it is the "standard" handguard. They're totally exposed to the outer areas of your hand. In this design, you can mount on the center of your handlebars using a bracket. This bracket can be on either the top or the bottom, both are fine.
These are lightweight, but can withstand most weather conditions without any trouble, and protect you from light roosts. So you can rely on them for fast-paced enduro riding.
The full-wrap handguards on the other hand provide complete protection. Alongside your hands, the levers and cables are also safeguarded by it, that's why they're also called wrap-around handguards. It'll fully cover your hands. A support bar is the pivotal component of a full wrap handguard. It sits on the center of the handlebar, and is attached to two clamps.
It's robust and able to handle heavy abuse. They provide more reliable protection than the MX ones, but are heavier, and often more expensive too. For a new or young rider who tops over frequently on the trails, these would be a game-changing purchase.
Things to consider before buying the best dirt bike handguards
Bike handguards are just one of several accessories used by bikers to keep themselves, especially their hands safe from harm while riding. Let's have a look at the things you must check while purchasing one.
Build quality:
The main role of a handguard is to keep your hands protected. So, to get ultimate safety, you have to buy a set of handguards that have a proven record of being resilient. Go for a bike handguard that is made of heavy-duty material like steel, aluminum, or titanium. So, do not jeopardize your safety by investing in flimsy guards!
Also, check for durability by going through customer reviews about their experience with a specific brand or model that you are going to buy. Don't compromise on this, for maximum protection you want the best quality material.
Aerodynamic design:
You must check out the design and style of the handguards before purchasing because every biker has different style preferences. So, if you are used to wearing large gloves, then go for extra-large size guards otherwise medium-size ones are perfect to keep your hands safe from harm during accidents and sudden falls.
Also, you have to pick a slim design handguard so that it doesn't interfere with the bike controlling during bike races. Vented handguards are also a great option as they will keep your fingers cool and dry while improving airflow.
Aesthetics:
Your bike also looks beautiful when you wear a matching handguard. When you buy online, it is always better to check out the images of the product before making your purchase so that you do not end up with something that does not match your bike and creates an unappealing look!
Easy mounting style:
You should also choose a universal handguard that is normally mounted on all handlebars. Prefer an easy-to-install mounting bracket kit to attach it with less hassle. Again, carefully check if the product fits your bike's handlebars before making your purchase. It would be best if you get a handguard set that can be mounted both above and below the lever.
Budget-friendly:
You should also check the cost of the handguard before making your purchase. There are a number of options available in different price ranges, so it is best if you go with one that gives you amazing quality at a mid-range budget.
Convenience:
If you have the best dirt bike handguards in the world but they don't give you the desired comfort, it would be worthless for you. So, make sure that the handguard is comfortable and convenient to use.
Warranty:
Always check whether the product comes with a warranty or not. You should ask the seller about it before making your full payment order online so that in case of any damage/defect issue in the future, you can easily claim its replacement from the manufacturer or retailer.
Frequently asked Questions
Here are some important questions and answers which would help you know more about dirt bike handguards. Let's see
Why do handguards have holes?
Handguards come with holes to ensure better airflow while you are riding your bikes. These holes also relax your hands and keep them dry in the summer and rainy seasons.
Do handguards keep hands warm?
Yes, this is another stunning benefit of a handguard as in freezing cold days, these handguards stop cold winds from hitting your hands. In such a case, make sure your bike's handguards don't have any holes for ventilation.
What are the most reliable dirt bike handguard brands?
Acerbis, Powermadd, and Cycra are considered some of the most reliable dirt bike handguard brands. These brands offer different features and advantages to solve several handguards related issues and that's why these brands have become so popular.
Are dirt bike handguards universal or do I need to get the right type?
Though some dirt bike handguards come with a universal mounting facility, it is better to check your bike's compatibility with the handguards that you are going to purchase.
How much should a good set of dirt bike handguards cost me?
If you want heavy-duty and extremely strong handguards, you need to spend around 100-150 USD price range. On the other hand, you can buy a lightweight handguard set for no more than 50 USD. It should be between 30-50 USD.
Parting words
In the end, your handguard decision should be made with careful consideration. Choose a guard that is right for you and fits well on your bike—after all, it's worth investing in protection!
I hope you found this article helpful in your search for the best dirt bike handguards. It was my goal to provide an unbiased, fair review of different brands with a reasonable price. I'll be over the moon if you find any of these to be your ideal match. Happy trailing, be safe!