Riding a dirt bike is one of the most enchanting and thrilling experiences in life! But only if you have the proper gear for it. Without proper carefulness, a biker's hands can start to feel numb or sore over time.
And when you're off-roading, this possibility is even higher because you'll be riding regardless of weather and road conditions. So your hands will be under more stress.
That's why it's so important to grab the best dirt bike grips that suit your hands and the bike's handlebar. I have the perfect thing for you, have a look below…
10 Best Dirt Bike Grips Review
Quality grips are a must. It is just as important as any essential dirt bike gear. I've seen countless instances of a rider slipping on a bumpy trail and damaging the dirt bike, injuring themselves too. Guess what, a good pair of grips can minimize that grip issue, they're even made with that scenario in mind!
Accidents aside, good quality grips are comfier, have the right contact points, and are well suited to fit a biker's palms. They're a hundred times better than the stock ones.
Here, I've put together a list with some top contenders based on grip type, material, price range, and comfort. So read on, get comfy and enjoy!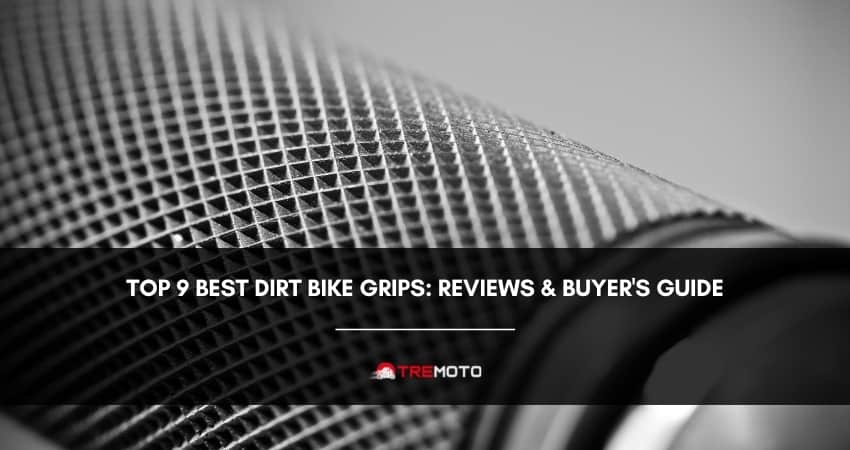 1. Pro Taper Pillow Top Motorcycle Grips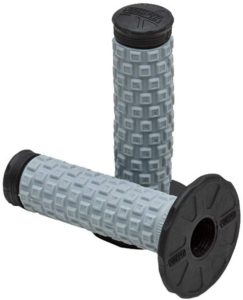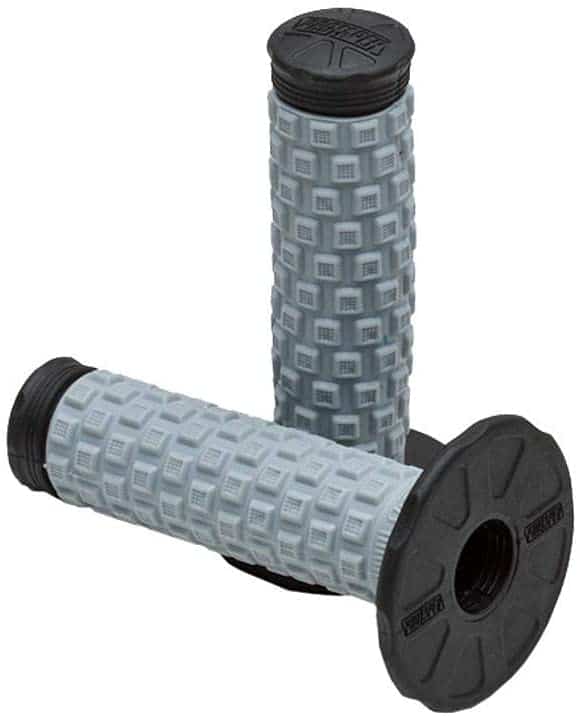 My first entry would be a pair of grips of pro taper. You've heard their name right? Of course, you did; they make awesome grips. And this one, in particular, is awesome.
The vibrasonix pillow minimizes the vibrations while you're riding, this is a blessing for offroaders who ride their dirt bike on various terrains.
There is a gel-like compound on the surface that helps absorb the shock from vibrations, in the core, there is another hardened compound that improves bonding with the handlebar, so you get better glove traction.
Also, the anti-rip tip keeps the tips safe for increased lifespan for the grips.
The surface of the grips is designed with pillow-shaped bumps that feel comfortable for the palms. This also allows the grip to get rid of mud and dirt easily, and self-clean to an extent.
It has a sleek design and there are multiple colors to choose from, like black, blue, green, orange, yellow, red, etc.
Things We Liked About It
Provides comfort for the palms
Best dirt bike grips for muddy tracks
The cushion pattern makes it easier to clean
Fits ⅞" handlebars easily
Things We Didn't Like
Need a lubricant to slide it in
Not as slim as other grips
2. Scott Sports 219626-1007 Motorcycle Grips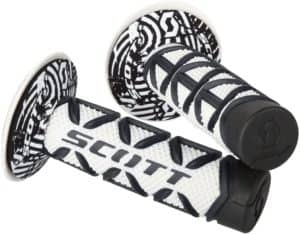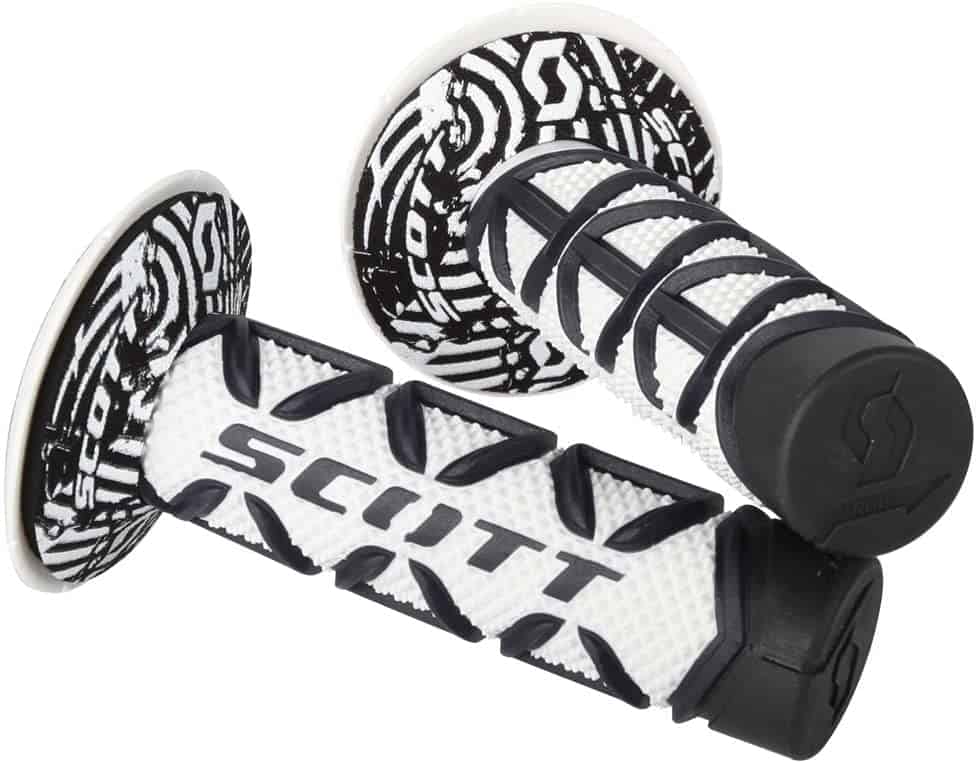 This bike grip from Scott sports made arm fatigue their primary concern. Their triple density grip makes sure your arms feel the least fatigue possible, at the same time you'll have tip-top control.
Compared to the previous grips, this triple-density one is different. The firm layer at the end cap is what makes it durable. There is an area with diamond patterns that has the softest density for absorbing vibrations and relieving pumped arms.
And when you're out on a long adventure on your dirt bike, you'd rest your palms at the waffle patterned area, where the density is medium. This is the most comfortable part of the grip.
It fits in a ⅞" handlebar perfectly. Scott sports were really ambitious with this one, which reflects in the little quality of life benefits they've added. The grip on the throttle side is thinner which lets you move your palm around easily, but the opposite side is thick enough to balance it out.
Things We Liked About It
No lube is needed for installation
Directional marks for beginners to place their palms
Triple-layer density for the maximum comfort
Minimizes arm fatigue
Things We Didn't Like
Doesn't fit all sizes
Not many color options
3. ODI Emig V2 Lock-on Grips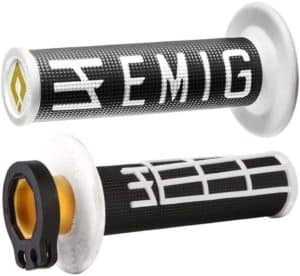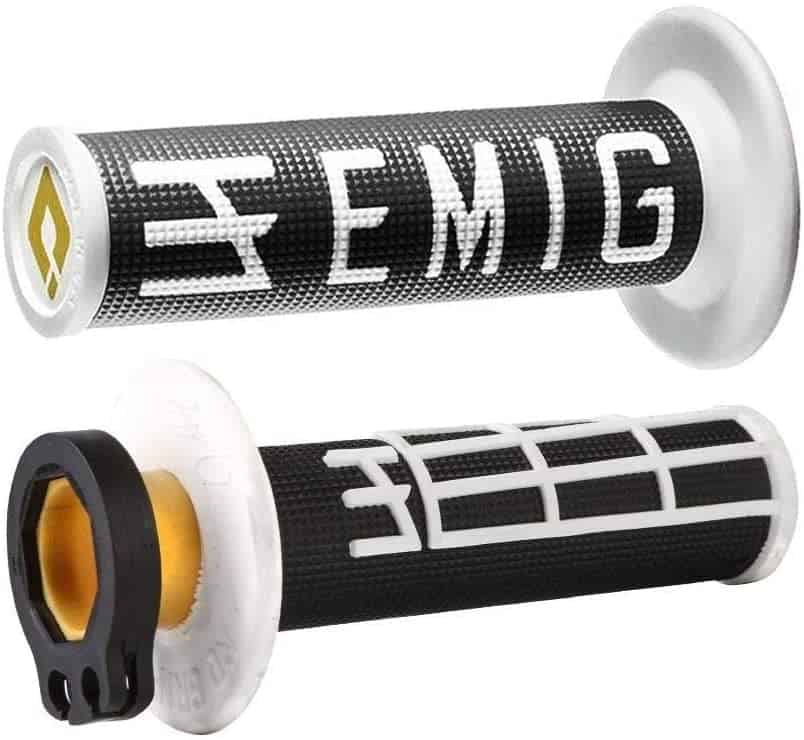 It's time I introduce you to a pair of lock-on grips. It has a locking collar that is installed differently from your run-of-the-mill grips. It's named after the Legendary AMA rider Jeff Emig who joined hands with ODI to come up with this model.
The V2 lock-on system greatly impressed Jeff, but at the same time he put his own vision into it and came up with the inspiring design which he claims is "the best grip for racers on this planet".
When such a bold claim is coming from a multi-title-winning motocross superstar, there's surely some truth to it.
It's got a pyramid pattern, plus another half-waffle pattern which helped relieve Jeff from palm irritations.
It is easy to install and remove, and unlike other grips that need their grip glue to dry, you can immediately replace them if one gets destroyed.
On the right [throttle] side, there's a throttle tube that has adaptors for various wires. While on the left [clutch] side, you can just slide it on easily and fix it with an Allen bolt.
The grips are of the same thickness on both sides, made of super-soft materials and it grips extremely well.
Things We Liked About It
Feels really soft and comfortable
Perfectly latches onto the handlebar
It Will last a long time
No need for grip glue
4. Pro Taper Pillow Top Lite Grip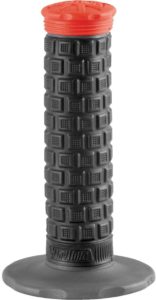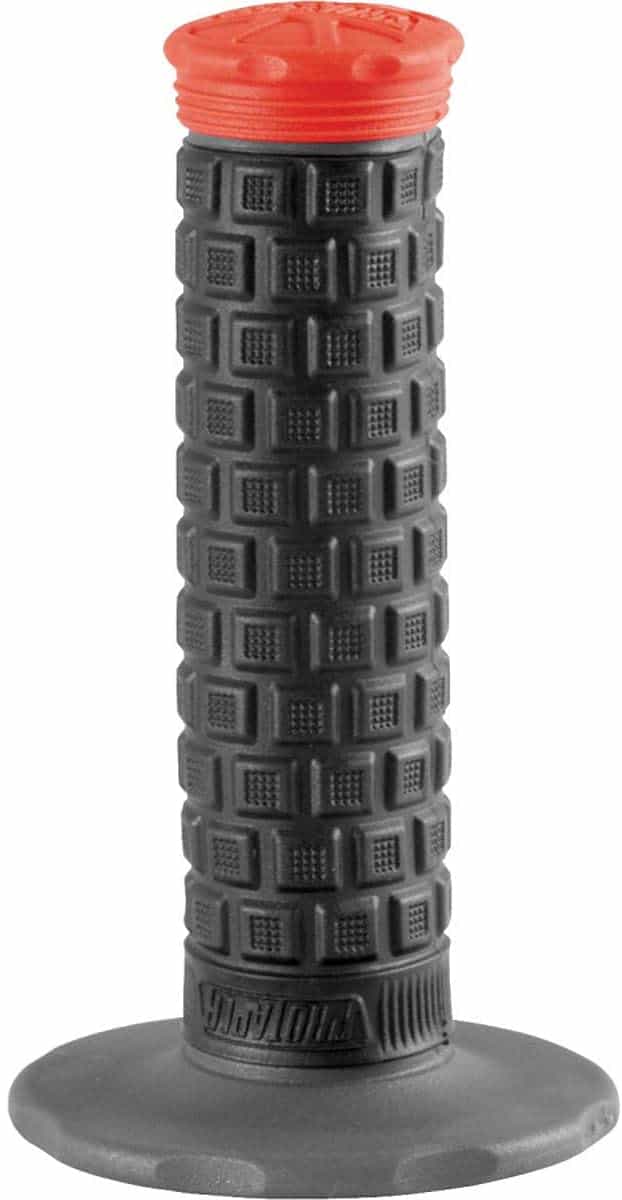 I'm back with another Pro Taper motocross product. It's their most popular set of grips. The pillow top lite grips are used by motocross riders all over the world for their marvelous quality.
Similar to the other pillow top grip, this one also has a pillow pattern that makes it easier to clean, as well as provides comfort while riding. Due to the low-profile design, you'll also get superior hand control. Dirt bikers would love this as they need great control since they ride on uneven planes a lot.
The grips feel really sticky, courtesy of the custom Kraton rubber. This well-made rubber is what gives the grips awesome clove traction.
Let's talk a bit more about the pillow cushions. These feel much more comfortable and squishy than the waffle-shaped grips because the pillows are uniformly distributed throughout the grips' body. They're better than rental ones.
Things We Liked About It
Lightweight, will feel comfortable
Easy to scrape mud and dirt off
Soft and squishy
Decent vibration absorption
Things We Didn't Like
Slim compared to other dirt bike grips
5. Scott Sports Radial Full Waffle Grips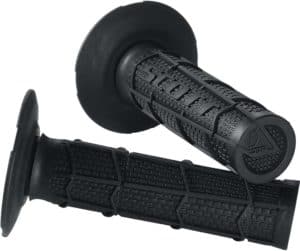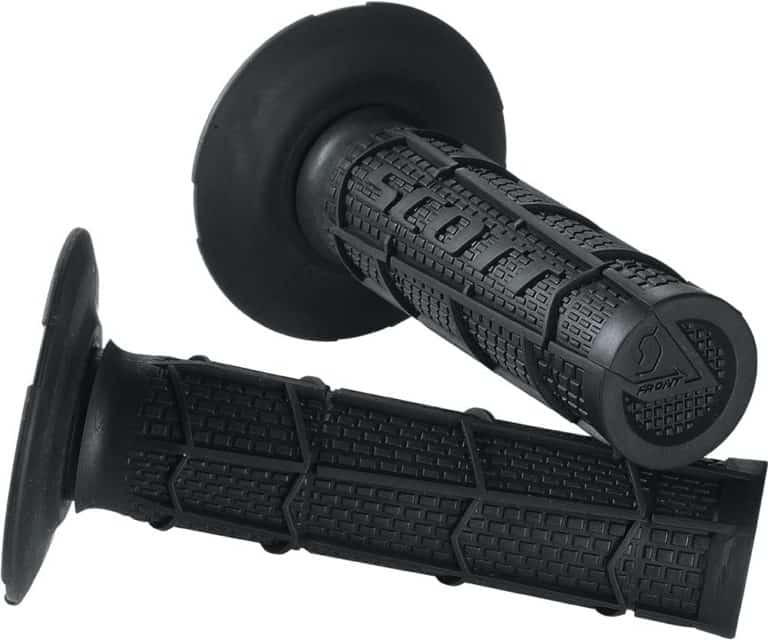 You've seen a lot of grips that reinvent the wheel, but here's a traditional one. Scott sports' motorbike grips don't bring anything new to the table, instead refine the classic formula to bring out its best.
It features a full waffle design that all bikers are far too familiar with. This is a radial grip that is proven to be dependable, any professional rider would feel safe with a design such as this.
The grips have a single soft layer that effectively absorbs all the vibration, so you won't feel shocked while you're on a dirt bike adventure. I'm sure newer designs bring a freshness to the table but when it comes to relieving pumped arms, you want to go for the design that's been proven to work for decades.
It fits a ⅞" handlebar like a glove. On the throttle side, you'll also get built-in safety wire channels. Maybe that's why the grip on the throttle is a bit larger than the clutch side.
All in all, it's a "standard" dirt bike grip.
Things We Liked About It
Tough grip for an affordable price
Durable and secure grip
Excellent vibration control
Comfortable padding
6. KTM 2013 Dual Compound Enduro Grips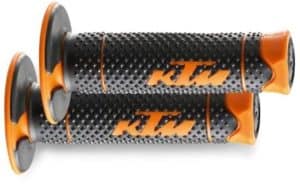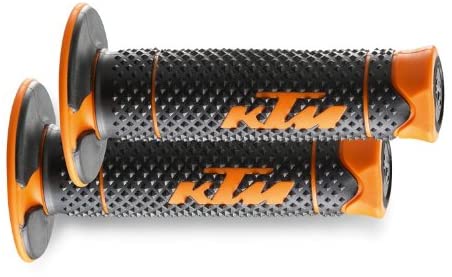 I can't finish this article without mentioning 1 pair of enduro grips. So here is one from KTM. It has 2 compound layers, easily distinguishable by the colors.
The orange inner layer at the inside and towards the grip end has the harder material that provides support and solid grip while the black outer material is softer, giving the rider a soothing feel.
On the left side, there's an Allen bolt, you just have to slide it on then tighten it with an Allen wrench. It's almost the same for the right side- slide, tighten and run the throttle cable through.
KTM will give you a total of 3 throttle cams that you can interchange depending on whether you want a quick, medium, or delayed throttle response.
It has a diamond pattern, instead of the half or full waffle-like many other grip brands, your palms will feel comfortable while resting on it, and the logo doesn't stick out.
These will fit any KTM 2012-2018 50cc model, as well as 22-28 mm handlebars.
Things We Liked About It
Double compound layers
Comfortable diamond patterns
Interchangeable throttle response cams
Things We Didn't Like
Comparatively thinner than other KTM grips
7. Renthal G091 Full Diamond Motocross Grip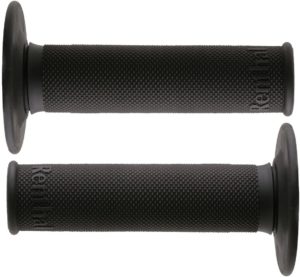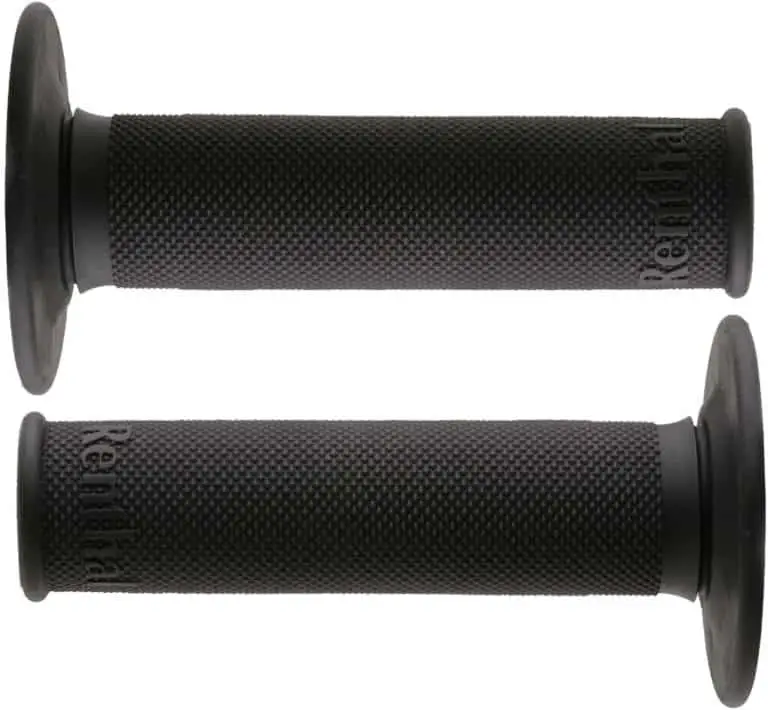 Comfort, strength, and tackiness; the Renthal G091 will provide you the perfect flexibility in all kinds of terrains. As a dirt biker, your hands will go through all hard times to control the bike on uneven rocky roads. Thanks to this guy's superb shock-absorbing ability, you will find your bike's grip more user-friendly. Therefore, you can handle your bike smoothly with no issue.
On top of that, the grip incorporates a full diamond design. This innovative design is perfect for a variety of riders, from avid motorcyclists to first-time bike enthusiasts. The slope grip provides an even surface interface so that the rider feels comfortable and in control at all times on their motorcycle.
Moreover, the full diamond shape allows any type or size of hands to feel right at home with its ergonomic hold, making it ideal for both seasoned bikers and novice riders alike!
Also, the advanced synthetic rubber firm grip is available in 3 different hardnesses. They include soft, medium, and hard surfaces. So, you can choose one according to your preference. No matter what kind of Renthal grip you get, it will last long without any tearing and abrasion problems.
Things We Liked About It
Comes with 3 top-notch rubber compound
Perfect for professional bikers
Durable grip with more grip
Things We Didn't Like
Slightly difficult to put on.
8. Scott Sports 219624-1019 Gray/Black SX II Motorcycle Grips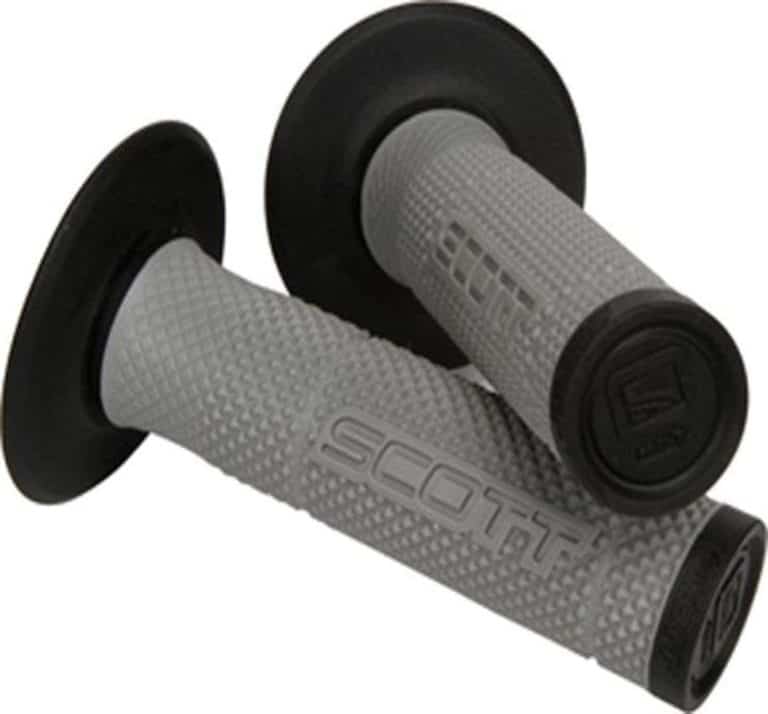 I have brought another diamond design dirt bike grips for you. This top-grade grip is manufactured by Scott sports. The design has always been at the heart of Scott products, and it's no different with their newest SX II.
Besides, their engineers are constantly looking for ways to improve safety standards and provide a better experience on all levels. That's why these grips are crafted with a dual-density rubber-made structure. It has a firm-density end cap and core accompanying a soft-density diamond pattern.
This firm density core strengthens the entire unit, while also providing an excellent gripping surface for riders during intense rides or on rough terrain with rocks and roots. These grips can easily fit 7/8″ handlebars.
Moreover, this grip is made from high-strength rubber. Overall, the end cap and core of these bike grips have tear-resistant exteriors, meaning that they will last much longer than other grips. The soft compound of the grip provides comfort to hands and arms by reducing controlling fatigue. You will also love its integrated safety wire channel and grip donuts design.
Things We Liked About It
Top-grade built quality makes it super strong
Dual-density structure for supreme comfort
 Appropriate for 7/8″ handlebars
Things We Didn't Like
It can become sticky over time.
9. Renthal G162 Diamond/Waffle Tapered Motocross Grip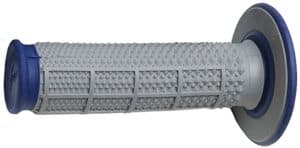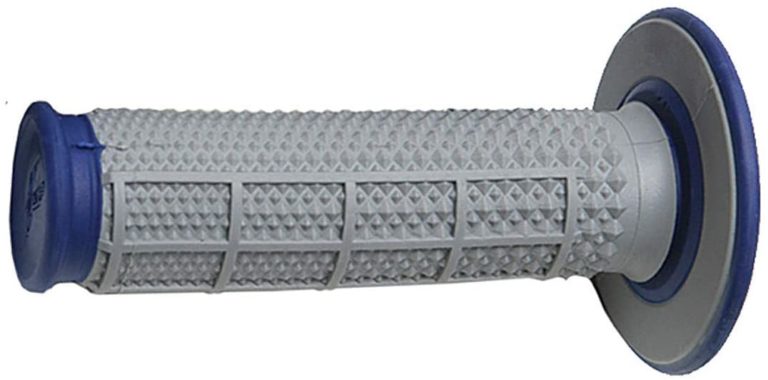 Renthal G162 comes with the convenience of a diamond texture grip and the comfort of a waffle design grip. Yes, you read it right! To offer more handling, this company has added more cushioning in the sensitive thumb area. Also, this cushioning will reduce vibration while riding the bike on any uneven surface.
Moreover, it offers all the advantages of top-notch a dual compound grip with a big thumb-placing area. Don't worry; This area's end part is tapered down to a comfy size to fit the contours of a closed fist. Plus, its non-throttle part is made significantly bigger to ensure the same circumference on every side.
The soft and firm compounds of the grip play different roles to increase the robustness and ease. Renthal has provided soft compounds on the outer part of the product to minimize hand fatigue while the firm compounds are given on the inner part, sleeve, and flange of the grip.
In addition to that, the rubber-made and properly cushioned grips are suitable for 7/8″ bars and can be used with twist throttle. You can also install these grips without any hassle.
Things We Liked About It
It incorporates both diamond and waffle designs
Dual compounds for increased durability and maximum comfort
It feels and looks good on the bike's handlebars
Things We Didn't Like
You need to clean them regularly, otherwise; they may become ugly.
Things to consider before purchasing dirt bike grips (Dirt Bike Grips Buying guide)
A perfect grip will provide all the comfort and convenience of handling your dirt bike. So, you have to pick your grips keeping lots of things in your mind. For instance, you should consider what kind of terrain the bulk of your riding will be on and how much weight is put onto the handlebars.
Here, I am going to provide some key information that will help you to find the best dirt bike grips. Without further delay, let's have a look.
Grip's compound
In the world of grips, there are 3 categories of compounds. They are- soft, medium, and multi-density compounds.
The Soft compound is going to ensure most vibration damping and it helps to get the grippy feel on riders hand which is excellent for wet and muddy conditions. However, softer grips don't last long like other compound-made grips.
On the other hand, medium-compound grips are harder than the softer ones. They also provide good grips on riders' hands and have more durability.
However, some grips come with dual or triple density. These multi-density grips use a harder compound at the inner part and a softer compound at the outer part.
Grip Designs
Grips generally come in 2 popular designs. These are mainly separated by waffle and non-waffle style. Also, waffle grips have 3 different patterns. They are- full waffle, half-waffle, and third waffle.
The full waffle design has an elevated pattern all around the grip and it helps reduce vibration in wet conditions. But, if you have thinner hands, you may find it slightly larger.
However, the half-waffle grip has a smooth surface for the palm of the hands of the rider and the waffle part for resting your finger. This design is very popular among professional riders. The third waffle design is perfect for those who have small to medium-sized hands.
The non-waffle design grips feel extremely thin and have a rough surface for gripping convenience. However, some grips come with a pillow-top design offering more vibration reduction and could delete arm fatigue.
Durability
You may choose a grip set that has all the latest upgrades but if it fails to last longer, then all these bells and whistles won't do any good for you. So, your prime concern would be finding a long-lasting grip. You have to get a tear-resistance grip.
Also, you will have a better idea about any grip's lifetime by reading customers' reviews about any particular grip set in any online marketplace. Also, you can choose anyone from the above-mentioned grip set and they will offer extreme durability.
Easy Installation
The next criteria that you should keep in mind while buying your dirt bike's grip is the ease of installation. It becomes extremely difficult for a beginner to attach a grip if it has a tricky installation process. In some cases, they damage the grips while trying to install them.
However, professional riders may not face any issue installing the grip no. Most grips need some sort of grip glue and safety wire to hold the grip in its position.
But, if you don't like to go through the hassle of the glue-wire process, you can opt for a lock-on grip. The lock-on design grips are machine-specific and you must make sure that these grips support your bike's handlebar. You should check the model and year of your bike before picking them.
The uniqueness of the grip is that it is super easy to install and doesn't require any glue or wire while installing.
Frequently Asked Questions
Here are some common questions and answers regarding dirt bike grips. I believe this section will help clear some misconceptions about this product.
What are grip donuts for?
Grip donuts are designed to cover the width of a grip to prevent blisters on your hands caused by grips. For many dirt bikers, this is a must-have feature, and it also increases the beauty of the grip.
How do you remove Grip glue?
Insert a thin and long screwdriver between the handlebar and grip. After that, spray WD40 into that place using a plastic tube. Do the same things a few times and you could easily remove the glue.
When should I change my dirt bike grips?
you will feel your hands are slipping while riding or handling the bike and that's when you need to alter the bike's grip.
Does Hairspray work as Grip glue?
It may sound weird but hairspray really works as grip glue. All you need to do is to spray aerosol hairspray (thin layer) onto your bike's handlebar and attach the grips over it.
How do you clean dirt bike grips?
You can easily clean your dirt bike grips using soapy water and an unused toothbrush. Just rub the grip with soapy water and wash the grip with clean water.
Final words
Whether you fall into an adventure rider category or a more traditional motocross category, there's plenty here for everyone! Some riders prefer comfortability over durability while others go for robustness.
However, the best dirt bike grips are those that can accommodate a variety of different situations so make sure you pick one that's versatile enough for your style and feels right in your hands.
I hope this review will help by giving some insight as to which might work best for you.