Whether you're a leisure biker or an avid offroading monster, there's one accessory that's been around for years and never seems to go out of style, the speedometer.
Bikers love this gadget as it makes it possible to monitor their speed while riding. This handy little device is easy to install and provides accurate readings with just a push of a button!
Got you interested? No worries, I'll take responsibility. I'll show you the best dirt bike speedometers available with their pros and cons. You can also find our top picks in our list below!
What is a speedometer?
A speedometer is a device that will measure the speed of your vehicle [dirt bike in this case]. It measures the rotation of the wheel and indicates the current speed.
Simply, it's a speed measuring device. You should definitely get one of these to keep track of how fast your dirt bike is going.
8 best dirt bike speedometer reviews
Every motor vehicle should have a speedometer nowadays. Dirt bikes are no exception, rather they're more necessary for dirt bikes than regular bikes.
Whether you need to track your time, or just want to know how fast you're going on a given day, we have something that will work for you! Now without further ado…let's get started.
1. Trail Tech 752-119 – Best Digital Dirt Bike Speedometer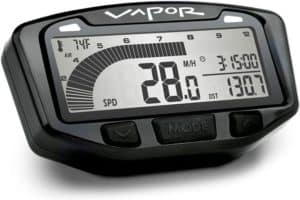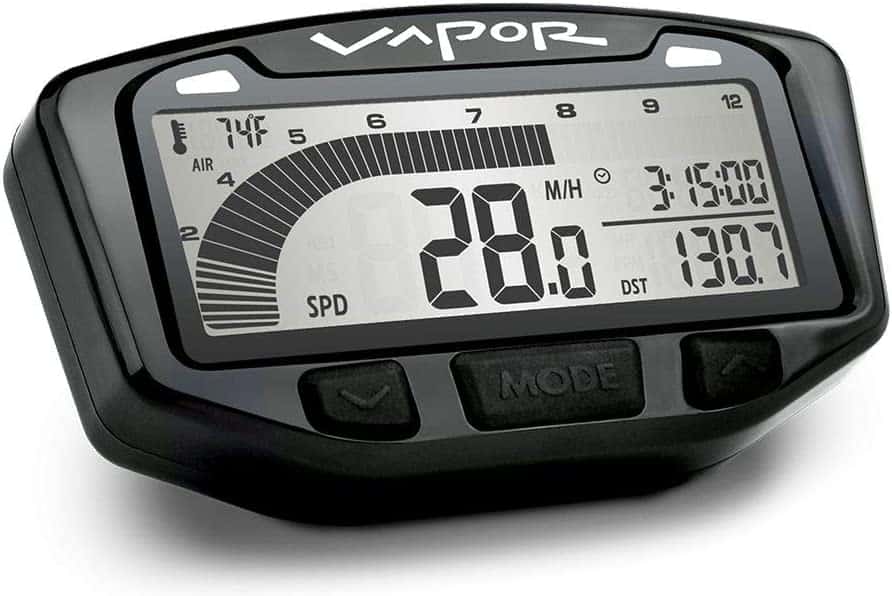 Whenever we think of dirt bike speedometers, trail tech is one of the brands that come into mind, and for a good reason. They have been making tachometers for both on and off-roading for years. And the vapor series is the crown jewel of their research.
This particular model, the Vapor 752-199 is perfect for offroading or hitting a day at the tracks. Its readings are easy to read, with a huge display graph for the RPMs and speed readouts.
The LED-backlit display also manages to show you various key information; but to minimize the visible clutter, these are divided into 3 modes.
It'll show you the maximum speed and RPM readings so you are aware of your limits while riding. Use the trip distance to set up custom enduro courses and the ride time to practice your racing skills.
I particularly liked that the screen display blinks when it's time for you to change your gears. It also lits up during over-temp occasions. There are also tach warning lights. So, I can safely say the manufacturers gave close attention to only input what a rider needs. Also, these trigger lights are customizable!
All of the vapor tachs run on AC or 12V DC currents, meaning they'll run on virtually anything.
Things We Liked About It
Fits anywhere due to its small size
Triggers warning if overheating
Clean dashboard
Good quality wheel sensor
Things We Didn't Like
Hard to understand instructions
2. Latnex – Best Waterproof Digital Dirt Bike Speedometer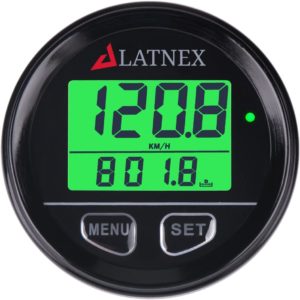 The second dirt bike speedometer on our list is from LATNEX and you will surely love the feel, look, and features that this special edition comes with. That's because the LATNEX engineers have left no stone unturned to make it the most featured-optimize and flawless speedometer of the marketplace.
This wonderful device is designed with a high-quality LCD plus a green backlight system to give you the best user interface. As a result, you can easily view the readings no matter how bright or not the day is. Don't worry, this digital machine will last longer as it is both waterproof and dustproof.
With this speedometer's settable low-speed and high-speed alert system, you can keep your bike's speed under a predetermined range as this technology will grab your attention by blinking Red LED while you cross your pre-set speed limit. Sounds great, isn't it?
In addition to that, it uses GPS satellites to show speed meticulously.  Moreover, this LATNEX wizard is equipped with EEPROM memory to store data and your preferred settings automatically. The good news is that the powerful dirt bike speedometer consumes less power and requires only 10-24V DC. You can easily view your ride's max speed in its display and reset it every time.
Overall, this affordable and easy-to-install unit having useful clock functions and voltage detection features will be your worthy companion on your upcoming biking events.
Things We Liked About It
GPS satellite positioning and certified by ROHS and CE
Super easy to install with a simple setup process
Durable built-quality with waterproof and dustproof design
Things We Didn't Like
You may face difficulties in setting the odometer to zero
3. Trail Tech 202-111 Endurance II Digital Gauge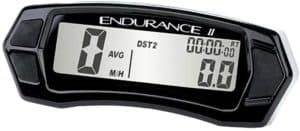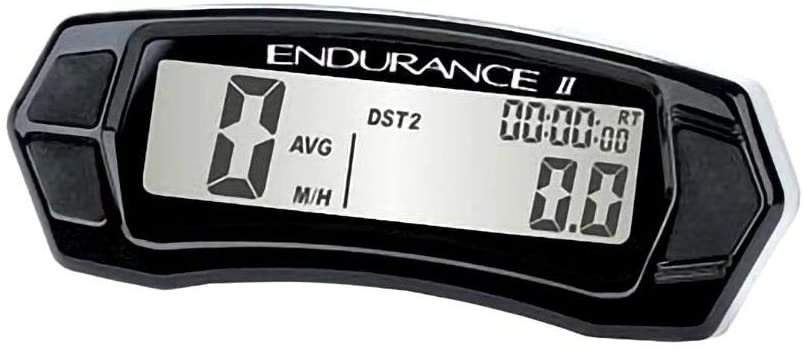 I'm here with another trail tech digital meter, but this time, it's from the Endurance series. Unlike the vapor gauges that throw you as much information as possible [while maintaining a good user interface], these focus on simplicity. Similar to vapor, this one is also good with both on and off-road biking.
The minimalistic dashboard only aims to give you the most important details- current/avg/max speed, elapsed time, and covered distance. This is great for dirt bike riders who just want the necessary readings and are experienced enough to understand the rest.
As a simple and cost-effective option, it's among the best. Because fancy information translates to a higher price tag. This machine manages to stay up due to great sensors that pick up on either the wheels when they spin or external power.
There is a maintenance timer too, for all those forgetful bikers. I'll suggest matching this feature with the mileage interval for a better understanding.
It is very easy to install thanks to the clear instruction manual. Since it has a small size of 4.2″ x 1.6″, it can practically fit anywhere.
My only wish however was that if they included the temp as well. Knowing when your bike is overheating is important.
Things We Liked About It
Simple interface
Stays awake by itself
Easy to install and use
Sheds water and mud well
Things We Didn't Like
No hint for over temp issues
4. SAMDO Universal Motorcycle Speedometer with Odometer and Tachometer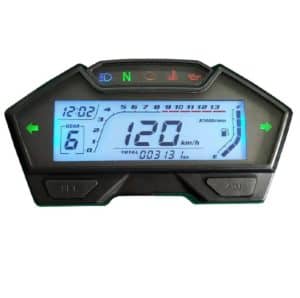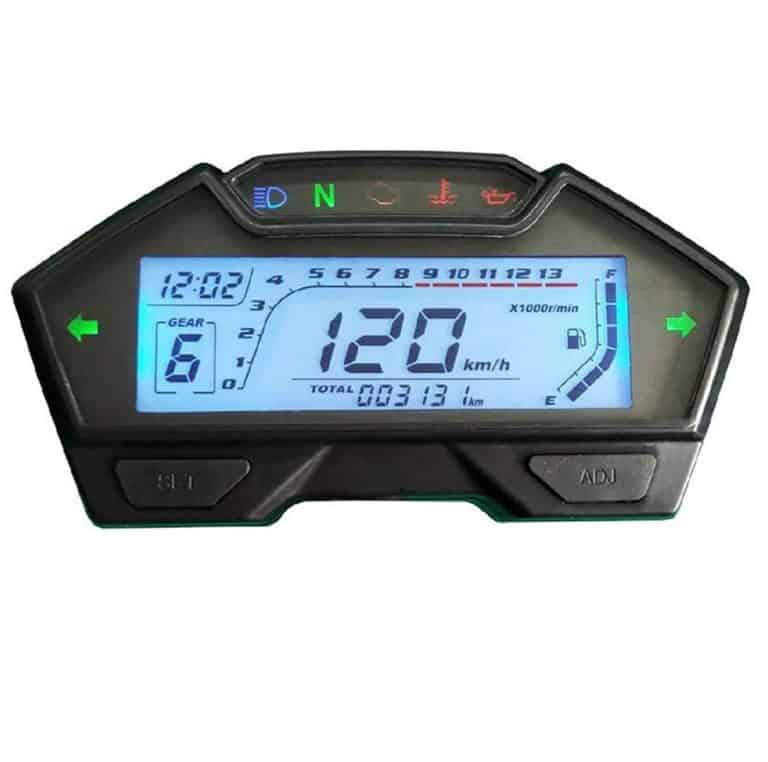 If you want to pick the best dirt bike speedometer for your on and off-road bike adventures without breaking your bank, then this budget-friendly device with a handful of valuable features will fit this spot.
With the sturdy build quality and perfect weather sealing technology, this SAMDO universal motorcycle speedometer is going to provide long-lasting performance. So, you can attach this to your bike and relax for the years to come. Also, this universal device is super easy to mount and fits almost all carburetor bikes with DC 12V.
Apart from that, the Tachometer that comes with this accurate speedometer is suitable for 8-inch to 22-inch wheels. No matter whether your bike has a 4-cylinder, 2-cylinder, or 1-cylinder system, this machine can be effortlessly installed in it. The good news is that this Motorcycle gear looks pretty cool after mounting and makes the vehicle look more appealing.
What's even better, this SAMDO universal motorcycle speedometer also displays left-right indicators, fuel level, battery indicator, gear status, and water temperature indicator. So, you are getting a complete package at a very reasonable price. You can also shift the settings between km/h to mph according to your convenience.
However, this gauge may not function properly with bikes having electric fuel injection engine systems. Especially, it doesn't show RPM measures. Plus, you may not like its overall weight as it's nearly half kg.
Things We Liked About It
Offers lots of mouth-watering features at a reasonable price tag
It is very easy to mount
SAMDO

universal motorcycle speedometer

fits the majority of models of motorcycles
Things We Didn't Like
Wirings are a little short in length
5. ELING Motorcycle GPS Speedometer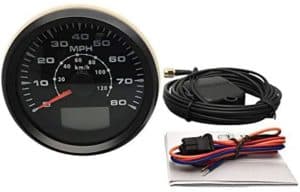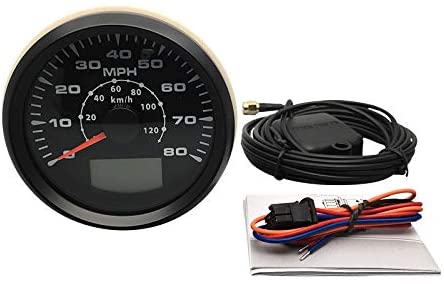 Here's a vintage speedometer for you. This simple-looking speedometer is definitely for those who prefer the classics. You can mount in any position, it'll work flawlessly. To set it up, you need 3 wiring connections- power, ground & lighting.
This machine has a good wide voltage design, being able to operate in between 9 to 32V.
It can work with a GPS sensor, you don't need extra cables. All of these are easy to figure out. By using it, you can track your current speed by looking at the needle,  while TRIP/COG and ODO are shown on the LED screen.
You can choose between multiple backlight options- red, green, yellow, orange, blue, purple, white- so many options! Choose whichever you fancy.
Since it has a built-in GPS, it tracks you in real-time and gives you accurate information about your location very quickly.
This old-school dirt bike speedometer is not only great for dirt bikes but is also good for boats, ships, and yachts! That's why it's made to be waterproof. The stainless steel IP67 waterproof grade device can surely endure the rain.
Alongside waterproofing, it's also dustproof. Ride your bike all day you'll still have that dirt and grime come off pretty easily. It also has anti-fogging curved glass so you can rely on it during winter.
Things We Liked About It
GPS speed sensor support
Waterproof and dustproof
Anti-fogging design
Multi-color backlight options
6. BLUERICE 7 Backlight Universal – Best Dirt Bike Speedometer with GPS support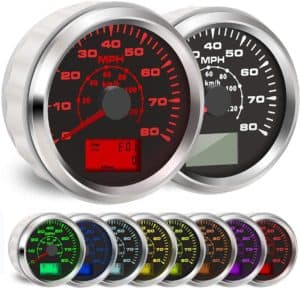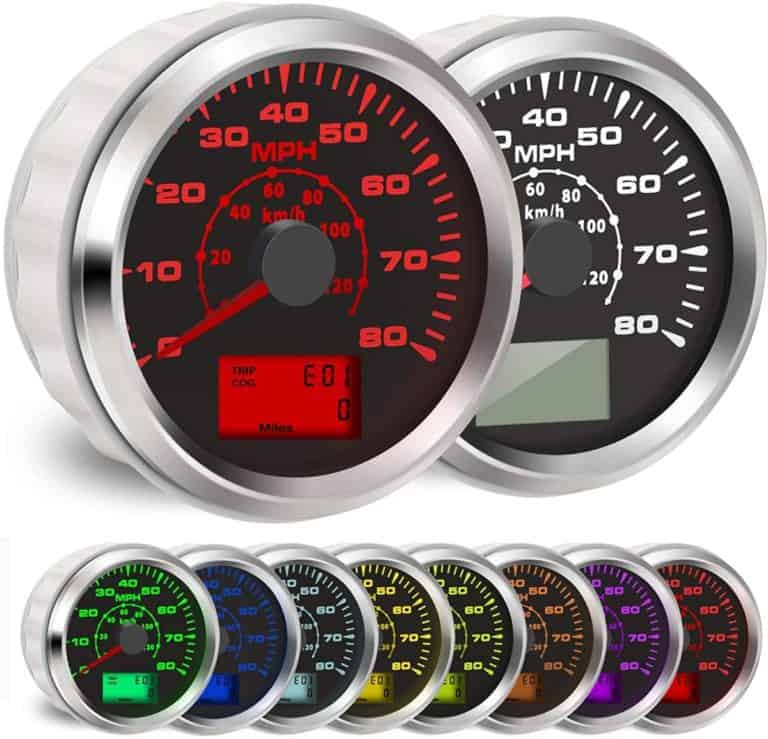 For those who want a world-class dirt bike speedometer that has a classic appearance, the BLUERICE speedometer would be an excellent choice. This feature-riched device offers lots of functionality to become the number one contender for this kind of traditional speedometer.
Moreover, this small but effective machine is made with high-quality materials. As a result, it will show a durable performance. Also, this dirt bike speedometer weighs only 0.3 kg which makes it extremely lightweight. Guess what? This product is also waterproof. So, it won't get damaged if you ride your bike while it's raining.
Additionally, It supports a universal GPS and you can also mount it in a car, boat, or truck. In any vehicle, it will show speed precisely. Also, it provides quick location confirmation and takes little time to lock on. This BLUERICE gauge indicates the highest speed up to 120 km/h and 80 mph.
To give you a better user experience, this dirt bike speedometer is equipped with 7 different colors of backlights. You can choose any color according to your preference or these colors will change automatically after every minute. These colors also help you to view measurements during night adventures.
Furthermore, this comes with an instruction manual and a multi-plug socket for hassle-free installation. You just need a 12V source and you will hook it up on your vehicle in a breeze.
Things We Liked About It
Shows speed measurements accurately
Easy setup process
Attractive price tag
Things We Didn't Like
It is hard to reset the device
7. SAMDO 6 Gear Universal Motorcycle Speedometer – Best Dirt Bike Speedometer on the budget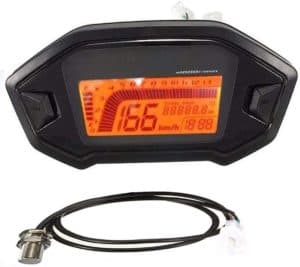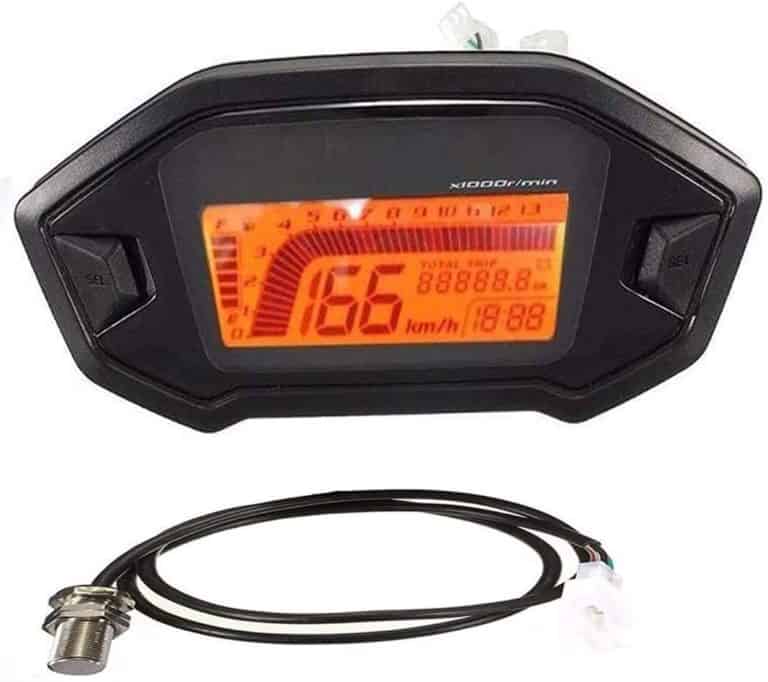 Out of all the best dirt bike speedometers I've shown you till now, this one has my most favorite user interface. Samdo's universal motorcycle speedometer fits any dirt bike, be it 1, 2, or 4 cylinders. It even adjusts itself for 8″-22″ wheels.
It's a stylish-looking speedometer with a black outer body and multiple colorful backlight options, you can choose amongst red, blue, green, pink, orange, purple, white, light blue, etc.
The user interface is really clean. You can easily check your current speed, water temperature, and elapsed time on the LED screen, there you can also check your left and right blinkers, high beams, and N, etc.
For those who like to nitpick a bit too much, you can alternate between kilometers or miles, whichever you prefer. There's also the handy feature of checking your fuel on the screen. The LED screen will warn you if you're low on fuel, and blink if refilling is urgent.
It also shows you which gear you're running on, which is rare in dirt bike speedometers of this price range. You'll be able to see gears 1-6 on the screen. There is also a  needle to indicate your rpm.
This product has a working voltage of 9 to 16V and weighs only 500g.
Things We Liked About It
Large display, easy to read
Fits various wheel sizes from 8″ to 22″
Supports 6 gear
Indicates fuel level
Things We Didn't Like
Incompatible with electric fuel injection engines
8. BLUERICE 6 Gear Digital Motorcycle Speedometer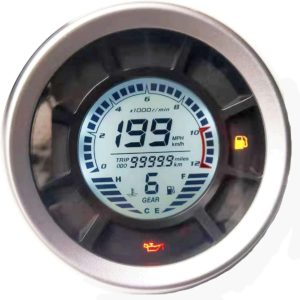 Here is another phenomenal BLUERICE speedo and It's also the last item on our list. This gauge is crafted with the utmost care, and the device's style, appearance, and robustness witness its top-notch build quality. Also, this thing won't be damaged due to any natural disaster as it is rainproof, waterproof, and anti-seismic.
What's even better, this dirt bike speedometer is compatible with almost all sizes of wheels including 8-inch to 22-inch. Also, this universal machine can work flawlessly with both 2 and 4 stroke motorcycles. Yes, it also functions properly with 4-cylinder, 2-cylinder, and 1-cylinder carburetor bikes.
To give you further convenience, this speedometer displays 6 Gear indications, L/R turn signal, N lights, high beam, low fuel warning, and fuel indicator. As a result, you will find it extremely comfortable after mounting it on your bike. Moreover, it will alert you by buzzing an alarm when the oil and voltage become low.
The great thing about this speedo is that it includes all the necessary installing gears and you don't need any special skills to set up the device. Also, the supplied instruction manual is well-written and you can effortlessly follow the given instructions to finish the mounting task.
Things We Liked About It
Heavy-duty structure
Equipped with all mounting gears and a detailed instruction manual
Hassle-free mounting system
Things We Didn't Like
Changing the speedometer settings is tricky.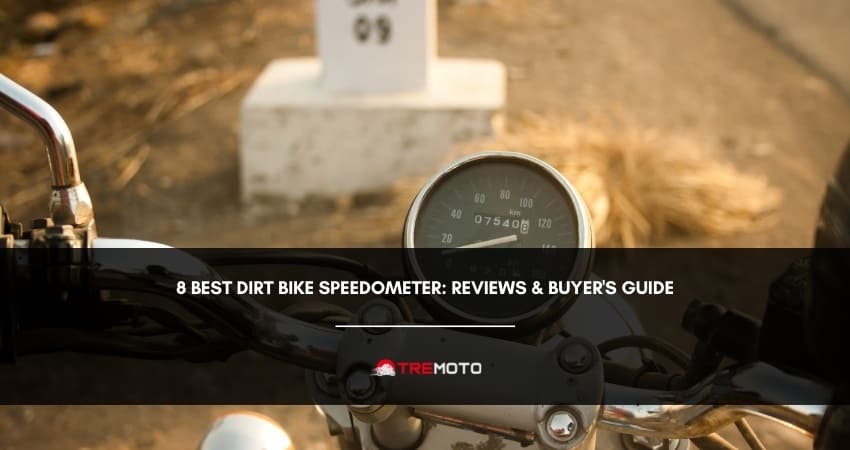 Things to consider before buying the Best dirt bike speedometer
It is always recommended that you buy a new speedometer for your dirt bike rather than using one handed down from someone else and opt for unique technology over older models so that it will last longer and perform better on the track or trail. In addition, the following factors are also important:
Type of Dirt Bike speedometer
For some bikers, analog-type displays are preferred, while others like digital ones. Some prefer a light show, while others like a darker one, depending on their preferences and choice. Also, some dirt bike speedometers are round in shape while others are rectangular in size. However, all these factors are entirely up to you, so choose what's best for you but remember all types have something good in them.
Durability Of the device
We always want to buy a powerful thing for us, and here is no exception too. So our dirt bike speedometer should be of good quality, durable and sturdy. Therefore, while purchasing a speedometer for your bike, you must ensure that it is made of top-grade materials and is from a renowned brand. Yes, big names of the speedometer world won't make poor-quality products.
Precision in measurement
While buying a dirt bike speedometer, you should also look into its measuring accuracy. It must be accurate (to whatever degree) to enhance our safety on the trail/track and at the same time for perfect alignment with our bike's performance monitor.
GPS compatibility and readability
GPS speedometer is currently the most advanced and smartest gadget in the market. It helps you keep an eye on your bike's speed, define a specific route map, find your location, and keep it locked whenever it's parked. Therefore, if you are looking for a GPS-enabled product, then go for it.
Easy installation
This is another important aspect. A dirt bike speedometer with a complex installation process may suffer you, and in some cases, you may end up mounting the device inappropriately.
It is a delicate issue, and your expansive speedometer can be damaged during this hassle. So, buy a simple-to-install dirt bike speedometer that comes with a detailed instruction manual.
Adjustable with Wheel Perimeter
The dirt bike speedometer should be adjustable fitted with wide rim tires. You can also go for the speedometer that is specifically made to fit different size wheels because it comes with a separate SpO2 sensor, which helps level the accuracy of the bike's GPS device.
Wide varieties on offer
These days you will find varieties in every product category, whether a mobile phone or a dirt bike. Always look for the advanced functionalities that any speedometer offers so that you can utilize them to have a better user experience. However, always keep an eye on price as advanced features come with a higher price tag.
Specialized features
It is important to consider the type of biking that you are going to do. If it is motocross, then you might need a different speedometer than if you plan on trail riding or just basic transportation. The same thing applies when we talk about the environment and place where you live.
Ability to connect with other accessories
If your motorcycle has an integrated GPS device, then your speedometer must be able to have a real connection in order for you not to lose track of time while riding on the road or enjoying an off-road experience. A lot of modern dirt bike speedometers offer Bluetooth connectivity so that they can easily pair up with other devices such as smartphones, helmets, and tablets, etc.
Sensors
Always check whether all sensors are working well or not? Because if it's not then, it will affect the performance of your bike as it shows incorrect reading.
How to install a speedometer on a dirt bike?
Dirt Bike Speedometers are one of the less exciting products out there. They're simple devices and they fulfill a very important purpose; to measure speed.
However, some riders think that they can get by without this very necessary piece of equipment, but you should never be driving on an open track or trail without one because you could inadvertently crash if you're not paying attention to your bike's speed.
To mount a speedometer properly on your bike, you should learn the right way of installing this device. Here, I've given the installation process in detail so that you can follow it effortlessly.
First, locate the ground and receptor wires in order to attach the speedometer securely.
Next, grab all the hardware that comes with the device and check the instruction manual; following those directions written on the manual carefully will allow for an easy installation process! So, mount the speedometer on its position according to the manual's instructions.
Once the speedometer is placed, take down wiring from handlebars over the engine of the bike until finding spark plugs which should power up as soon as contact is made between each wire respectively (ground under bolt head). Securely tighten all connections.
Start engine: if there are no problems then your new visor should be displaying readouts now! Congratulations, your speedometer has been installed correctly and it's ready to do its job now.
Types of speedometer
Dirt Bike Speedometers mainly are different on the basis of display. The two most basic types of speedometer are:
Mechanical speedometer
It shows speed via a pointer that is moved around by a mechanical drive to point at a specific speed milestone.
Electronic speedometer
A circuit receives a signal from the sensors and translates it into digital data to display on a screen.
How does a speedometer work?
We can calculate average speed by ourselves just by dividing the total distance we covered by the time we took. For example, If it took 2 hours to go 200 km, you were running at 100km/h. But this is not a reliable metric for a real-time calculation.
A speedometer does exactly that. It reads your dirt bike's movements and figures out at what speed you were riding it at any given moment.
I'll explain how it works:
How mechanical speedometers work
Speedometers are linked with a gear. This gear is linked to the bike's wheel. When you ride your dirt bike, the wheels move and that moves the gear, so your speedometer cable moves as well.
There's a small magnet on the cable that interacts with the speedcup. The speedcup is an aluminum cup that's attached to the shaft that's connected to the pointer of the dial.
So, as the magnet rotates alongside the cable, it produces a magnetic field near the cup. This magnetic field creates an eddy current which creates another magnetic field.
As a result, the cup gets inflicted with torque and starts to rotate too, thus the pointer rotates. This pointer will then show the corresponding speed on the dial. From which we can deduct the speed of the dirt bike.
Thanks to the return spring, the speed at which the cable is rotating will indicate a specific speed on the speedometer.
How digital speedometers work
A magnet is attached to the front wheel, or the driveshaft will rotate as the bike moves at high speed.
At each revolution, it'll pass by a sensor. The magnetic field reacts with the sensors and triggers it by generating a short electric pulse.
The sensor sends the signals to a nearby circuit which amplifies them and converts them into readable data. It calculates how fast the pulses came, translating it into speed, while by counting the wheel rotation, it learns how much distance you traveled.
This data is then displayed on the screen of the dashboard as speedometer and odometer readings.
And that's the simplest way to explain how a speedometer works on a motorcycle.
Benefits of a speedometer
In the modern-day, you can't have a bike without a speedometer. They are a crucial part of your dirt-biking experience. When you're riding super fast, you won't have the time to calculate how much distance you've covered in how much time; therefore, checking velocity[speed] in real-time is not easy.
It's rather dangerous because you need to be aware to make split-second decisions when you're out on a dirt bike, as you'll be riding on uneven plains and rocky roads.
If you don't know at what speed you're running at any given minute, you won't realize whether or not you're overspeeding. No matter how many times you say, "dude, it's fine I got it under control"; I won't believe you.
It's really easy to get tempted into speeding, and you wouldn't realize it. By having a speedometer installed, you can always keep track of how fast you're going at that point in time; this could save you from potential dirt bike injuries.
Frequently Asked Questions
Will a bicycle speedometer work on a motorcycle?
Definitely. Many bicycle speedometers work precisely on bikes. However, they may only display speed. On the other hand, the bike's speedometer shows other important data to help you ride more comfortably.
Are Dirt Bike Speedometers Waterproof?
Dirt bikers don't care about weather conditions. They always fly, no matter how rough the climate is. And that's why the dirt bike speedometer comes with rainproof and waterproof features.
How do I test my speedometer?
Divide the time (minutes) of your ride and multiply that with the distance you have covered at that time.
Now, match this with your speedometer's readings. If both readings are the same or pretty close, your speedometer is working fine.
What stops a speedometer from working?
Your speedometer can stop working for several reasons. Some common causes are faulty wiring, broken gears on the device's parts, and damaged engine control units that could interfere with its ability to measure how fast you're going or show other data inaccurately.
Can you use your phone as a speedometer?
Yes, your phone can be an excellent speedometer. But, as a dirt bike rider, using a phone as a speedometer can be your biggest mistake. The reason behind that is your phone will probably fall from your dirt bike while riding on an off-road adventure.
Parting Words
You should always try to get high-quality motocross equipment for your dirt bike whenever you can. That's why settling for anything but the best dirt bike speedometer is not an option.
I loved the 6 gear universal speedometer from SAMDO the most; its clean user interface lets you pick up on all necessary information quickly. But that's just my choice.
Find one that calls out to your heart; you'll be spending a lot of time together.