There is nothing more thrilling than dirt biking. To get the most enjoyment out of the experience, you should hit the trails. But it can also be dangerous if you don't know what you're doing. The trail riding experience is completely different from ripping around in a parking lot on a dirt bike. It is unpredictable, with all sorts of obstacles and challenges to keep you on your toes. If you have the spark to roll out to start with a bang and start riding the trails as soon as possible, then you came to the right place.
In this short blog, you will get every piece of info as I will be touching all the nooks and corners of how to trail ride a dirt bike.
Step by Step Guide: How to trail ride a dirt bike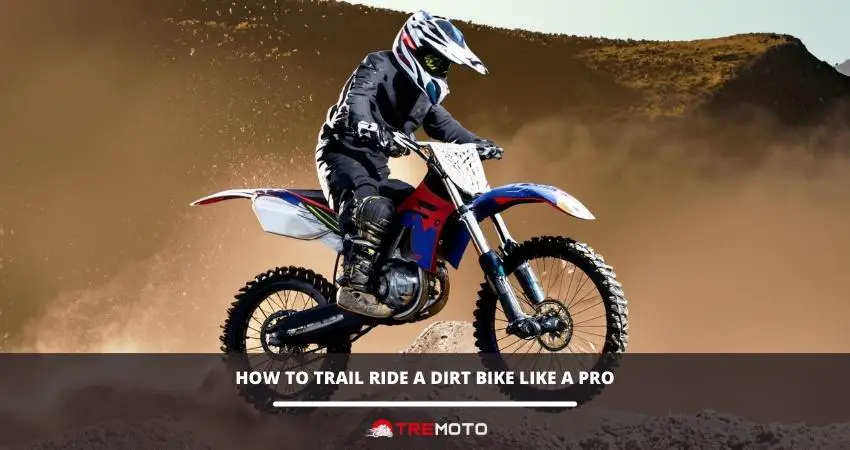 Dirt biking is a great way to get out into nature and have some fun. It can be a bit intimidating for beginners, though, so here are some tips on how to enjoy your first trail ride. But first, make sure you have put on a helmet and gloves. Also double check if the you are riding the appropriate dirt bike according to your size.
Step 1: Get your gears for the trail ride
When you have made up your mind to take your dirt bike off-road, you need to make sure you're properly outfitted for the trail. While gearing up for a trail ride on your dirt bike, you need some essential items: a helmet, gloves, boots, a chest protector, jacket, pants, and knee & elbow pad.
A helmet is the most important piece of safety gear, and it should fit snugly and have a visor to protect your eyes from debris. While gloves help to protect your hands from branches and rocks, they should fit snugly so you can maintain a good grip on the handlebars.
Due to the trail riding risk, boot is a must. Boots provide support and protection for your feet and ankles, and they should be comfortable enough to wear for long periods. You can wear a chest protector that helps to shield your body from impacts with trees and other objects on the trail.
Then comes a high-quality dirt bike jacket. It has to be made of durable materials that can withstand abrasion, and it should have padding on the shoulders, elbows, and back for impact protection.
For trail riding, your pant should also be made of tough materials, and they should fit snugly to prevent them from catching on branches or other obstacles. Knee and elbow pads are essential for absorbing shocks and protecting your joints from impacts.
Step 2: Select the right bike & inspect it thoroughly before the trail ride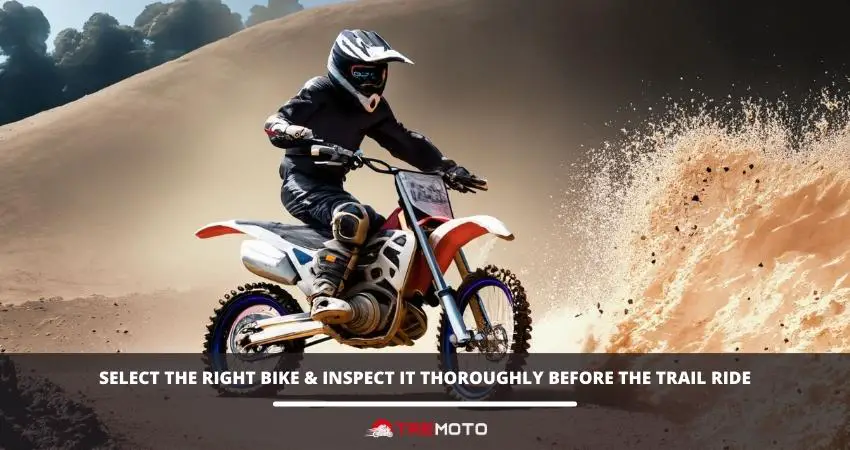 A dirt bike is a machine after all. And you never know what's going on inside the dirt bike until you have a full check. In the following, you will see all the details you should check before the final kickstart. However, this process starts by choosing the perfect dirt bike for the trail ride. So let's see them one by one…
Choose The Right Dirt Bike
The ugly truth is not all dirt bikes can instantly go for the trail ride. So there are several factors to consider when selecting a dirt bike for trail riding.
First of all, consider the type of terrain you'll be riding on. If you'll be sticking to relatively smooth trails, then a cross-country bike might be the best choice. However, if you're planning on tackling more rugged terrain, then a dual-sport or enduro bike might be a better option.
Then think about the size of the bike. If you're relatively small and lightweight, then a smaller bike will likely be more manageable. If you're taller and/or heavier, then a more giant bike might be a better fit. The most important one is to consider your budget. Because the price starts from a few hundred dollars up to thousands of dollars.
The following dirt bikes are well-reputed for their power, performance, and fun in trail riding.
Honda CRF250F
Honda CRF250RX
Kawasaki KLX300R
Yamaha WR250F
Yamaha YZ250FX
Check the frame top to bottom for any presence of cracks
Before you take your dirt bike out for a spin on the trails, it's important to give the frame a once-over for any cracks or damage. This is especially true if you've been riding hard and putting the bike through its paces.
Because a cracked frame can weaken the structure of the bike and make it more susceptible to breakage. It's important to catch any cracks early and get them repaired.
The same goes for any damage to the frame – if you notice anything that looks out of place, it's best to have it checked out by a professional before hitting the trails again.
Lube up the chain and gears to keep them running smoothly
Any dirt bike rider will tell you that a smoothly running chain and gears are essential for a smooth ride. That's why it's important to lube up the chain and gears before heading out on the trail. A little bit of lubricant will help to keep dirt and debris from building up on the moving parts, and it will also help to reduce friction. In addition, lubing up the chain and gears can help to extend their lifetime.
Inspect the brake pads for wear
No matter what type of vehicle you're driving, maintaining your brakes is crucial for keeping yourself and others safe on the road. That's why it's important to inspect your brake pads regularly for wear. Replacement is necessary if they become extremely thin.
Depending on how often you hit the trail with your dirt bike, you may need to replace your brake pads more frequently. But no matter how often you ride, it's always important to check your pads before hitting the trail. By doing so, you can ensure that you'll be able to stop safely when you need to.
Inspect the bike for loose bolts and screws
Before dirt biking on your trail bike, make sure all the bolts are tight and that there is no rust or corrosion. It's very important to have a complete understanding of how your dirt bike works before you hit the trails.
By checking the condition of the bolts and making sure there is no rust or corrosion, you can avoid any potential problems while you're out on the trails.
Checking air tire pressure & wear-tear of tire
Appropriate tire pressure plays a mind-boggling role in any kind of terrain. If the pressure is too low, the tires will struggle to grip the terrain, making it more difficult to navigate around obstacles. At the same time, too much pressure can make the ride uncomfortable and increase the risk of flats. The best way to find the perfect pressure is to experiment with different settings and see how the bike responds.
For best performance, you can keep the tire pressure by syncing with the terrain's nature. One more thing you must check is the tire condition. If you see any hole, over-inflated tire side, or low depth tread then make a change and replace a new one.
Suspension setting
When it comes to dirt bike riding, having the right suspension setting is essential for a smooth ride. The suspension helps to absorb the impact of bumps and obstacles on the trail, providing a more comfortable and enjoyable experience for the rider. You need to watch out for a few things when setting the suspension on a dirt bike. First of all, the amount of travel will affect how much impact the suspension can absorb.
Then, the spring rate should be matched to the weight of the rider. Too soft of spring will result in a jarring ride, while too stiff of spring will make it difficult to control the bike.
Handlebar setting
Dirt biking is undoubtedly one of the most exciting sports related to bikes. However, motocross bikes are not designed for trail riding. If you want to ride your motocross bike on trails, you need to make some adjustments to the handlebars.
First of all, you need to lower the handlebars. This will give you more control over the bike and make it easier to maneuver on narrow trails. You also need to move the handlebars forward. It will help you keep your weight balanced over the front wheel, making it easier to ride on rough terrain.
Lastly, you need to make sure that the grips are tight. This will help you maintain a good grip on the handlebars, even when the going gets tough.
Start the engine and check for any abnormal noises or problems
For your dirt bike to be ready to hit the trails, you need to make sure it is in top condition. That means giving it a thorough check before you start the engine.
Check for any loose bolts or screws, and make sure no dirt or debris is blocking the airflow. Once you're satisfied that everything looks good, go ahead and start the engine.
If everything sounds normal, you're good to go! If you hear any strange noises or notice any problems, it's best to err on the side of caution and take your dirt bike to a mechanic for a check-up. After fixing the issue you can go for the trail!
Fill up the gas tank
To ensure you are not getting lost or stuck in the wild trail, fill up your gas tank close to full. It will not only give you a mental piece but actual safety. The moment you get ready for an upcoming trail ride just do it.
Step 3: Adjust your riding position during a trail ride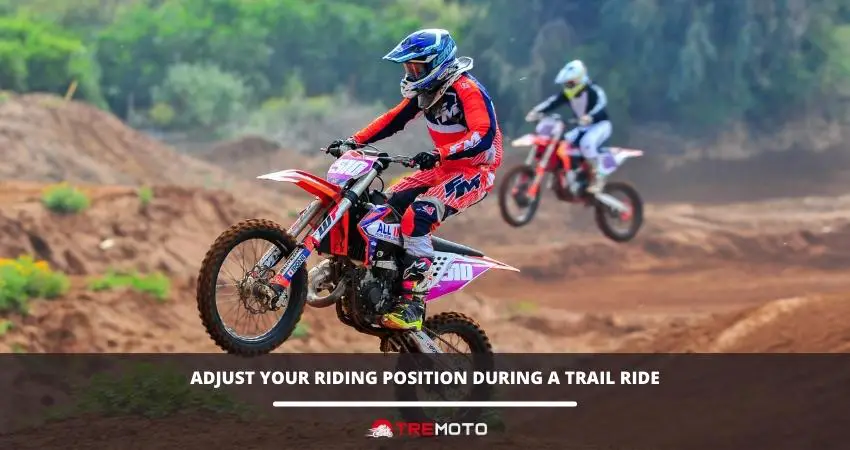 Physics plays a lot when it comes to fixing or adjusting the riding position. Your riding position will not only give you a lot of edge during the ride but also minimize the probability of getting a bad unwanted crush in no time.
Let's explore the riding position in the following…
Standing
Though dirt bikes come with a lovely seat when it comes to riding on trails, you will use them rarely. You have to make a habit of riding on the trail while staying in a standing position. However, don't give the first standing riding trial on the trail.
It would be better if you make a video clip of your position so that you can find out the faults. The main thing you need to learn is to control the balance and weight ratio during the ride. It will help you to keep going through the uneven trail smoothly.
Losing the balance is a big downside on a trail ride and makes things much harder for you to keep under control.  Even in a sitting position, you will face the same weight and balance problem related to the dirt bike. But you can control it with some techniques.
Your hands and feet go in similar positions to the standing position. And you should keep your center of gravity right in the middle of the bike.
The middle of the bike is generally just in front of the footpegs. So that's where you should be sitting. When you do that you will not be negatively affecting the motorcycle.  Because you will not be putting too much weight either on the front side or back side of the dirt bike
The other really important thing is while sitting you should not end up too far back on the bike with straight arms. That can put a lot of weight on the rear wheel, which is a recipe for disaster.
Looking forward to focus precisely
When you ride a dirt bike on a trail, you have to look where you want to go. Looking in the right direction and choosing the right parts of the trail to pay attention to are fundamental to improving your trail riding.
However, blindly looking forward is not the solution. Your main task here is to scan the trail to take in the bits that are close to you and take the bits that are far away and keep moving between the two.
Unfortunately, one of the fundamental mistakes that people make is not having precise focus & fast eye movement. When they bring their vision down to pay attention to more detail they don't bring it back up when the trail opens out.
By that time when dirt bike speed picks up if you're not looking far enough ahead, you won't have any idea where you're going which can lead to crushing. For better riding, you should look further ahead and retrieves the information within a fraction of a second so that you can avoid any collision.
Using the footpegs to control the direction
Knowing how to control a dirt bike involves understanding how to use the various controls and how to adjust your body positioning. One of the key elements in controlling your bike is the footpeg.
You can apply pressure to help control the bike by placing your foot on the peg. This is especially important when riding over rough terrain or making sharp turns. Applying pressure with your foot can help keep the bike stable and prevent it from tipping over.
When going uphill, the rider may want to place their foot further back on the peg to keep the front wheel from lifting off the ground. When going downhill, the rider should place their foot closer to the front of the peg to keep the rear wheel from skidding.
Moreover, when you're trail riding your dirt bike, you can use your footpeg to make a left and right turn.
The mechanism is simple: when you want to turn left, put your left foot down on the peg and lean your body to the right. This will cause the bike to lean to the left and make a left turn. To turn right, do the opposite – put your right foot down on the peg and lean your body to the left. This will cause the bike to lean to the right and make a right turn.
Counteract the forces
The next step is learning to counteract the weight of the bike when we're riding off-road. You want the bike to lean over to go around corners so you have to figure out a way to keep it up and to keep a grip on the tires.
You can swiftly do that by counterbalancing that weight so you will be moving your body weight to the outside when you're standing up this comes through the hips and the footpegs.
So when approaching a turn, you will lean the bike in the opposite direction of the turn. This creates a centrifugal force that helps to push the bike into the turn.  This may sound counterintuitive, but it's a very effective way to keep your bike on the trail. By using countersteering, riders can negotiate turns at high speeds without losing control of their bikes.
Step 4: Maintain the riding techniques for maximum output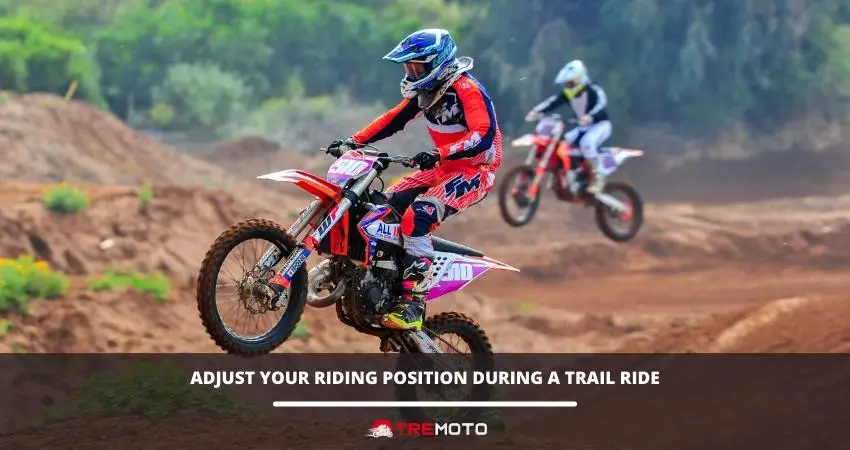 One of the most challenging terrains for dirt bike riders is trails. Many techniques need to be employed to safely and effectively ride on trails. To make your job easier, here are some trail riding tips:
Monitor the surrounding
Being careful about your surroundings during trail rides should always be your first priority. This means keeping your eyes peeled for obstacles in the trail ahead of you. It's also important to be aware of other riders around you, as they can easily startle you if you're not paying attention.
Maintain a controllable speed
Always ride at a controlled speed. This will help you maintain control of your bike, and it will also help you avoid obstacles. Specifically when the map of the trail is unknown.
Face & cross obstacles carefully
When approaching an obstacle, always approach it at a slow speed. This will give you time to react and avoid obstacles if necessary. When riding over an obstacle, always keep your weight balanced. This will help you maintain control of your bike and avoid tipping over.
Step 5: Ride over the obstacles smartly
When you are out riding your dirt bike, you will inevitably come across obstacles in your path. Whether it is a log, a rock, or a rut, you will need to know how to properly ride over these obstacles to avoid injury or damage to your bike. Here are some tips on how to ride a dirt bike over obstacles:
Approach the obstacle at a moderate speed. If you are going too fast, you will not be able to control your bike and may crash. If you are going too slow, you will not have enough momentum to make it over the obstacle.
Stand up on the pegs and shift your weight to the rear of the bike. This will help you keep the front wheel from washing out.
Look over the obstacle and pick a line to ride. Try to stay in the center of the obstacle if possible.
When you are ready to make your move, gently apply the throttle and let the bike do the work. Do not try to power over the obstacle, this will only result in a crash.
As you are going over the obstacle, keep your body loose and let the bike move beneath you.
When you have made it safely to the other side, apply the brakes and slow down. Then increase the speed gradually depending on the obstacles in the front.
Bottom Line
There's no secret technique that would make a trail ride more enjoyable. Learning how to ride a dirt bike first, and then practicing, is the key. Just keep up the grind and the expertise will come within a few days.
For the first few days, you might feel like a bum but once you get the idea you gonna rule the trail like a boss.