Whether hitting the rough terrain of the desert or the alps, a powerful dirt bike is made to face the wrath of thrilling conditions that also bring about wear and tear. That's why these incredible bikes are the first choice of extreme sport-junkies.
Being an extreme sports lover, you would know how versatile a Dirt bike can be. Among all those fantastic variations, you can't deny the excellence of a 250cc Dirt bike.
So, get ready for an in-depth Apollo 250cc Dirt bike review if you are really interested in what the beast offers. Let's begin..
Introducing Apollo 250cc Dirt Bike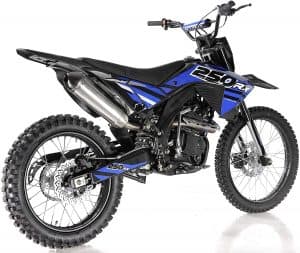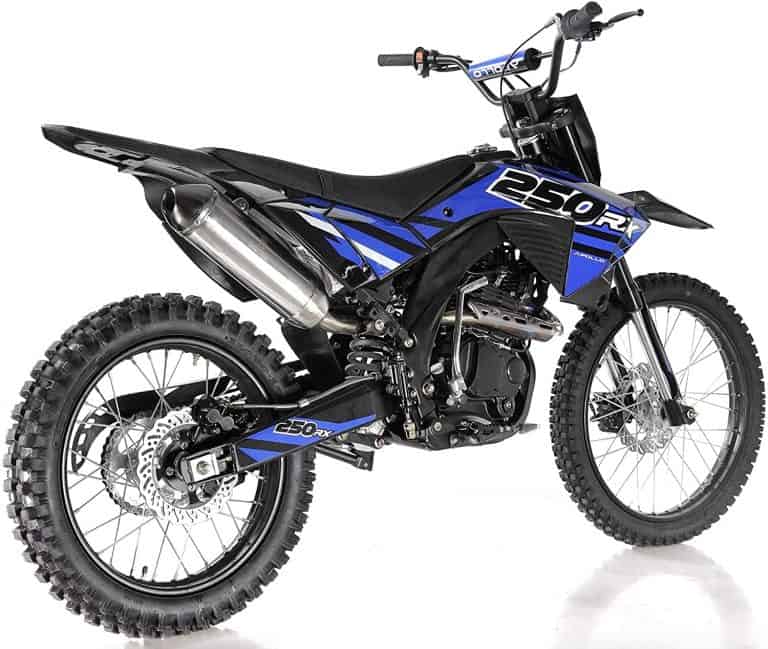 With the perfect combination of power and pedal, you can flawlessly reach your destination no matter how muddy, dirty, stony, and bumpy the road is.
This 250cc dirt bike comes with a 4-stroke single-cylinder engine. And, to control the motor temperature, the Agb-36 incorporates air-cooling technology. As for maximum riding speed, this Apollo bike generates 115 km/h speed with a 440-pound weight holding capacity.
With an 8L fuel tank and 15.64 horsepower, this stunning bike can be started by both electric start and kick start. Additionally, the front and rear disk brakes and top-grade manual clutch will deliver the utmost convenience for you with less exhaustion.
Who is this product for?
Apollo bikes provide some fascinating advantages to ensure supreme comfort while riding on any track. If you are aged above 16 and enjoy thrilling adventures, this 250cc bike is the best option. No doubt, you are going to love this bike as soon as you see the bike assembled in your garage. Moreover, a regular extreme-sport racer will have a lot of fun with this large and dominant Agb-36.
However, because of being a tall bike, shorter people whose height is lower than 5.5 ft will face some issues touching the ground with their feet.  Also, people who don't like insane speed can avoid this bike.
Problems You Might Face
The Apollo bike comes with lots of things to present you with mind-blowing rides every time. But, there are some issues that you should know about the motorbike. So, without further ado, let's have a look.
Kick start takes time
This is a very irritating problem, and you will face this dilemma very often with the 250cc bike. Whereas Apollo 125cc takes 2 or 3 kicks to start, this Agb-36 takes more than 5 kicks to start on average. In the worst case, when you are going to use the dirt bike after a long time, you need to kick 20 times to start the bike.
However, this bike also has an electric start system that will help you tackle the kick-starting issue.
Less horsepower
Though the Apollo moto comes with a 250cc engine, it has less power than what average 250cc dirt bikes should have. In typical dirt bikes, you will get 30+ horsepower, but this guy only generates 15.54 horsepower. You can easily understand its shortcomings in this regard. Therefore, don't expect this 250cc dirt bike to create humongous power.
No built-in Electric start
An electric start is an alternative to a kick start. This feature is really handy, and most of its competitors don't offer this facility too. However, to enable this convenient option, you have to purchase this part separately. So, if you are expecting a built-in electric start, you will be disappointed. And, you may get a low-quality one from the shop, which may further upset you.
Stiffer seat
This shouldn't be any significant issue for occasional riders, but for passionate riders who spend hours traveling on their favorite motor vehicle, a stiff bike seat is very bothersome. Also, soft bike seats are relaxing too.
Trouble neutralizing
You will have a hard time putting the bike into neutral gear. This is because the gear shifting half click of the bike is really very sensitive, and you need to be very careful while neutralizing the 250cc Apollo dirt bike.
Weight
Another annoying thing about this dirt vehicle is that it is super heavy, and its weight is way more than a standard 250cc dirt bike. When you take this bike on trails and stuff like that, you may find yourself struggling if you are stuck, fall, or drop the bike. It will be too hard for you to overcome the problem because of the heaviness.
Also, the weight of the bike won't let you do a wheelie comfortably. So, this one is also not the best bike for doing stunts.
Things We Liked About It
Well-built structure
250cc engine for smooth rides
Two starting options
Durable suspension
Engine Air-cooling technology
Robust tires
Easy adjustability
Big fuel tank
Reasonable price
Things We Didn't Like
Too much weight
Uncomfortable seats
Tough to neutralize
Less horsepower than expectations
Apollo 250cc Dirt Bike Review: Features & Benefits
Apollo Agb-36 is a world-class dirt bike that offers lots of mouth watering features that will sway you to get one. Let's go through some of these benefits.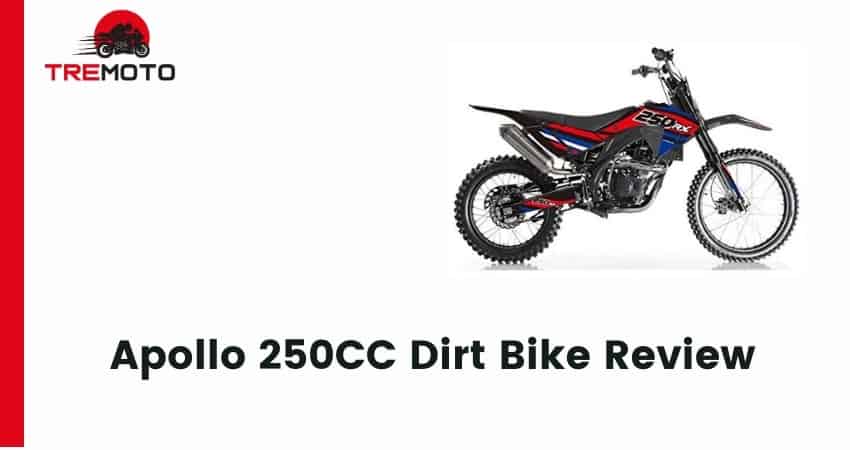 Aerodynamic design
The first thing that you will love about the bike is its excellent structure. The 250cc motorbike is tall and big, but its unique shape will help you control the motorcycle flawlessly. Also, its tires are crafted remarkably to conquer any surface. As a result, the dirt runner offers a promising performance on any terrain.
The bike's seat, carburetor, kickstand, and handles are organized and appropriately placed. Therefore, it proficiently tackles all the odds that any2-wheeler will face while running on a tough road. Moreover, the built-in air-cooling technology helps the engine stay in good condition by not allowing it to become too hot.
Top-notch build quality
A well-built vehicle delivers long-lasting performance, and this bike not an exception. Every part of the motorbike is made with heavy-duty materials so that it can withstand extreme jerking on any rocky and bumpy track.
Moreover, every piece of machine is protected with steel, and the body plastic is not flimsy. This means the dirt moto won't get damaged or broken if any minor accident occurs. Besides, the tires are sturdy too. Overall, the seamless build quality of the Agb-36 gives it super stability and toughness.
Smooth maneuverability
No matter how powerful and durable a dirt bike is, if you can't operate it smoothly, you won't have any fun. To give you all the comfort and ensuring effortless maneuverability, this 250cc moto is equipped with a 4-stroke single-cylinder engine.
What's even better, this guy's both front and back wheel incorporate a disk brake system. Therefore, you won't have a hard time stopping the bike in case of an accident. In addition to that, the manual clutch and five gears also work great in controlling the acceleration and speed.
User-friendly
The bike looks and performs extraordinary, but you can quickly assemble the whole thing without any issue. Yes, it's super easy to put up, and there are no tricky parts that require a special installation tool. All nuts and bolts fit smoothly in their position too.
Moreover, this heavy-duty 250cc bike has 440 pounds of weight holding capacity. So, you can easily have a comfy ride with your friend sitting at the back of the seat. The 2 starting options take the vehicle to a new height. A convenient electric start is a handy option for those who hate kick start.
Speed and mileage
The Agb-36 can run at the maximum speed of 115 km/h with 15.64 horsepower. You can easily reach the top speed and smoothly balance the moto while maintaining that speed.
Also, the big fuel tank can contain 8L of fuel. Plus, the bike offers around 80 mpg(mile per gallon). It implies that you can cover a long distance once you filled up the fuel tank.
Final verdict
The AGB-36 is a professional-grade dirt bike that comes at an affordable price compared to other 250cc alternatives, and you will have a splendid performance with smooth riding. With two starting options and impressive performance, this Apollo guy will allow you to enjoy the fullest. However, to achieve the best dirt bike riding experience with this big moto, one needs to be around 6 feet tall.
I hope this Apollo 250cc Dirt bike review will help you make a proper decision. If you want to know anything more about the Agb-36, please use the comment section to communicate with us.