The roar of a dirt bike engine igniting can quicken any rider's pulse. That ignition, typically kick-started by a firm foot, may soon be more commonly sparked by the simple push of a button. The focus of our exploration is the electric start system – a technological advancement designed to enhance the starting process of motorbikes, particularly dirt bikes.
A study conducted by the American Journal of Mechanical Engineering highlighted the electric start system as a key contributing factor to the recent surge in dirt biking popularity. This system, which is powered by an electric starter motor and a battery, is becoming an increasingly preferred alternative to the traditional kick-start systems.
Within the realm of dirt biking, the incorporation of an electric start mechanism is an exciting prospect for many riders. This comprehensive guide provides an in-depth look at the electric start system, its advantages, and the steps involved in its installation. It is designed as a roadmap for bikers looking to transition their kick-start dirt bikes into ones equipped with an effortless, reliable, electric start.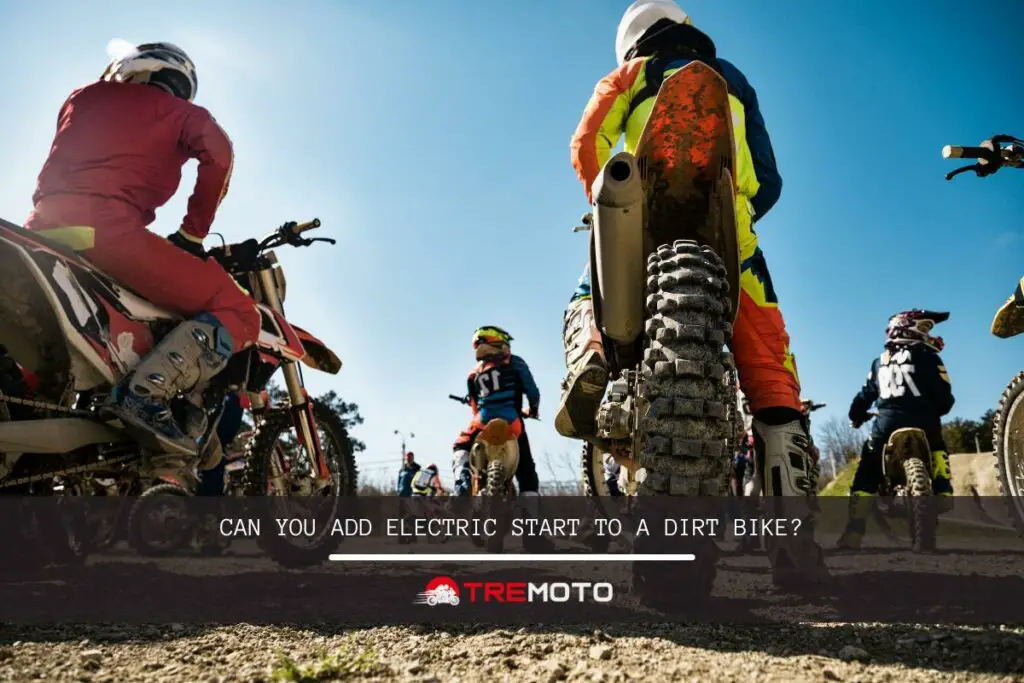 What Are the Basic Components of a Dirt Bike's Starting System?
Traditionally, dirt bikes have come equipped with kick-start mechanisms. Despite being tried and tested, the kick-start system might sometimes leave you literally 'kicking' your bike to life, especially in cold conditions. On the other hand, an electric start system simplifies the process with a single press of a button, but what makes these two systems different? Let's explore.
Kick-Start System Vs. Electric Start System
A kick-start system is made up of a series of gears and springs, activated by a sturdy kick lever. When you deliver a strong downward kick, the lever sets the crankshaft in motion, ultimately triggering the engine's combustion cycle. While this method is efficient, it can be physically demanding, especially after multiple attempts.
In contrast, an electric start system relies on an electric starter motor, which uses electrical energy to crank the engine. When you push the start button, electricity from the battery flows to the starter motor, which spins the crankshaft and brings the engine to life. An electric start system eliminates the need for physical effort, providing convenience and ease of use.
How Does the Electric Start Mechanism Work in Motorbikes?
Electric starts have revolutionized the world of motorbikes by offering a seamless and effortless starting process. So, let's dissect the electric start system to better understand its working.
Four primary components form the backbone of an electric start system:
Starter Motor: As the main component, the starter motor cranks the engine when it receives electrical current from the battery.
Starter Relay/Solenoid: Acting as an electrical switch, the relay channels the current from the battery to the starter motor when you press the start button.
Battery: The battery supplies the necessary electrical energy to operate the starter motor.
Wiring: A network of wires connects the battery, starter motor, and starter relay, facilitating the flow of electricity between these components.
When you press the electric start button, the starter relay receives a small electrical signal. This signal prompts the relay to close its internal switch, creating a pathway for the larger electrical current stored in the battery. This current rushes to the starter motor, causing it to spin and crank the engine.
What Makes the Electric Start a Desired Feature for Dirt Bikes?
While both kick-start and electric start systems have their advantages, the electric start has certain aspects that make it a favorite among off-road enthusiasts.
Imagine you're stuck in a tricky trail, with your dirt bike stalled halfway up a steep incline. Or picture a scenario where you've had a minor fall and need to restart your bike quickly. In such cases, an electric start can be a lifesaver.
An electric start system provides:
Convenience: Just push a button to start your bike, without any physical effort.
Efficiency: Electric starts ensure quick ignition, which is crucial during competitive racing or when stuck in a difficult terrain.
Safety: If your bike stalls in a precarious position, an electric start allows you to get moving quickly, reducing the risk of injury.
The simplicity and utility of an electric start system make it a highly desired feature for many dirt bike riders.
Can a Kick-Start Dirt Bike Be Converted to an Electric Start?
Before jumping to the hows, it's important to answer the big question: Can a kick-start dirt bike be converted to an electric start?
The answer varies depending on the specific model and manufacturer of the dirt bike. Some bikes, especially older models, may not have the necessary compatibility for such a conversion. However, many modern bikes are designed with the possibility of conversion in mind.
Compatibility and Conversion: Parts and Tools Needed
To convert your dirt bike to an electric start, you'll need a conversion kit specific to your bike's model. These kits typically include a starter motor, a battery, a starter relay, and all the necessary wiring.
In addition, you'll require a range of tools, including various wrenches and screwdrivers, a multimeter for testing electrical connections, and a battery charger. Patience and technical know-how are also essential ingredients for a successful conversion.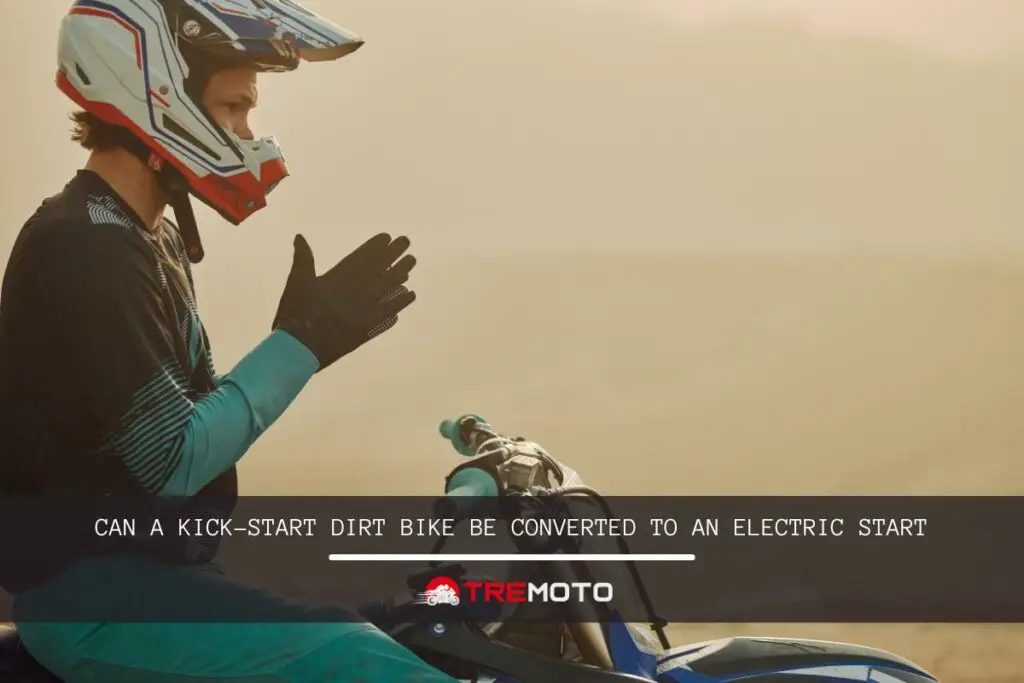 What Are the Steps Involved in Adding an Electric Start to a Dirt Bike?
Adding an electric start to a dirt bike is a detailed process that requires precision and care. We've compiled a step-by-step guide to help you understand the procedure.
Identify the Starter Motor Mount: Most modern dirt bikes have a designated area in the engine block where the starter motor is supposed to fit. Locate this area.
Install the Starter Motor: Secure the starter motor in the allocated area. Ensure it meshes correctly with the engine's gear system.
Set Up the Battery: Mount the battery in the bike's battery compartment. In some cases, you might need to make space for a larger battery.
Install the Starter Relay: Find a suitable place for the relay, usually near the battery. Connect it to the battery and the starter motor using the provided wiring.
Connect the Start Button: Connect the start button to the relay. You can use the existing kill-switch wires in some models.
Test the System: Check all connections and make sure the system is wired correctly. Test the electric start to see if the engine cranks up as expected.
What Challenges Might You Face While Adding an Electric Start to Your Dirt Bike?
Adding an electric start to a dirt bike can be a rewarding project, but it's not without its share of challenges.
Potential Obstacles and Solutions
Compatibility Issues: Some dirt bikes may not be designed to accommodate an electric start. In such cases, significant modifications may be required, which can be costly and complex. Ensure that your bike is compatible with an electric start before proceeding.
Electrical Problems: Faulty wiring or improper connections can lead to electrical issues. Always double-check your work and use a multimeter to verify all connections.
Mechanical Difficulties: Mounting the starter motor or setting up the battery can sometimes be tricky. Refer to your bike's service manual for detailed instructions.
Battery Maintenance: The addition of a battery means you'll need to monitor its charge levels and overall health. Regular charging and maintenance will be necessary to keep your electric start functioning correctly.
How Much Does It Cost to Add an Electric Start to a Dirt Bike?
One of the primary considerations when contemplating adding an electric start to a dirt bike is the cost. Let's break down the expenses.
Expense Breakdown for Electric Start Conversion
The overall cost of adding an electric start to a dirt bike depends on various factors like the specific model of the bike, the cost of the conversion kit, and whether you're doing the conversion yourself or hiring a professional.
Conversion Kit: The price of a conversion kit can range from $200 to $500, depending on the make and model of your bike.
Labor: If you decide to hire a professional for the installation, labor costs can add $100 to $300 to your bill.
This makes the average cost of conversion somewhere between $300 and $800. Keep in mind, these are estimated costs and the actual figures might vary. Also, it's worth comparing these costs with the price of a new dirt bike equipped with an electric start.
Are There Specific Dirt Bike Models That Cannot Be Converted to Electric Start?
Not every dirt bike is a candidate for an electric start conversion. Certain models, particularly older ones or those with specific engine designs, may not be suitable.
Examples of bikes that are typically not viable for electric start conversion include older two-stroke models or bikes that don't have a designated mount for a starter motor. Always check your bike's service manual or consult with a professional before attempting to convert your bike to an electric start.
Wrapping It Up
The world of dirt biking thrives on challenges and innovation. Adding an electric start to your dirt bike may seem daunting, but with the right knowledge and resources, it can be a rewarding project. We hope this comprehensive guide helps you understand the process and benefits of adding an electric start to your dirt bike. As always, if you are not confident in your mechanical skills, it's best to consult a professional. Happy riding!