Aesthetics are important to many dirt bike riders. After all, you want your bike to look good as you're flying down the track or ripping through the trails. But having dirt bike graphics is more than just that. You're protecting your bike from wear and tear while making it look good. That's enough reason apply dirt bike graphics in my opinion.
Now, there are several ways to apply graphics to your dirt bike, and each method has its own advantages and disadvantages. As a beginner, you need to follow a simple process with no complications.
Keeping that in mind, I am going to discuss the easiest technique of putting on dirt bike graphics using vinyl stickers. So, let's start.
An Easy Guide To Putting Dirt Bike Graphics Quickly
We all know that a cool graphic can really help your bike look awesome and give you the confidence to go faster. Maybe it won't directly help you in the speed department, but at least people will be more likely to slow down for what they see.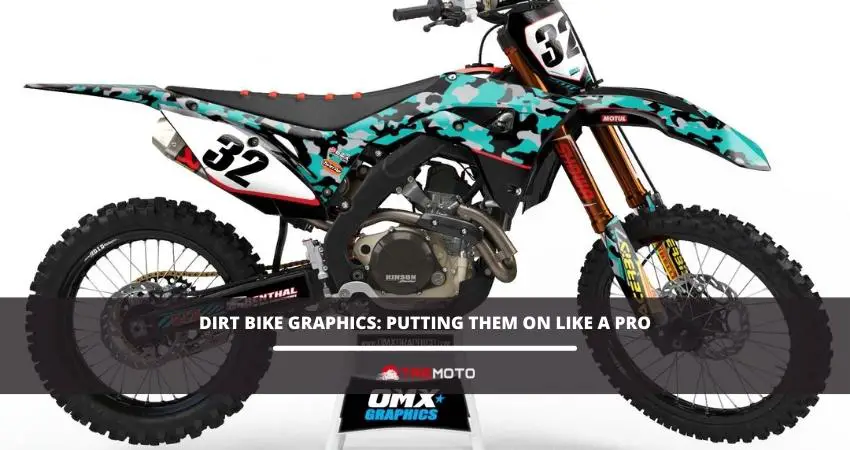 It is important, however, that you add your desired graphics in the right way, so they will look good and also last a long time. For that reason, you need to know the right process to install dirt bike graphics.
This is how you apply it:
What You Will Need
a heat gun
some contact cleaner
rags
razor blade
scissors
an application kit(In some cases you might need it)
Step 1: Clean the Area You Will Apply the Graphics
The first thing you need to do is clean the area where you will apply your graphics. If the surface is not clean, the graphics will not adhere properly and they will eventually peel off.
To clean the surface, you can use a rag and some contact cleaner. If you ask me, I would prefer a PJ1 contact cleaner. Due to the oily film on the plastic body of a new dirt bike, using contact cleaner will help to remove that efficiently.
However, if your bike already has some old graphics on it and you want to put new graphics on old plastic, then you will need to remove the old graphics thoroughly first. If the old adhesive is too stubborn, use a heat gun to melt it and then scrape it off with a razor blade.
You can also use the razor blade to remove all the little scrapes and bumps from the surface so that the new graphic will have a smooth surface to adhere to. Also, make sure to remove all the dirt, grease, and grime before proceeding to the next step.
Remember, preparing dirt bike plastics for graphics is crucial and you should complete the step with utmost care.
Step 2: Cut Out the Graphics
Once the surface is clean, the next thing you need to do is cut out the graphics that you want to apply. If you are not good at cutting, you can always take help from someone who is good at it.
The best way to cut out the graphic is to use a vinyl cutter. But, if you don't have one, you can always use a razor blade or a pair of scissors.
Just make sure that the edges are clean and sharp so that they will look good when applied.
Step 3: Cut the paper backing wisely
Once you have cut out the graphic, the next thing you need to do is remove the paper backing smoothly. I have some pro tips for you in this step which will surely lead to better results.
First of all, to align the graphic on the area you wanna put graphics on, you have to start by cutting out the paper backing all around the edge of the decal.
Then, cut a strip from the back of the decal just from the middle part of the graphic. Make sure that the strip is cut horizontally. It will help you in two ways. One, the sticker will align properly on the surface, and two, you can start peeling the backing from the center which will make it easier for you by creating fewer wrinkles and bubbles.
Step 4: Attach the Graphic
Now, it's time to add the graphic. If you followed all the steps carefully until now, then this step will be a piece of cake for you.
Just take your time and apply the graphic slowly and carefully. If you rush, it will create wrinkles and bubbles which will not look good. Also, make sure the decal is lining up with all holes or cutouts as well as all the edges.
It is also important to put pressure evenly using fingers as you apply the graphic. It will help to avoid any air bubbles being trapped under the decal.  You can also use a heat gun to remove any wrinkles or bubbles that might form while installing the graphic. Just hold the heat gun 6-8 inches away from the graphic and move it slowly over the surface.
If you don't have a heat gun, a blow dryer will also work. Don't forget to apply heat around all the edges of the decal as any kind of peel or bubble will start from the edges.
Congratulations! You have learned the best way to apply dirt bike graphics. Following the above steps, you shouldn't have any problem applying graphics on your dirt bike, especially on uneven surfaces like number plates, fenders, and side panels where you will see lots of curves and contours.
However, for flat areas like swingarms, front number plate, tank, and shrouds, the process is even easier. For that, you need to apply dirt bike graphics application fluid directly on the flat surface and the backside of the vinyl decal. After that, stick the sticker on the surface and squeegee out all the fluid to finish the graphics installation process.
How do you choose the right graphics for your bike?
When it comes to customizing your bike, the options are endless. You can go for a sleek and simple look, or you can go all out with bright colors and patterns.
If you're like most people, you probably choose the graphics for your bike based on one simple criterion: aesthetics.
However, there's actually a lot more to consider if you want your bike to look its best.
First, think about the colors that will complement your bike's frame and components. You also need to consider the size of the graphics and where they will be placed on the bike.
Moreover, consider the style of your bike. How do you want it to look? Vintage or modern? The graphics you choose should complement the overall style of your bike. Also, think about the message you want to send with your bike. Are you looking to make a statement or just show off your personality?
Be sure to consider durability as well. You want your graphics to last for years, not just a few rides. Buying graphics of renowned brands will give you this guarantee.
Best graphics for dirt bikes: Top 3 Picks
While many dirt bikes come with standard graphics, there are also a number of companies that offer aftermarket options. These can range from simple decals to full-blown wraps, and they can be a great way to personalize your bike. Here are three of the best graphics for dirt bikes:
Factory Effex: Factory Effex is one of the most popular brands in the motocross world, and its graphics are some of the best in the business. From traditional number plates to sponsorship logos, they have everything you need to make your bike look race-ready.
DeCal Works: If you're looking for something a little more flashy, DeCal Works offers a wide range of custom-printed graphics. From skulls and flames to flags and tribal designs, they have a graphic for just about every taste.
AMR Racing Graphics: AMR Graphics is another top choice for dirt bike graphics, and they offer a wide variety of both standard and custom designs. Their graphics are printed on high-quality vinyl and are highly durable, so you can be sure they'll look great for years to come.
No matter what your style, there's a graphic out there that's perfect for your dirt bike. So don't be afraid to show your personality on the trails!
How to take care of the graphics Properly?
Once you've attached the perfect graphics on your bike, it's important to take care of them so they always look their best.
Always wash your bike regularly as dirt bike graphics are exposed to the elements and can get dirty quickly. Wash your bike at least once a week if you are too busy. Use a mild soap and a soft brush to avoid scratching the graphics.
Also, avoid using pressure washers or harsh chemicals directly on the graphics, as these can damage the graphics. In addition, be sure to inspect your graphics regularly for any signs of wear or tear. If you notice any damage, try to fix it immediately to prevent further damage.
When you're not riding, store your bike in a cool, dry place. The sun can fade the colors of the graphics over time, so it's best to keep your bike out of direct sunlight when possible.
How to remove graphics from a dirt bike?
Removing graphics from your dirt bike can be a tricky task. If you're not careful, you could end up damaging the paint or the decals. Here are some tips to help you remove graphics from your dirt bike:
Start by heating up the graphic with a heat gun or hair dryer. This will help to loosen the adhesive.
Now, use a razor blade or plastic putty knife to gently scrape off the graphic. Be careful not to scratch the paint beneath.
If the graphic is proving to be stubborn, you can use a solvent such as acetone or WD-40 to help dissolve the adhesive. Apply acetone on the area using a cloth.  However, be sure to test the solvent on an inconspicuous area first to make sure it won't damage the paint.
I hope these tips will help you to safely and easily remove any graphics from your dirt bike.
Why is it so difficult to remove those wrinkles from curved or uneven surfaces?
As you're trying to apply a perfectly flat piece of vinyl to a piece of plastic that has all sorts of curves and contours, the vinyl will stretch and conform to those curves. That's why you need to follow the right techniques while pushing out those wrinkles. In some cases, using a heat gun can be the most effective way to get rid of wrinkles.
How thick should Dirt Bike Graphics be?
Dirt bike graphics need to be thick enough to withstand the rigors of riding, but not so thick that they become a liability. So, the ideal thickness of a dirt bike graphic is somewhere between 16 and 20 mils (0.4-0.5 mm or 400-500 microns).
This thickness will ensure that your graphics can withstand everything your ride throws at them without being too bulky or cumbersome.
How long do dirt bike graphics last?
If you are a hard-core motocrosser who crashes often, then your graphics will probably only last one season. On the other hand, if you're a recreational trail rider, your graphics could last for several years. It really all comes down to how often you crash, the quality of the graphics, and how well you take care of your bike.
Final Words
Dirt bike graphics can be a great way to show your personality and style while you're riding. However, it's important to choose the right graphics and make sure they are applied properly.
I hope this guide has helped you understand how to put dirt bike graphics on your bike and shown you some of the options that are available to you. If you have any questions about the process or want help choosing the right graphics for your bike, feel free to reach out to us. We would love to help you create a motorcycle that reflects your unique personality and style.