Dirt bikes with 125cc engines are popular off-road vehicles. Their speed, lightweight design, and ease of handling make them ideal for racing. Once you start throttling, you will feel the power, speed, and vibration coming out of your 125cc monster.
But how fast can they go? I'm sure you're curious to know.
In general, a 125cc dirt bike will have more power and be able to go faster than an 80 or 100cc bike. The amount of speed it is able to reach depends on the particular bike and some factors, but you can usually expect it to reach speeds of 50-70 mph.
Here you'll get the full scoop on how fast a 125cc dirt bike goes.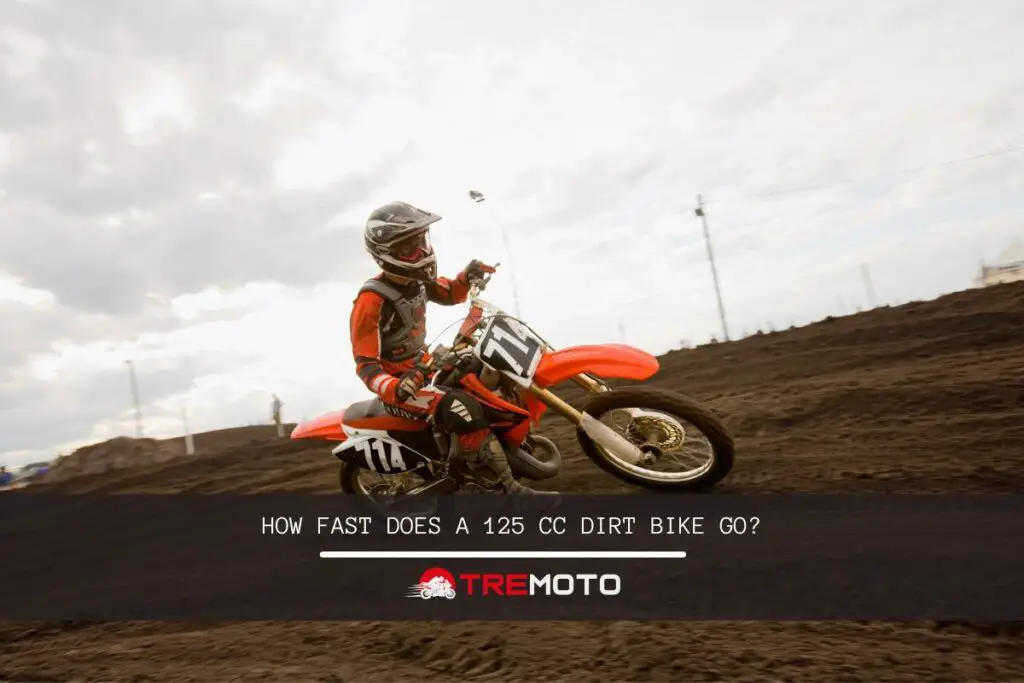 Different Factors that Affect the Speed of a 125cc Dirt Bike
Just like any other machine the speed of your 125 ccs depends on several factors. So let's see them in the following:
Two-Stroke Vs Four-Stroke
When it comes to speed, there are two schools of thought: two-stroke and four-stroke engines. So, which is better? Well, it depends on what you're looking for.
On average, a 2-stroke 125 cc can give you a top speed of 60 mph. If you are wondering how fast does a 125cc 4-stroke dirt bike go then the answer is you can achieve the highest speed of 50 mph.
Generally, the key difference between 2-stroke and 4-stroke is that the first one comes with a smaller engine size than the latter one. But the main thing that impacts the performance is that 2 stroke engine can rev pretty faster compared to the 4-stroke engine. Which is a high-priority attribute in the dirt bike track.
As a result, they're often the the 2-stroke engine is quite a popular choice for motocross racing.
However, four-strokes offer more torque and horsepower, so they tend to provide a smoother, more consistent ride. That makes them a popular choice for trail riding and enduro racing. After all, depends on what kind of riding you're planning on doing.
Environmental conditions
The speed of a 125cc bike also depends on the environmental conditions. If you are riding in an area with high altitudes, then the air is thinner and it will take more power to move the bike forward.
On the other hand, if you're riding in an area with thick vegetation, then the bike will have to work harder to push through all the leaves and branches.
High windy weather can affect the speed as well. The wind can push the bike from the side and make it harder to achieve the top speed. Terrain-like muddy terrain can reduce the top speed of your motocross bike.
The slippery road can affect the top speed because the bike can skid and lose traction. Also, if the roads are bumpy then it can affect the speed because of the resistance created by the bumps.
If you plan to go for a ride on a rocky mountain then the motocross bike speed can get lower because of the uneven surface.
Modifications/Customization
How you modify your dirt bike can have a big impact on its top speed. One of the most common modifications is to install bigger tires. This helps to increase the bike's contact patch with the ground, providing more grip and therefore more traction.
This can be particularly useful when riding in slippery conditions. However, bigger tires also have the potential to slow the bike down. The increased contact patch means that there is more friction between the tires and the ground, which can act as a brake and reduce the bike's top speed.
When it comes to speeding down the track or hitting the jumps, there's no doubt that a dirt bike body kit can make a difference. Not only do they give your bike a custom look, but they can also improve its performance. But what about top speed?
Can a motocross bike body kit really help you go faster? The answer, it turns out, is a resounding yes. By streamlining the body of your bike and reducing wind resistance, a body kit can help you squeeze out every last mile per hour.
So if you're looking to take your riding to the next level, don't forget about the power of a good body kit. After all, when it comes to going fast, every little bit helps.
Rider experience
Rider experience can still play a role in how fast a dirt bike can go. Beginner riders tend to be more cautious and may not push their bikes to their full potential.
On the other hand, experienced riders know how to maximize their bike's performance and may be able to push it to its limits. As a result, rider experience can be a factor in determining the overall speed of a trail bike.
Fuel quality
Yes, fuel quality can have a big impact on performance. Enduro bike engines are designed to run on high-octane gas, which helps to prevent knocking and premature wear.
However, not all gas is created equal. In general, higher-octane gas will provide better performance and protection for your engine. If you're looking to get the most out of your dirt bike, it's important to use the highest-quality fuel you can find.
Condition of air filters and spark plugs
It's common knowledge that a well-maintained engine is crucial to maintaining optimal performance on a 125cc dirt bike. However, many riders overlook the importance of regularly changing their spark plug and air filter.
These two components play a vital role in keeping the engine running smoothly, and they can also have a significant impact on the top speed of the bike.
A dirty air filter will restrict airflow and prevent the engine from reaching its full potential, while a worn-out spark plug can cause misfires that sap power. By regularly replacing these components, riders can be sure that their bike is performing at its best and achieving its maximum top speed.
Load/ Weight
The load carried by bike – rider, fuel, and gear – can have a significant impact on top speed. The more weight the bike has to carry, the more power it will need to generate to reach its top speed.
Additionally, a heavier load can also make the bike more difficult to handle, which can impact the rider's ability to stay in control at high speeds.
Therefore, it is important to consider the load when setting out to achieve the highest possible top speed on a 125cc motocross bike. By keeping the weight down and making sure the bike is well-balanced, you'll be able to maximize your bike's performance and reach those top speeds.
What do you need to know about speeding up your 125cc dirt bike?
As long as it's a machine you always have the scope to run it at an optimum level with high efficiency. The same goes for your trail bike.
If you follow the below tips and techniques, you can surely speed up your noisy machine.
Install a new exhaust
If you want to make your 125cc dirt bike faster, you should swap out the exhaust pipe for performance exhaust. This will help to improve the power and efficiency of your engine, and will also make it sound a lot better.
Adjust the suspension
Another way to make your 125cc dirt bike faster is to adjust the suspension. This can be done by changing the spring rates, or by adding or removing preload. By adjusting the suspension, you can make the bike handle better and absorb bumps more effectively, which will help you to go faster.
Clean the bike frequently
Keeping your bike clean is also important if you want to go faster. A dirty bike will not perform as well as a clean one, so make sure to clean your bike after every ride. This includes washing the engine, frame, and wheels, as well as cleaning the chain and drivetrain.
Increase your fitness and riding skill
You should make sure to stay in shape if you want to go faster on your 125cc dirt bike. This means working on your cardiovascular fitness and strength, as well as improving your balance and coordination. By staying in shape, you will be able to ride longer and harder, and will ultimately go faster.
Tuning the carburetor
Adjust the carburetor to get the perfect fuel-air mixture for the top speed of the off-road bike. Getting the perfect fuel-air mixture is essential for two-stroke engines. The carburetor is responsible for controlling the amount of air and fuel that enters the engine.
If the carburetor is not adjusted properly, the engine will not run at its peak performance so it would be tough to achieve the top speed. For example, if the carburetor is set too rich, the engine will run too hot and may seize up.
On the other hand, if the carburetor is set too lean, the engine will not have enough power and may stall. To avoid these problems, it is important to adjust the carburetor to get the perfect fuel-air mixture.
Get a new set of chain
No doubt acceleration is the key factor in the track. The faster you can get up to speed, the better your chances of winning the race.
One way to improve acceleration is to upgrade the drive chain. A lighter chain will require less energy to move, making it easier for the engine to achieve higher speeds. In addition, a lighter chain will also cause less wear and tear on the drivetrain components, resulting in a longer lifespan for the bike.
Although it may cost more money upfront, replacing the drive chain with a lighter one is a worthwhile investment for any serious dirt bike rider. Make sure that the tires are in good condition and are properly inflated.
Safety measures during dirt bike ride
While riding, you should follow some safety measures so that you can stay safe and your bike too and here they are…
Wear the right gear
One of the most important things is to wear the right gear while riding. This includes a good-quality helmet, gloves, boots, and goggles. Wearing the right gear will protect you from injuries in case of an accident.
Inspect your dirt bike
Before going for a ride, it is important to inspect your dirt bike. This includes checking the brakes, tires, chain, and suspension. Make sure everything is in good working condition.
Be aware of your environment
Pay attention to your surroundings while riding. This includes being aware of other vehicles on the road, obstacles, and terrain.
Follow the speed limit
It is important to follow the speed limit while riding. This will help you stay in control of your bike and avoid accidents.
Dress correctly for the weather
Dress appropriately for the weather conditions. This includes wearing layers of clothing in cold weather and sunscreen in hot weather.
Identify your strengths and weaknesses
Know your limits while riding. This includes being aware of your skills and experience level. Do not attempt to ride beyond your abilities.
Different brands' average top speed for 125cc dirt bikes
When you know the average maximum speed of the dirt bike, it makes you a bit closer to your decision in the trail bike purchasing process.
For easy comparison, I have compiled a table of 125cc dirt bikes with top speeds from various market-dominant brands.
| | |
| --- | --- |
| Brand & Bike Name | Top Speed |
| Yamaha YZ 125 | 70 mph |
| Yamaha TTR 125 | 50 mph |
| Yamaha XTZ 125 | 63 mph |
| Kawasaki KX 125 | 55-60 mph |
| KTM 125 SX | 70 mph |
| KTM 125 EXC | 60 mph |
| HONDA CRF 125 | 70 mph |
| Husqvarna TC 125 | 62 mpg |
| Suzuki DRZ 125 | 50 mph |
Conclusion
It was a pleasure & a learning experience writing this article on how fast can a 125cc dirt bike go. Motocross bikes with 125cc engines can go really fast, as you can see already.
If you're considering purchasing a 125 cc dirt bike, you should definitely do it. As a beginner, you can use the provided info to get the best out of your trail bike for sure.
The small engine of 125 ccs will let you get enough speed & noise to dominate the motocross track. It's time to roll the muddy trail buddy so get your gear & kick out the fear!