Although Dirt biking is a thrilling hobby, it can be dangerous if your brakes aren't working properly. Brakes could be the decider during some life threatening situation. That's why you absolutely must have them on tip-top condition.
Looking to do a little brake work on your dirt bike? Don't know where to start? Never fear, the Dirt Bike Doctor is here.
In this blog post, I'll show you how to bleed your dirt bike brakes to keep them in good working order. Keep in mind that bleeding a bike brake is a delicate process, so please be careful and follow the instructions closely.
Hopefully, you will have a full idea of "how to bleed dirt bike brakes".
Step-by-step process of bleeding dirt bike Brakes
Some riders just don't want to get into the technical stuff because they have built-in insecurity of failing bike fixing attempts. They think they might make the situation even worse. I understand the anxiety, but you must overcome them. Not only you must master the art of riding a dirt bike, but also know the ins and outs of its parts.
The 6 step guide below will make bleeding dirt bikes super easy without you losing your cool. So keep your mind calm and assemble the tool to bleed the brake.
Tools required for the job
A Wrench
A Box for holding the old brake fluid
Fresh DOT4 brake fluid
A Screwdriver
Cloth
Vinyl tube
Now, let's have a look at the steps for fixing your dirt bike brake:
Step 1 : Opening the brake fluid reservoir
The first thing you should do is to clean the area surrounding your brake reservoirs. Because if any dirt or muck remains there then it might get inside the reservoir after removing the cap.
Then bring the bike to its center stand and make the handlebars position such that it has the same level as the master cylinder. Now, simply remove the screws of the cap to open up the reservoir.
Step 2 : Pressing the brake to remove air
Apply the brakes by squeezing the lever of a dirt bike. Pull your brake lever back repeatedly like a pumping process. You can see air bubbling up in your line after you do this. Following this, the fluid needs to be bled.
Step 3: Connecting the tube to bleeder valve
Now you need to work on the brake caliper of your front wheel. Simply take off the rubber which works as the protective cap of the bleeder nipple. Then take a fresh plastic tubing that would fit perfectly above the nipple of the bleeder valve.
Use a clear piece of plastic tubing that is sized to fit snugly over your front brake's bleeder valve. A vinyl tube would be perfect for this job. However, the tube has to be longer so that it can drain the access brake fluid into the container which will be on the floor.
Step 4: Remove the old fluid & adjust the valve
Apply the brakes. You'll have to do this frequently to increase brake pressure. As you keep the lever down, apply a wrench to the bleeder valve and depress it. You should only turn the bleeder valve 1/4 to 1/2 turn.
Too much turn can cause the abrasive brake fluid to splutter over your dirt bike, making a sloppy mess or harm. It's time to close the bleeder valve. It will help you to maintain the required pressure while repeating these processes to drain out all the old fluid.
Step 5: Lock the bleeder valve
To ensure that there are no more air bubbles or old fluid inside the brake line, repeat step 4 as necessary. Lock your bike's bleeder valve then remove the extra brake fluid collected from the box and bleeder tool.
Step 6: Do the same thing for rear brake
Now repeat the second to fifth process for your rear wheel and you will be done with your brake bleeding task. However, while you are going to bleed the rear brake you have to put pressure on the foot brake to continue the bleeding process.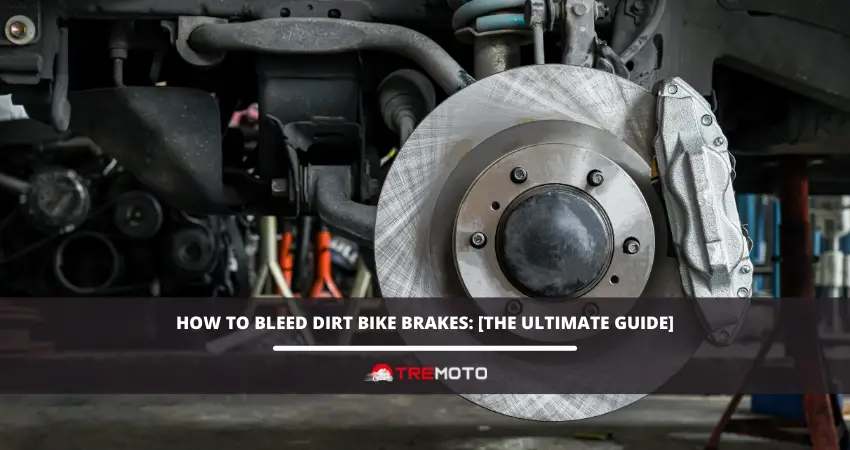 How To Reverse Bleed Dirt Bike Brakes
Why is my bike brake not bleeding?
There might be several reasons which are blocking your dirt bikes from bleeding. Let's take a look at three major problems in the next part:
Air in the brake line
Air in the brake line is the most common reason why your dirt bike brake won't bleed. When you pump the brake lever, air bubbles are forced into the system and prevent fluid from flowing through. To bleed your brakes, you'll need to use a bleeder kit to remove the air from the system.
Debris in the valve
Another common reason for brakes not bleeding properly is debris in the valve. Over time, dirt and grime can build up inside the valve, preventing fluid from flowing through. To clean out the valve, you'll need to disassemble it and remove any debris that's blocking the flow of fluid.
Old brake line
Also, if you have old brake lines, they may be corroded and need to be replaced. If your lines are made of steel or aluminum, they may have developed rust on the inside, which can block the flow of fluid.
To fix this problem, you'll need to replace your old brake lines with new ones.
When to change dirt bike brake fluid?
Over time, brake fluid can become contaminated with water and other materials, which can cause it to break down and lose its effectiveness. This is why you should frequently change the dirt bike's brake fluid.
How often you need to do this will depend on some factors, including the type of fluid you're using and how often you ride your bike.
In general, though, it's a good idea to change your brake fluid at least once a year. If you ride in muddy or wet conditions, you may need to do it more often. When changing your brake fluid, be sure to use the appropriate type for your bike.
Why bleeding dirt bike is important?
Dirt bike riders know that braking is an integral part of the sport. Not only does it help you to slow down and control your speed, but it also allows you to avoid obstacles and safely navigate turns. However, stopping isn't always as simple as just squeezing the brakes.
Without proper bleeding, they will not work as effectively, making it difficult to slow down or stop. This can be extremely dangerous, especially if you are riding at high speeds.
Bleeding your brakes is a relatively simple process that involves removing air from the brake lines. This ensures that the brake fluid can flow freely and that the brakes will respond quickly and effectively when you need them.
Taking the time to bleed your brakes will help to keep you safe on the trail and ensure that you can enjoy your ride worry-free.
Conclusion
As you read this blog post, you learned how to maintain your dirt bike braking system. Following the step-by-step procedure without error should allow you to successfully bleed the brakes.
You don't have to look towards someone else to bleed your dirt bike brakes for you. You can do the maintenance yourself, and you can even teach someone else how to bleed a dirt bike brake with full confidence. That's progress!