Bikes are all about displaying your heart out. Don't agree with me? Watch sons of anarchy and I'm sure we'll be able to look each other in the eyes. They are more than just a machine to take us from point A to point B, they are the extension of our very own self. How your bike looks, how it sounds, how you ride it- everything reflects on your personality.
And, your dirt bike can't be more personal than by being painted in the color you like. So, doing an appropriate paint job is absolutely mandatory. There are a lot of bikers out there, who'd go to the servicing shop for the minor stuff without even trying. I wanna say to them- do this on your own. I'll be with you every step of the way.
After going through this article when someone gonna ask you '' How can you paint dirt bike plastic? ''after watching your newly painted dirt bike, probably you gonna laugh & say okay give me 10 minutes for telling the whole story!
Paint Your Dirt Bike Like A Pro: The Easy Way
Trust me you don't have to be a professional painter if you want to go for a DIY painting project on a dirt bike. It's much easier than finding the X in algebra math.
Even if you are a beginner & can use the right thing on the appropriate step, you can have an amazing paint job finish at the end of the day. If you paint this over the weekend, you will have a more enjoyable and stress-free experience!
Many dirt bikes come with colorful plastics that are either factory-painted or have a sticker kit applied. But eventually, those colors will start to fade and look worn.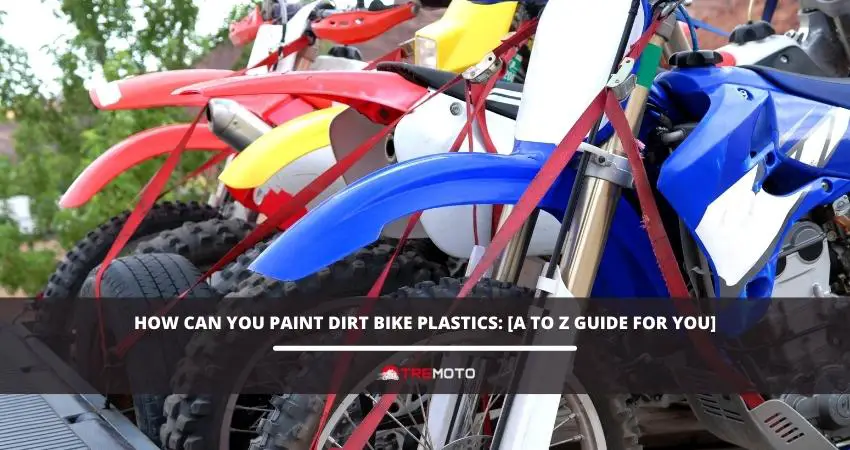 When that happens, it's time to break out the spray paint and give your bike a fresh new look. Here's how to do it:
Materials for painting dirt bike
Degreaser
Plastic primer
Spray paint
Sandpaper
Clean water
Soapy water
Sponge
Microfiber cloth
Gloves
Eye protective glass wear
When it comes to painting motocross bike plastic, there are a few essential materials you will need.
First, you will need a degreaser to clean the surface of the plastic. Next, you will need a plastic primer to help the paint stick to the plastic. Then, you will need the actual paint.
You can use any type of paint that you like, but make sure it is specifically designed for plastic. Finally, you will need some soap and water to clean up afterward. In addition to these materials, you will also need sandpaper and a rubbing compound if you want to get a really smooth finish.
Here's a step-by-step guide that will help you better understand everything.
How To Paint Dirt Bike Plastics: A Step-By-Step Guide
Your beloved bike deserves the utmost care when it comes to painting. It is important to be extra cautious. With this step-by-step guide, you'll be able to paint trail bike plastics effortlessly.
Step 1: Remove the parts & clean them
First, remove all of the hardware from the bike plastics. This includes gas cap bolts, handguards, and anything else that is attached.
Next, use soapy water and a sponge to clean the plastics thoroughly. Be sure to remove all fingerprints, smudges, and other dirt and debris. Once the plastics are clean, dry them completely with a microfiber cloth.
Step 2: Remove the paint using sandpaper
Now, i will discuss how to remove paint from dirt bike plastics using sandpaper. Remember, sanding is an essential step in painting trail bike plastics. But with all the different grits of sandpaper available, it can be difficult to know which one to use.
When removing color from trail bike plastic, medium-grit sandpaper will usually do the trick. The goal is to remove the old color without damaging the plastic beneath. If the sandpaper is too coarse, it can leave behind deep scratches. Too fine, and you'll be spending hours sanding with little results.
Medium-grit sandpaper will remove color without damaging the plastic, making it the ideal choice for most trail bike restoration projects. You can start by sanding the plastics with 220-grit sandpaper. This will help the paint to stick better.
After sanding the surface, wipe away any dust with a damp cloth and let the plastics dry completely.
Step 3: Priming the plastic parts
Before you can paint dirt bike plastic, you need to prime it. This will help the paint to adhere better and improve the overall appearance of the finished product. The best way to prime motocross bike plastic is with a system that uses both an etching primer and a base coat.
First, apply the etching primer to all of the areas that you want to paint. This will etch into the surface of the plastic, providing a key for the paint to adhere to. Next, apply a thin layer of base coat over the entire surface. This will provide a uniform color and finish.
Finally, apply two or three coats of your chosen color, allowing each coat to dry completely before applying the next. With proper preparation, you can achieve professional-looking results when painting dirt bike plastic.
Step 4: Final touch using spray paint
If you want better efficiency plus smooth finishing then a good quality spray gun can be an excellent option. Once the primer is dry, you can start spray painting the plastic.
Be sure to use even strokes and don't overdo it, or the paint will ruin it. However, if you want your bike's plastic to be glossy in color or matte color then a top coat is a must. Allow the paint to dry completely before riding your bike again.
Tips for painting dirt bike plastics
For a safe & sound dirt bike painting, you can follow the below tips. They will save you from extra cost and time.
If you are going to paint your trail bike plastics, avoid using cheap paint. Cheap paint will not adhere well to the plastics and is more likely to crack or peel. If you must use cheap paint, be sure to sand the plastics well before painting.
For best results, however, use a high-quality paint designed specifically for plastic. These paints will adhere better and are less likely to crack or peel. When painting, be sure to follow the manufacturer's directions carefully.
Avoid painting in direct sunlight, as this can cause the paint to dry too quickly and blister. If possible, paint in a temperature-controlled environment. Once the paint has dried, apply a clear coat for protection.
Again, follow the manufacturer's directions carefully to ensure proper adhesion and durability. With proper preparation and application, your dirt bike plastics will have a bright, new paint job that will last for many rides to come.
Spray plastic primer is a must when prepping your off-road motorbike for painting. This will help the new color adhere to the plastics and prevent them from chipping. Also, be sure to use light coats and allow each one to dry completely before moving on to the next.
Light coats are key to avoid runs and drips. Allow the paint to dry completely between coats, and don't forget to top it off with a clear coat for extra protection.
Keep enough patience, and make sure you wash the plastic after sanding to remove any contaminants before applying paint.
For extra help, call the experts at your local auto parts store or visit a website that specializes in automotive paints and supplies.
Ensure you are following the directions on the can of paint and primer, and always wear gloves and a dust mask when working with paint fumes.
How much to powder coat the dirt bike frame?
To prolong the graphics' life as well as to give the bike a finished look, dirt bike plastics are often powder coated. The process of powder coating off-road motorbike plastics is similar to painting, but there are a few things to remember when doing it yourself.
Firstly, it's important to thoroughly clean the plastic before applying any powder. This will help the powder to adhere better and create a smoother finish. When the plastic is clean, you can apply the powder using a brush or spray gun. It's important to apply an even coat and to avoid over-spraying, as this can create a rough finish.
When the powder is applied, it needs to be baked in an oven to set. In reality, it's quite unnecessary and ultra costly to buy a large oven for this job until you are a professional trail bike painter.
For a DIY motocross bike paint project, you can use an infrared heat lamp that would be able to generate enough heat which will cure the coated powder. Using this lamp, you can directly transfer the heat to the specific motocross bike parts for curing the sprayed powder.
You can use an 1800-watt infrared heat lamp for such a small project as it comes in small size plus high portability. Not only that, but the price range is also much lower than the oven.
How to paint a dirt bike engine?
Painting a dirt bike engine is a detailed process, but if done correctly, the results can be very rewarding.
It's important to start with a clean engine. So be sure to thoroughly wash and dry the surface before beginning. Next, apply a coat of primer, followed by a light sanding to help the paint adhere.
Once the primer is dry, it's time to start painting. When choosing a paint color, it's important to consider both aesthetics and functionality. For example, brightly colored paints may look great but can make it difficult to spot leaks or other issues.
Likewise, darker colors can help to hide dirt and grime. Once you've decided on a color, apply several thin coats of paint, allowing each one to dry completely before applying the next. With a little patience and attention to detail, you can achieve professional-looking results that will last for years.
Interesting Read: Power Band on A Dirt Bike
What would be the cost range of painting dirt bike plastic?
When it comes to giving your motocross bike a fresh look, one popular option is to paint the plastic parts. This can help to customize the appearance of your off-road bike and make it stand out from the crowd.
But what does it cost to paint trail bike plastic? The answer depends on a few factors, including the type and quality of paint you use, as well as the number of parts you need to paint.
Generally speaking, you can expect to spend anywhere from ($50 to $200) plus-minus on materials. If you decide to hire a professional to do the job, you can expect to pay even more. But regardless of the cost, painting your enduro bike plastic is a great way to give it a unique look.
Can you use hydro dipping for off-road bike plastic?
Hydro dipping is a painting method that uses water to transfer paint onto an object. This technique can be used on many different materials & you can use it on mountain bike plastic.
Moreover, hydro dipping motocross bike plastic allows for a very smooth and even coat of paint. It is also very easy to achieve different colors and designs with hydro dipping.
Here's a step-by-step guide to hydro dipping your dirt bike plastics:
Clean the plastics with soap and water to remove any dirt or oil.
Apply a base coat of paint to the plastic. This will help the hydro dip design to stick better.
Prepare your hydro dip design by printing it out on normal paper.
Cut out the design, leaving a small border around it.
Place the design face down in the water.
Slowly lower the plastic into the water, being careful not to disturb the design.
Allow the plastic to dry thoroughly before removing it from the water.
Apply a clear coat of sealant to protect the design and make it more durable.
What type of paint is suitable for trail bike plastics?
The paint you choose for your off-road bike plastics should be based on a few factors.
First of all, you'll want to make sure that the paint is compatible with the type of plastic you're using. Some paints are specifically designed for use with ABS plastic, while others will work with PVC or other types of plastic.
Another important consideration is the level of durability you need. If you're planning on riding in tough conditions, you'll need paint that can withstand a lot of wear and tear. If you're more concerned with durability and protection, then urethane paint is a better choice.
There are also many riders who use acrylic paint because it's less expensive than polymer or urethane paint, but it doesn't provide as much protection against scratches and other damage.
If you want to choose a color that will help you stay visible on the trails. Bright colors like orange and yellow are always a good choice. With these factors in mind, you should be able to find the perfect paint for your trail bike plastics.
You also need to decide what type of finish you want. If you're looking for a high-gloss finish that will make your off-road motorbike stand out, then polymer paint is a good option.
Advantages & Disadvantages of painting dirt bike plastics
In the following part, you will see the pros & cons of painting dirt bike plastics in short.
Advantages
Painting trail bike plastics offers several advantages.
It can help to protect the plastic from the elements. Unpainted plastic is susceptible to sun damage, which can cause cracking and fading.
Painting can help to give the off-road motorbike a custom look. By choosing the right colors and design, you can make your trail bike stand out from the crowd.
Painting can also be used to cover up scratches and other blemishes. Whether you're looking to protect your investment or simply add a personal touch, painting trail bike plastics is a great option.
Disadvantages
Many motocross bike riders choose to paint their plastics for a variety of reasons. Some do it to add a personal touch to their trail bike, while others want to match their gear. However, there are a few drawbacks to painting trail bike plastics.
It can be difficult to get an even coat of paint, which can result in an uneven finish.
Paint can chip and flake off over time, leaving your plastics looking worse than before.
Painting your plastics will likely void any warranty that you have on your bike.
Which coating lasts longer on dirt bike plastic, spray paint, or coated powder?
When it comes to protecting your dirt bike from the elements, you have two main options: spray paint or coated powder. Both have their advantages and disadvantages, so it's important to choose the right option for your needs.
Spray paint is generally cheaper and easier to apply, but it doesn't last as long as powder coating. Powder coating is more durable and provides better protection against scratches and UV rays, but it can be more expensive and difficult to apply.
Ultimately, the best option for you will depend on your budget and application needs.
Which sprayer size is best for painting dirt bike plastic?
When painting trail bike plastic, it is important to choose the right size sprayer. If the sprayer is too small, it will take a long time to paint the plastic. If the sprayer is too large, the paint may not adhere properly to the plastic.
So, the best size sprayer for painting off-road motorbike plastic is a medium-sized airless paint sprayer. Airless paint sprayers use high pressure to atomize the paint into a fine mist, which ensures that the paint will adhere evenly to the surface.
In addition, airless paint sprayers are less likely to leave streaks or brush marks than traditional paint brushes. As a result, they are the ideal choice for painting mountain bike plastic.
Conclusion
Riding a dirt bike is cool stuff & no passionate guy can deny it. Giving a new look to your trail bike after every season will not only uplift your mood but a whole fresh feel to your bike.
Though it's not that complicated to paint a dirt bike, however, you have to make sure there are zero mistakes during the painting process.
I expect this short piece of writing will leave you with enough information on how to paint a dirt bike. Happy riding!