Extreme games are very popular nowadays because, well, they are extreme. People leading mundane day-to-day lives seek refuge in these games to spice their lives up. One such extreme sport is dirt biking. There's barely any sensation like the wind at your back while you make your way through roads made of sand and dirt. But if you want to live the full experience, you need to take proper care of your dirt bike, and washing it tops the maintenance list.
There are two main ways to wash a dirt bike, using a pressure washer and without using a pressure washer. If you use a pressure washer to wash your dirt bike, you will need to take extra care while washing since it can cause damage to the bike.
So, how can you wash a dirt bike? Let's find out.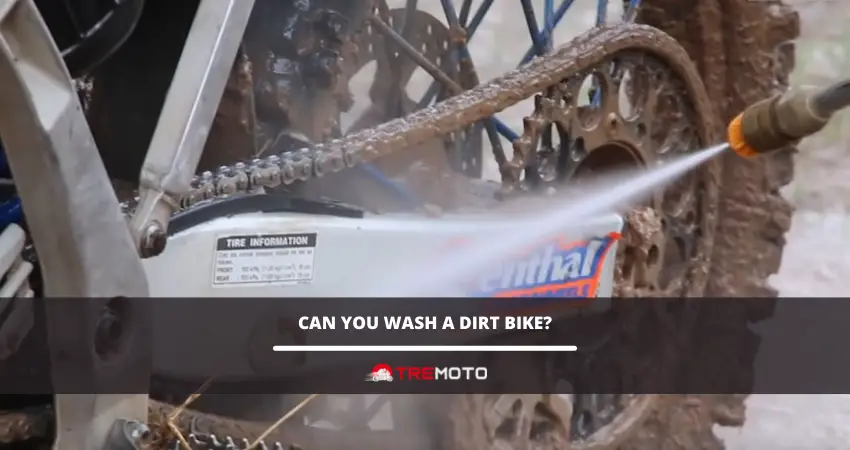 Can you pressure wash a dirt bike?
Before we go and talk about washing your dirt bike, let's just address the elephant in the room. Several things divide communities, such as whether to use a smith machine or not? Is Skyler white as bad as people think? Is Light Yagami the hero or the villain? You get the idea, it's the same for dirt bikes.
Dirt bikers are divided like Moses parted the red sea over whether pressure washers can be used to wash dirt bikes. In short, yes, you can use a pressure washer to wash your dirt bike. But, there is a caveat.
Pressure washers put a lot of, you guessed it, water pressure to get rid of the dirt from the bike. When used correctly, it can clean your bike in a jiffy. But it is very easy to wrongly use a pressure washer and when that happens, you will have done irreparable damage to the body of your bike.
The reason behind this is that the pressure washer uses water at high pressure, sometimes the water can directly hit the more delicate parts of the bike and ruin them completely. So, how do you wash a dirt bike with a pressure washer? By following the steps mentioned below.
How can you pressure wash a dirt bike
Using a pressure washer to clean a dirt bike requires keen eyes and steady hands. Once you obtain a pressure washer and are sure that you won't accidentally hit your bike in places it is not supposed to be hit, go through the next steps.
1. Preparing your bike
Before washing it, you need to prepare your dirt bike properly. First, you need to remove the seat. Most people leave the seat on, which is not a very bad idea if you are not using a pressure washer. But in this case, exposing the rubber seat to such a strong current of the water will damage it. So, like professional mechanics, removing your seat is the best option.
Next, remove the air filter and install a cover for the air box. Then make sure the shrouds stop flopping around by reinstalling the seat bolts.
If you have overflow hoses, they might catch water when you use pressure washers. Avoid it by plugging the hole with any spare bolt you can find. Next, make sure the muffler doesn't get water in it by either installing a wash plug or duct taping the end of it.
2. Removing the excess dirt
Dirt bikes will always have quite a lot of dirt on them before they are cleaned. If the time passed between cleaning is a lot, some of the dirt can turn into clay-like substances.
Before you clean your bike, make sure you remove this dirt using a rubber mallet. Now you may ask, why use a rubber mallet instead of a dirt scraper? The reason dirt scrapers shouldn't be used is that if the dirt is dry, the dirt scrapers will scratch your bike's body, especially the parts made of plastic. Using rubber mallets will eliminate that risk.
3. Cleaning the chain
Once you are done getting rid of the excess mud, you need to take care of the bike's chain. The chain carries a lot of grease and, of course, dirt. You need to get rid of these before washing your dirt bike. The best way to do so is by using a wire brush so that you can clean up the smallest gaps in the chain. After you're done all that, remove the bike's handlebar and you are ready to wash your bike.
4. Washing the bike
All the above steps were to get your bike ready for washing. When you are ready to wash the bike, you have to lay the bike down. Don't start using a pressure washer to keep the bike upright. Lay the bike on its side and do it in such a way that its handlebar is kept on a bike stand.
The reason you have to lay your bike down instead of keeping it upright is doing so allows you to gain access to the areas of your bike which would've been otherwise difficult to get into had you kept it upright, for example, the tank, fenders, and the areas below the cases.
Now, first, spray water lightly on the bike's body to make sure the remaining dirt gets loose. Then let the water sit for a couple of minutes and then it's time to use the power washer. Use the power washer on areas that have bearings and seals. The extreme pressure of the water will damage them permanently. Although modern bikes are built better than older bikes, you still have to maintain caution.
Now flip the bike over and remove the skid plate if you have any. Then repeat the aforementioned process using the power washer.
5. Scrubbing the bike down
Just because you have used a power washer to remove the dirt doesn't mean your work is done. You have only reached the halfway mark of the process. There will still be some dirt and other mineral deposits that will refuse to go away even with a power washer. You need to scrub the whole bike, especially the underside of the bike's frame to get rid of them.
If your bike has an aluminum frame, you can use an SOS pad to scrub it down. Scotch-Brite pads will also help, but make sure to use some lubricants with them. After you're done scrubbing, hose the whole bike.
6. Washing the bike using soap
Once the bike has been power washed and scrubbed, there's no need for it to stay laid down. Put it upright and keep it on a stand. Then spray the bike with either a soap solution or any kind of bike wash. After spraying, let the solution sit on the bike for 5-10 minutes for it to work properly.
Then use a soft brush to scrub the bike and use a hose to wash everything down. When you reach the swingarm, frame, and spokes, scrub them down first and then hose them.
7. Drying the bike off
Now it's time to dry off the bike. Use a clean towel to dry the whole bike and for areas that are quite hard to reach, use compressed air. If you want to keep water out of the connectors, you should use dielectric grease on them. Dry the radiator fins using compressed air, but make sure that you only dry it from the front to the back, so that the drying off should be unidirectional.
The lower fork legs should be dried with a microfibre cloth. It is mandatory that there are no water spots and mineral deposits as these can damage the fork seals. Now, for the chain, use compressed air and some penetrating lubricant before using chain lube. Also, ensure the cables have no water in them.
8. Finishing up
You are almost done with cleaning your dirt bike. To make sure, the bike's plastic doesn't have any black marks on it, use contact cleaner. When you are detailing the bike, you may sometimes overspray the bike spray which can go to the brake discs or the bike seat and make them slippery.
To avoid it, spray the bike spray onto a microfibre cloth first and then apply it on the bike. Then install everything that you had removed before and your bike will look as good as new.
How to clean a dirt bike without using a pressure washer?
The problem with washing a dirt bike with pressure washers is that these washers can severely damage your bike if even the smallest of things go wrong. That's why most use hoses to wash the bike just to be safe. The washing process is almost the same as using a pressure washer.
First, you need to remove all the parts that I mentioned earlier, then remove the excess dirt with a mallet. Next, you need to hose the bike and scrub it down. After that use soap and hose, again to complete the washing process. Then use bike wash on the bike to finish detailing and then reinstall the removed parts to finish the whole thing.
How to maintain a dirt bike
Knowing how to properly wash a dirt bike isn't the end-all and be-all when it comes to making sure that your bike remains clean. To ensure a clean dirt bike, you have to properly maintain it. Here are a few tips for you for your dirt bike's proper maintenance.
1. Washing your bike regularly
This is a no-brainer actually when you think about it. Since dirt bikes are ridden in places full of dirt, whenever you ride them, you come home with a bike that becomes unrecognizable due to all the mud that sticks to it. That's why you need to wash it after every single ride.
If you do so, you won't have to go through the detailed cleaning process every time, rather you can easily do the job with a water bucket and brushes. Just make sure to keep the water away from electrical appliances and components.
2. Drying the bike before the inspection
Before you perform an inspection on the dirt bike for maintenance, make sure it is completely dry. Drying it is quite easy, to be honest, all you need is a leaf blower or a dryer to do this.
3. Checking for leaks
Always be on the lookout for any leaks in the cables of the dirt bikes to ensure peak performance. Look below the motors and the ground for any indication of leakage. Not only oil, but the coolant and the brake fluid can also leak out. Check those also.
4. Cleaning the chain
A chain that is clogged up by mud and dirt can result in serious damage down the line. If you see that your bike's chain has dirt on it, it's better not to clean it immediately, rather letting it dry overnight will make it easier to get rid of. After cleaning the chain, lubricate it with trusted chain lube brands such as Klotz or Bel-ray.
5. Checking the chain tension
Cleaning isn't the only way to make sure the chain is okay. You also make sure the chain is neither tout nor too loose. If the chain is too tout, it won't allow the suspensions to move. Also, if the chain is easily removable from the sprocket, that means it has become too loose and has to be replaced. Your chain must have 13 millimeters of free-play when the swing arm of your bike is parallel to the ground.
6. Tightening the bolts
You don't want loose bolts to fall off when you are riding your bike in the middle of nowhere. You can easily avoid this situation by regularly inspecting the screws and tightening them when needed.
7. Checking the controls as well as the control cables
The control cables of your bike play a pivotal role in the bike's performance and both your and your bike's safety. So check them out regularly for any damages. If you see the bike's throttle and clutch cables being kinked or damaged in any other way, replace them as soon as possible.
Then put the bike on a work stand and start it up. Don't do anything with it and just let it idle. This is a way to measure the throttle free play. Rotate the bike's handlebars all the way and see whether the engine RPM increases or not. If it does, then you'll need to add free play to the cable of the throttle.
While you are at it, test your throttle's responsive operation as well. You can test it by seeing when you twist it, whether it snaps back instantly or not.
8. Checking the air filter
Air filters save the engine from damage by filtering out harmful components, so it's a must that you check on it regularly. Cleaning the air filter is quite easy. You can either spray an air filter cleaner or use a solution of water and any household cleaner. Dry it off after cleaning and then coat the filter with some high-end air filter oil.
9. Checking the tire pressure
The tires are what make the bike move around. So after every ride, check their pressure to ensure that they are in prime condition for the next ride. The recommended tire pressure for muddy conditions is 8 and 6 PSI respectively for the front and back tires. On the other hand, dry conditions require tire pressures of 14 and 12 PSI respectively.
10. Changing the oil
Since dirt bikes mostly operate in dusty and sandy areas, you need to change your motor oil quite frequently. The frequency of how often you should change your oil differs from person to person, so you should follow the guideline provided by the manufacturers. But it's a rule of thumb that you should change your oil more often to make your engine last longer.
11. Checking the fluids
Motor oil isn't the only fluid you need to check on from time to time. Check your brake fluids and coolant levels regularly and change them when needed.
12. Greasing the bike
Greasing your bike prevents water and dirt from getting into the parts of the bike. It also acts as a lubricant for various important parts of your dirt bike. The main areas to be greased are the air filter, the wheel bearings and their seals, the steering head bearing, the swingarm, the forks, and the shock seals. You should use either petroleum-based or PTFE-based grease according to the need of the area.
How to clean dirt bike exhaust
Cleaning the bike's body is one thing, cleaning its exhaust is something entirely different. The exhaust has all the grime from the fumes of the engine as well as the dirt all around it. So you should clean it as an unclean exhaust will stick out like a sore thumb in contrast to the squeaky clean dirt bike.
Before you do anything, make sure that the exhaust is cool. Touching a hot exhaust pipe will result in nothing but searing pain for you as well as a long-lasting burn mark. Once the exhaust cools to the touch, remove it from the bike.
Then use water and a brush with stiff bristles to remove any dirt, mud, and grime from both sides of the exhaust. Next up, use scotch pads or wire brushes to scrub the exhaust up and down. This is done to make the pipe shiny and smooth.
Don't use a wire brush on the muffler end of the exhaust as the metal is different from the rest of the exhaust. Finally, use WD-40 on the whole exhaust to provide it with a protective coating to prevent moisture and oxygen from damaging the exhaust through rust. Now reassemble the exhaust and reinstall the exhaust back into the bike.
How to keep mud from sticking to dirt bike
You may know how to properly wash a dirt bike, but what if I told you that there's a way that you won't even have to wash it as often as you'd have originally thought? If you spray your bike with any silicone-based aerosol, it will prevent any mud from sticking to your bike.
In absence of aerosols, you can even use some SC1s. There is another upside to using these products on your bike. Not only will these not allow mud to stick on your bike, but they will make sure that your bike always has a nice and shiny look.
Final words
Dirt bikes are a great way to let off some steam after the hustle and bustle of the day to day life. But you need the bike to be in peak condition to reap its full rewards. And to do that, you need to know how you can wash a dirt bike. Do that, and you are in for a treat on the dunes.