Dirt biking is an exhilarating experience. To reap the full rewards of this extreme sport, you need to have a dirt bike that can cater to your every need. When it comes to producing top-quality dirt bikes, there are hardly any better brand than KTM.
But no matter how good and well-known a brand is, you simply can't go in blind when buying that bike.
So what should you know about KTM dirt bikes before you buy one? You need to know who these bikes are for, how fast these bikes go, which are the best bikes etc. You also need to know the price of the bike you are buying and if the bikes are good. All of this information will help you make the correct decision.
Now, let's take a deeper look at KTM dirt bikes.
The history of KTM dirt bikes
As far as dirt bikes go, KTM has been a household name for a long time. Founded in 1934 and rejuvenated in 1992, this brand took no time in taking the dirt bike market by storm. They specialize in making high-quality dirt bikes that are fast and powerful. So if you are an experienced dirt biker, having a KTM dirt bike won't be the worst choice you'll make.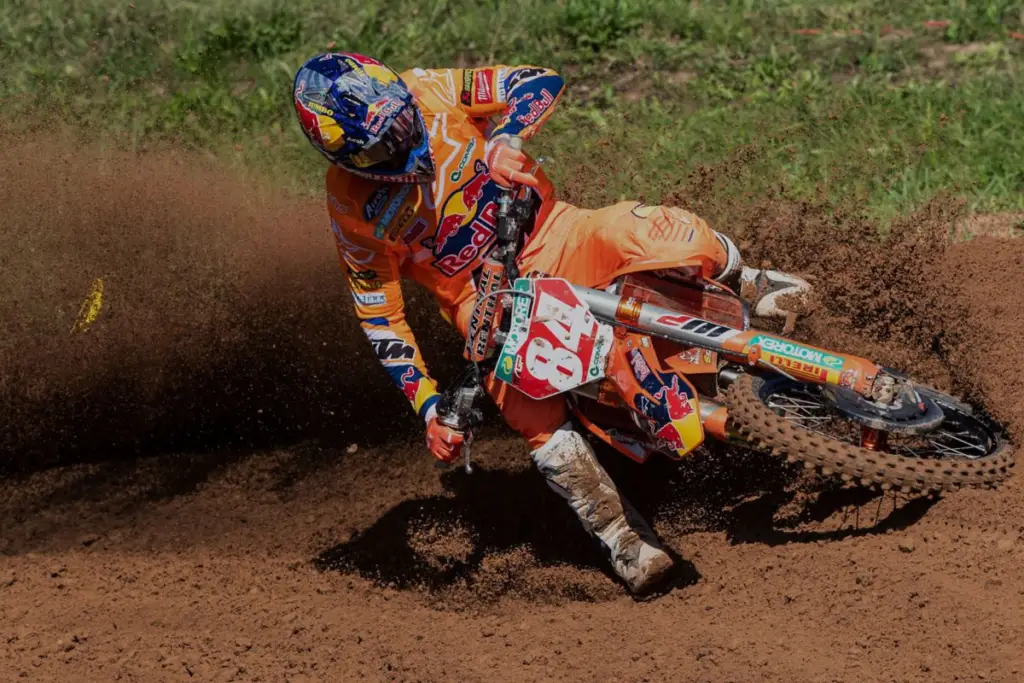 So, who makes KTM dirt bikes? KTM is an Austrian company that is also co-owned by Pierer Mobility AG and Indian giants, Bajaj. These two companies are responsible for making and distributing KTM bikes worldwide.
But where are KTM motorcycles made? Because this brand is co-owned by two companies from two different countries, people often wonder about the place these bikes are made. Since European-made bikes have a reputation for being reliable, they are well within their rights to ask questions like these.
All KTM dirt bikes are made in Austria. From there, they are distributed all over the world via designated distributors. The co-ownership of Bajaj has also helped in its worldwide distribution.
Are KTM dirt bikes good?
The reason behind the fame of KTM dirt bikes is their reliability and efficiency. These bikes are powerful, durable, and trustworthy, leading to their worldwide success. Their success can be demonstrated by their position as the largest manufacturer of dirt bikes in Europe.
No matter what the terrain is, bikers riding KTM dirt bikes have won heaps of championships. Their success can be attributed to the powerful two-stroke engines they have. Despite most top brands moving away from two-stroke engines, KTM has stuck to its guns and continued to reap rewards.
Apart from powerful engines, KTM dirt bikes have excellent stability and control, superb handling, and excellent tires that make them a must-have. They are also quite affordable if you keep the service they provide in mind.
So, are KTM dirt bikes reliable? Of course, they are.
How much is a KTM dirt bike?
The price of a KTM dirt bike varies from model to model. It also varies according to the engine capacity and the type of bike. Here are the 10 best KTM dirt bikes with their respective prices:
| | |
| --- | --- |
| Model | Price (approx.) |
| KTM 250 SX | $8949 |
| KTM 150 XC-W | $9799 |
| KTM 450 EXC-F six days | $14000 |
| KTM 690 Enduro R | $12499 |
| KTM Freeride 250 R | $7999 |
| KTM Freeride E-XC | $11099 |
| KTM 250 EXC-F | $12920 |
| KTM 300 XC-W Six Days | $10899 |
| KTM 125 SX | $7949 |
| KTM 450 SX-F Factory Edition | $11699 |
KTM Dirt Bike Price Comparison Table
How fast is a KTM dirt bike?
KTM dirt bikes are powerful and fast. They are built to provide the much-needed adrenaline rush a dirt biker wants. So most KTM dirt bikes are faster than their contemporaries. Some of the fastest KTM dirt bikes are:
| | |
| --- | --- |
| Dirt Bike Model | Max Speed |
| KTM 250 SX | 126 kmph or 78 mph |
| KTM 450 SX-F | 198 kmph or 123 mph |
| KTM 350 SX-F | 158 kmph or 98 mph |
Max Speed Chart of KTM Dirt Bikes
Final Words
When it comes to buying KTM dirt bikes, there isn't much that can go wrong. These Austrian bikes are a symbol of power, speed, and reliability. As long as you know the details of a KTM dirt bike before buying it, you will have the time of your life on the off-road tracks.