A dirt bike's radiator plays a pivotal role in maintaining the health of the engine. This thermal exchanger prevents overheating, a common and potentially damaging condition. It relies on a specialized liquid known as coolant. Composed of ethylene or propylene glycol mixed with water, this coolant absorbs heat from the engine, transferring it to the radiator. There, the heat is dissipated into the surrounding environment, thus maintaining a safe engine temperature.
In certain circumstances, dirt bike owners might contemplate using water as a substitute for the standard coolant. However, this seemingly simple solution isn't as straightforward as it appears. Water's natural cooling properties and ready availability might make it seem like a suitable alternative. Yet, its boiling point, freezing point, and propensity to cause corrosion can all influence its effectiveness in a radiator.
In the following sections, we examine the impacts of using water in a dirt bike radiator. We'll explore the risks, how they can be mitigated, and the vital importance of transitioning back to the regular use of coolant as soon as possible. Our aim is to provide a comprehensive understanding of this topic, underpinned by scientific principles and bolstered by practical advice.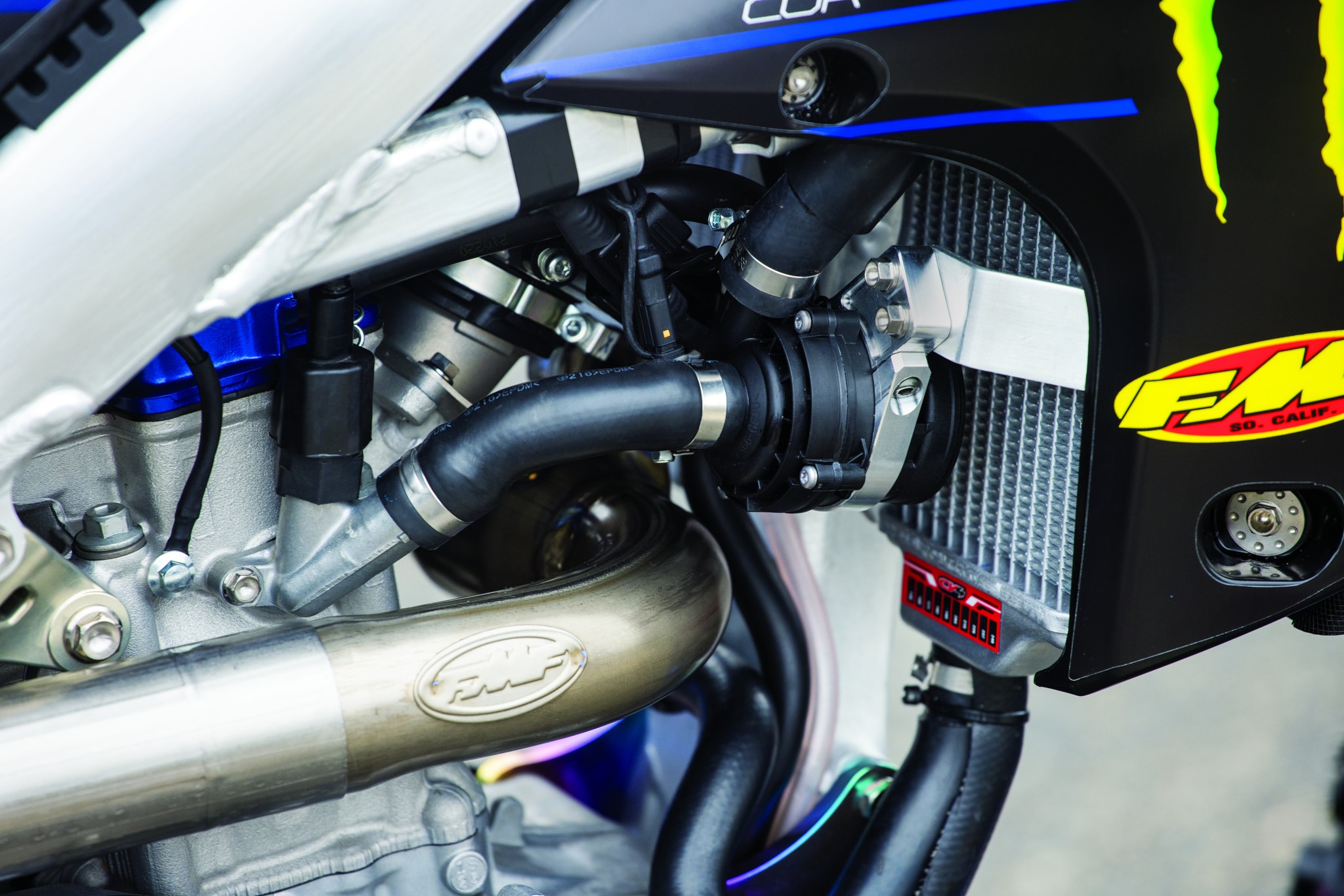 Can You Use Water Instead of Coolant in a Dirt Bike Radiator?
Coolant is the lifeblood of a dirt bike's radiator. Designed to protect the engine from overheating, a coolant's job is to absorb, transport, and dissipate heat. It also offers anti-freeze protection in colder climates and prevents corrosion inside the cooling system. However, can water replace this multi-tasking fluid?
The simple answer is: yes, but only temporarily. While water can be used in emergency situations, it's not a long-term solution. Now, let's delve into why this is the case.
The Role of Coolant in a Dirt Bike Radiator
Coolant, a mixture of ethylene or propylene glycol and water, boasts a higher boiling point and a lower freezing point than pure water. This means it's less likely to boil over in high-temperature situations, nor freeze when temperatures plummet. Additionally, the ethylene or propylene glycol in the coolant acts as a corrosion inhibitor, preventing rust and oxidation.
Contrary to this, water, especially tap water, contains minerals that can cause build-up and corrosion in the engine's radiator over time. Distilled water, although a better choice, still lacks the anti-corrosive and optimal temperature range properties of coolant.
Consequences of Not Using Coolant
Not using coolant in your dirt bike's radiator can lead to serious complications. These include:
Overheating: Water has a lower boiling point than coolant. In high-performance situations, like dirt biking, this can lead to overheating and potential engine damage.
Freezing: In cold climates, water can freeze, causing blockages in the cooling system and damaging the engine block and radiator.
Corrosion: As mentioned earlier, water can cause corrosion and scale build-up in the radiator, leading to reduced cooling efficiency over time.
These potential risks highlight the importance of using proper coolant. Yet, circumstances may sometimes call for temporary measures. Let's explore what happens when you choose water over coolant.
What Happens When You Put Water in a Dirt Bike Radiator?
Using water in a dirt bike radiator is not a long-term solution. Yet, understanding the immediate and prolonged effects of such a choice can be enlightening. It aids in making informed decisions in situations when you're out of coolant and need a quick fix.
Short-Term Effects on Dirt Bike Performance
In the short term, water can cool the engine. But, it may not be as efficient as a proper coolant. The engine may run hotter than usual, but likely not to the point of immediate damage. However, if the bike is used strenuously, overheating risks increase.
Long-Term Damage and Potential Risks
Using water instead of coolant for extended periods poses serious damage risks. These include engine overheating, potential radiator leaks due to corrosion, and, in colder climates, water freezing in the cooling system. Long-term usage of water can lead to more frequent and costly maintenance, ultimately shortening the bike's lifespan.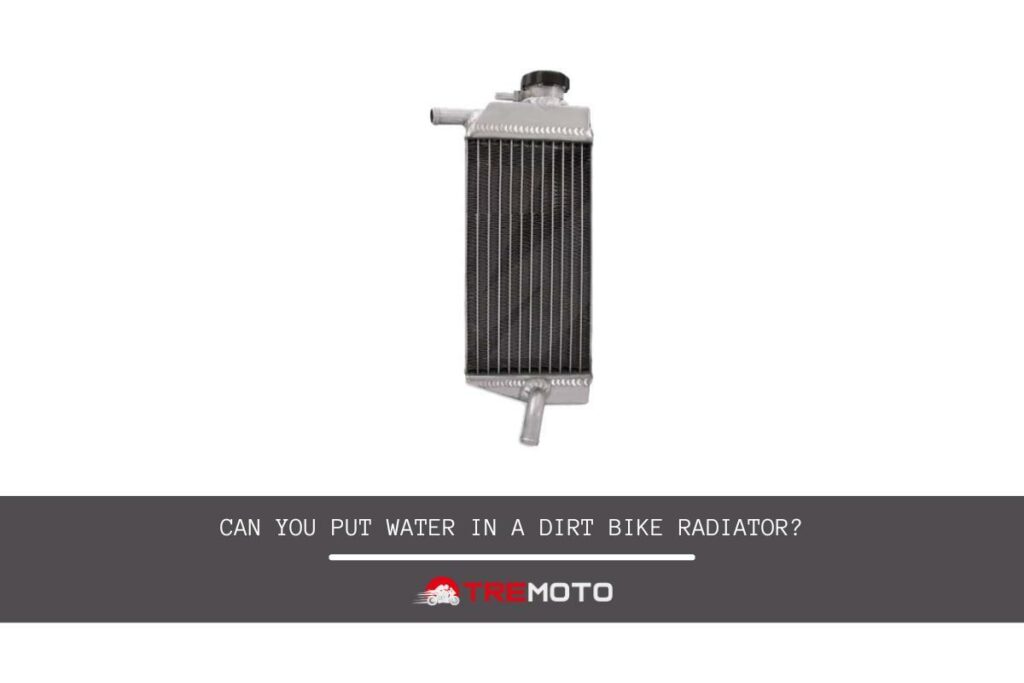 The consequences may seem grave, yet the question remains: Is it safe to use distilled water in a dirt bike radiator?
Is It Safe to Use Distilled Water in a Dirt Bike Radiator?
As we have already discovered, using water in a dirt bike radiator is a temporary fix. But not all water is equal. Here, we're considering distilled water, a form of purified water with its impurities removed through distillation.
Differences Between Tap Water and Distilled Water
Tap water is laden with minerals and other impurities. These impurities can cause deposits and corrosion in your bike's radiator over time. On the other hand, distilled water, devoid of these impurities, poses a lesser risk of causing buildup in the radiator. But distilled water still lacks the important anti-freeze and anti-boil properties of a proper coolant.
Benefits and Drawbacks of Using Distilled Water
Distilled water can be a safer emergency substitute for coolant due to its purity. However, it should only be used as a stopgap measure. Extended use still increases the risk of overheating and freezing, as it lacks the temperature regulation properties of coolant.
In case you find yourself in a situation where water is your only option, you might wonder how much water should you use. Let's find out.
How Much Water Should You Use If Necessary?
It's essential to get the quantity right, even when you're using water as a temporary solution. Here's a guideline to follow:
To replace the coolant, you'd typically fill the radiator with water up to the filler neck where the cap screws on. However, it's best to consult the dirt bike's manual to determine the exact capacity and requirements of your specific model's radiator.
Avoid overfilling the radiator, as this can lead to water getting into areas it's not supposed to, potentially causing damage. Always adhere to the manufacturer's guidelines for best results.
It's now clear that using water in a dirt bike's radiator comes with potential issues.
What are the Potential Issues with Using Water in a Dirt Bike Radiator?
Before you decide to replace coolant with water, it's prudent to understand the potential issues associated with this decision.
1. Corrosion Risk and Its Impact on the Dirt Bike's Performance
Corrosion is the biggest concern when using water instead of coolant. Water, especially tap water, can corrode the metal components of the radiator and engine. Over time, this corrosion can cause serious damage, leading to expensive repairs or even a complete engine rebuild.
2. Overheating Issues Associated with Using Water
Water has a lower boiling point than coolant. This means in high-performance scenarios, your dirt bike is more likely to overheat, causing potential engine damage.
3. Freezing Issues in Cold Weather
Water also has a higher freezing point than coolant. In cold weather, water in the cooling system can freeze, causing blockages and potential damage to the engine block and radiator.
The risks associated with using water in a dirt bike radiator are clear. But, what if there are ways to minimize these risks?
How Can You Minimize the Risks of Using Water in a Dirt Bike Radiator?
While the usage of water in a radiator is not advisable for a prolonged period, there are ways to minimize the associated risks.
Regular maintenance is crucial when using water in the radiator. This includes checking for signs of corrosion and flushing the system regularly. Flushing ensures that any buildup is removed before it can cause blockages.
Transition back to coolant as soon as possible. To do this, drain the water from the radiator and replace it with the recommended amount and type of coolant.
It's clear that using water in a dirt bike radiator should be a last resort. However, are there circumstances when using water is a preferred choice?
Are There Any Special Circumstances Where Using Water is Preferred?
In some cases, you might find that water is the only available option.
Emergency Situations Where Water May Be the Only Option
If you're on a trail and the bike is overheating due to a coolant leak, using water from a nearby stream could be the only way to prevent engine damage and get you home.
Temporary Solutions During Unexpected Coolant Shortages
There may be times when coolant isn't readily available, such as during a supply shortage or when traveling in remote areas. In such cases, using water temporarily can keep the bike running until coolant can be obtained.
Now, you might wonder which type of coolant is best for a dirt bike radiator. Let's delve into that next.
Read Also: How to adjust the clutch on a dirt bike
Which Type of Coolant is Best for a Dirt Bike Radiator?
Choosing the right coolant for your dirt bike radiator is essential for the longevity of your bike.
There are several types of coolant available in the market, but not all are suitable for a dirt bike. For example, coolants containing silicate can cause issues in some bike cooling systems. Therefore, it's best to choose a coolant that's specifically designed for dirt bikes, or at least for motorcycles in general.
Criteria for Choosing the Right Coolant
When choosing a coolant, consider these factors:
Compatibility: Ensure the coolant is compatible with your dirt bike's radiator.
Boiling Point: The coolant should have a high boiling point to prevent overheating.
Freezing Point: The coolant should have a low freezing point to prevent freezing in colder climates.
Anti-Corrosive Properties: The coolant should prevent rust and corrosion in the cooling system.
Now, suppose you've used water in your dirt bike's radiator and it's time to switch back to coolant. Let's explore how to properly make that transition.
How to Properly Replace Water with Coolant in a Dirt Bike Radiator?
Replacing water with coolant in a dirt bike radiator requires careful execution.
Step-by-Step Process for Safely Draining Water and Adding Coolant
First, ensure the engine is cool. Opening a hot radiator can lead to dangerous steam and hot water ejections.
Open the drain plug and allow the water to drain out. Remember to dispose of it properly to avoid environmental damage.
Once the water is drained, close the drain plug.
Pour the coolant slowly into the radiator until it reaches the filler neck. Again, refer to your bike's manual for the exact capacity.
Replace the radiator cap and start the engine. Let it run for a few minutes to circulate the coolant.
Check the coolant level again, as it may have gone down after circulation. Add more if necessary.
Signs that a Professional Mechanic May Be Needed
If there are signs of corrosion, leakage, or any other damage to the cooling system, it's best to take your bike to a professional mechanic. While some minor issues can be fixed at home, a professional will have the tools and knowledge to properly assess and repair any significant damage.
Conclusion
The journey from questioning whether water can be used in a dirt bike radiator to understanding the nuances involved provides an insightful tour of radiator maintenance. It's clear that while water can serve as a stopgap measure, coolant remains the go-to choice for long-term bike health. Regular maintenance, careful observation, and swift responses to any issues can ensure your dirt bike continues to roar with power and performance, allowing you to conquer new terrains. Always remember that the longevity and optimal functioning of your dirt bike heavily rely on the correct use of fluids, especially in the radiator.