Yes, you can ride a dirt bike in snow. Riding a dirt bike in the snow requires proper gear and modifications to the bike to make it safe for the rider.
Winter riding can be thrilling with the right preparations, but it also has its challenges. Snowy terrain brings in risks that can be minimized with experience and effective gear selection. It is crucial to be aware of conditions such as black ice and deep snow, which can cause riders to lose control.
This article will delve into everything you need to know before going on a dirt bike ride in the snow. From the proper gear to suitable modifications for your dirt bike, we will provide all the essential tips and advice you need for an exciting and safe ride.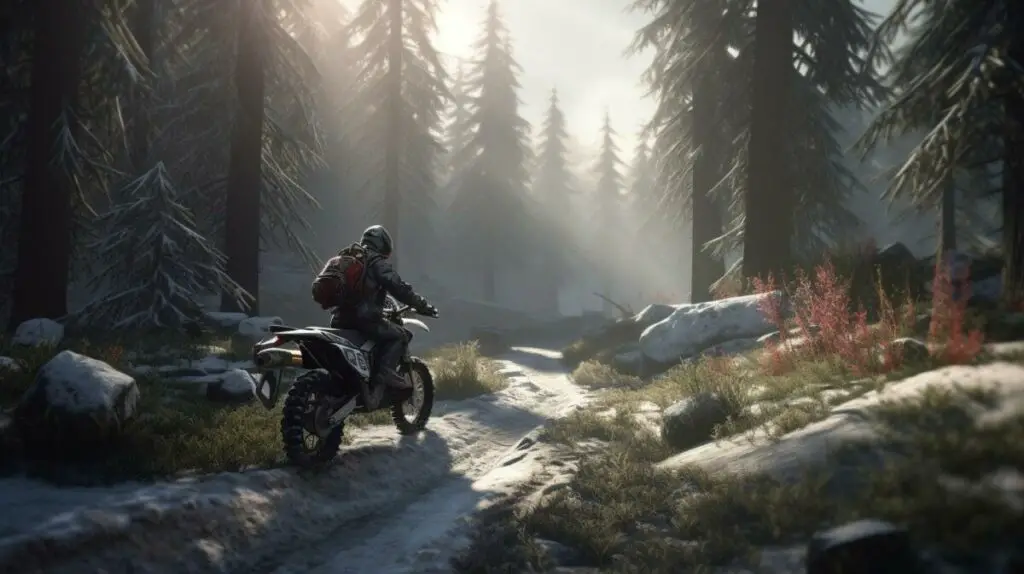 Understanding The Challenges Of Riding A Dirt Bike In Snow
Riding a dirt bike in snow poses unique challenges for riders. It's important to understand the riding conditions in snow, including the decreased traction, visibility and tire pressure. Safety must come first when tackling these risks, with riders taking measures such as wearing adequate gear and ensuring their bike is properly equipped for snow riding.
To make snow riding safe, riders should avoid sudden movements and maintain a consistent momentum. Analyzing the risks involved and anticipating potential hazards on the snow-covered ground is also key to staying safe on a dirt bike in snowy conditions.
With careful preparation and attention to safety, however, riders can enjoy the unique experience of snow riding on their trusty dirt bikes.
Preparing Your Dirt Bike For A Snow Adventure
Riding a dirt bike in the snow can be a thrilling adventure, but it requires careful preparation to ensure both safety and performance. Here are some tips for getting your dirt bike ready for a snow adventure:
Tires: Start with the right tires for snow. Consider studded tires, which have metal studs embedded in the rubber to improve traction on icy and snowy surfaces. Alternatively, you could use winter-specific tires, which are made of a softer rubber that remains flexible even in cold temperatures.
Handlebar Warmers: Cold hands can significantly affect your control over the bike, so consider installing handlebar warmers. These electrically heated grips will keep your hands warm, allowing you to ride more comfortably and safely.
Jetting: Your dirt bike's carburetor may need rejetting to accommodate the colder, denser air. This generally involves installing a larger jet to allow more fuel into the engine. Fuel injected bikes automatically adjust for this.
Suspension: Cold weather can affect your bike's suspension fluid, making it thicker and potentially impacting performance. Consider changing to a lower viscosity fluid for better response in cold conditions.
Antifreeze: Ensure your bike's coolant contains adequate antifreeze to prevent the engine from freezing. If your bike is liquid cooled, this is essential.
Plastic Skis: Consider replacing the front wheel with a ski for better performance on snow. These ski kits can be found online or at motorcycle retailers.
Rear Track System: This system replaces the rear wheel and provides better traction in the snow. Similar to a snowmobile track, it can provide more stability and control when riding in snowy conditions.
Clothing and Protection: Remember, preparing your bike isn't enough. Make sure you have the right gear as well, including insulated, waterproof clothing, goggles, a suitable helmet, and boots designed for cold weather. We will talk about it more in the next section.
Maintenance: Check all the basics. Make sure your chain is well-lubricated with a product that won't freeze or get gunky. Check your brakes, throttle, and clutch cables for smooth operation. Make sure all lights are functioning well for those shorter daylight hours.
Fuel: Use a winter-grade fuel if possible, or add a fuel stabilizer to keep your fuel from freezing or gelling.
Remember, riding in the snow and cold is a whole different experience, so take it easy until you get used to the different handling and conditions. Also, make sure to tell someone where you're going and when you expect to return. Safety is paramount.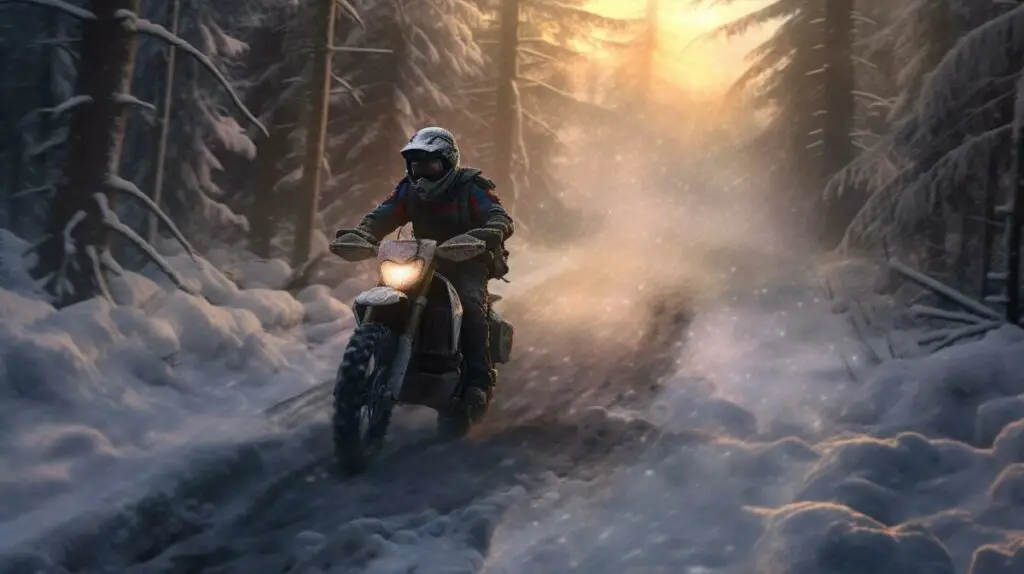 Gearing Up For Riding In The Snow
Riding a dirt bike in the snow is exhilarating, but it can also be challenging and potentially dangerous if you're not properly geared up. Here's a list of essential gear to consider:
Helmet: First and foremost, you need a quality helmet. Consider a full-face helmet to protect against the cold wind. Some snow-specific helmets have built-in insulation and come with a breath box to help reduce fogging.
Goggles: Snow can reflect sunlight into your eyes, so tinted, anti-fog goggles are essential for protecting your vision. Some goggles are designed specifically for winter riding and include double-pane lenses and foam insulation to prevent fogging.
Jacket and Pants: You need insulated, waterproof riding gear. Look for jackets and pants with thermal lining. Make sure the clothing is comfortable and allows for a full range of motion.
Layers: Cold temperatures and high-speed winds can quickly cause hypothermia. Wearing multiple layers can help keep you warm. Start with a base layer of thermal underwear, add a mid-layer like a fleece or wool sweater, and then your insulated jacket and pants.
Boots: Cold feet can quickly ruin a ride. Look for insulated, waterproof boots designed for cold weather riding. Make sure they provide enough ankle support and are comfortable for long periods.
Gloves: Your hands will be exposed to the cold, so a good pair of insulated gloves is essential. Consider heated gloves or hand grip warmers for extra warmth. The gloves should be waterproof and offer a good grip even when wet.
Neck Protection: A balaclava or neck gaiter can protect your neck and face from the wind and cold. These can also be pulled up over your mouth and nose if needed.
Socks: Consider thermal socks designed for cold weather. These are typically made from materials like wool or a synthetic blend that can keep your feet warm even when wet.
Kidney Belt: This is often overlooked but can help keep your core warm and provide some lower back support during your ride.
Hydration Pack: Even in cold weather, staying hydrated is important. A hydration pack allows you to drink without stopping your ride.
Remember, safety should always come first. Always let someone know where you're going and when you plan to return. And, take the time to adjust to the new riding conditions before pushing your limits. The handling characteristics of your bike will be very different in snowy conditions, and it will take some time to get used to the change.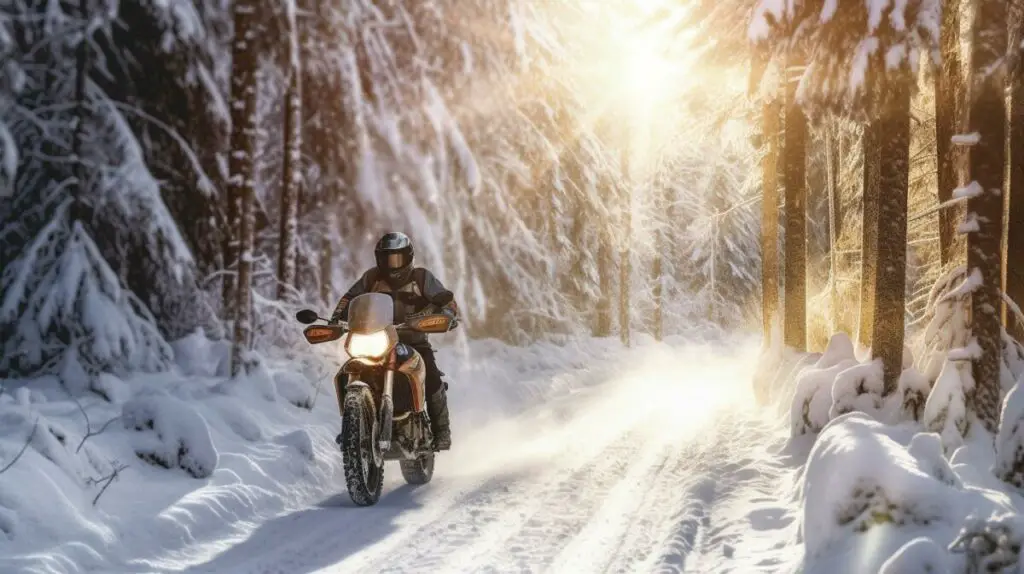 Additionally, try to avoid wearing items that are too bulky, as this can impede your movements. One issue that can arise while riding in the snow is fogged up goggles. To avoid this, invest in anti-fog spray or wipes, or try to keep your face as uncovered as possible while riding.
By gearing up properly, you can ride through the winter like a pro.
Mastering Techniques For Dirt Bike Riding In Snow
Riding a dirt bike in snow is an entirely different experience compared to riding on dirt. The conditions make the terrain much more unpredictable, and this requires a different set of techniques. Here are some tips to help you master dirt bike riding in the snow:
Start Slowly: Especially if it's your first time riding in the snow, you should start slowly and carefully to get a feel for the different conditions. The traction will be much different than what you're used to, and it can take some time to adjust.
Body Position: Position yourself further back on the bike. This helps to put more weight on the rear wheel, increasing traction.
Throttle Control: This is crucial when riding in the snow. Sudden throttle changes can cause the rear wheel to lose traction. Make sure to apply throttle gradually and smoothly.
Braking: Similar to throttle control, sudden braking can cause you to lose traction. Brake gradually and make sure to use both the front and rear brakes to maintain control of the bike.
Turn Carefully: When turning, lean the bike more than your body. This allows the bike to slide slightly while your body weight helps keep it from tipping over.
Standing Up: Riding while standing up can provide better control over the bike. It lowers your center of gravity and allows you to shift your weight more easily to respond to changes in traction.
Vision: Keep your eyes ahead and anticipate your path. Snow can make the terrain much less predictable, so you'll need to be prepared for sudden changes in traction.
Ride in Tracks: If there are existing tracks in the snow, try to ride in them. This can provide more predictable traction and make it easier to control your bike.
Bike Control: Be ready to control slides. The rear wheel can slide out from under you without much warning, so you'll need to be ready to counter-steer and balance the bike.
Practicing: The most important tip is to practice. The more time you spend riding in the snow, the more comfortable you'll become, and the better you'll get at handling the unique conditions.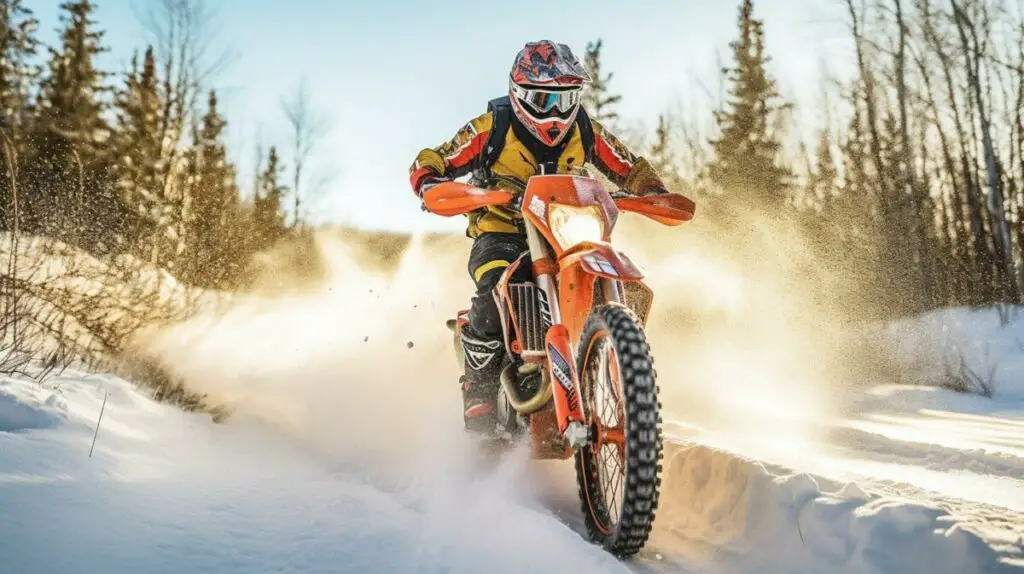 Tips For Safe And Enjoyable Dirt Bike Riding In Snow
Riding a dirt bike in the snow can be a fun and thrilling experience, but it's essential to take proper precautions to stay safe. Choosing the right clothing and equipment is crucial to staying warm and dry in the snowy conditions.
Pack emergency supplies and essential tools for any unexpected situations that may arise. It's also important to set boundaries and limits for safe riding, as riding in the snow presents different challenges than riding in normal conditions. With these tips in mind, you can enjoy a safe and enjoyable ride on your dirt bike in the snow.
Frequently Asked Questions
Can You Ride A Dirt Bike In Snow?
Yes, you can ride a dirt bike in snow, but it requires some modifications to your bike and riding techniques. You need to fit your bike with appropriate tires, snow guard, and handguards. Also, you must ride at a slower speed and avoid sudden turns or stops.
What Are The Best Tires For Riding Dirt Bikes In Snow?
The best tires for riding dirt bikes in snow are the ones that have an open tread pattern and larger spaces between the knobs. Taller knobs work well in deep snow, while shorter knobs are better for icy and hard-packed snow.
Do I Need Protective Clothing While Riding A Dirt Bike In Snow?
Yes, you must wear protective clothing while riding a dirt bike in snow. Wear a snowmobile suit, waterproof boots, and gloves to keep you warm and dry. Also, wear a helmet, goggles, and face mask to protect your head, face, and eyes from the cold wind and flying snow.
Conclusion
To sum up, riding a dirt bike in the snow can be both a thrilling and challenging experience. While it requires a bit more preparation and effort, it can also provide you with an opportunity to explore new terrains and improve your riding skills.
Remember to equip yourself and your bike with the appropriate gear and modifications to ensure your safety and maximize your performance. Whether you're a seasoned rider or a beginner, trying out riding in the snow can be a fun and exciting way to mix up your dirt biking adventures.
So why not give it a try and see how far your dirt bike can take you this winter season? With the right mindset and precautions, you might just discover a newfound passion for snowy motorcycle rides.