Do you want to free your kids from the shackles of video game addiction and make them outgoing?  Then, present them with a high-performing Coolster dirt bike and witness the magic.
I know you're hesitant about which bike model to choose and which features to consider. That's why I have written this Coolster 70cc dirt bike review.
So, without further delay, let's have a look at what this amazing 2-wheeler is going to offer.
Introducing Coolster 70cc dirt bike
When it comes to safety and performance, this 70cc pit bike outperforms its competitors to a considerable margin. The stylish moto comes with a 4-stroke 70cc robust single-cylinder engine and perfect size tires to ensure smooth control for kids aged 7 to 13. Also, it's equipped with air-cooled engine cooling technology.
Moreover, the hassle-free kick-start combined with the semi-automatic gearbox will help your children learn the real bike's mechanism while blazing through the dirt. This bike may seem small in the eye, but it can hold 130 lbs of weight. You can achieve almost 36 MPH max speed with the 5.5 HP vehicle.
Furthermore, the gas-powered kids' bike can contain 1 Gallon of fuel to ensure a long ride without interruption. So, your children can enjoy the bike to the fullest.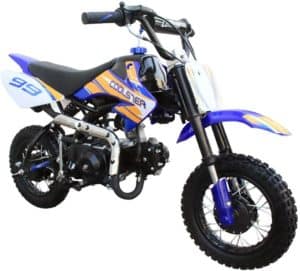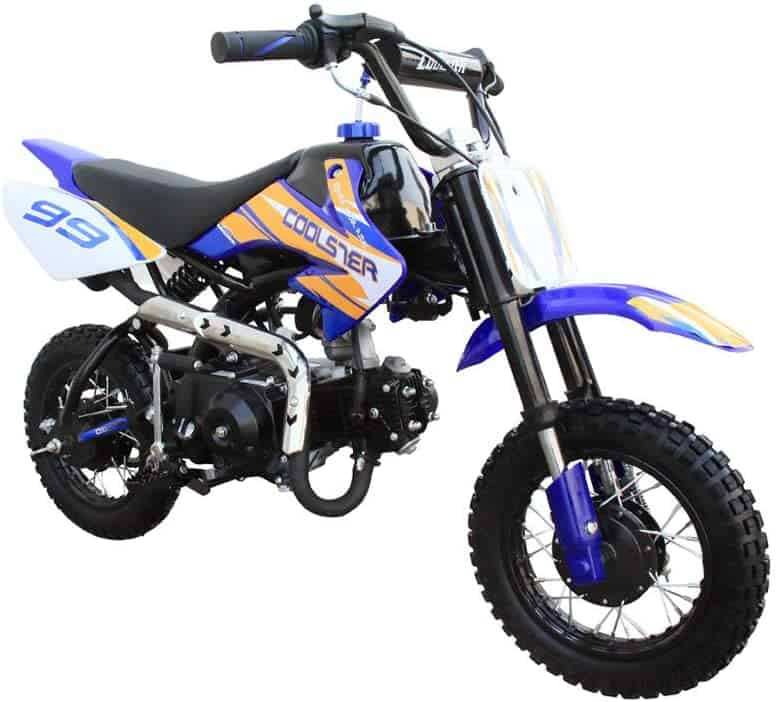 Who is the product for?
As you can easily understand by the size of the bike, this dirt moto is crafted for kids. If your youngster's age is below 14 and above 7, this Coolster product is appropriate. However, this bike comes with a reasonable price tag, and it will help your kids to improve their hand-eye coordination.
Moreover, adults with less than 120 lbs weight can also enjoy this bike thoroughly if they are not too tall. This is because tall people's long legs will interfere while riding the mini-size bike.
Problems You Might Face
Everything has good sides as well as bad sides. Therefore, this Coolster guy is not different.  Let's see the flaws of this model so that you can make up your mind with less hesitation.
The Carburetor Issue
The most irritating problem that happens with the kids' motorcycle is that it bogged out to offer. It may occur due to incorrect adjustment or the engine may not be getting adequate fuel. Whatever the reason is, beginners may face tough challenges.
Poor Quality Sticker
You kids will love the appearance of the dirt bike but it comes with bad quality stickers that peel off easily. As a result, the brand new vehicle may seem like a used bike.
Rusty Gas Tank
This issue may look insignificant to you but rust is not a good sign on an iron-made structure. It can increase over time and decrease the robustness and prettiness of the bike.
No Disk Brake
If you are a disk brake lover and don't want anything other than a disk brake, then it is a big issue for you. Also, disk brakes help the rider to control and operate a dirt bike more smoothly.
Less Speed
Compared to its competitors, this Coolster guy produces less speed. However, some parents appreciate this feature as more speed increases the chance of any kind of accident.
Manual Gear
This will make the bike tougher to operate for kids who are new to this dirt bike world. However, no automatic gear system may help the kid learn to manage manual gears.
Not Fully Assembled
People want ready-made things and that's why this becomes an issue for people as they don't like to do the garage work. In such a case, you should spend some bucks and take any expert's help to assemble the bike.
Pros & Cons of Coolster 70cc Mini Dirt Bike
Things We Liked About It
The fuel tank can hold 1 gallon of gas
Semi-automatic and 4-gear system
Top-grade suspension
130 lbs weight holding capacity
Powerful engine with air-cooled technology
Shows satisfactory performance in trails and muddy roads
Super easy to assemble
Things We Didn't Like
No disk brakes.
No automatic gear system
Inefficient Carburetor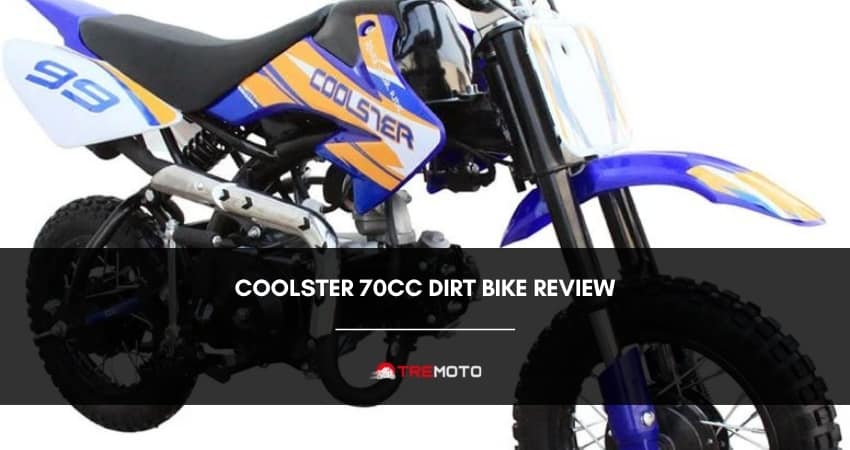 Coolster 70cc Dirt Bike Review: Features and benefits
Here are all the crucial advantages of the bike that appeal most. So, without further delay, let's have a look…
Highly efficient engine
The Coolster 70cc dirt bike is the perfect starter for beginners. The 4-stroke, single-cylinder engine generates a top speed of 36 mph. Thanks to its extremely powerful engine and lightweight structure, your small kid will smoothly ride the bike on any terrain.
The air-cooled mechanism and 8500 rpm motor will ensure optimum performance. Also, it starts quickly. In most cases, the bike starts with only one kick. Impressive, isn't it?
Easy to Assemble
Though this stunning bike doesn't come fully assembled, you can easily build up this bike as it arrives 90% assembled. All you have to do is to connect the handlebar and tires firmly. Therefore, anyone with wrenches, screwdrivers, and simple Allen keys can do the job.
Durable Suspension and Brake system
The Coolster 70cc drum brakes and both suspensions are specially made for the safety-conscious biker and parents. The top-notch drum brake helps you to stop the bike in a blink, while both front air shocks and rear mono-shock suspensions work magnificently to ensure an enjoyable and comfy ride with minimal bumps or jolts even on bumpy rough terrain!
Top-notch Build Quality
Coolster's 70cc dirt bike is perfect for off-road adventures with its lightweight and durable steel frame. With a seat height of 24.5″ and front/rear wheelbase at 36.4″, this 4-gear dirt bike will be great in your next adventure!
Moreover, these four gears make it easy to control even when you're speeding down hills or over bumps. Its length, width, and height are 55.8", 24.8″, 32.5″ respectively, making it lightweight–only 88 kg!–but still strong enough to endure any kind of road!
Final words
This dirt bike is the perfect companion for kids to practice and improves their motorbike riding skills. Also, this guy would be ideal for your child who is mastering a 50cc pit bike and not ready to take on high-powered dirt bikes!
Overall, this dirt bike with its stunning features provides beginners with an easy way of getting in gear without being too powerful or complicated.