Everyone and their grandma knows just how awesome dirt bikes are. But sadly if you get them out on the road, you're getting a ticket. What a bummer, right? To ride your dirt bike on the street you should know a few things about how to make a dirt bike street legal and adhere to several regulations.
Your bike will require some mechanical and non-mechanical modifications. For example, installing DOT-approved tires and headlights, obtaining a license and inspection certificate, and so on. These, however, are not the only ones. There are more.
So, please keep on reading to find out exactly what you need to certify your bike as street legal.
Making a Dirt Bike Street Legal
I'm not gonna lie to you. Conversion can be an exciting project, but it can also be complicated. There are few things you must consider before starting the process. Weigh the pros and cons and see if it's really the thing for you.
First off, you'll need to do some research. There are quite a few federal and local rules and regulations regarding legalizing dirt bikes. So you'd have to go through all of them, do your homework properly.
Then there is the matter of making mechanical modifications to your dirt bike to make it more street appropriate. Keep in mind that all these alterations may change your bike and compromise your off-road riding.
And let's not forget all the hefty paperwork and legal hurdles you'll need to clear to get the bike registered and stuff.
So, if you think all of these things just aren't worth the hassle (which is totally understandable) you can buy a dirt bike that is already street legal or you can leave it to the experts to convert your off-road ride into a street-legal one.
But if you want to do it yourself and don't mind making a phone call or two, I've prepared just the thing for you.
Now let's take a look at what the law says and what requirements need to be met to make your dirt bike street legal.
The Law
Since every state is free to implement its own restrictions regarding what is allowed to use within its borders, a thorough grasp of both the federal and state law is necessary for certifying a dirt bike for legal use on the roads. The majority of these local restrictions, however, are simply stricter versions of federal laws.
The United States government has established "The Federal Minimum Requirement" as aggregation of laws for bikes.
To be considered legal on state and federal roadways, any motorcycle, regardless of its origin, be it a workshop or factory, must adhere to the guidelines. The application of these requirements is left up to the states. Some states, for example, require speedometers and odometers, whereas others do not.
To ensure that you are aware of what your state requires, contact the state Department of Motor Vehicles (DMV) for a comprehensive and up-to-date list. Contacting the Department of Transportation (DOT)  would also work.
General Requirements
Despite different states having different rules regarding legalized dirt bikes, some fundamental conditions need to be fulfilled no matter where you live. According to the law, both mechanical and non-mechanical modifications should be present in a street-legal bike. So, what are they? You're about to find out.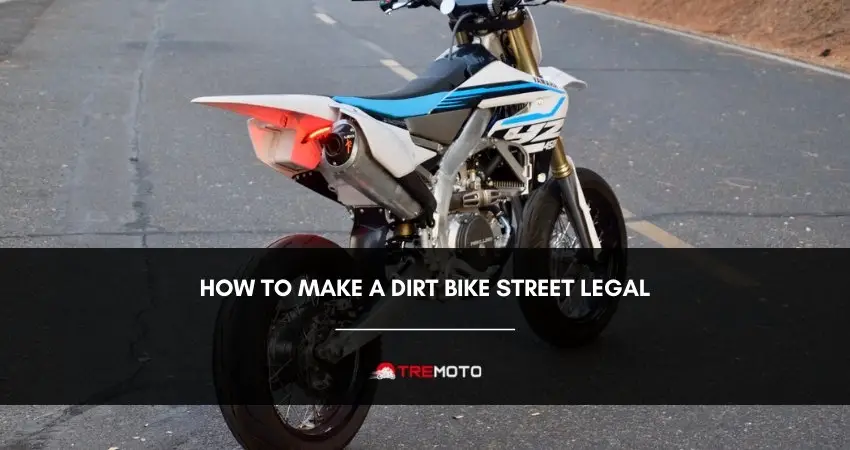 Mechanical Requirements
1. Headlight: Every single state requires at least one(not more than two) DOT-approved headlight on street legal dirt bikes for safety purposes. Most state law requires the headlight to be able to switch from high to low beam. Even if your state doesn't have that law, it's safe to use a high beam.
The headlight should be mounted on the front vertical centerline. In the case of two headlights, they should be placed symmetrically on the vertical centerline.
Only a few states have specific rules for switch placement. So make sure to check your local law regarding that. The DOT asks for the switch and high beam indicator to be placed where it's visible to the rider and easily reachable without moving on the saddle.
Since many offroad bikes don't have an efficient power system, constant power draining from using the headlight can be an issue.  To conserve power you can use a LED light that is DOT approved.
2. Tail and Brake Lights: To avoid being rear-ended, having a tail and brake light on the back is an obligatory rule in every state. This is critical because it helps others to see you in the dark and let them know when you are slowing down.
The light should be plugged in to a mounted battery that is capable of powering the brakes for at least 20 minutes. The tail light must be on anytime the bike is on the move.
Just as with the headlight, you can find a DOT-approved LED tail light that'll help the limited power draw.
3. Turn Signals: Turn signals are an optional but highly recommended accessory for your bike. They aren't required by many state laws but are another effective way to prevent getting rear-ended.
In some cities, the law only tells you to use hand signals to communicate with other drivers, but this method can be a bit troubling when you have to move your hand far resulting in loss of control or during the nighttime when everything is pitch black. So mandatory or not, I'd suggest installing turn signals for your safety.
4. Mirror: Putting up the mirror is probably the easiest task on this list. Most bikes got clamps that grab the mirror. But if your one lacks that feature, get a piece of universal clamps and attach them on the bar. Or you try installing bar-end mirrors.
While most states require only one mirror, it's best to get two. Look for high-quality mirrors. We can't cheap out on this one.
5. Horn: Just like a headlight and brake light, a horn is necessary to build a street-legal dirt bike in every state. Some states require electric horns and others don't have any specific laws. So, check which type meets the standard before purchasing.
6. Exhaust: As long as your exhaust is in good shape, meets sound regulation, and doesn't smoke excessively, DOT doesn't impose any other limitations.
The best to figure out your conversion complies with requirements is to install an EPA authorized exhaust. Also, add a muffler to keep the sound emission within legal limits and you're good to go.
However, if you're in California, things will get a little strict. As per their Smog law and other legislation, exhaust modifications are illegal if the noise emitted is over 95 decibels.
7. Tires: Off-road exclusive dirt bike tires aren't made for the normal road. The rubber isn't capable to tackle highway speed. Therefore, you'll need a completely different set of tires that are DOT-approved.
Remember, your tire quality is directly connected to your safety.  So make sure to check if the description explicitly mentions the tires are DOT approved. No compromise!
8. License plate bracket: Displaying a license plate on your registered bike is one of the most important steps to achieve street legality. Of course,  which you'll need to obtain and get declared street-legal first (we'll get to this later).
So, to display your license plate you'll need to get a license plate bracket. It must be permanently attached to the bike and be visible from the back at all times. They must also be affixed to the ground horizontally, with the numbers and characters reading left to right.
Some states allow you to put it vertically and some even require you to put them past the rear tire for easy readability. The license plate holder needs to be illuminated too. For that, LED strip lights can be an easy and permanent solution.
A license plate bracket is pretty cheap and sometimes even comes with a tail light and turn signals attached to it which is pretty lit I'd say.
Like I said before, different states have different laws. Depending on your local service, you may need to mount your license plate immediately after getting it or even before the inspector scrutinizes everything to give you a pass.
So, I'd suggest you deal with the license plate bracket, taillight, and turn signals together just so you don't have any problem during the inspection. Check out your local DMV for extra references.
9. Speedometer: The only state that requires a Speedometer is Indiana. But that doesn't mean it's not that important. Having one attached to your bike is highly recommended. Why? It keeps a tab on your engine condition, speed,, temperature, fuel consumption, mileage and RPM.
Dirt bikes generally don't have big gas tanks so chances are you exhaust your fuel tank unexpectedly if you're not careful. Or you might risk getting a ticket for crossing the speed limit while not knowing your speed. Having a speedometer can really save the day.
10. Kickstand: While it's not a federal requirement, you'll need to attach a kickstand to your bike since most dirt bikes don't come with one. Dirt bike manufacturers usually leave out the kickstand to shave off as much weight as possible and to avoid getting it tangled up with things or falling accidentally.
But you do not have to worry about all these things if you're planning to turn it into a street-legal bike. Moreover, you'll need the kickstand to support the bike when it's stationary.
11. Fan: Dirt bikes are made to be constantly on the move so most of them aren't equipped with fans. However, if you plan to ride it on the road, adding a fan would be ideal to keep the engine from overheating while sitting in traffic or the red light.
12. Gearing: Though it's not legally required, a change In gearing is necessary while converting your dirt bike. Dirt Bikes are geared for lower speed than on-road bikes. So, you'll need to alter the gear ratios accordingly for correct and efficient acceleration and top speed.
13. Upgraded power system: The conversion to a street-legal bike might necessitate an upgrade to the electrical system. If there are any existing electrical components on the bike, check the service manual to determine how they are wired.
A stator upgrade is usually a good idea. You can use a charging system from a street-legal version of the off-road bike they're converting(if available); however, this isn't always practical because not all manufacturers use the same engine in both road and off-road bikes.
One option to address and overcome this problem is to search the Internet for others who have made the switch. But if you need to build the charging system from scratch you'll need a battery, a stator, a rectifier, and some know-how about electrics. With little skill and help from the internet, this should be a breeze.
14. Water cooling vs. air cooling: This is not absolutely necessary but it's helpful, I promise. Since dirt bikes are made for the tracks where they are constantly moving, air cooling is a-okay.
But when you take your bike out on the street and have to sit in the traffic for a long time, a water-cooled system will help you to avoid an overheated engine.
Non-mechanical Requirements
1. Inspection certificate: To obtain clearance to ride the bike on the main road, you must pass the inspection and get it certified. You can get it done easily at any of your local motorcycle shops. Call your nearest motorcycle shop to know about the cost and other details.
Make sure to make all the necessary modifications before taking your bike for inspection.
2. OHV Decal: Every state requires an off-highway vehicle decal for street-legal dirt bikes. There are two types of decals. Residential and non-residential. If you're an out-of-state resident, you might need to purchase a non-residential Decal to ride within that state.
Getting an OHV decal is easy but very important if you don't want to be pulled over and fined.
3. Registration: Getting the license plate and your dirt bike registered is an absolute necessity to get street legality. You can't get away without this.
The original title, proof of ownership, insurance, copy of your driver's license, inspection certificate, bill of sale (to avoid sales tax) are some of the documentation you'll need for the registration process.
You can register the bike at your local DMV office. Or if it's too much hassle for you, you can call any dirt bike registration service and let them handle it efficiently.
How To Make Dirt Bikes Street Legal In Various States
As I mentioned earlier, different states have different rules about what is allowed and not inside their borders. For example, California requires you to put an electric horn that should not create more than 110 dbA of sound while some other states will let you pass with a squeaky horn. And these rules might change now and then.
This is precisely why you should always check with your local DMV or DOT for the updated directives before making any kind of purchase or modifications.
Now, let's have a look at what it takes to make a dirt bike street-legal in some of the states of America.
How To Make A Dirt Bike Street Legal in California
Sorry for being the bearer of bad news but due to a reinterpretation of state law in 2004, it is currently not possible to make a dirt bike street legal in Cali no matter what modifications you make. Unless your bike is a green sticker one ( meets carbon emission standards and has a manufacturer's certification for on-road use).
So, the wise thing for you to do would be to buy a bike that is already street legal. You can dig up old posts from forums where many will suggest you get an out-of-state plate and get it titled again in California and whatnot. But you'll be riding on thin ice.
You'll need some sheer blind luck and a friend or two from DMV and CHP(California Highway Patrol) to pass the VIN (vehicle identification number) inspection with an out-of-state plate. And even if you do, the minute the authority finds out, your registration can be revoked. Why take this risk, right?
But if your bike is a green model, you're in luck!  Make all the necessary mechanical modifications before calling the DMV. Give them your VIN and ask specifically about your bike's eligibility. If they tell you it can be plated take your bike and all necessary documentation to the DMV.
You'll need an application for registration, the MSO(Manufacturer's statement of origin), bill of sales, your driver's license, application for transfer title (for an out-of-state plate). Get your bike inspected and once they are satisfied, you'll get your license plate, registration, and title in no time(hopefully)!
How To Make A Dirt Bike Street Legal in Florida
Like every other state in the USA, you cannot ride your dirt bike on Florida's main roads and highways in its original form. Some alterations need to be made.
You'll need to modify some components like the headlight (with switchable high and low beam option), tail plus brake lights, mirror, license plate holder, horn, turn signals and Dot approved Tires. You'll also require a driver's license, motorcycle endorsement, insurance, MSO, and title.
As long as the MSO isn't branded "off-road only" applying to the DMV for registration shouldn't be a problem. So, If your bike already has an out-of-state street title, it'd be a tad bit easier for you as DMV might just pass it right through without much fuss.
How To Make A Dirt Bike Street Legal in Texas
Making a dirt bike street legal in texas is relatively easy. Your bike will be inspected for a horn, mirror, steering, brakes, DOT approved tires. Headlight, tail and brake light, exhaust system, license plate holder,  OHV (off-highway vehicle) decal, and the VIN. Get the inspection certificate from the inspection station.
If it states "off-road only", then take the MSO to the vehicle registration office and issue for the "off-road use only" title. Once you get that, take the title and the inspection certificate to the TAX office and apply for a new title. Once it's in the system the notation will be removed and you can get a new title from the state.
Take all the paperwork and your insurance, license, and registration application to the Texas DPS (Department of Public Safety) to get the plate.
Keep in mind that each county might be different from one another so it'd be best to call DPS to understand what do you need to do to make your bike street-worthy in your county.
How To Make A Dirt Bike Street Legal in NY
As per the NYS law and NY DMV, off-road bikes are not allowed on any public street and highways. Just like Florida, They are sticklers for the 'Off-road use only" note on the MSO. So, if the certificate of origin isn't marked with "off-highway" and your dirt bike can be plated.
Check with your DMV to know what modifications you need to make and then take your modified bike and the required documentation to get inspected. Once you get the inspection certificate, you can apply for a license plate and registration.
How To Make A Dirt Bike Street Legal in PA
To make your dirt bike street legal in PA, it must be equipped with DOT-approved headlamps, service brakes, tail and brake lights, illuminated license plate, exhaust system, a speedometer, an odometer, at least one rearview mirror, and a functioning horn.
For the inspection, you'll need to verify ownership and legality by providing the VIN, MSO, certificate of origin, and acceptable proof of financial responsibility( a valid insurance policy). The DMV also can ask for a road test to check the brake, steering, and speedometer performance.
Between May and October, the state of Pennsylvania requires all motorbikes to be inspected annually and your bike must pass that.
How To Make A Dirt Bike Street Legal in NJ
If your dirt bike is not originally made for on-road use NJ would not register/title it. They have a specific list of approved motorcycles by NHTSA. So you have to submit your VIN for NHTSA and EPA testing. Therefore, if your bike is not on the NHTSA list, there is nothing you can do to make it street legal.
But if your bike gets approved, call your local DMV and ask them what you have to do to convert it into a dual sportbike. Make all the changes, gather the papers as instructed, and then take them for inspection to get plated.
How To Make A Dirt Bike Street Legal in Colorado
The state of Colorado will allow you to plate a dirt bike, and the process entails you filling out and signing several forms. The first is a State of Colorado Certificate of Equipment Compliance for Motorcycles, which gives a list of the equipment that must be installed for the motorcycle to be certified roadworthy.
A completed Colorado Certified VIN Inspection form is required. Make sure to re-check the DOT-approved tires, headlight, tail and brake light, mirror, license plate holder, and horn you've mounted on your bike before taking it for inspection.
You must also submit proof of ownership in the form of a Manufacturer's Statement of Origin (MSO), a notarized Bill of Sale, or a Dealer's Invoice. They must state that the vehicle is intended for off-road use.
Once you have all these forms filled out/signed, you can go to the Colorado DMV office and provide them with all your paperwork (make copies of everything just to be safe) and the proof of insurance.
Things to consider
Now that you have a better understanding of what it takes to make a dirt bike street legal, you either already started to look for dirt bike kits online to start the modifications or you're contemplating which street-legal bike should you buy.
Whichever choice you make, there are some things you need to be mindful of before making any changes.
Every state of the USA has different laws regarding legalizing dirt bikes for the street. So make sure to check with your local authority and go over every little detail just to avoid future hubbub.
Understand why you want to convert your dirt bike. Would it be worth it since all the modifications will change your bike's original features? Consider the benefit and drawbacks and see which one weighs most.
If you think all the paperwork and legalistic dirt bike is not your cup of tea, you can always pay any authentic registration service to handle that part for you.
Sure, there are some loopholes and you might want to go around them and make things work. But know this, if the authority catches on all your hard work will be in vain.
In any circumstances, DO NOT compromise your safety as well as others. Wear helmets and eye protection. Obey all the traffic rules.
Remember, even if you do everything properly, your bike meets all safety guidelines, and have the paperwork in order, DMV might still not approve. So if you are not dedicated enough, I'd suggest buying an already street-legal dual-sport bike to save your time and energy.
Legalize Your Dirt Bike Now!
Making a dirt bike street legal might seem like a very time-consuming and hard task but if you pull through it, the result would be very satisfying and rewarding. I hope I could make you understand everything about How to make a dirt bike street legal in this write-up.
Please make sure to research your state law properly and do not attempt to do anything your state forbids you to do because obeying the law benefits all.