The spotlight on electric dirt bikes has never been brighter. Born of technological advances and the push towards sustainability, these motorbikes merge the exhilarating world of off-roading with the green ethos of electric vehicles. According to a report by TechSci Research, the global electric dirt bike market is projected to grow at a formidable rate over the next few years.
Despite their escalating popularity, ambiguity lingers over their legality on public roads. Street legality refers to a vehicle's adherence to safety and emission standards set by local or national laws. These rules ensure the safety of all road users and vary between jurisdictions.
Electric dirt bikes, predominantly designed for off-road use, often lack the necessary safety features required for on-road use. Consequently, the question arises, "Are electric dirt bikes street legal?" This article sets out to answer this question in a comprehensive manner, providing insights into regulations, potential modifications, and the implications of non-compliance.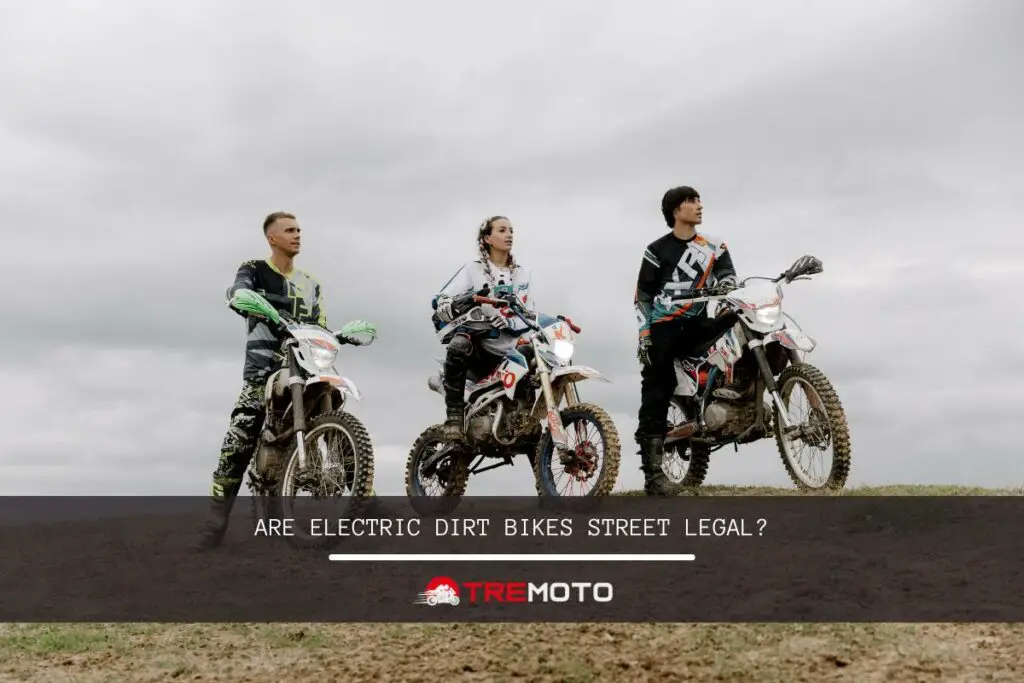 What are the General Rules for Street Legal Vehicles?
To venture out on public roads, all vehicles must meet specific safety standards. These rules safeguard not just the rider, but also other motorists, pedestrians, and cyclists sharing the road. So, let's understand what it means to be "street legal."
Vehicles typically need to fulfill a set of requirements to be deemed street legal. These prerequisites include functioning headlights, taillights, turn signals, mirrors, and horn. They must also feature adequate tire tread depth and the correct braking systems. Some jurisdictions further require speedometers and even exhaust systems that meet noise regulations.
Are Electric Dirt Bikes Considered Street Legal?
Electric dirt bikes are designed primarily for off-road use. They excel in navigating rough terrain, rocky landscapes, and dirt trails, their rugged construction providing the agility and durability needed for such challenging conditions. However, the very features that make them perfect for off-roading might be their undoing when it comes to street legality.
In their standard form, most electric dirt bikes lack the requisite safety features required for a vehicle to be considered street legal. They often come without mirrors, indicators, or proper headlights. Furthermore, their knobby tires, designed for off-road grip, can wear prematurely on paved roads and provide less traction than street-legal counterparts.
How Do the Regulations Vary by State or Country?
Now, when it comes to laws and regulations, nothing is set in stone. Each state and country has its unique set of rules that govern the street-legality of electric dirt bikes.
For instance, California, known for its stringent emissions regulations, has laws permitting electric bikes on the street, provided they meet specific safety standards. On the other hand, New York City has a blanket ban on all types of dirt bikes on public roads.
Across the pond, in the United Kingdom, off-road electric bikes are categorized under motorized vehicles. Hence, they need to meet all the necessary requirements, including insurance, tax, and MOT, to be deemed legal for road use.
Read Also: Can you add electric start to a dirt bike?
What Modifications are Needed to Make an Electric Dirt Bike Street Legal?
Not all hope is lost if your heart is set on making your electric dirt bike street legal. Here's where modifications come in. Although the task might be daunting, several kits and aftermarket parts can assist you in this transformation.
A road-legal conversion might require new tires suitable for the road, functioning headlights, indicators, a horn, mirrors, and perhaps even a speedometer. The bike's suspension might also need tweaking to accommodate the smoother and less forgiving tarmac. Keep in mind that these are just some examples, and the actual modifications will depend on your bike model and local regulations.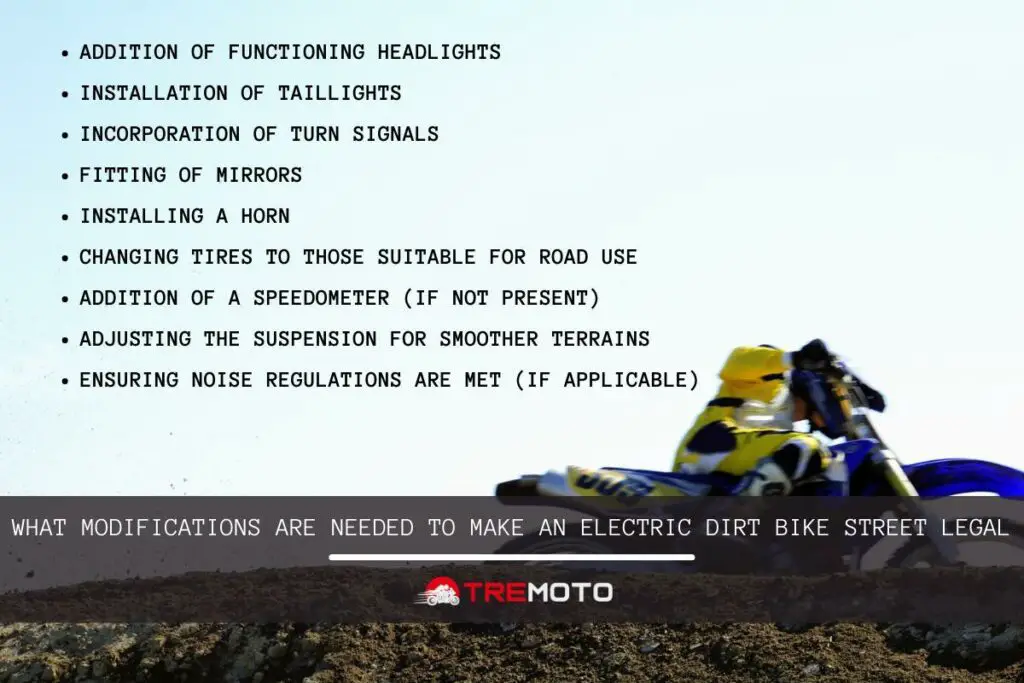 Is it Worth Converting an Electric Dirt Bike for Street Use?
The decision to convert an off-road electric dirt bike into a street-legal machine is not a straightforward one. The process could be costly, time-consuming, and might even compromise the bike's off-road capabilities.
For instance, a study by the University of Oxford found that converting a dirt bike to be road-legal could cost anywhere between $500 to $1,000, not including labor costs if professional help is needed. On the other hand, purchasing a street-legal electric dirt bike right off the bat could save you this hassle. However, these models often come with a higher price tag.
Moreover, the conversion could also impact the bike's resale value. Prospective buyers looking for an off-road bike might not be as interested in a converted model.
What are the Risks and Penalties of Riding a Non-Street Legal Electric Dirt Bike on Public Roads?
Contrary to popular belief, the risks of riding a non-street legal electric dirt bike on public roads extend beyond mere fines. Sure, penalties for riding illegally can range from hefty fines to vehicle impoundment. But the most significant risk comes in the form of safety.
Without the required safety features, you are at a higher risk of accidents. Additionally, if you're involved in an accident while riding a non-street legal bike, you could be held liable for damages.
What Electric Dirt Bike Models are Street Legal Out of the Box?
Several electric dirt bike models are street-legal out of the box. Some popular options include the Zero FX, Cake Kalk INK SL, and the Kuberg Ranger. These bikes come equipped with all the necessary safety features for road use, offering the best of both worlds for off-road and on-road enthusiasts.
Can Children Ride Electric Dirt Bikes on the Street?
Most jurisdictions have strict age restrictions for riding electric dirt bikes on the street. These regulations ensure the safety of young riders, as operating a bike on public roads requires a level of maturity and responsibility.
Even when legally permissible, safety should always be the priority. Ensure that the child wears proper protective gear and understands traffic rules before venturing out onto public roads.
Conclusion
To conclude, while most electric dirt bikes aren't street-legal straight from the showroom, with some modifications and adherence to local laws, they can be. However, it's vital to weigh the cost, time, and possible drawbacks of such conversions against purchasing a street-ready model. And, as always, safety and legal compliance should never be compromised for the thrill of the ride.