Getting bored of the same graphics of your dirt bike? How about you change things up a little. New dirt bike graphics will boost your overall mood & bring a positive vibe to your biking life. You can change everything within one day & all you need is a great passion.
Creating your graphics can be a great way to personalize your bike and make it unique. It's also a great way to save money, as you won't have to pay for someone else to create graphics for you or buy expensive graphics online.
This short blog post will take you on a tour of everything about the making of dirt bike graphics. Hopefully, you will have top to bottom knowledge of how to make dirt bike graphics after reading this article.
What are dirt bike graphics and why do you need them?
Dirt bike graphics serve two main purposes: they help to promote your brand, and they protect your bike from scratches and abrasions.
However, many riders choose to custom design their graphics, using bright colors and bold designs to make their bikes stand out from the crowd. Others opt for more subtle designs that still reflect their style. In addition to promoting your brand, dirt bike graphics can also help to protect your investment.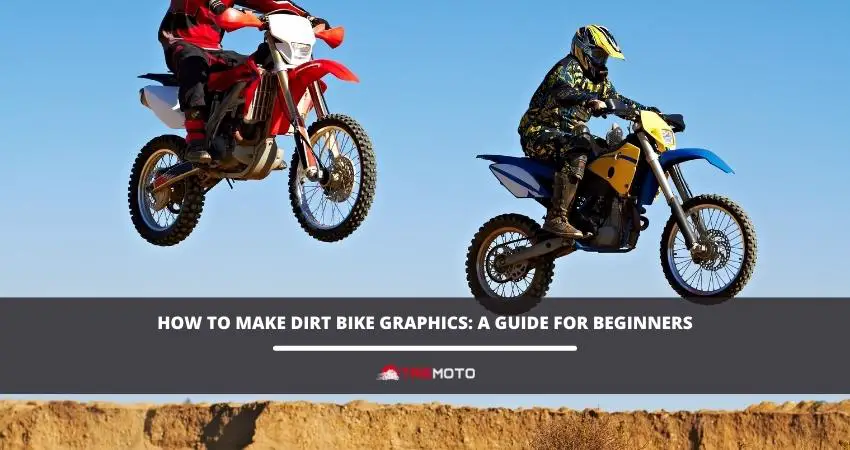 By covering exposed areas of your bike with durable vinyl material, you can keep it looking new for longer. And if you do happen to scratch or nick your bike, the graphic will absorb the impact and help to prevent further damage.
Whether you're looking to make a statement or just want to keep your bike looking its best, dirt bike graphics are an essential part of the equation.
How to make motorcycle decals using a Cricut machine? What materials do I need for this?
If you want to add some personality to your motorcycle, decals are a great way to do it. And if you have a Cricut machine, making them is easier than you might think. Just follow these steps:
First, gather your materials. You'll need some vinyl, transfer tape, and of course, your Cricut machine. Once you have everything, fire up your Cricut and design your decal. You can design your decal in the Cricut Design Space. Also, you can use pre-made designs or create your own.
Once your design is complete, select the "Mirror" option so that your design will be reversed when it's cut out. This is important so that your decal will look correct when applied to your bike.
Make sure to use the proper settings for cutting vinyl – you'll want to use a medium-pressure setting and make sure the blade is sharp. If your Cricut has a scoring tip, you can also use it to score the vinyl before cutting, which will make it easier to peel off the backing later.
Cut out your design and then weed away the excess vinyl, leaving only the parts of the design that you want to apply to your bike.
Next, use the transfer tape to apply the decal to your motorcycle. Start by peeling away a corner of the backing paper and attaching one end of the transfer tape to the vinyl. Then slowly peel away the rest of the backing paper, being careful not to disturb the vinyl.
Finally, smooth down the transfer tape, pressing it firmly onto the surface of your motorcycle.
How to make your own dirt bike graphics by using software?
There are a few different ways you can create custom dirt bike graphics. Software like Photoshop, Art Rage & Inkscape would be excellent for making enduro motorbike decals and stickers. Let's see how you can use different software for this task…
Photoshop for dirt bike graphics
You need some skills in Photoshop to make good-looking dirt bike graphics. The software is not that easy to use, but with some practice, you can create some cool graphics.
Photoshop is a versatile program that can be used for a variety of purposes, including generating dirt bike graphics. To create a custom graphic for your bike, start by adding text using the Text tool.
Along with that, you can then use the Custom Shape tool to create an outline of your desired design. After you're satisfied with your design, save it as a high-resolution JPEG file. This will ensure that your graphic will look sharp and clear when printed.
Art Rage for dirt bike graphics
This software is a bit easier to use than Photoshop and it has some cool features. You can create some amazing dirt bike graphics using Art Rage. You can use a variety of tools to create your unique designs.
Also, you can start from sketch or you can use photos from magazines to get ideas. Once you have an idea, you can use the paintbrush tool to start painting your design.
Moreover, you can also use the eraser tool to create different effects. If you want to add text to your design, you can use the text tool. You can also add other images by using the import tool. Then, once you are satisfied with the output, you can save it and print it out.
Inkscape for creating graphics
With the help of Inkscape, a free vector editing program, it's easy to design and create your decals.
To get started, simply open Inkscape and draw your design. Once you're satisfied with the way it looks, select the "Export" option from the File menu. When prompted, choose an image format (PNG is a good choice) and make sure the "Resolution" is set to 300 dpi.
This will ensure that your decals will look crisp and sharp when printed. Finally, save your file and send it to a printer.
Which material is best for printing dirt bike graphics and Why?
There are a few things to consider when choosing the best material for printing dirt bike graphics. The main factors to consider are durability, ease of printing, and cost.
Durability is important because you want the graphics to last as long as possible, especially if they are exposed to the elements. The ease of printing is also important because you don't want to have to go through a lot of hassle to get the job done. Cost is a factor as well because you want to be able to afford the materials.
There is a wide range of materials available to choose from. One option is to use vinyl. This is a durable material that is easy to print on. However, it can be more expensive than some of the other options.
Another option is to use decals. Decals are cheaper than vinyl, but they are not as durable. They are also more difficult to print on, so they may not be the best option if you are not experienced in printing.
The last option is to use stickers. Stickers are the cheapest option, but they are also the least durable. They are also the easiest to print on, so they may be the best option if you are not experienced in printing.
What are some common mistakes when making dirt bike graphics?
One of the most common mistakes when creating dirt bike graphics is choosing the wrong colors. Many people try to match their bike's color scheme to their personal preferences, but this can often lead to a clash of colors that is both jarring and difficult to look at.
Instead, it's important to consider the overall design of the bike and choose colors that will complement it.
Another common mistake is using too much or too little decal material. It's important to find a balance between the two so that the graphics are visible but not overwhelming.
Additionally, many people forget to take into consideration the size of their dirt bikes when creating their graphics. This can lead to either problem with the fit of the decals or a final product that looks disproportionate.
By taking these factors into account, you can avoid making common mistakes when creating your dirt bike graphics.
How to make dirt bike stickers?
You can make dirt bike stickers yourself using a few supplies that you probably already have around the house. To make your dirt bike stickers, you will need:
A printer
Paper
Scissors or an Exacto knife
Tape
Clear contact paper
First, you need to decide what design you want your sticker to have. You can either draw your design or find a design online that you like. Once you have your design, print it out on regular paper. Be sure to leave an edge border around your design after cutting it out.
Next, take your clear contact paper and cut out a piece that is slightly larger than your design. Peel the backing off of the contact paper and carefully place your design in the center. Use tape to secure the edges of your design to the contact paper.
Trim the excess contact paper from around your design, and then your sticker is ready to use! You can put it on your bike, helmet, or anywhere else you want to show off your style.
How to get rid of air bubbles in dirt bike stickers?
Many dirt bike riders enjoy customizing their bikes with stickers, but air bubbles can ruin the look of even the best design. Fortunately, there are a few easy ways to get rid of those pesky bubbles.
The first step is to clean the area where the sticker will be applied. This will help to ensure that the sticker will adhere properly.
Next, use a flat object to press down on the sticker, working from the center outward. Once the sticker is in place, use a pin or needle to pop any remaining air bubbles.
Finally, you can smooth out the edges of the sticker with your finger or a credit card. With a little care and patience, it's easy to apply stickers without any air bubbles.
Important Tips regarding dirt bike graphics design
Adding graphics to your dirt bike is one of the best ways to customize it. But with so many different types and styles of graphics available, it can be tough to decide what's right for you.
Here are a few tips to help you choose the perfect dirt bike graphics design:
Pick a style that matches your personality. There are all kinds of different dirt bike graphic styles to choose from, so find one that fits you best. If you're a wild child, go for something loud and crazy. If you're more laid-back, try something simple and clean.
Consider the color scheme of your bike. It is important that the colors of your graphics complement the overall color scheme of your bike. If you're not sure what looks good, ask a friend or professional for help.
Make sure the graphics are easy to apply. Some dirt bike graphics can be tricky to apply, so make sure you make something easy to use. Ask around for recommendations or read online reviews before you buy.
Durability shouldn't be overlooked. You want your graphics to last, so make sure you make something that's made of high-quality materials.
Be sure to allow ample time for the adhesive to set before riding your bike. Be patient & keep focus so that you can create a one-of-a-kind design that will make your dirt bike stand out from the rest.
Conclusion
So, now you know how to make dirt bike graphics. But what are you waiting for? Get started on your design and see how great they turn out!
Making the dirt bike graphics is indeed not a big deal at all! Don't wait for the next season & change your enduro motorbikes looks and get the compliment from the trail biker community!