Dirt biking is a great way to spend a summer day. However, it's equally frustrating when you have to fix its tires while you're out for a ride. I'm sure at some point in your life you have had to put air in your dirt bike tire; it's a boring and frustrating job.
So, if you don't know how to do it properly or quickly enough, the boredom might just kill your mood.
The correct way to do it is, you need to find the valve, connect the inflator and pump air into the tires until it's reached the desired pressure.
Thankfully it's super simple to do. So if you have the process of putting air in a dirt bike memorized, you can fix it in a flash.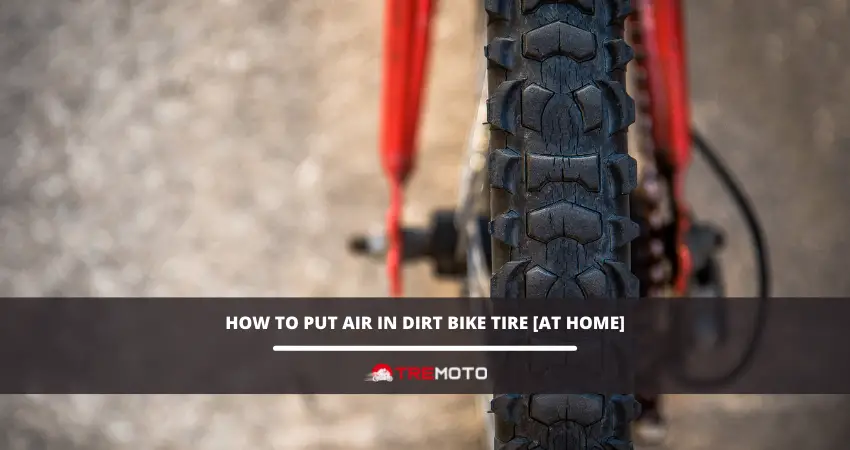 How To Put Air In Dirt Bike Tire At Home
If you're like most people, you probably don't know how to put air in dirt bike tires. It's not as difficult as it may seem, and I'm here to help. Before you start, check your tires and see the tire ratings. This tells you what your ideal pressure is for that specific tire.
It's important you respect that as the specified psi was calculated taking into account both cold and hot conditions that the tire might be exposed to. Then, if it's your first time inflating a dirt bike, then give your bike's instruction manual a read, it's always a good idea.
Now for the good stuff, you will learn how to put air in your dirt bike just down below:
Locate the valve stem on your tire. This is the small metal cap that covers the hole in your tire. Remove the cap from the valve stem, and take a look inside. You should see a small black rubber valve.
Take your air pump and attach the nozzle to the valve stem. Make sure that the nozzle is snugly attached, or you'll have air leakage.
Set the inflator to the required pressure [psi], if you've got a digital bike inflator.
Now it's time to start pumping air into your tire. Pump the air until you reach the desired pressure. If you've got a digital inflator, it'll shut down when it reaches the digits you put in.
Disconnect the inflator tool.
Use an analog pressure gauge to double-check your dirt bike's pressure.
Put the valve back on.
Here's a pro tip, the inflator sometimes has a screw-on connection. So, keep your focus hard during disconnection because if you take too long, air will escape the tubes.
Once you've reached the desired pressure, remove the nozzle from the valve stem and replace the cap. You're now ready to hit the trails!
What Psi Should My Dirt Bike Tires Be
The best tire pressure for dirt bike tires depends on the type of terrain you'll be riding on. 12 psi for the front and 12.5 psi for the back is a generalized number for dirt bike tires. I'll go into more specifics:
For high-speed terrain with sharp and rough edges, you'll want to pump your tires up to 15 psi. This is for standard tubes.
For heavy-duty tubes, you'll want to pump them up to 12-14 psi in the front, and 12-13 psi in the rear. This will give you a sturdy tire to withstand rough terrain but still has enough give to absorb bumps and provide a comfortable ride.
This changes for low-speed terrains or roads that have lots of sand in them. Then a standard tube would need only 11-13 psi front and 9-12 rear. Whereas heavy tubes would need 10-11 psi front and 8-12 rear.
You can follow this benchmark and then adjust along the way.
Tire pressure is vital for dirt bike tires because it affects the tire's contact patch with the ground. If the tire pressure is too low, the tire will flex too much and not have a good grip on the ground. This can lead to instability and loss of control.
On the other hand, if the tire pressure is too high, the tire will be bouncy and will not absorb bumps as well. This can make for a very uncomfortable ride.
Why Can't I Pump Up My Bike Tires?
If you can't pump your dirt bike tires with air, it means something is wrong. Either your inflator is of the wrong size, or the valve stem is broken. If it's a tubeless tire then there's also the possibility that the bead isn't properly fixed on the rim.
Can You Put Street Tires On A Dirt Bike
Whether they are used on hard-packed dirt, sand, or pavement, dirt bike tires will perform well on any surface.
It's just that they're usually narrower than street tires. This is why they're not as grippy on pavement and may even cause the bike to slide.
Additionally, the soft compound of a dirt bike tire will quickly wear down on the pavement.
So while you can technically put street tires on a dirt bike, it's not advisable.
If you do decide to do so, be sure to take extra caution when riding and make sure the dirt bike tires fit the rim. Start by riding slowly and gradually increase your speed as you get used to the feel of the bike.
Also, be sure to keep an eye out for any obstacles in your path. By taking these precautions, you can help ensure that you have a safe and enjoyable ride.
Additional Read:
Can You Fill A Tubeless Tire With Air?
Yes, it is possible. And the process is similar except for the beginning. Since tubeless tires are different than regular tires, you need to pull out the bead using a chisel. You can use your hands but I bet they'll hurt like hell. Using a chisel or something similar is much better.
You keep pulling the bead against the rim and do it similarly for the opposite side. Then, when you see the valve steam, then you can follow the steps I've mentioned above. It's smooth sailing from there.
Ride like the wind!
Now that you know how to put air into your dirt bike, there shouldn't be anything stopping you from a seamless bike ride. So just remember to take the necessary tools with you while you ride and a flat tire or two won't stop you from your enjoyment.