110cc engines are very modest as far as any dirt bikes go. You can call them the lite version of dirt bikes. But even so, they're simply amazing!
Since its invention, people have been curious. "How fast does a 110cc dirt bike go?", "are they good as the 250cc, 450cc ones?" "is 110cc fast enough?"- such questions have always been there.
A dirt bike's top speed varies from one bike to another. While most 110cc dirt bikes manage to go 30-38 mph, some can go as fast as 55 mph.
You're probably thinking all of them have the same kind of engine so why is there so much of a difference? That's what I'll be covering today. Stay tuned to find out…
110cc dirt bike top speed
A dirt bike engine's power is directly related to its volume [cc]. More cc means bigger engines that translate to having faster air and fuel consumption, generating more power.
In the dirt biking world, 110cc isn't too big of an engine, and it has a small size which is ideal for kids aged 5 to 9. But you shouldn't underestimate it, as it still produces a respectable amount of speed.
Generally, a 110cc dirt bike has a speed range of 30-38 mph, but this is just a sample number as different bike brands have different speed caps. There are some variants like the Kawasaki KLX or SSR  that can go up to 55 mph.
So, you could say – how fast a dirt bike can go depends on what automobile is using it.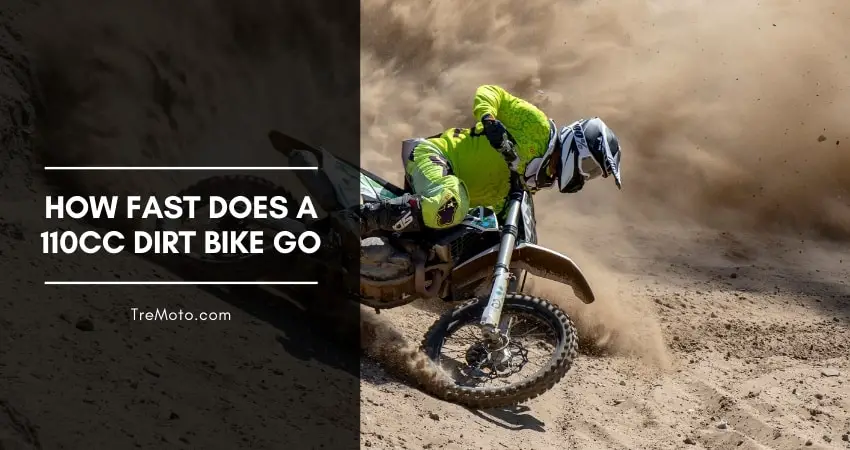 How to get maximum speed on a dirt bike?
I'm more than confident that kids find fast bikes to be something really cool. Naturally, when they board a dirt bike, they'd wanna go as fast as possible. But you need to understand one thing, the top speed of a motorcycle is the highest theoretical number it can reach when you're riding it.
To run at the highest speed, your dirt bike needs to be in a tip-top shape, especially the tires. The radiator and air filters are just as important. You could call these three the basic need of a dirt bike.
Using the specified oil and a well-maintained suspension are necessary too! Having a proper track is also essential as it helps in dirt bike acceleration and maintaining top speed for longer.
Some other factors deciding the top speed of a bike are:
Weight of the rider: Experiences will vary accordingly. You'll have a better idea if you understand the dirt bike weight limit.
Weather conditions: On windy days, especially when there is tailwind on your back, you'll be able to ride faster.
Confidence:  Yes, it actually matters! There's no way for someone to reach the theoretical max speed if they don't believe they can in the first place.
Way of riding: Crouching deflects the wind, making it easier to maneuver the bike.
You can take it to the next level by modifying a dirt bike. There is an important thing you must know if you proceed with it- your warranty will be void if your dirt bike undergoes any modification.
Here's a catch though, as a dirt biker, you'll be offroading on various kinds of terrain, and most of them aren't suitable for high acceleration biking. Plus, it'll hurt like hell when the bike crashes at such speed.
To be honest, the only people who would be riding a dirt bike at its top speed would be the enduro dirt bikers or competitors participating in a dirt bike event. Also, I believe a kid doesn't need any more than 30 mph when they're just starting; they won't be able to handle higher speeds.
My opinion is, a typical dirt bike enthusiast should try to focus on maximizing their riding experience. So you should teach your kid how to ride a dirt bike thoroughly so that they're familiar with them from A to Z.
Some of the best 110cc dirt bikes [editor's pick]
Instead of just stopping after letting you know how fast does a 110 dirt bike go, I thought it would be even better if I mention some of the top quality bikes in this category:
TAO DB-10 is great for kids aged nine and upwards. It has an air-cooled engine and one cylinder four-stroke engine. It's hydraulic disc is super stable so your kid is safe from any awkward bumps. The 30mph top speed is just suitable for kids of that age.
SSR 110 is also impressive, thanks to its solid grip and outstanding stability. It has a 55 mph top speed that is just perfect for a teenager. But it might be too much for a 10-year-old who is just starting, so be careful about that.
There is a 4-speed transmission that is perfect for teaching purposes.
Yamaha TT-R110E is another amazing dirt bike with its 50 mph top speed. However, the price is a bit too much. For that price, it's better to just get a 125cc dirt bike, in my opinion. But that's only if the rider is big enough for that!
So, these were my picks for 110cc dirt bikes. I picked three different ones that'll cater to 3 different types of riders based on their age, weight, and experience. All of them are amazing in their own right.
Final words
A 110cc dirt bike is not the fastest bike globally, but it's definitely a solid one with lots of stability and comfort. I strongly feel it is the best thing to give your kid as a gift, and if you do then make sure you have a firm grasp on how fast does a 100cc dirt bike go.
By the way, you can also check out some dirt bike gift ideas for kids here that will complement the bike nicely.