Buying gifts is not as easy as it looks. This practice is all the more frustrating when it comes to kids because there are way too many options to consider.
Toys would have been an obvious choice but if your kid took up dirt biking as a hobby, most likely these won't be attractive anymore. Instead, you should start looking at dirt bike ideas for kids.
You want to give your rider kid some cool gifts that would supplement and boost their hobby for dirt bike riding. And it could be hectic for you if you have little clue about dirt biking itself.
So, I'll suggest a few cool ideas that you can use as a gift. Have a look…
20 incredible dirt bike gift ideas for kids
Let me help you pick a safe option: Kids love dirt bikes; they fawn over it, they think it is one of the most incredible things out there.
If you give them something that they could use together with a dirt bike [for example, dirt bike accessories], then it'll be an instant hit with them.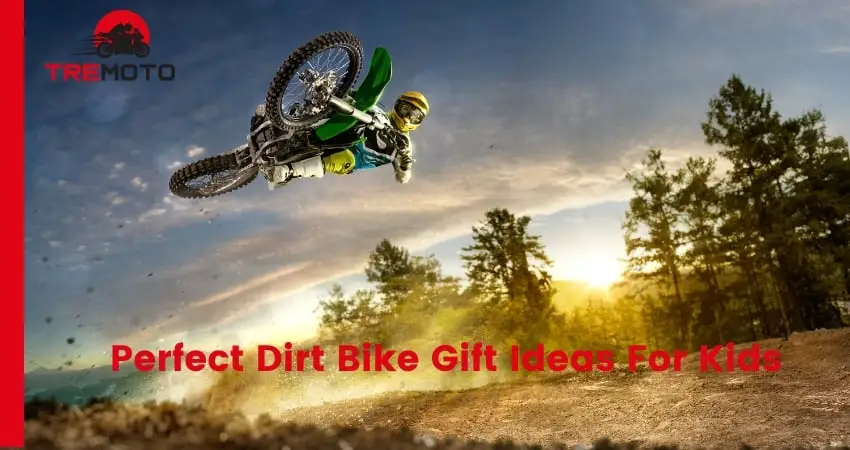 So, I took the liberty of picking a few gift ideas that you could use:
Gloves
I'll start with the most used item for a biker, gloves. A pair of these can protect your kid from sunburns, abrasions, blisters, etc. But most importantly, it makes sure their grip is strong. Plus, they're very stylish, looks are an essential factor when it comes to gifts.
Safety, utility, and good looking, it's a solid combo to me!
Grips
Grips are pretty similar to gloves, and they even have the same problems- they get worn out soon. So, a dirt biker is often in need of grips. This makes it a good choice for a gift as we want the recipient to use them regularly. Giving grips that match the color of their bike is a good choice. Or, black-colored grips work fine too!
Boots
You need solid boots for dirt biking, period. It is better to invest in high-quality shoes that will last long, because they will go through a lot. Boots will support the rider's legs and ankles, and also protect the soles of their feet. They're great at shifting too.
And choosing a pair of boots is pretty easy; the obvious choices are pretty obvious- most would go for either black, grey, or a color that is close to brown so that the dirt can't be easily seen. You'll also be able to distinguish the material quickly. So, all you need is to find out the perfect size, and you're good to go.
Boot washstand
If I speak about boots but not the boot washstand, then I'm doing you dirty[pun intended]. Think about it, you got a dirt bike, and kids; so your kids will come back home covered with mud and dirt most of the time.
And with this little piece of equipment, you can clean those boots in no time. They'll stay suspended while you stand and rotate them, making the cleaning process swift and effortless.
I have another motive as well, and you can teach your kid how to wash bike boots with this. By doing so, you're teaching them to take care of their own stuff. That is a valuable life lesson, in my opinion.
Bike cleaning tools
Boots aren't the only thing that needs cleaning. Every once in a while, you need to clean the bike as well. As an adult, you should teach them how to ride a dirt bike and how to clean it as well. The best way to do this is to make this process fun for them so that they don't feel like they're doing a chore.
A fantastic way to encourage your kid to clean their own bike would be to give them their own set of cleaning tools. This will make them feel responsible.
Bike cleaning tools comprise bike washers, tire scrubbers, chain cleaners, wheel brushes, scrapers, mitts, etc. The tools come in bright and attractive colors that easily attract the attention of kids.
Bike magazine
Kids love books as long as it isn't for school, even better if it is full of color and images. And I'm sure a collection of cool bikes is sure to impress them. That brings me to my next suggestion, a bike magazine subscription.
If you ask me, they're extremely helpful in building up interest. Moreover, they'll be up to date with all the latest trends in the motocross world, immersing them even deeper.
These come in monthly and yearly packages. I'd suggest you get an annual subscription; you'd get a better price than 12 monthly subs. There should be enough material to teach your kid to ride a dirt bike and clear all the dirt biking basics.
Dirt Bike Tees
Kids love T-shirts with various designs on them. Be it funny quotes or graphic designs or a favorite brand they like. Now, here's an idea: we have a T-shirt, and we have dirt bikes. So how about a Dirt bike T-shirt!
You can pick an excellent bike design and have it printed or get a ready-made T-shirt. Let your kid proudly roam around in one of these and make his mark on the neighbourhood as the ace biker!
Goggles
If there is one thing I can guarantee, that will be- the kid will face a ton of dirt. After all, it is called a dirt bike for a reason. This amount of dust isn't safe for anyone.
As I previously said, the best kind of gift is one that serves a purpose, and the recipient benefits from it. A pair of goggles fits that bill perfectly. It'll protect the precious eyes of anyone who's wearing it.
And they're quite affordable too. They get worn out over time so a rider will always prefer to have a spare. So, goggles will never lose their utility as a gift.
Helmet
The next idea I'm about to share is a no-brainer. When we talk about bikes, helmets can't stay too far. There can be no excuse for not wearing a helmet when you're out on a bike.
It provides comfort and safety. Maybe it'll even stand between you and a fatal injury. If you're a responsible parent, you'd definitely have this on your list.
Some helmets come with a flashlight. I'll encourage you to get one of those, and it'll make riding easier after dark.
Backlight
In case you choose a helmet with no lighting, you'll have to pick other means. But you can't have your kid alone in the dark. Security comes first. An easy solution to this is having backlights.
The LED backlight ensures that any nearby vehicle will notice you and avoid a clash. This is crucial because accidents tend to happen in the dark. These also come with digital displays so your kid will know when they should head back. They're pretty energy-efficient and will last for a decent amount of hours.
Helmet hook
This is one of the underrated items in a dirt biker's arsenal. If you're planning to give a dirt bike enthusiast a helmet, giving them a motorcycle helmet hook with it will be even more effective.
These metal hooks keep the helmet firm, this will give the child added confidence, and they can ride without a worry of the world.
Hydration bag
A dirt bike rider will stay under the sun for a prolonged period of time in a dry place. Obviously, the heavy gear will make them thirsty. If the weather is too hot, then they'll constantly take water breaks. There is a chance one could end up at a place where there is no water available.
Having a hydration bag takes care of such inconveniences. Your kid won't ever be at risk of dehydration; gifting one of these is pretty thoughtful.
Dirt bike pegs
Footpegs provide an extra grip that helps your kid maintain balance and avoid tip-overs while doing tricks or suddenly hitting the brakes. Thus, it can protect from injuries.
These are mainly made of aluminum and are incredibly light; as a result, they get worn out over time. If your kid loves doing tricks, then their boots will definitely do a number on the pegs. Your little biker will definitely welcome an extra footpeg or two. They're relatively affordable as well.
Gear bag
Kids have an amazing superpower- they're chaotically disorganized. And more often not they'll leave things here and there only to throw a tantrum over it later on.
It'll be problematic if your young rider forgets an essential item after a ride. And you should expect them to lose a thing or two because a kid can't carry all these stuff alone.
A good way to help them is to give them a gear bag. This way, they can just load up everything they need and get out for a ride. Make sure the gear bag has enough space to take everything the kid needs. Try to get one that has multiple deep pockets so things will stay organized even inside the bag.
A standard gear bag has various compartments; some of them are even well ventilated. They are adjusted to store shirts, boots, and even a helmet!
Riding gear
Make your little one look like a pro with a set of gear combo. Typically it consists of dirt bike pants, a jersey, and gloves. Not only it'll make your child look good, but it'll fill them with confidence.
There are various brands with many different colors to choose from, so you won't run out of them anytime soon. Kids love vibrant attires, and it'll definitely spice up their mood for the sport.
Make sure you get a combo with proper measurements.
Camera
Childhood is the purest time of our lives. Even us grown-ups look behind and cling to nostalgia every once in a while. Indeed, when your kid grows up, they'll also cherish the fond memories of the past.
To help them keep a memento of their young dirt bike riding days, you can give them an action camera. This won't just be a gift for their future; they can immediately put it to use by recording their rides and making cool montages out of them.
Arm warmer
Dirt biking can be rough, especially in winter. The chilly weather doesn't let anyone enjoy biking to the fullest. Riders commonly get their hands and arms frozen, which could lead to injury, compelling many bikers to refrain from riding too much during winter.
But if your kid had a thermal warmer that could keep their arms warm at all times, they could take delight in riding even in winter!
You might be thinking that what if the warmer falls off during a ride? That won't happen since a silicon gripper and an elastic band will keep it in its place.
This is a pretty uncommon idea as a gift, but indeed a thoughtful one. I'm sure your kid will appreciate the sentiment behind it.
Dirt bike accessories
Kids are enthusiastic about the things they love and would be fawning over everything else related to their dear possessions. So, for a dirt bike-loving kid, an array of delightful accessories are a great gift to have.
You can give them various bike accessories like stickers, seat covers, handmade collectible arts, plate frames, keychains, bells, baskets, etc., and see what they make out of it. My favorite accessory, however, is RGB lights for the wheels. I find it to be an immediate hit with the kids.
Motocross event tickets
Watching their idols live is a spot-on method to light a fire under someone. If you take your kid to a motocross event, they'll get to feel the intensity and adrenaline rush that is impossible to fathom by watching in front of a tv.
I'd recommend a ticket to the AMA Supercross Championship. Indeed, it'll leave an impression.
It might be expensive, but I think this is an incredible gift for the young hotshot.
Smartwatch
When riding for long periods, your kid won't have time to check their phones. What's the next best alternative? Smartwatches. That little piece of innovation changed our lives for the better.
With those, your kids can instantly send messages, take photos and even make calls. And thanks to the GPS tracking system, you can keep tabs on their whereabouts anytime!
This might be my favorite gift amongst them all.
Additional Read: Best Electric Dirt Bikes For Kids
Raise the coolest young biker
Getting a present for a biker kid is challenging itself because they already have the most extraordinary gift- a dirt bike!. Surely, one-upping that isn't going to be easy, but my dirt bike gift ideas for kids should give you a nudge towards the right direction. Make sure to keep your kids' preferences in mind.
The gift should make them feel appreciated and loved. Good luck with that!