Kids love to have fun, and dirt bikes ARE one of the most fun things they can have. They offer freedom and excitement that no one other kids' toy can provide. Between a gas-powered and electric dirt bike, the latter is more adventurous.
Electric dirt bikes offer the best of both worlds by combining the best features of gas-powered motorcycles with those found on electric scooters. Getting your kid one of these is definitely a great choice.
This article is about the best electric dirt bikes for kids so you can find the perfect machine for your child!
10 Best Electric Dirt Bikes For Kids: Reviewed & Compared
Dirt bikes are a great way for kids to get out and enjoy the outdoors. It's not only entertaining, they can learn about balancing, motor control, and being focused all the time from riding a dirt bike.
Today, I picked out 10 of the best electric dirt bikes out there that will surely present your child with the best dirt biking experience ever!
Here we go…
1. Razor Rocket MX350 – best electric dirt bike for 13 year old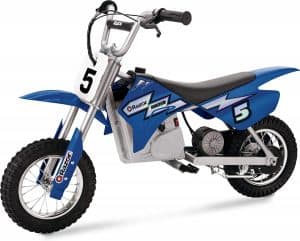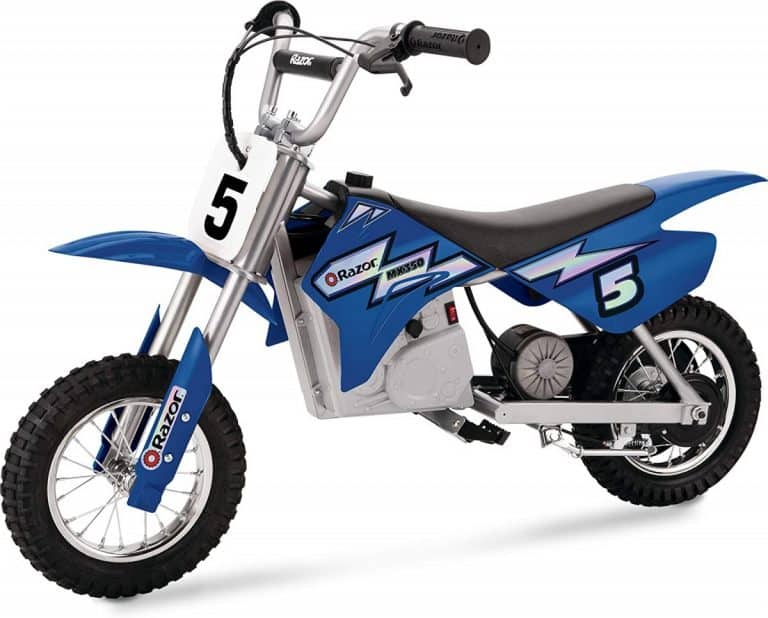 If you want to make the upcoming holiday memorable for your youngster, you can gift him a world-class electric dirt bike. And, this bike from the renowned brand Razor can be your best option.
This motocross off-road bike runs up to 30 mins after every time you fully recharge it. To deliver optimum performance, the guy comes with a 350-watt electrical high-torque motor, extremely quiet, and chain-drive rear-wheel design. These features also ensure more traction and power.
In addition to that, the authentic frame of the vehicle is made with top-notch steel to provide long-lasting performance. Your kids will enjoy its convenient features like adjustable angle, knobby tires, and riser-style handlebar. These special attributes will help your child to control and handle the bikes more smoothly.
Razor claims that this bike is capable of carrying kids aged 13+ and can hold up to 64kg of weight. However, some buyers are saying this bike turns out smaller for their 13 years kids.
This bike is equipped with two 12V sealed premium-quality lead-acid batteries. The bike will be fully charged after 12 hours of charging.
If that's not enough, the bike also offers twist grip throttle control and a hand-controlled rear brake for riding on any terrain without any issue. Though the bike doesn't come pre-assembled but you can assemble it in a breeze.
Things We Liked About It
Chain-driven and a powerful electrical motor for smooth operation
Comes with cutting-edge technology maintaining all safety standard strictly
Pneumatic 12" knobby tires give super support while passing trails.
Things We Didn't Like
You have to assemble the bike as it doesn't come pre-assembled.
2. Razor MX650 Dirt Rocket Electric-Powered Dirt Bike – Best For 16 Year Old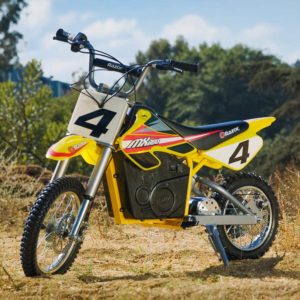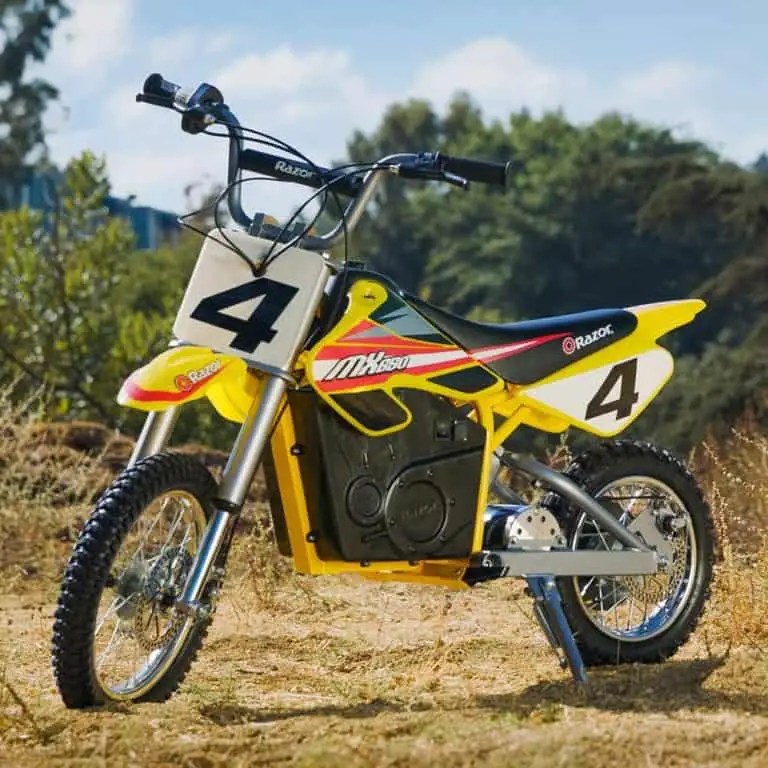 Here is our second kids' dirt bike and this authentic dirt bike is also from Razor. However, this MX650 offers more power and traction than MX350. As the name suggests, this guy comes with a 650W high-torque motor.
To give your kids' hands additional comfort while riding in uneven tracks, Razor has equipped this model with front and rear suspension. Moreover, this dual-suspension design combined with riser-style handlebars ensures the thrill of riding with supreme smoothness.
Also, these adjustable handlebars allow a custom fit, and the hand-operated front and rear disc brakes provide ultimate control.  The twist-grip acceleration controls will double the fun for your kids.  This bike is crafted to climb uphill and rumble on rough terrain with its chain-driven motor and pneumatic knobby tires.
The most amazing feature of the bike is its speed. It can go up to 17 mph speed while carrying the maximum weight of 220 lbs. Incredible, isn't it? It also offers 40 minutes of battery life to help to make a successful long ride.
Another noticeable thing about the bike is its strong and stout structure and durable parts and machines that give a very satisfactory performance. Overall, this aesthetically pleasing wizard will surely bring a priceless smile to your kid's face.
Things We Liked About It
Highly functional front and back brake
Runs at a pretty quick speed and support heavyweight
Long battery life ensures more fun
Things We Didn't Like
Front forks don't have the best quality and the rebound bumper is missing.
3. Razor MX400 Dirt Rocket Bike – Best Electric Dirt Bike For 9/10 Year Old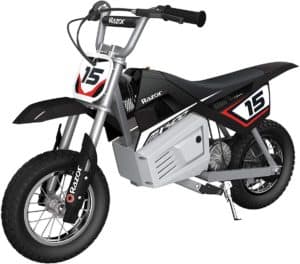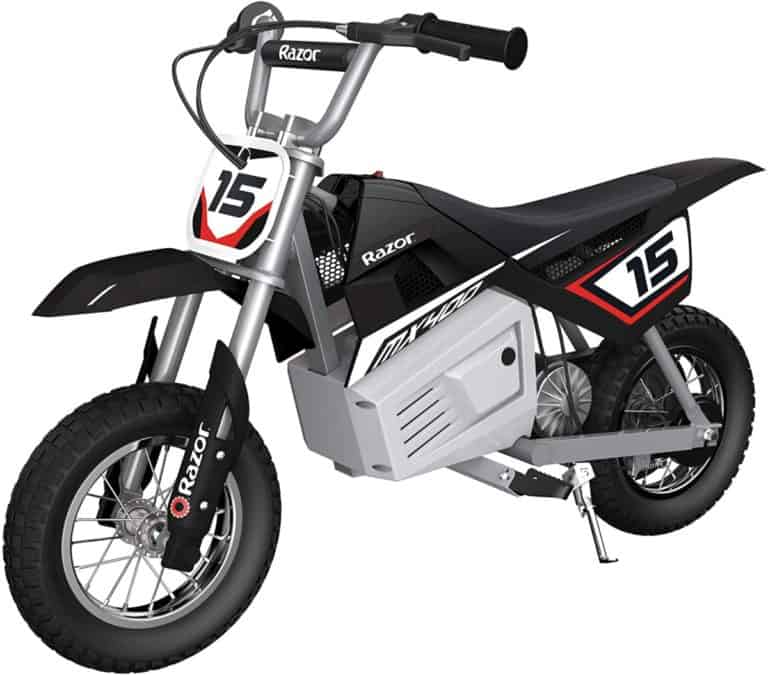 The third motorcycle from our list is also made by Razor: The Razor Dirt Rocket MX400. This Razor is one of the best dirt bikes for kids. This motocross-styled machine has 12- inch tires and 350-watt high-torque chain-driven motor that make the riding experience easy for your kids.
It's designed to be extremely sturdy with its all-steel construction but still lightweight enough to scoot around all kinds of terrains (and driveways). Plus, you'll love how there's no need to worry about the battery life as this sleek little speed demon features a 24V sealed lead-acid system battery!
The amazing bike allows 30 minutes of continuous service while taking only 12 hours to be fully recharged.  Also, it is designed with features that make it an easy and fun bike to ride.
Its soft rubber grips on the handlebars provide a comfortable surface for your hands, while twist acceleration control allows your small riders to enjoy top speed (14 mph) speeds without needing extensive prior experience.
Furthermore, this electric scooter comes equipped with hand-operated rear brakes in case things get out of hand. It also has fairings made from shatter-resistant plastic so your youngster can feel confident about taking it outdoors now and then.
Also, the double crown fork and retractable kickstand make the bike further special.
The Razor MX400 Electric Scooter offers tons of great features while ensuring rider's safety during rides around town or off-road adventures!
Things We Liked About It
Don't make any noise.
Sturdy build quality helps it to last long
You can easily assemble the bike.
Things We Didn't Like
The bike's seat height is not appropriate for tall kids aged around 13 years.
4. Razor Dirt Rocket SX500 Electric Bike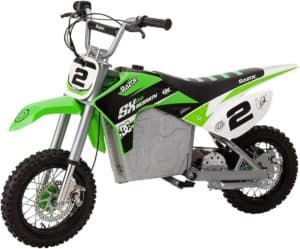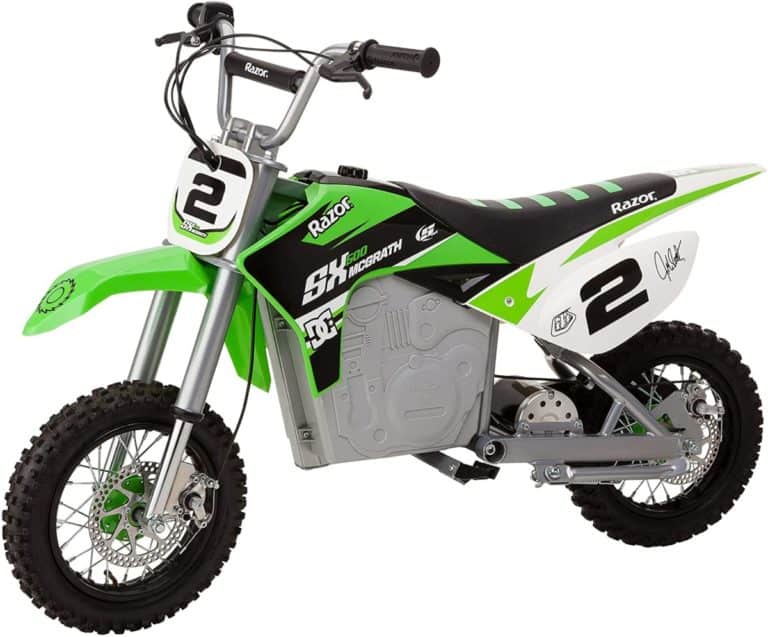 The Razor SX500 is a miniature motocross bike that pays tribute to one of the most popular riders in history. It features an authentic appearance and Jeremy McGrath's name, making it pretty cool among many adventure-loving kids.
Moreover, it's perfect for those 14+ kids who are looking to get their feet out on the ground with intense speed! This powerful bike can carry 175-pound of weight without any issue. The bike will make your kid feel like a motocross superstar, with its original dirt bike style paint and front-wheel mudguard that protects from unwanted elements.
What's even better, it looks and feels solid with its sturdy and top-grade steel construction. Yes, this bike has a big frame but it doesn't make the bike heavy. That's why your child can produce up to 15 mph speed with this electric bike.
Moreover, the bike can quickly reach top speed with the help of its chain-driven 500-watt motor. This bike doesn't compromise its runtime as it is equipped with 36V (Three 12V batteries) lead-acid battery system.
As a result, it can go 40 minutes continuously. Also, the dual suspension, knobby tires, dual disc brakes, retractable kickstand, and riser handlebars make a comfier and more enjoyable ride on any terrain.
Things We Liked About It
Offers 40 minutes battery life
Dual suspension and disk brake system
500-watt motor generates up to 15 mph of top speed
Things We Didn't Like
The bike should be more speedy and powerful according to its weight carrying capacity.
5. Honey Joy Mini Electric bike – Best Electric Bike for toddlers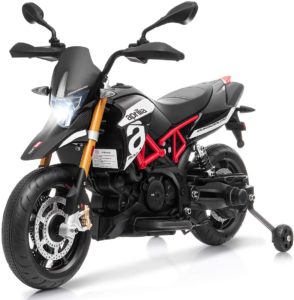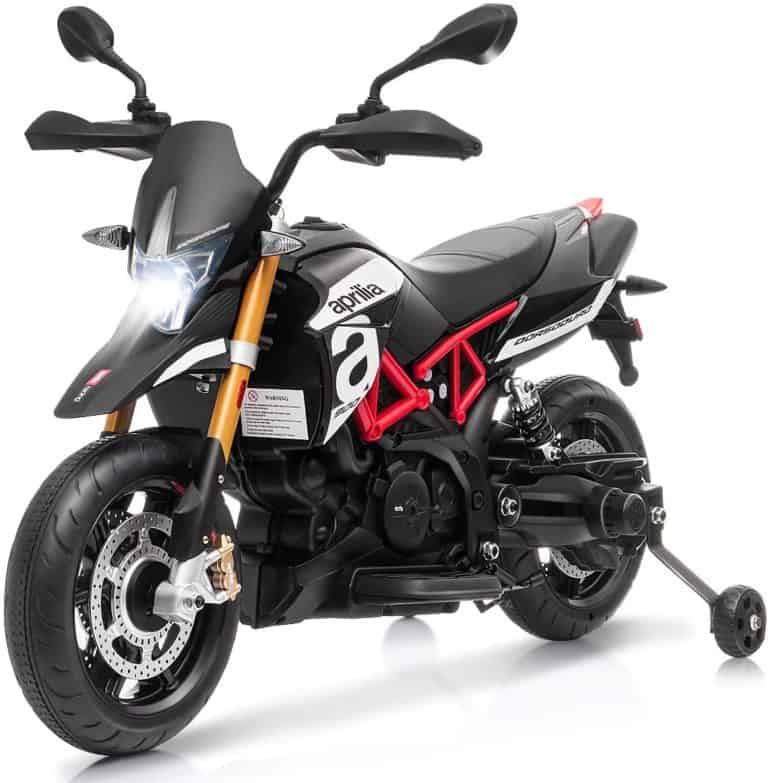 If you want to give your toddler a stylish and highly functional bike that is suitable for both on and off-road adventures, you can put your trust in this Honey Joy electric bike. This stunning guy comes with a 12V battery to keep your kids busy for several minutes.
Moreover, this bike is crafted with top-notch iron and environment-friendly ingredients to ensure your tiny kids stay protected. Don't worry, all the parts of the bike are designed with utmost care to give supreme stability and convenience. Plus, the skin-friendly and curved-style seat keeps your child's body unharmed and improves body posture.
Plus, your kids will really become a big fan of this electric motorcycle as it offers many outstanding features. It includes head and tail lights, sounds, rear-view mirrors, and a foot pedal to provide the vibe of a real motorbike.
Also, two training wheels, shock absorber springs, and forward-backward direction buttons will help young kids to handle the bike without any hassle.
The best thing about the bike is you can use this thing to teach your kids different things while playing. The built-in stories and music will play a big role in this process of learning. You can also play sounds that you want by using the USB and Mp3 ports. It can carry 55lbs of weight and requires 8-12 hours of charging.
Things We Liked About It
Stylish appearance with headlight, backlight, curved seat, and rear-view mirrors.
Built-in sound plus USB and MP3 port make it further engaging.
Two training wheels and anti-slip tires make the bike super stable.
Things We Didn't Like
Battery life is not satisfactory.
6. XtremepowerUS 36V Dirt Bike Kids Motorcycle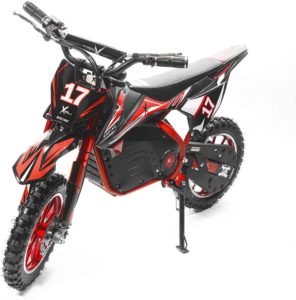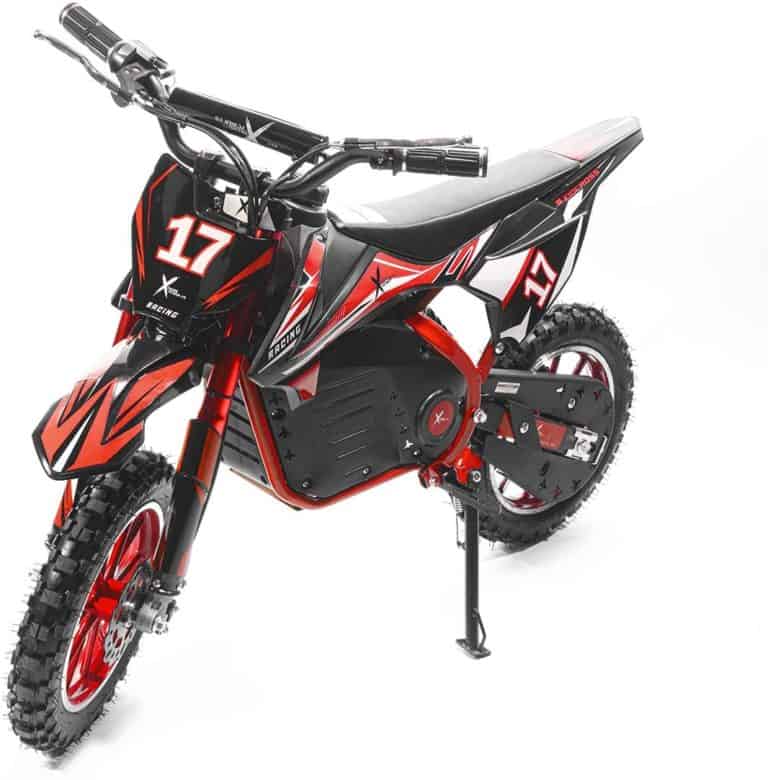 Now here is one solid mini bike. Xtremepower's little monster can carry 165 lbs, which is more than twice its own weight [74 lbs]. So not only can it carry kids and teenagers, but also lightweight grown-ups too.
This one emphasized control before everything else. The pneumatic knobby tires are large, firm, and durable; definitely fit for motocross. And, with the twist-grip throttle's superior control, your child can handle accelerating the dirt bike better.
There is a 3-speed control key that lets the parents cap the top speed at 8 km/h, 15 km/h, and 28 km/h. Parental controls like that aren't common in dirt bikes for kids, the manufacturers should take a note.
You can trust its high-quality front hydraulic to keep the steers steady while the suspensions minimize the vibrations. You can offroad through any terrain without a worry of the world.
It features a standard 500W high torque motor. It is chain-driven with a max speed of 17 mph [28 km/h].
Last but not the least, it has an exquisite design. The red/blue lines on the polished black make it look like a premium dirt bike.
Sadly, even with all the cool features, it has the same old weakness that all dirt bikes have- only a few hours of runtime.
Things We Liked About It
3 speed parental control
Powerful 500W motor
17 mph top speed
High-class suspensions and throttle control
Things We Didn't Like
Low uptime after a long charging hour
7. JAXPETY 6V Battery Powered Dirt Bike – best electric dirt bike for 6 year old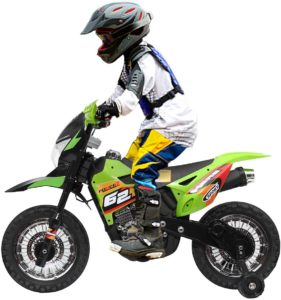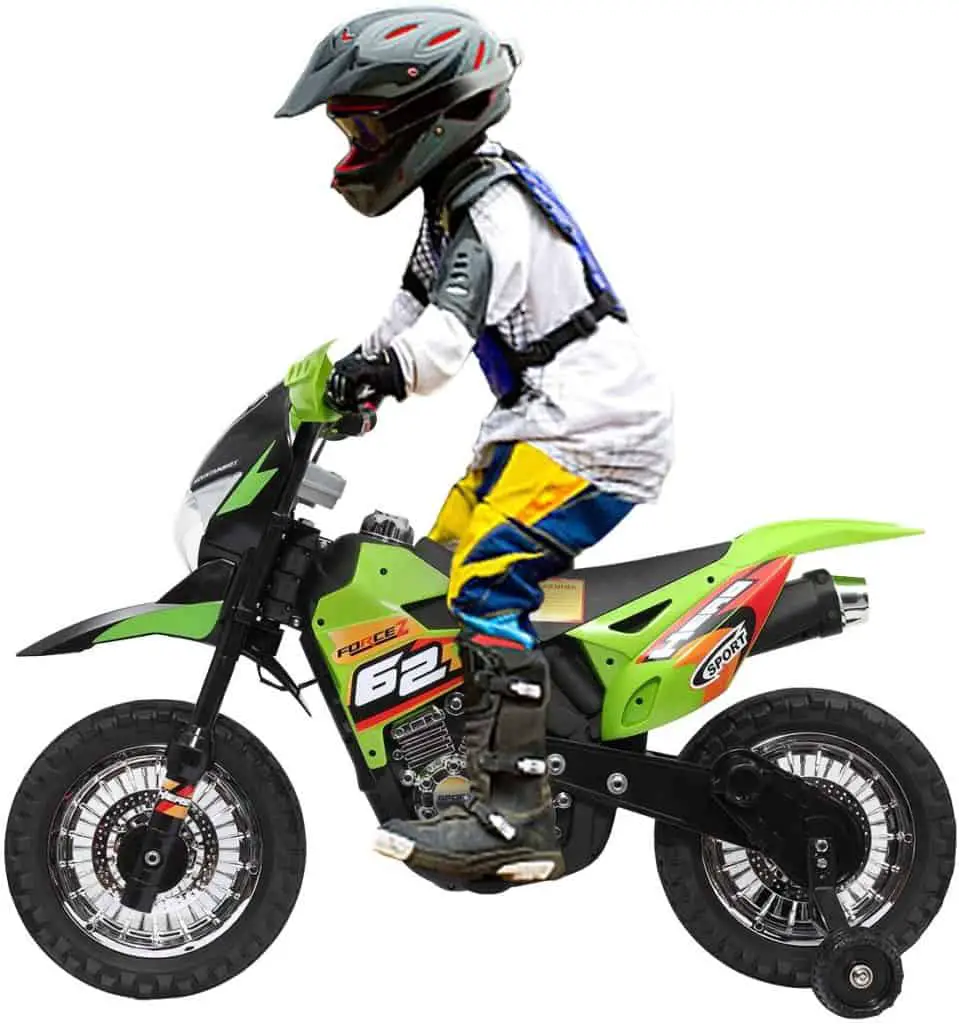 Let me bring you one of the smallest dirt bikes on this list. This mini bike from JAXPETY is tailor-made for your 3 to 6 years old child. It has a maximum weight capacity of 44 lbs and runs on 6V batteries.
I haven't seen a kids' bike that is so dazzling to look at. The lime color on the body is gorgeous and easy on the eyes.
At the front, there is a stylish LED headlight and on the control panel, you have a built-in Mp3 that has catchy sounds like the police siren. Your kid will fall in love with it.
But this little menace doesn't just look pretty. The non-slip handlebars will make sure your kid doesn't slip off, and the knobby front and rear tires can handle almost all terrains, making it a reliable trail buddy.
To make the dirt bike easier for a 3-year old, it has a start-driving switch that starts the bike as you press it. As a parent I'm sure you don't want your kid to get into accidents; have no fear the 6 km/h [3.7 mph] top speed is safe enough for them.
It's an ideal kids' bike because it'll simulate the real dirt bike experience and teach your kid how to ride a dirt bike.
Take a pro tip from me, swap the 6V batteries with 12V for a better experience.
Things We Liked About It
6 km/h top speed is safe for  3-4-year old kids
Sturdy, made of premium pp material
Easy to operate on different terrain
8. Fit Right Smart Mini Dirt Bike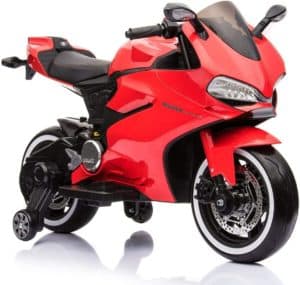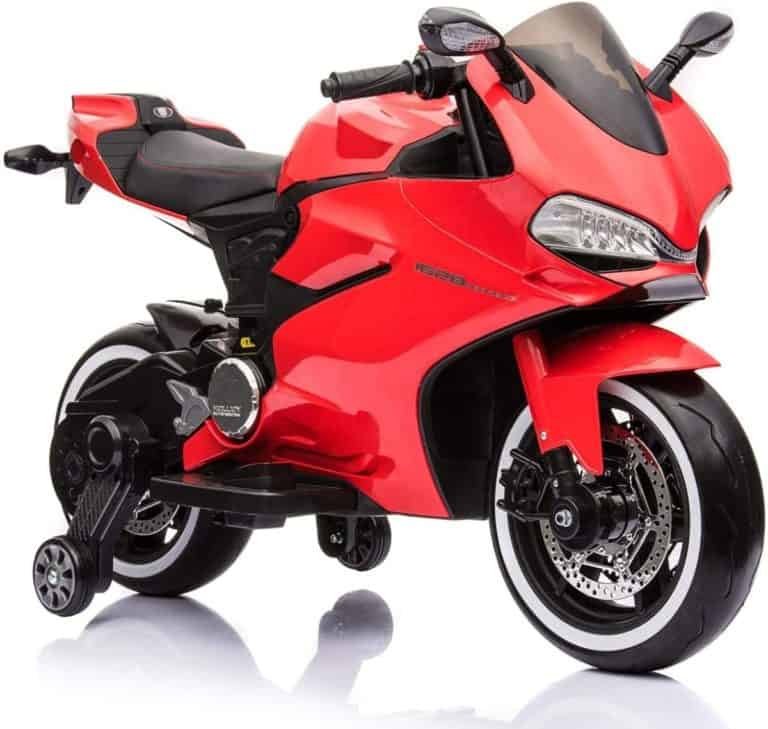 I can guarantee this mini dirt bike is one of a kind. Dirt bike brand Fit Right surprised everyone with this stylish and innovative offroading machine. It has a maximum capacity of 66 lbs.
I haven't seen a feature that this one has in 99% of mini electric dirt bikes, which is the smart charging. In simple words, it prevents the bike from overcharging by immediately stopping as soon as it's fully charged.
This way the 12V SLA battery will live longer. You can expect to have a total of 1.5 hours of runtime from a 6-hour charge.
On the steering, there is a music button that plays 4 pre-programmed songs. There is a Bluetooth option too, with an Mp3 player that will connect to external devices and play music for you, yet another feature I don't see often in dirt bikes.
The wheels are made of comfortable EVA foam, these won't let your kid feel any bumps at all, plus they need no maintenance.
It has a jaw-dropping racing bike design with a stylish red polish with wheels that light up in blue. The LED front and rear lights are also attractive. I'd give it 10/10 for its design.
Things We Liked About It
Smart charging doesn't waste electricity
4 mph top speed is safe for kids
Bluetooth and mp3 option
Soft and durable EVA foam tires
9. Best Choice Products Kids 6V Ride On Motorcycle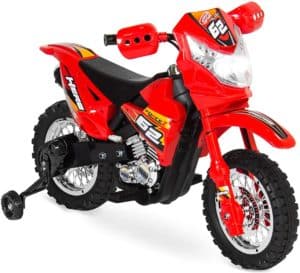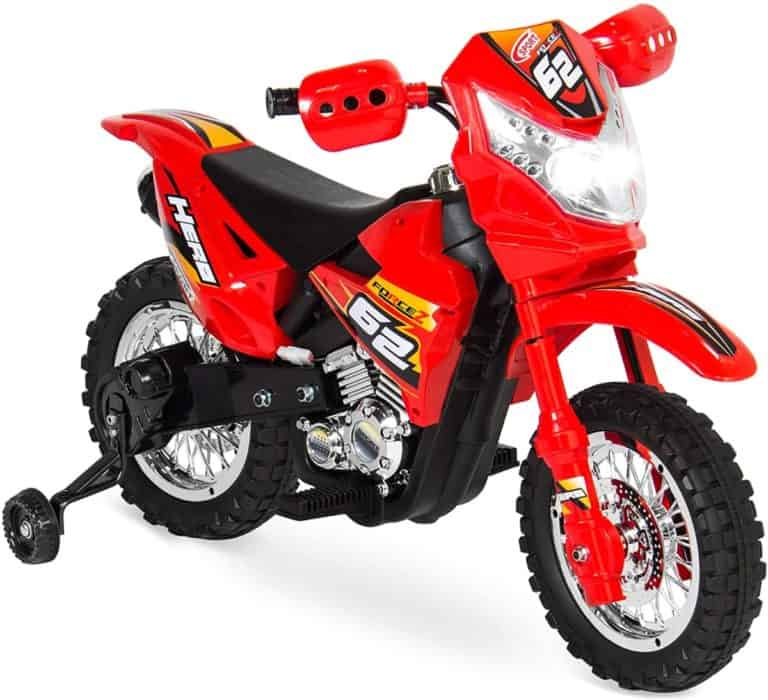 Improve your kid's motor skills and watch them ride at a safe speed with Best Choice Products' dirt bike. Its straightforward steering and treaded tires are best for keeping balance. Your kid can learn at their pace from inside of their comfort zone.
Its top speed is 2 mph so you don't have to worry about your child getting into accidents! The bike has a maximum capacity of 44 lbs, meaning it's recommended for a 3-4 years old kid, that top speed is sufficient for them.
This dirt bike mimics a real bike in every way. Headlights, horns, blinks, as well as the design with stickers and even the ignition; everything is set up to make your baby learn about dirt bikes from their tender age. I appreciate the easy to impress button, it makes the bike move. It's definitely helpful for a 3-year old.
The illuminated console has several music options to keep your precious kid in a good mood. This includes a radio that will play when you touch the respective button. There is an AUX jack too, for playing customized tunes, so you can put in your kid's favorite sounds as well.
One downside however is that the bike has very little runtime, one of the lowest on this list.
Things We Liked About It
Best dirt bike for 3-year olds
Personalized music options and radio
Superior balance with treaded tires
Easy operation, just press a button
Things We Didn't Like
Only 40 mins of runtime from 8-hour charge
10. Costzon Kids Ride On 12V Dirt Bike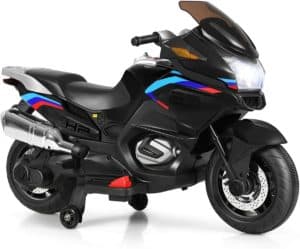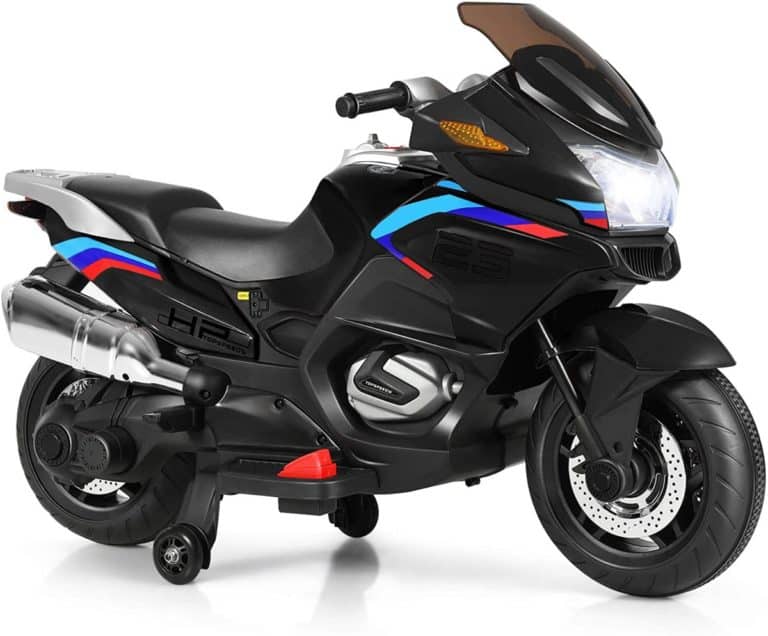 Last but definitely not least is an exquisite dirt bike from Costzon. It's the best looking and also the most packed one on this list. Every single feature on this dirt bike will excite your kid and make them want to ride this bike more and more.
First up, it has anti-wear tires that allow it to ride on asphalt, wood/rubber/brick floor, cement road. So, alongside offroading, it's also good for general roads or inside the house!
There's a lever that you can adjust so your kid can switch between forward and backward movement easily. The bike has variable speed that is possible to control from either the handlebar or the foot pedal. And, the seats are ergonomic. In total, your child will get a real feel of biking experience with this.
It has a top speed of 4 mph, on reverse, it's 2 mph. Although some users claim it can go up to 7 mph, that'd make it the fastest dirt bike for kids.
You can add your own music alongside the built-in mp3 sound. I need to highlight a rare feature called the story mode that your kid can listen to while riding.
There's also a change audio input button if you have 2 or more devices connected.
The LED headlight is great and lights up the surrounding dark areas pretty well. This dirt bike has a modern-looking dashboard that the kids will love.
All things considered, it is the coolest mini dirt bike on this list.
Things We Liked About It
Several built-in and external music options
Tires can ride through any terrain
Easily shifts between forward and backward
Has two motors
Things We Didn't Like
Hard plastic parts could crack if assembled wrongly
Things to consider while buying the best electric dirt bike for kids
A dirt bike is a fascinating thing for any kid. Every child loves to have one and most parents tend to gift them this precious vehicle on any special occasion. If you are also planning to surprise your little one by presenting him/her with an electric dirt bike, please read the following section carefully.
Kid's age and size
The first thing you should look for is the bike's size. Most manufactures provide the recommended age, size, and weight holding capacity range of their bike. However, all kids don't have the same growth rate and you have to choose the dirt bike's size, height, and weight limit compared to your kid's physical structure.
Build quality
Kids can't take good care of their toy and if you fail to give them a durable dirt bike, your money will be wasted. So, you must ensure that the bike you are going to purchase should have a sturdy and robust frame. Motorcycles made of steel would be the best choice. Also, make sure that all other parts of the bike are well-constructed and every feature functions perfectly.
Battery life and charge time
Electric bikes are eco-friendly as they don't create or emit any kind of gas. However, you need to make sure that your chosen brand's dirt motorbike delivers at least 30 minutes of battery life.
Be aware that some corrupt manufacturers provide false information about battery life. So, if you really get confused about any bike's runtime, you can get authentic information by reading user's reviews.  Also, you must ensure that the bike takes no more than 8-12 hours to be fully recharged.
Power and speed
Powerful kids' dirt bikes are super easy to operate. Therefore, get a dirt bike that comes with 300+ Watt and a chain-driven motor. Powerful motors generate massive speed and as a parent, you shouldn't allow your youngster to ride super quick. So, don't buy a dirt bike that generates 20+ mph.
Safety
Safety is the prime concern among parents while giving their kids a mini motorcycle. The good news is that almost all good quality dirt bikes lots of safety features to keep your children protected. Some bikes also offer training wheels to offer better control.
Moreover, you should buy a bike with knobby tires, quality suspensions and firm disk brakes. It will smoothen the ride and your kids will easily control the bike in awkward situations.
Appearance
Kids love colors and as we all know they love to live in imaginations. That's why, a handsome bike with flashing lights, sound, color may attract your toddler if their age is below 9. However, kids aged above 9 may like a bike that symbolizes any motocross legend's bike. In such cases, buy one that inherits any authentic bike-design geometry.
Frequently Asked Questions
Is 500W enough for an e-bike?
Yes, 500W is sufficient to get you enough speed and acceleration for your kid's dirt electric dirt bike.
Are electric dirt bikes waterproof?
Most electric dirt bikes are sealed, so they are commonly waterproof. Be sure to check the manufacturer still.
Can you ride an electric dirt bike in the rain?
Dirt bikes are made for all weather conditions, so rain isn't a problem.
Why buy an Electric dirt bike rather than a Gas dirt bike?
Low maintenance, easy operation, less operating costs, no fuel needed are some of the reasons why electric bikes are better than gas-powered ones.
Are electric dirt bikes safe for kids?
Yes, electric dirt bikes need to pass a safety test before they're available on the market. As long as you follow the correct age requirements your kid should be safe.
Parting Words
Kids and dirt bikes are a perfect match. There aren't many toys that you can present to your child that will have the same impact as a dirt bike.
A dirt bike might cost a few hundred dollars but making your kid happy is priceless. So don't hesitate, get one of these best electric dirt bikes for kids today and put a smile on their face.