Riding regular bikes on smooth tracks can be fun and exciting at the beginning. But as they get older, they'll want things to be a bit more challenging – like a motocross bike. Razor SX500 is one of many great choices, and I am here to explain what makes it the perfect fit for your kid. So, let's go deep into the Razor SX500 review.
Introducing Razor SX500
Razor SX500, aka SX500 dirt rocket McGrath, is a miniature version of the actual motocross bike of the motocross champion Jeremy McGrath. The bike was actually designed to pay tribute to one of the most popular riders in motocross history.
With the authentic appearance and motocross legend-inspired name, this bike looks pretty cool, thus quite popular among the bike lovers.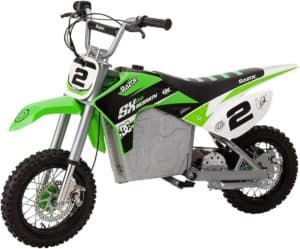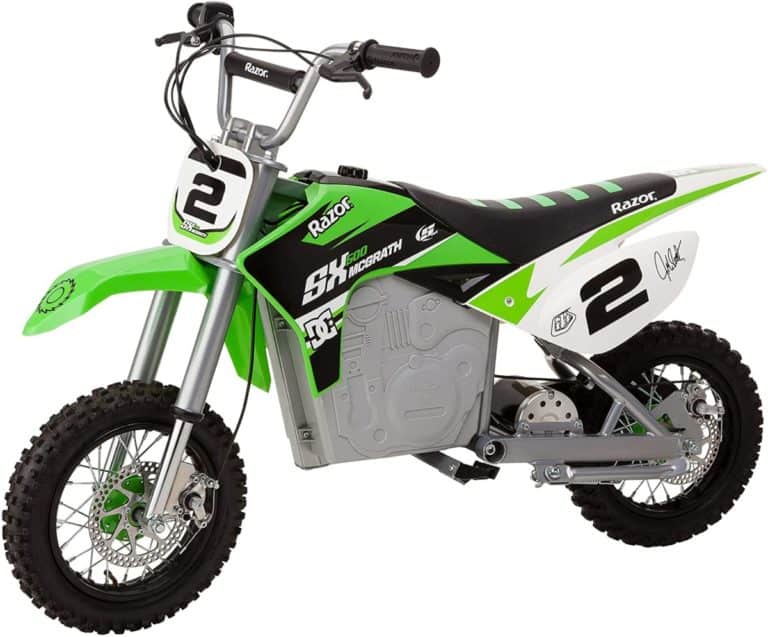 Who is this product for?
The Razor SX500 is recommended for 14+ kids and anyone within 175 pounds. Meaning, teens as well as adults can ride this bike. This bike is also perfect for those who love a bit of speed and taste of a real motocross bike. There is another version, Razor SX350, suitable for ages 13 and supports up to 140 pounds.
Problems you might face
There are some issues that you might face with Razor SX500, which are stated below-
1. The charging period
The most annoying thing about electric bikes is the charging period. The batteries need 12 hours of charging, and the charge lasts only 40 mins, which may seem inconvenient for tour lovers.
A way forward could be buying a set of spare battery for the SX500 –
Mighty Max Battery 12V12AH F2 Battery for Razor Dirt Rocket SX500-15128101 - 3 Pack
ML12-12F2 SLA is a 12V 12AH Sealed Lead Acid (SLA) rechargeable maintenance free battery, Pack of 3- UL Certified
Dimensions: 5.94 inches x 3.86 inches x 3.98 inches. Terminal: F2. Listing is for the Battery only. No wire harness or mounting accessories included.
SLA / AGM spill proof battery has a characteristic of high discharge rate, wide operating temperatures, long service life and deep discharge recover
Rechargeable battery that can be mounted in any position, resists shocks and vibration. Long lasting high performance in high and low temperatures
Backed by a 30 day refund policy and full 1 year warranty
As an Amazon Associate TreMoto earns from qualifying purchases.
2. The size of the ride
Though the bike is recommended for kids age 14 and over, it is not big enough as it should be. Tall kids will face trouble sitting and riding it- means they won't be able to ride the bike properly.
3. Electricity Bill
As the bike takes too long to charge fully, there might be a chance for a high electricity bill, which can be quite harmful to your wallet.
Pros and cons of Razor SX500
Things We Liked About It
Durable
Top-notch design
Dual suspension for a smooth and comfy ride
High-torque powerful motor
Twist-grip acceleration
Dual disc brake system
Things We Didn't Like
Needs assembling
Charging time
Not big enough for oversized kids (person)
Razor SX500 Review: Features and benefits
As the bike has the legend's name attached to it, it is natural to expect the best from it. But is it really cool and exciting just like the name? Let's find out about it in the next section.
1.   Fresh look
Razor SX500 is the exact replica of the actual bike that Jeremy McGrath used. This bike comes in two color options- green and red. The color options are just right to make your kid feel like a real motocross rider.
Also, the bike has an original dirt bike painting and front-wheel mudguard that will make your kid feel unique and extraordinary.
2.   Strong build
The SX500 not only looks fantastic, but it is a strongly constructed bike as well. The bike has a sturdy steel frame with an aluminum beam that makes it durable and lightweight. It is a heavy-duty bike that can carry riders weighing up to 175 pounds (79kg), which is absolutely remarkable for a battery-run motocross dirt bike.
The frame itself includes the authentic geometry of an actual dirt bike with adjustable angle, riser style handlebars with rubber grips that make the total experience with SX500 cozy and convenient.
3.   Strong power source
The engine that comes with SX500 is considerably powerful for a kid's bike. The power producer is a 500-watt, chain-driven motor that offers sufficient power to the wheels in a flexible system.
This high-torque motor is capable of producing speed up to 15mph. It also comes with a unique chain-driven pattern that prevents any unnecessary movement of the bike.
Since the motor processes a fair amount of speed, it is necessary to educate the young bikers so that they don't get carried away with the speed they're going to experience.
4.   36v lead-acid accumulator
Another fantastic fact about this bike is its 36v battery pack that powers up the motor.  SX500 gets its power to speed up from three-12v batteries that give your little champion the runtime of 40 minutes when riding at full speed!
The batteries are of sealed lead acid, which guarantees the no-leaking policy. The only letdown about the battery pack is that it takes almost 12 hours to charge for a 40 mins ride.
5.   No compromise with safety
As great as its name, SX500 offers the top protection and comfort for young riders. It has a convenient dual-brake system that is hand-operated, making it super easy to control the speed and the bike while riding. Both the rear and front brake provide proper stopping power whenever it is needed.
Like every Razor dirt bike, this too comes with large knobby wheels that make the bike extra stable and render a smooth ride on bumpy roads. The tires provide better grip and are slide-proof. They are also super durable and not likely to puncture easily on rough roads.
6. Super comfy with dual suspension
The Razor SX500 features a dual suspension system that delivers extra comfort and smoothness while riding. Because of this trait, the rider can ride in comfort and get a reduced shock. The dual suspension also makes the bike super stable on bumpy and over the hill tracks.
Razor SX500 Dirt bike riding tips
Always make sure that the kids wear protective gear.
Charge the bike at night, and it should be ready by the time your kid would want to ride it.
Read the user manual for the maintenance of the bike to keep it around for a long time.
15mph is a good speed, and make sure they do not get carried away for the love of speed.
Frequently asked Questions
Can children under 14 years ride this bike?
Of course, they can. Though the recommended age is 14+, the size of the bike is too small for that age range. So, with proper guidelines, even kids below 14 years old can ride SX500.
How much weight can SX500 carry?
The Razor SX500 can bear up to 175 pounds, which is quite impressive for a children's bike.
How big is the Razor SX500?
The dimension of the Razor SX500 is 56" x 36" x 24.5" (L x W x H).
Does the bike require push-off to start the engine?
No, that is not needed. The engine just starts right away.
Alternative Products
Let's watch a comparison video between the MX500, MX650 and SX500 –
Final thought
Getting Razor SX500 will not only make your kid happy and excited, but it will also give them a sense of encouragement and priority. SX500 is a perfect fit for children who are up for a little more speed and real motocross biking experience.
I hope my Razor SX500 review has been a great help in choosing only the best for your kid. So, why wait? Let's get the race started!