Skimming through all the electrical bikes available in the market is a major hassle. Placing your trust in one of these is tough since you want the perfect bike for your precious little child. Look no further, Razor MX650 is here to save the day!
If you're aware of the market you'd know why Razor's products are so hyped, but in case you don't then my Razor MX650 dirt bike review will exactly show you why it's amongst the best bikes for kids.
fasten your seat belts and get ready to be amazed by its fantastic features!
Introducing Razor MX650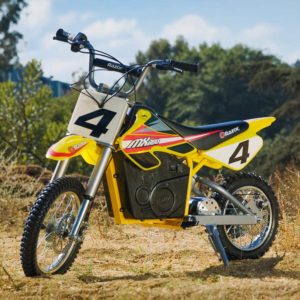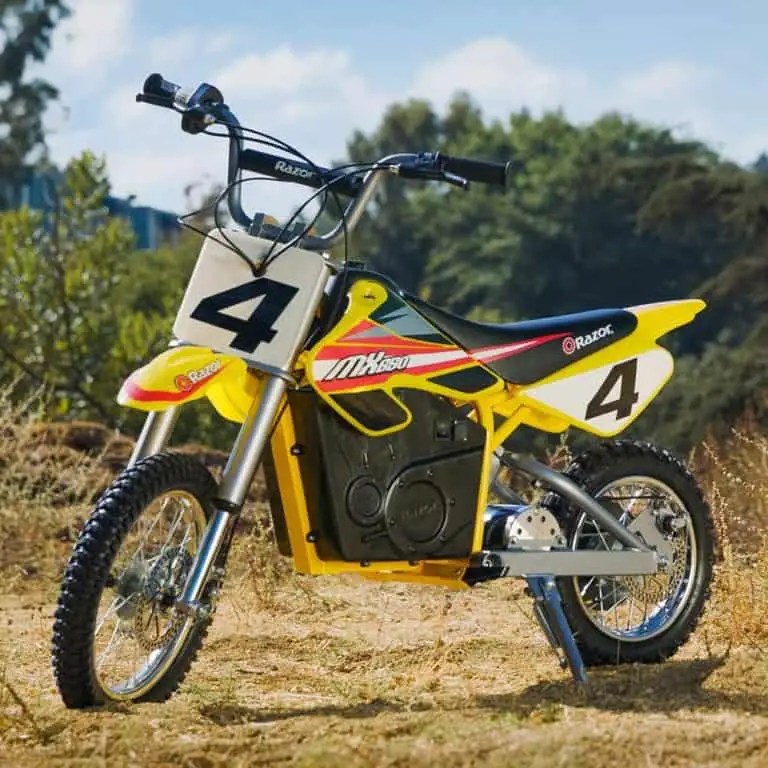 One of Razor's popular products, the Razor MX650 dirt bike, aka MX650 dirt rocket is extremely powerful and safe if used properly. It is the fastest razor electric dirt bike, effortless to operate, and requires the least maintenance.
As it is battery-powered, Razor MX650 is eco-friendly and quiet. Its heavy-duty construction, authentic dirt bike geometry, adjustable handlebars, knobby tires, and steel frame not only makes it durable but provides comfort to the riders as well.
The bike is powered by a 650W, high-torque motor, which makes it a perfect ride for off-road traction, and its twist-grip throttle makes it easy to raise speed quickly.
Who is this product for?
Razor X650 is mainly designed for kids age 16 and above. But anyone above the age of ten can ride this bike with a maximum weight of 220 pounds, meaning adults can also ride the bike as long as they weigh 220 or less.
Problems you might face
Limited riding time
If your kid loves riding bikes, the run time this bike offers may not be enough. The bike runs for only 40 mins after a full charge. It takes like 8 hours to fully charge, which may not seem convenient for a mere 40 mins ride.
Sensitive battery
Batteries that come with the bike may be powerful enough to run a bike, but quite delicate when it comes to durability. The cells also lose out-put over time and may end up being a dead battery if not charged regularly and properly.
Pros and cons of razor MX650
Things We Liked About It
Speeds up to 17 mph
Charge level indicator
Weight carrying limit up to 220 lbs
Easy to modify
Authentic dirt bike design
Exceptionally sensitive braking system
Stylish design and color option
Comfortable seat
Silent
Eco-friendly
Things We Didn't Like
Short battery life
It takes 6-8 hours to charge fully
May result in high electricity bill
Razor MX650 Review: Features and benefits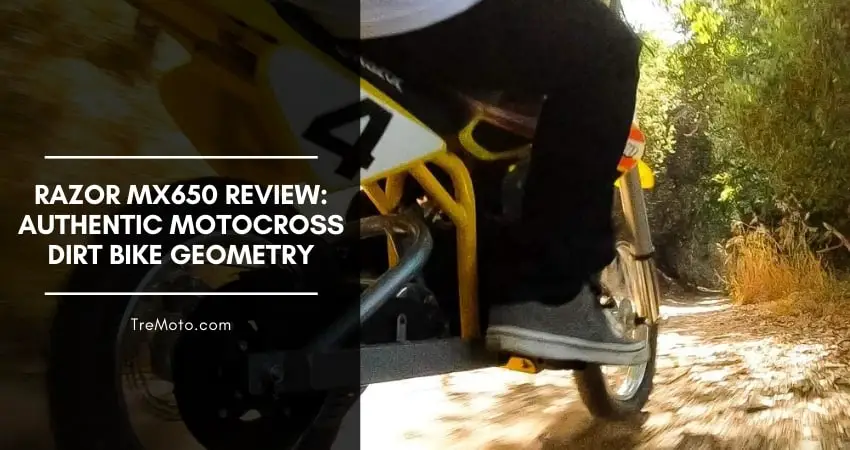 The Razor MX650 is gaining popularity among kids and parents for its cool features. Let's look into the features and find out what makes MX650 the best option to choose.
1. Heavy-duty construction
Among all the Razor bikes, this particular model is designed to be a perfect vehicle for anyone within 220 pounds weight limit.
The best thing is, no matter what the rider's weight is(within 220 lbs), the bike can easily speed up to 17 mph in about 15 seconds! Pretty impressive for an electric bike, right?
The frame of this bike is made out of high-quality steel and designed with authentic dirt bike geometry, which makes it durable and strong.
2. All about the 36V Battery
The Razor MX650 runs on electricity, thus making your life easier and keeping the environment a bit cleaner. Like many Razor products, the MX650 is also battery-powered, but better and more powerful.
An awesome thing about these batteries is, they are rechargeable. You don't have to worry about filling gas or changing diesel, just find a socket and plug it in!
This product has a 36-volt (three 12V) lead-acid battery pack, which includes multiple lead plates. These plates provide fast charging. Where other electric bikes need long hours of charging, MX650 requires only 6-8 hours before each ride .
Once fully charged, this battery allows it to run up to 40 mins of continuous use. But the time may vary according to the rider's weight and the type of track you are riding on. Though it is recommended that the first charge is for 12 hours and after that 6-8 hours is enough for the bike to be fully charged.
Let me share another important piece of information: you must charge the batteries at least once a month to keep them working. Because, if the bike is left uncharged for a while, the batteries may start to degrade resulting in not accepting charge anymore. In short, even if the bike is not used on a regular basis, charging is recommended.
Also, the batteries will lose power over time. So, better if you have backup ones.
3. 650W Power Source- Strong but silent
The next feature I'll be talking about is the fantastic motor which is the power source of the Razor MX650. The 650W electric motor is quite powerful, and with its chain-driven system and high-torque capability, the motor delivers a thrilling experience every time riding on an off-road track.
The motor can produce a maximum speed of 17 mph. But, depending on the rider's weight and track, I found that the bike can reach up to 25 mph at times, which is quite amazing for an electric dirt bike.
4. A Safe ride
Razor MX650 is quite fast and powerful, but that doesn't make it unsafe for your kid in any way. Its super strong, high-quality steel frame makes the bike durable and sturdy. This is a bike that a rider can use roughly and yet, still last longer.
Now let's look into the handlebars. Not all teenagers are of the same size: some are tall and have longer hands, some are short with not so long hands. Keeping that in mind, Razor have included riser style adjustable handlebars to MX650, which you can set up in a level according to your kid's comfort and poster.
The bike features a professional dirt bike-like twist-grip throttle system. It is easy to operate and safe with its maximum speed limit. But above all, MX650 will deliver the experience and feel of a real dirt bike every time the young bikers ride it.
If you are still not convinced about the bike's safety, bet the braking system will change your mind. The bike comes with a hand-operated dual-disc super sensitive braking system in both wheels that provides convenient stopping while needed. All you have to do is teach the rider when to stop.
5. Sturdy ride every time
Every parent wants their kid to have a comfortable ride on their dirt bike. In this case, Razor MX650 becomes a little bit more desirable.
The MX650 is designed with dual suspension, which delivers a smooth and comfortable ride every time. Also, the pneumatic knobby tires easily catch up with the speed and absorb sudden shocks on bumpy roads, providing extra stability. The tires are perfect even for watery and muddy tracks.
MX650 Dirt bike riding tips
Who wouldn't like some extra riding and maintaining tips? Here I'll share some easy and doable tips that can add to the thrilling and exciting experience of riding a dirt bike.
As the bike has a specific weight limit, make sure to not exceed that for the bike to function properly.
Always charge it before riding. The battery gets dull and does not accept charge if kept uncharged for a while.
Keep the bike under regular inspection. Refill the tires once in a while as they may change due to extended use, temperature, and air pressure.
Invest a little more in buying water and dustproof cover to protect the bike from getting damaged.
Always wear protective gear like helmet, gloves, and knee pads while riding the Razor MX650 dirt bike.
Razor MX650: Frequently asked questions
How tall is the Razor MX650?
The measurements of a Razor MX650 are 36"X56"X 24.5" (length X width X height). From these measurements, you'll get quite the idea of the proper height of its rider.
Can this bike do jumps in a dirt bike track?
Unfortunately, no. The bike is designed for basic riding, not jumping. For that, you can get a 50cc gas powered dirt bike.
How long does it take to charge a Razor MX650?
The initial charging after unboxing the bike is 12 hours. But 8 hours is enough to fully charge the battery before each ride.
How often should I charge the bike?
Totally depends on use. Once your kid experiences the thrill of riding, s/he would want to ride it more often and will need charging often. But make sure that you planned the charging time accordingly, cause you surely don't want your kids to wait with a disappointed look on their faces.
Can I ride it on side-walks?
There are no restrictions, but I wouldn't recommend it. This particular model can be pretty fast and may cause disturbance for the potential walkers.
Alternative product
Before finalizing any dirt bike you should check out the weight limit and select the one which is perfect for you. Here are a few Razor Dirt Bikes which we reviewed in depth –
Final thoughts….
The Razor MX650 is almost a perfect bike for your little aspiring dirt biker. Despite its long charging hours, the bike can be considered to be a decent one to begin with. Now that you have some ideas from this Razor MX650 dirt bike review, I hope you make the best choice and get the perfect dirt bike for your beloved kid.
So, don't wait anymore and make that purchase! Because all we want for our kids to have fun, right?