In today's date, there are literally hundreds of electric bikes, scooters, and cars available. However, the electrical toy industry itself is relatively new, so it's hard to get a good rundown on what you should get. The last thing you want is to get something for your kid only for them to frown with disappointment.
But I can tell you one thing, the chances of that happening with an electric dirt bike is extremely slim. Why? Because they're cool. And my Razor MX350 review will show you how amazing a dirt bike can be. Buckle up and grab some popcorn…
Introducing Razor MX350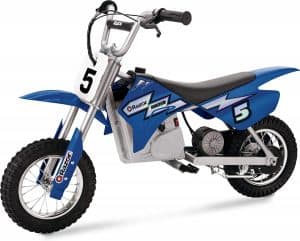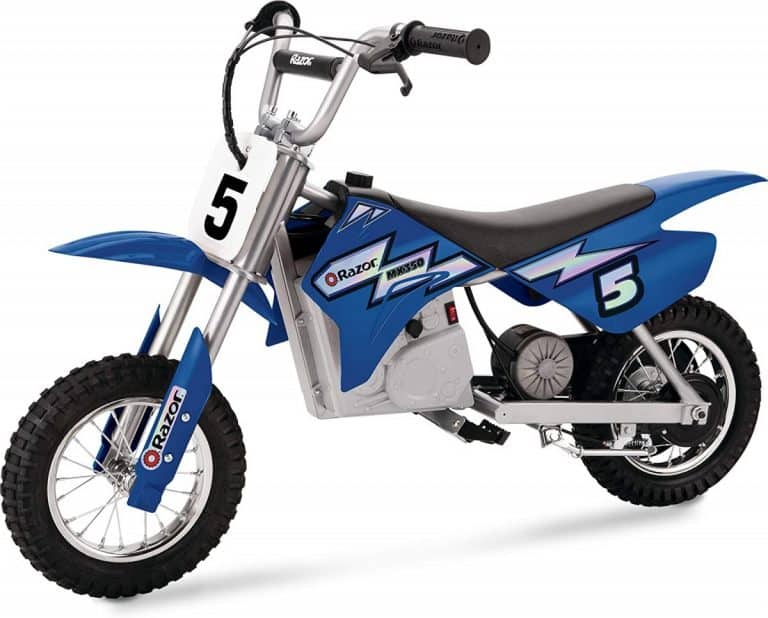 Known as the "dirt rocket", the MX350 is a machine that every kid would love to have. It's stylish, safe, and doesn't make any noise. If that wasn't enough, it's powered by a battery-operated electrical motor.
Razor are famous for their innovation; I'm betting my money that they wanted to make this their best electric dirt bike in its weight class. And with the features they have, it's safe to say they weren't too far off the mark.
Ergonomic body frame, adjustable handles, knobby wheels all try to maximize the comfort while being durable, producing high amounts of torque and able to ride across all terrain provide excellent utility. There are quality of life features too like minimal noise generation.
All in all, it's an excellent bike for your little one.
Who is this product for
From the MX350 specifications themselves, we can already assume that it is a pretty small bike, and the features it has are catered for young riders. Being versatile enough to run all terrains, a front hand brake, and adjustable handles with knobby wheels- all are great for a kid who is just starting out their dirt bike adventures.
Problems You Might Face
1. Too small
While Razor keeps claiming that it is a dirt bike for 13-year-olds, that is not the case in reality. I did my research and concluded that this bike is best for 5 to 7 year olds, maybe some 9 year olds too; but definitely not for 13 year olds.
There are two reasons for it-
The dirt bike is too small in size
A 14 mph top speed is perfect for kids around 5, but a 13 year old can handle more than that. Such speed won't excite them.
2. Low runtime
An average of 30 min runtime might or might not be enough for your kid. Indeed, some kids will get tired by riding for this long, but the opposite is also true.
I think it would have been better if it had a longer run time, considering the price tag! It's just not me; several customers voiced the same opinion.
3. Batteries die out soon
Every good deal has a catch somewhere. You get rechargeable batteries with this product, but these batteries aren't long-lasting. Razor will only replace them for you if they start to go bad inside the 90th-day mark. Outside of that, you'll have to pay out of your own wallet. The batteries could cost up to an odd $50 or so.
Pros and Cons of Razor MX350
Let's have a look at what will make or break a deal for this bike:
Things We Liked About It
High torque production
Rechargeable electrical batteries
Good for all-terrain
Adjustable non-slip rubber handles
Hand brake
Large knobby wheels
Attractive design
Easily maintained
Durable
Quiet
Things We Didn't Like
Too small for 13-year-olds
12mph isn't too fast
Only 30 min runtime
It takes at least 4 hours to charge fully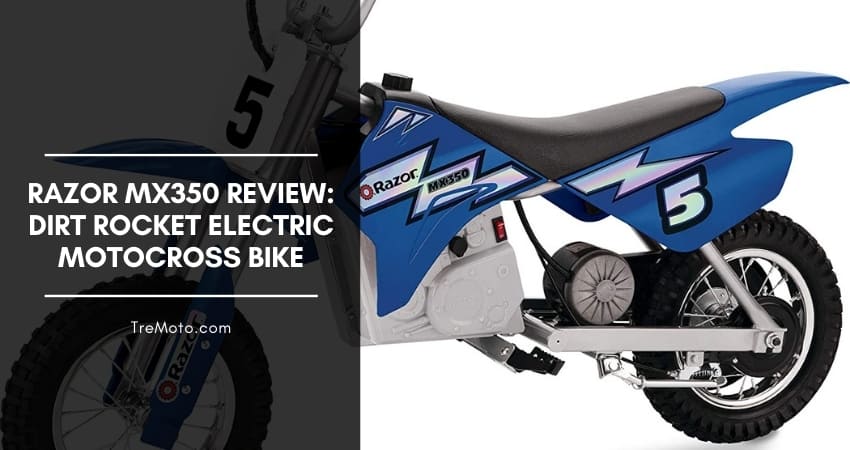 Razor MX350 Review: Features and benefits
The explosive Razor MX350 comes with some crazy good features. Don't believe me? Have a look for yourself:
Electric power battery
MX350 is an electric motocross bike. It operates on a 24V cell that consists of two 12V lead-acid batteries. It gives the bike enough power to run endlessly for 30 minutes. However, the batteries are rechargeable, and you'll receive a charger that you can plug in anytime.
Although battery life also depends on some external factors like the terrain. Batteries get drained faster in sandy areas. Weight is another factor because a heavy rider will need more power to run a bike smoothly, so more energy output is needed. In general, it should cover up to 14 miles before you need to charge.
It'll take 12 hours to charge fully for the first time; afterwards it'll get fully charged in 4-6 hours. That's because the MX350 doesn't come pre-charged, so the first time takes longer.
Charge it the night before you gift this to your kid; it'll be a total buzzkill if they unbox it only to wait 12 hours to run it.
High-quality motor
Watch your kid have pure unadulterated fun, aided by the 350watt electric motor that produces high torque without catching a break. It has a top speed of 14 mph which is precisely perfect for a kid who is just learning to ride a bike as it minimizes the risk of getting into accidents.
It'll be an ideal pick for you if you're planning to teach your kid how to ride a dirt bike.
Child-friendly
The 350MX from Razor focused mainly on children's enjoyment, and you can see that in their features. The rubber handles are made so that kids have an easy time handling it, while the twist grip helps them propel the bike in a much easier fashion.
Kids are simple-minded; their attention span hovers at one place for the most part; Razor was smart to identify that and added in a hand brake so that the young riders will keep their eyes in front of the road at all times.
The maximum weight limit of the bike is 140lbs, which is perfect for kids.
Stylish and comfortable design
Alongside giving us all these terrific features, Razor MX350 also nailed the design as well. It's super stylish and modern from every angle. The sleek glossy blue color with thunderbolt patterns would be an instant with just about anybody. I can already imagine your kid's eyes getting lit up as soon as they unbox it.
Surely, having a dazzling design is a big deal for a kid. They want everything to look cool. But this just doesn't look good; it feels good as well.
The ergonomic 44″X 24.5″X 31″  frame of this bike is highly soothing, and comfiness is something that many of its competitors lack, and I am often left wondering why. More and more manufacturers should focus on the comfort of a dirt bike.
Its double stitched seat complements the rugged metallic frame quite impressively. And when you pair that with knobby wheels and high suspension, you get yourself an all-terrain beast that can ride smoothly no matter where you run it.
MX350 Dirt bike riding tips
I want to add some simple tips that are easy to accomplish and give your kid a significant boost to their riding experience. Let's jump straight ahead
Keep an eye out for your bike's every nook and cranny before a big adventure. The things that'll need the most attention are:
tires- easily get leaks
brakes- could be faulty
rims- bent or not
rim wires- susceptible to getting loose
throttle- might be faulty
Since it's an electric bike, you should always keep it at full charge whenever you can. Do not let it go fully empty; it causes long-term damage to the battery. I suggest having a backup battery at hand if the one equipped goes bad.
User manuals are not useless. They contain the best instructions to keep the product in a tip-top shape. Manufacturers know their product the best and will surely give you the best advice for the bike.
By following these, you could elongate the lifespan of the dirt bike.
Razor MX350: Frequently Asked Questions
How to charge the Razor MX350 dirt bike battery?
You'll get a battery charger and a charging port. Just plug it in and charge as long as you need. Remember you need to charge for 12 hours when you plug it for the first time.
How long does the charge hold?
Approximately 30 mins. Although depending on several factors [like weight], it could last longer or deplete faster. It should cover 14 miles distance with a fully charged battery.
Can the bike go more than 12 mph?
The bike has a maximum speed of 14 mph. But it cannot go beyond the specified speed limit because it's designed that way to keep the kids safe.
Do I have to charge it regularly?
If your kids are deeply into dirt biking, then you need to charge it frequently because they'll want to ride the bike as much as they can.
Is it possible to control the speed of this bike?
No, this is a single speed bike.
Alternative Product – Razor MX650 dirt bike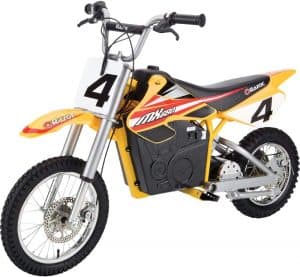 If you feel like MX350 isn't the one for you, hold up a second! There's another bike from Razor that you should check out. The MX650 is also an electric dirt bike that can go up to 17 mph, which is higher than the Razor MX350 top speed. It has a sturdier all steel frame and has a run time of 40 minutes- that's more than what the MX350 offers.
The bike has a higher weight limit, being able to carry up to 220 lbs. [You can understand about dirt bike weight limit here if you're curious about the ideal bike according to a biker's weight.]
There is a downside to the MX650 – it is quite heavy, and young riders might not be able to ride it properly, even though the other features are super kid-friendly.
Overall, the MX650 is definitely a dirt bike that you should consider.
Another good option would be Razor MX500. Check out our detailed review for it.
Last but not least – Razor MX400 Review!
Wrapping up
The legendary scooter manufacturer Razor- is no stranger to an American household. Since their inception in the early 2000s, they've been sincerely focused on developing innovative products that won them countless accolades.
Hopefully, one day this bike will also reward them with honor and prestige. It is truly one of the best beginner dirt bikes for kids. I hope my Razor MX350 review helps you to understand the charms of this product better.