You can only keep your kids at home to a certain extent. Eventually, they'll try to go outdoors. Once they get the taste of it, it'll be hard to resist. So what can you do? You can build up their interest in one of the most exciting hobbies- dirt biking!
And razor MX500 happens to be the perfect bike to get them going. It is an extremely popular choice for an electric dirt bike and is easy on the bank balance too.
If you're still undecided about getting one, my Razor MX500 review should solve most of your queries. Stay hydrated while you scroll!
Introducing Razor MX500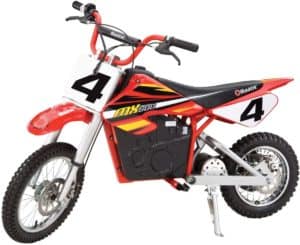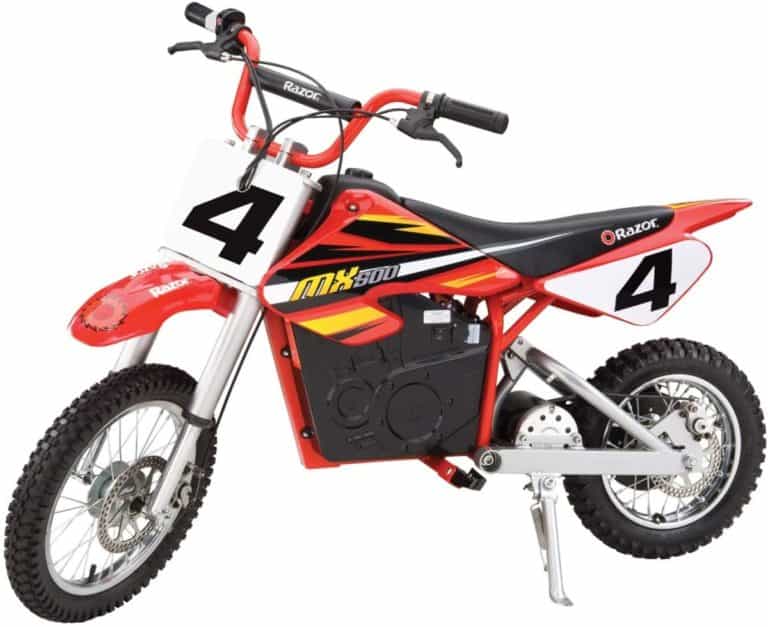 The razor MX500 is a high-quality kids' dirt bike with top performance and intriguing features. Just by a look of it, you can tell this one was made for offroading through any terrain. Razor loves making bikes that are the comfiest for a kid. This one followed that legacy.
From knobby tires to dual suspensions, it has everything to make sure your kid has an absolute blast outside and keeps coming back for more. While researching, I found this product has more user-friendly features than many of its competitors.
It is a reliable dirt bike for beginners, in my opinion.
Who is this product for?
This is the ideal dirt bike for kids aged 8-12. Growing kids need to have their challenges leveled up as they keep on maturing. And this one struck the right balance- giving us a bike that's not for too young children nor teenagers.
Its steel frame is dependable and carries up to 175 pounds, and the knobby pneumatic tires ensure smooth rides no matter what the terrain, and the dual suspension and double disc brakes further simplify the riding experience.
All of them come together and make a brilliant product for your kid's offroading adventures.
Problems You Might Face
1.   Long charging duration
Charge time is definitely the biggest issue with this bike. 12-hour charge time for an approx 40 min run time is just not fair. I even got tilted the first time I saw the specs.
I'm sure there will be quite a few people who will dislike such long hours, more so if they got a proactive child in their home.
It gets even worse when I consider the price tag. Some customers feel like they should have gotten better battery backup, considering the amount of money they're cashing in.
2.   Too small for teenagers
I took a major issue with its size. It has a dimension of 56″[H] x 36″[W] x 24.5″ [L]; I don't think it is big enough to carry a 14-year-old, as the Razor claims. To me, it felt ideal for 10-12 year olds. Maybe an 8 year old, if they're growing early.
My opinion on that matter would be that You should consider looking at Razor MX650 for 14 year olds.
Pros & Cons of Razor MX500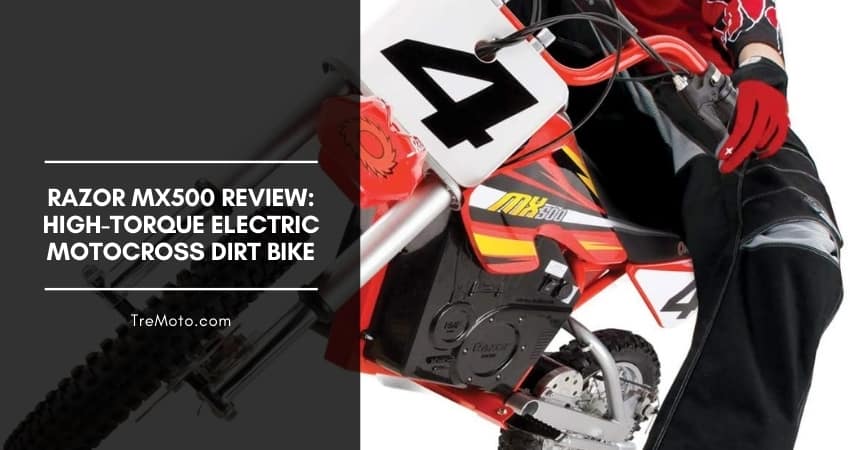 Razor MX500 Review: Features & Benefits
Razor MX500 has some of the most incredible properties found in a kids' dirt bike. It is capable of making your kid swoon. The stylish design, kid-friendly perks, and quality of life benefits make it stand out compared to other dirt bike brands.
Got you curious? Good, head over below, and you'll see what exactly I'm talking about:
●     Powerful Motor
I'd like to start this review by showcasing its powerful 500W chain-driven motor. The high torque motor delivers stupendous firepower for a kid's bike. I've seen kids run this bike, and oh boy, I gotta tell you, it operates magnificently.
●     Top speed
This bike can reach 15 mph in a matter of seconds. I don't think there are many dirt bikes for kids who allow this much top speed, and it's kinda expected since it's for kids and all.
But having a dirt bike with 10-12 mph top speed is the training wheels of the dirt bike world. Sure, that is great for children aged 5-8 but eventually, when kids grow up, and at that time, this kinda proves to be counterproductive.
I'm not taking a dig at bikes that have that, and I'm just saying a growing kid is better off with this much speed, especially if they're gonna be a teenager pretty soon.
●     Less noise generation
While the 500W motor is undoubtedly strong, you'll be surprised to find that the bike will still remain super quiet. Yes, being silent is a thing with electric dirt bikes, but the MX500 is even quieter than others. Also, biking communities will surely love this noise-free feature.
●     Heavy-duty Battery
This dirt bike runs on a battery pack consisting of 3 batteries, each being 12V. They are acid-sealed and rechargeable. The battery pack is powerful for continuous usage.
You could get 40 mins of runtime at maximum speed with one charge cycle. But it depends on several external factors that could let it run for longer or shorter. This is why I don't like runtimes; they can be confusing.
I'll give you a better estimation- you can expect it to run for 10 miles.
But after getting fully charged, it delivers a solid output. You can charge the bike at night, and it'll be ready to run by the time breakfast is over.
You might be a bit over your head if you have an uber-excited kid on your hands, so set up ground rules, like they could run the bike after they're done with their studies or can play with it for a limited amount of time.
The batteries are removable; that's an improvement from Razor MX350, I must say.
As an Amazon Associate TreMoto earns from qualifying purchases.
●     Multi-terrain Tires
The knobby tires are extremely handy for a multi-terrain experience. These tires are pneumatic, meaning they're full of compressed air that will let you speed through smoothly on any road, as well as hilly terrains. Most kids' dirt bikes have plastic wheels, so I welcome this change.
Exploring nearby hills would be a blast with these comfortable 16″ front and 14″ rear tires because they're specially made to tackle the hardships your kid's gonna face while traversing. I found this idea to be really thoughtful.
Not just that, riding through mud and water is much easier with a pair of these.
As an Amazon Associate TreMoto earns from qualifying purchases.
●     Smooth Suspension system
Alongside knobby tires, you'll also get dual suspension that will significantly reduce the bumps your kids might face. A sound suspension system is crucial for a bike because it minimizes the shocks the rider faces when they're out running with their bikes. It is all the more important when a kid is riding on rugged terrain.
Having not one but two suspensions will definitely smoothen the experience for your little champ. This is an excellent upgrade from MX350 and other previous models.
●     Top-notch Brakes
Suspensions aren't the only thing that comes with a pair on this bike. The braking system of MX500 consists of two disc brakes, one on each handlebar. Reducing the speed or totally stopping the bike becomes easy this way, and your little rider can focus more on what's in front of them.
To me, this felt like the perfect braking system for a beginner.
●     Fast Assembly
Putting it together is a child's play, literally. After unboxing, your kid can piece it all together in less than 30 minutes. It looks like a pretty mundane thing, but it has a big effect on your child.
By assembling it, they'll feel a sense of accomplishment. And they'll also be more responsible towards it. These subtle positives make it a great child's product.
●     Exceptional Design
Razor MX500 mimics a real grown-up dirt bike with its steel frame and authentic geometrical shape. This isn't just for show; it gives a slight advantage over bikes that don't have this kind of build when riding on rough terrain.
The steel frame, however, makes it weigh close to 100 lbs. Your kid might not appreciate that so keep that in mind or double-check with them before getting one. But in return,  that frame lets the bike carry up to 175 lbs!
●     Comfortable Grips
Now, this is a feature I love. This dirt bike has throttle control that you can enable from the rubber grips near the handlebar. The motor comes with variable speed control, so your precious kid will have a much better time on the bikes.
Alternative products
The Razor SX500 is a good alternative to the Razor MX500. SX500 is more powerful with better battery life and bigger size.
As an Amazon Associate TreMoto earns from qualifying purchases.
Also check out the Razor MX650.
Wrapping up
Time flies when you're having fun. I had a blast writing this Razor MX500 dirt bike review, so imagine how much fun it'll be for those who'll be riding it every day?
It's an auto choice for those kids who want fast and comfy rides through any kind of terrain while generating as little noise as they can. From every angle, I found it to be a sweet dirt bike for an aspiring daredevil.
If the charge time doesn't bother you, then go for it!