Electric dirt bikes actually make a solid birthday present. Your little one will love it. The problem is, there are way too many of them in the market, and filtering them out one by one is a massive job in itself.
Here's a simple trick, whenever you're in doubt, always go for the brand Razor. And I just happen to know a fantastic beginner dirt bike from them- The Razor MX400!
In this Razor MX400 review, you'll find almost everything you need to know about this dirt bike. Scroll down for more details on the amazing and beginner-friendly MX400. So, let's get started!
Introducing Razor MX400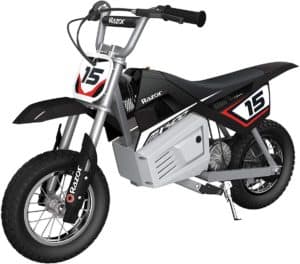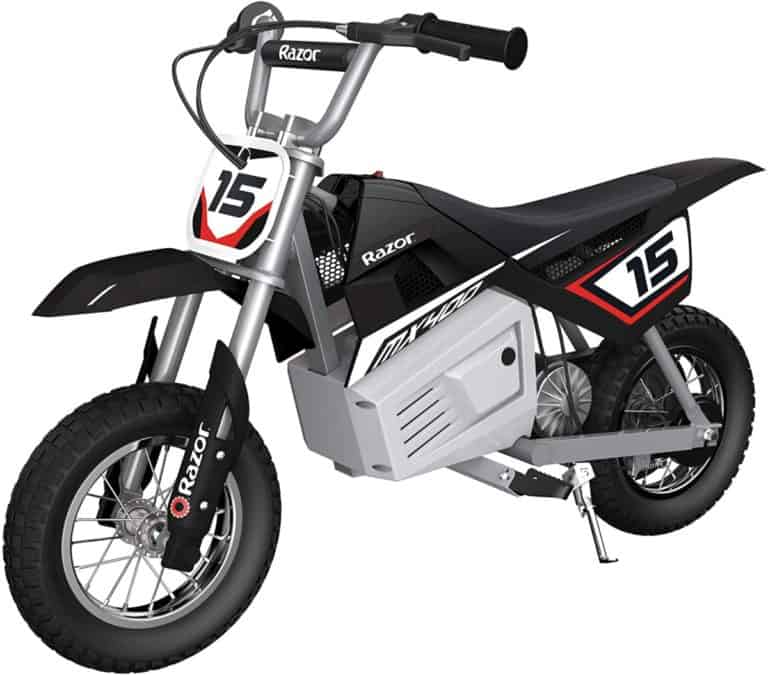 Among many other Razor products, MX400 makes its way to kids' hearts with its 350W battery-powered motor and amazing authentic dirt bike structure. Razor MX400 can be considered the perfect starter dirt bike for your kid with its moderate speed and easy controlling system. In fact this is the second highest selling dirt bike for kids in the US (MX350 is the top selling one).
Made with high-quality steel and designed in authentic dirt bike geometry, MX400 is not only durable but also cool enough to give your kid the experience of riding a real dirt bike.
The 12-inch slip resistance front and back wheels make the ride on muddy and watery tracks smooth and straightforward, just like a ride on a plain track. Also, the tires are air-filled, which acts as the perfect suspension substitute for minimal bumping and shaking.
Who is this product for?
Razor is known for making products for young riders. This particular model of the electric dirt bike is ideal for children as young as 4 years old and teens. The MX400 has the weight capacity of 140 pounds (64 kg) which makes it rideable for anyone at that weight range.
Problems you might face
1. A bike with zero-suspension
MX400 does not come with a real suspension system, making it a bit difficult to ride on rocky tracks. The knobby tires work as support on bumpy trails, but having a real suspension system would have made it much more effective.
2. The compact size
From the description of MX400's dimensions, it is clear that the bike is quite small, even for its recommended riders (13+). Rather, this bike will be an excellent choice for your little biker's very first ride.
3. Charging period
The most annoying thing about MX400 is its long charging period. This bike takes 12 hours to be fully charged but runs for only 30mins. Plus, hours of charging mean a rise in your electricity bill, which is harmful to your pocket!
Pros and Cons of Razor MX400
Things We Liked About It
Safe for young riders (4+)
Quite affordable
Sleek design
350w, high-torque chain-driven motor
Easy to ride
Things We Didn't Like
Too small for recommended aged kids
Long charging hours
Low battery life
No real suspension system
Razor MX400 Review: Features and benefits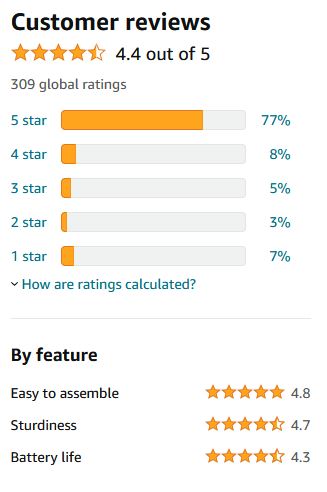 Let's look into some of the features that make MX400 covetable for parents and suitable for kids.
1. The set up
The first thing I'd like to mention about the Razor MX400 is this dirt bike comes in assembled. So, you don't have to worry about setting it up as this product arrives ready to be used.
2. Reasonable speed
Every parent worries about their kids getting injured from riding too fast. No worries, with the Razor MX400, you can relax.
Compared to the size of the bike, the speed that MX400 offers is quite decent but not dangerously fast. Its 14mph speed should be more than enough to make your little biker get obsessed with it. However, the speed is just perfect to be safely enjoyable for the young ones.
3. Strong construction
Razor is a well-known brand for their quality products, and this Razor MX400 guy is not any different. However, most people expect small bikes to be made of plastic. Guess what?  This bike's frame is made of the best quality solid steel for the durability that a kid's bike needs.
Even if the MX400 is made of steel, the bike is not heavy and takes all the falls gracefully with the young rider. For lightweight and durability, the bike is really easy to control. The authentic dirt bike geometry will give your kid the feel of a real dirt bike while riding the MX400.
Another thing worth mentioning about the construction is that the bike's front part is designed a bit heavier, which allows the bike to be stable while on the track.
4. Safe ride every time
There should be no doubt about the safety of the Razor MX400. Since the bike's dimension (44" L x 24.5" W x 22.5" H) is pretty compact, parents should have no reason to feel insecure with it because even if their kid comes across any difficulties controlling the bike, their feet will always touch the ground.
The bike comes with a lovely hand-controlled rear brake system that allows the rider to put a stop in an instance. Plus, the wheels are 12" curvy rubber tires, which are really good for stability on a bumpy ride. Also, the tires work equally well even in muddy trails, which means they won't let your kid slip on mud or water while riding.
5. The Power Source
Razor MX400 runs on battery, and the battery system of this bike is remarkable! The rechargeable double 12v lead-acid battery produces enough power to run the bike for half an hour or 10 miles in a single charge, though it may vary slightly depending on the rider's weight and terrain type.
Razor MX400's charging capacity does not change drastically over a short period of time. It means you won't have to deal with frequent battery swap as the charge capacity doesn't degenerate much and get the same level of run time for a long time.
Many electric dirt bikes for kids may offer the same run time at a cheaper rate, but batteries may not last the same as MX400's batteries for sure. Also, 30 mins of run time on a single charge is not a bad deal when no parents want their kid riding the bike all day long, right?
6. Effortless maintenance
Razor MX400 is super easy when it comes to the matter of maintaining an electric dirt bike. For parents who are not up for frequent check up on the bike, this product is for them. This particular dirt bike is so low maintenance that even the kid can take care of it pretty well.
MX400 Dirt bike riding tips
Here are some tips which may benefit you on the journey with MX400-
Charge the bike at night. This way, your kid won't have to wait for a long time before s/he finally gets to ride the bike.
Always prepare the little bikers with protective gear before each ride.
Even though it is a low-maintenance dirt bike, check on the bike from time to time.
If you want, buy a cover for the bike
Frequently asked questions
1.   Can an adult ride the Razor MX400?
This bike is an ideal starter bike for a kid, which means it is too small for an adult. The bike is strong enough to carry any one of the weight limits, but the rider's height will definitely be an issue.
2.   How long does MX400 take to charge?
The Razor MX400 takes almost 12 hours to get charged. So, if you want to avoid a nagging kid around, charge it overnight and let them ride it the next day.
3.   Is it suitable for a kid's first ride?
Absolutely! The top speed limit and amazingly strong but compact body are perfect for your little champ to start their riding experience.
Alternative Products
Before finalizing any dirt bike you should check out the weight limit and select the one which is perfect for you. Here are a few Razor Dirt Bikes which we reviewed in depth –
Final Verdict
Parents might compromise for themselves but will want nothing short of the best dirt bike available for their precious child.
Kids love adventure, and they surely love to have fun, and Razor MX400 is an amazing product that can satisfy their thirst for adventure. Plus, as parents, you don't have to worry about their safety.
I hope my Razor MX400 review could resolve the confusion about choosing a ride for your child and help you out with your decision. Get your kid a dirt bike and let them explore the fantastic adventure!