The Chinese wanted to try their luck on the dirt bike market, and I must say they're doing a good job. Apollo is a successful bike brand that's dishing out stylish and powerful dirt bikes for affordable prices. And its 70cc dirt bike is no exception.
It's hard to come across a kids' bike like this. Curious to know what exactly I'm talking about? Then how about you read through my Apollo 70cc dirt bike review and find out.
I'll cover all the features, pros and cons, and the other nitty-gritty details just down below…
Introducing "Apollo DB-25 70cc Dirt Bike"
Apollo's DB-25 is a bona fide kid's dirt bike that genuinely caters to a child and invokes curiosity in them. It's a gasoline-powered ride with a light 70cc engine, and unlike its battery-powered counterparts, it has a reliable runtime.
You might think since it's a kids' bike, it might prioritize other utilities and cap the max speed. But, surprise, surprise, it's got a top speed of 37 mph, a step ahead of most of its peers.
It has everything a kid's bike should have.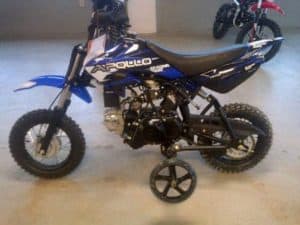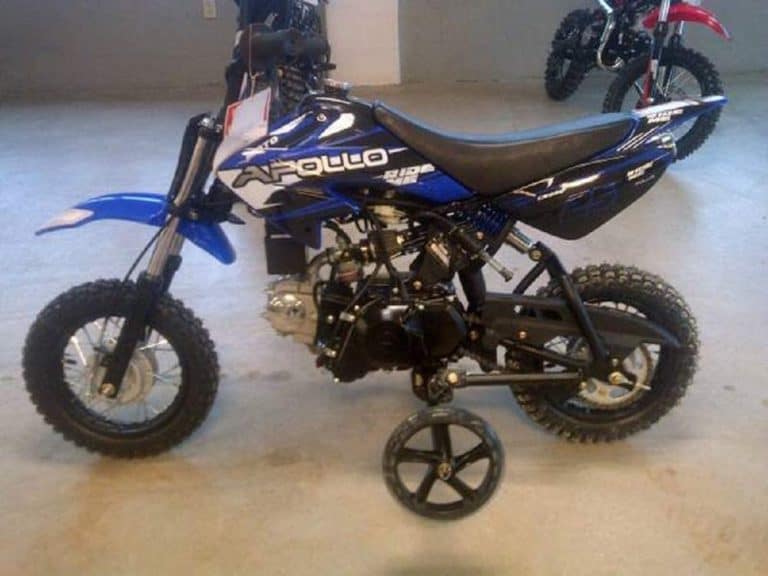 Who is this product for?
This is a kids' bike that's specially made for those who are still relatively small and just starting to learn how to ride a dirt bike. Since it's fully automatic, they'll have a much easier time with it.
It's a superb product to teach your kid about dirt biking. But unlike other "training bikes", kids won't discard it for an upgrade. Because this just might be the best dirt bike for ages 6-9.
I understand that the bike claims it's good to go for kids aged 9-15, but I disagree; it's too small for them.
From my experience writing various dirt bike reviews, I've noticed most manufacturers overstate the age range, so please be mindful of that.
Problems You Might Face
Flimsy tubes
I only have one bone to pick with this machine; it's the tubing. There is no doubt the wheels are decent and will serve you well, but the tubes aren't as durable, so you'll most likely have to change them after a few months.
Pros & Cons
Things We Liked About It
Dual brakes and throttle control
Good mileage from the light engine
All-terrain wheels
Things We Didn't Like
Tubes don't last long
It doesn't come fully assembled
Apollo 70cc Dirt Bike Review: Features & Benefits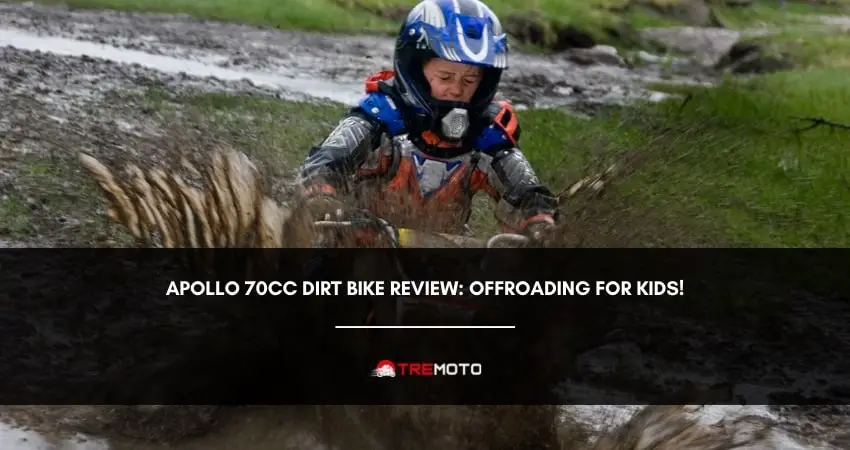 Efficient engine
Any bike is as good as its engine. It's the heart of any vehicle. Luckily, the DB-25 from Apollo has a reliable air-cooled four-stroke engine. Since it's a single-cylinder 70cc engine, it isn't too demanding. Because the lower the cc, the lighter the engine is, and light engines don't need too much energy.
But even so, it still can reach up to 37 mph, something that's not possible with the likes of Honda CRF50 or SSR 50, which are widely regarded as top beginner-friendly dirt bikes.
Less fuel, stellar performance, I see a win-win situation!
Excellent braking system
A parent will always be concerned about their child's safety. I'm sure many will have their reservations about handing their kid a dirt bike since they're afraid of the worst.
If you fall into that category, you'll be relaxed to know Apollo added one brake on the front as well as rear to ensure your precious kiddo has enough opportunity to pull the brakes before the bike goes out of control.
Plus, there is a throttle control mechanism to keep the speed in check. Indeed it has one of the best braking systems for a kids' bike.
Reliable and stellar performance
DB-25 has a max torque of 9.0/5500 and runs on 4.5 KW. So how does it reach a max speed of 37 mph reliably? Because it's a fuel-powered machine, generating more energy. I'd put this model ahead of several electric dirt bikes because it has a fuel tank with a capacity of 3L.
Any electric bike in this price range and cc would run for 40 minutes at best, yet take hours to fully. But this one will surely run more than an hour. It's made of a single steel frame, so it's definitely sturdy.
Child friendly
The entire system runs on auto. This is a plus point for kids as they won't have to spend time learning how to operate and get into riding immediately, as soon as they're familiar with balancing.
Oh wait, about the balancing… you'll get training wheels with this product. So even if your kid has zero ideas on how to ride a dirt bike, they won't have much difficulty giving it a go. And eventually, they'll run it smoothly even without any wheels.
Having a max weight capacity of 138 lbs is also decent, as most kids are generally inside that weight limit. Apollo kept the seats low [440 mm] for them to comfortably mount them.
You can get this bike in different colors, such as red/blue/green. There's also a black version, but it's super rare. Not just the color, the polishing is neatly done; it's bound to attract kids.
Children are often impatient, so the long waiting time while charging might upset your kid.
Good for offroading
The tires are impressive for a bike of this price range. You can run it on any terrain because the all-terrain knobs provide immense support. This bike has a wheelbase of 36″ and a ground clearance of 5.79″. I'd say it's decent because it can hold its own on almost any condition.
Alternative products
Additional Read: Apollo 250cc Dirt Bike for grownups
Wrapping up
A parent has a lot of worries. I can definitely say you'll be concerned about your kid riding a dirt bike at least once, and that's completely normal. But I sincerely hope my Apollo 70cc dirt bike review will alleviate some of your fears.
It has everything a child's bike should have, plus the safety features are commendable.