Buying dirt bikes for beginners and/or kids needs as much deliberation as for experienced bikers. In fact, experienced bikers have it easy, since they know what they want.
There are some incredible dirt bikes out there that specifically tend to the needs of inexperienced riders. Electric dirt bikes, like the Razor, are one such example. Razor dirt bikes are often priced differently than most other dirt bikes since most are not electric.
This is why a lot of confusion goes into determining how much does a Razor dirt bike cost. To answer it simply- It depends on the model of the bike you want to buy. The cheapest of the bunch is the MX350 Dirt Rocket, which costs $399.99.  On the opposite side of the spectrum is the MX650 Dirt Rocket, which comes for $779.99.
Electric dirt bikes have a lot in common with gasoline-powered dirt bikes as well as a few differences. Let's take a detailed look below to learn more.
Cost of Razor dirt bikes
Electric dirt bikes were a game changing innovation. It eliminates the need for you to restock your fuel and lets you roam freely without worrying if there's any gas station nearby. Provided you have enough energy.
Razor has 4 electric dirt bikes in their ranks. All of these bikes have different specifications as well as prices. Let's take a look at them:
1. MX350 Dirt Rocket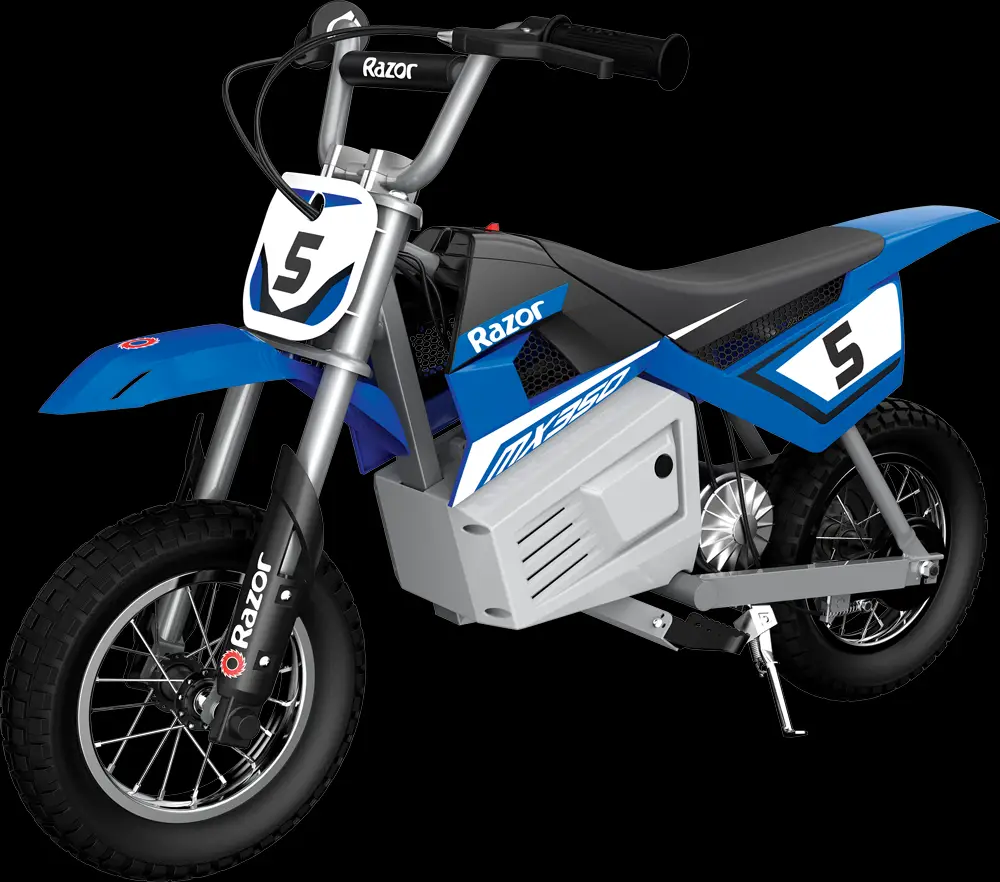 A perfect dirt bike for beginners to learn their ropes, the MX350 Dirt Rocket is an electric bike with a top-notch design. For anyone willing to start learning dirt biking aged 13 and above, this bike will give them a smooth learning experience.
Equipped with pneumatic knobby tires, this dirt bike handles off-road terrains as well as any other bike in its category. It doesn't matter if the terrain is soft or rough, the MX350 Dirt Rocket flies over these surfaces like it's nobody's business.
The MX350 Dirt Rocket provides great power as well as superior handling due to its rear-wheel drive. Also, the throttle is a twist grip along with a rear brake that is operated by hand to ensure controlling this bike is simple yet effective.
Once charged, the MX350 Dirt Rocket can run up to half an hour without interruption due to a couple of rechargeable 12V batteries. With a top speed of 14 miles per hour, this bike will cost you $399.99.
2. SX500 Dirt Rocket McGrath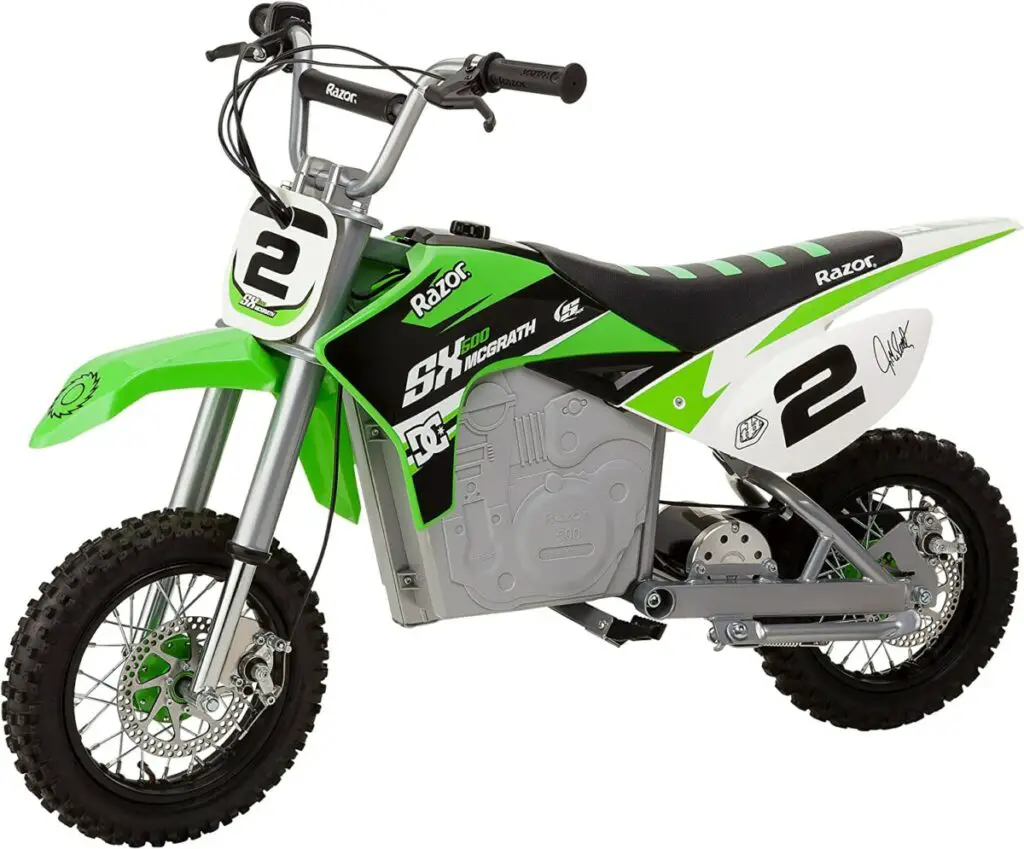 Inspired by Jeremy McGrath, who is also known as the king of motocross, the SX500 Dirt Rocket McGrath is a dirt bike that often tops the chart of best razor dirt bikes.
What makes this bike a must-have is its exquisite design and performance. Equipped with a powerful motor that has high torque, the bike is very powerful compared to its contemporaries.
The power of the SX500 Dirt Rocket McGrath isn't uncontrollable, however. The bike has dual suspensions alongside riser handlebars that makes controlling this bike very easy, especially for newbies. Pneumatic knobby tires and dual disc brakes that are operable by hand also play a big part in their superb control on rough terrains.
The top speed of the SX500 Dirt Rocket McGrath is 15 miles per hour, which is plenty when it comes to bikes designed for rookies. After charging the batteries once, the bike can run up to 40 minutes straight. This long battery life can be attributed to the bike having three 12V batteries. The SX500 Dirt Rocket McGrath costs 709.99 USD.
3. MX650 Dirt Rocket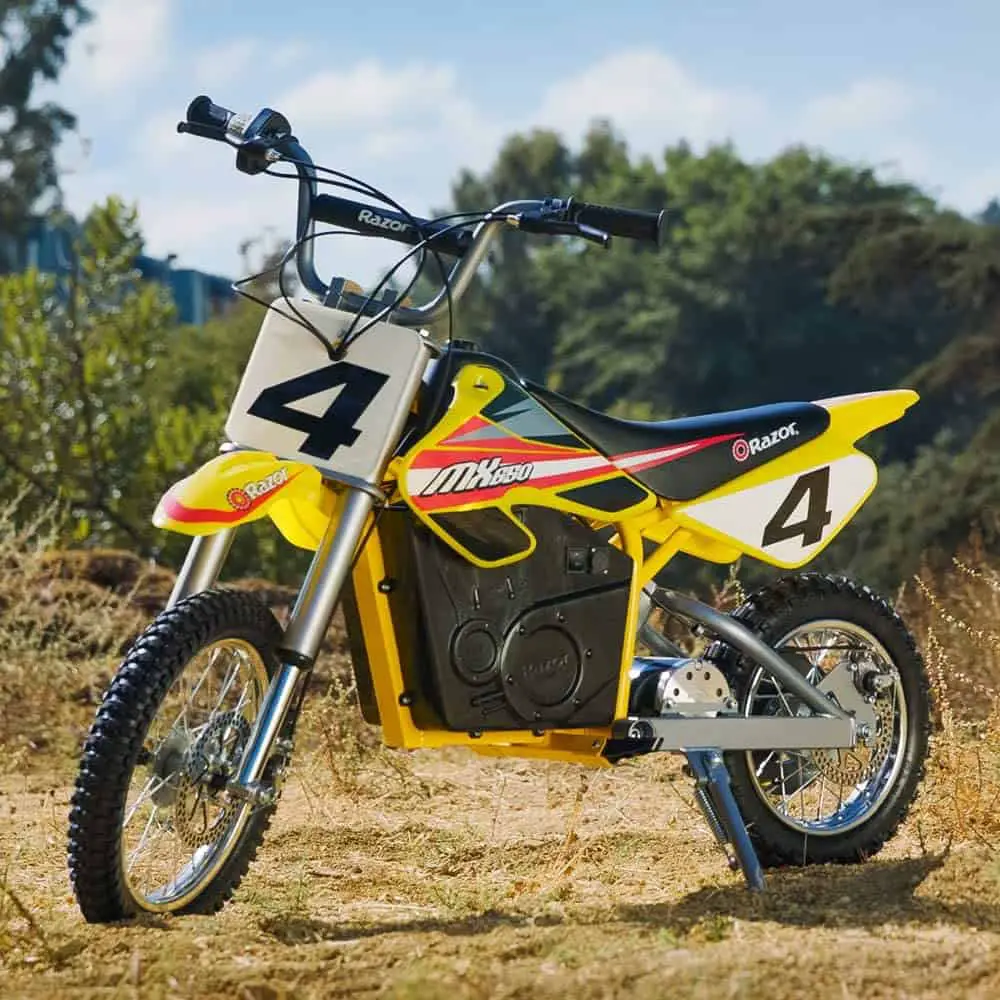 When you are driving a dirt bike off-road, the roads are never smooth like concrete. Not only that, they are upward-sloping more often than not. As a result, you need a dirt bike that is powerful to be able to deal with these terrains. The MX650 Dirt Rocket is one such bike.
An electric bike through and through, the MX650 Dirt Rocket is very fast compared to other bikes in its category. It is also inspired by motocross bikes, so you know you are in good hands when driving this. The control of this bike is superb due to a riser handlebar that can easily be adjusted while also having twist grip acceleration. The driver is always in full control due to rear and front disc brakes which are operated by hand.
The eco-friendly MX650 Dirt Rocket has long battery life. You can use this bike for 40 minutes straight after charging it. With a top speed of 17 miles per hour, it provided kids and rookies the necessary thrill without being too dangerous. The MX650 Dirt Rocket costs 779.99 US dollars.
4. MX500 Dirt Rocket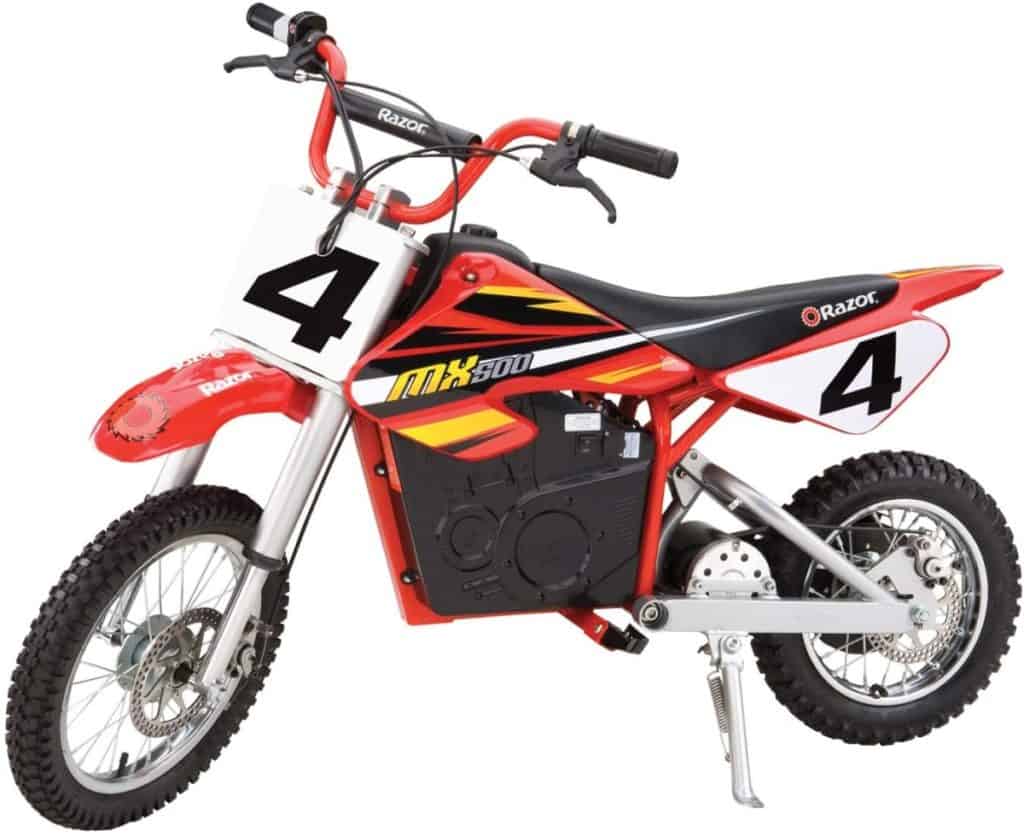 Driving a dirt bike off-road is always an exhilarating experience. What makes this experience even greater is superior handling that ensures the biker's safety. When it comes to the safety of the rider, no electric bike comes close to the MX500 Dirt Rocket. This dirt bike has big pneumatic tires and a variable speed motor that makes dirt biking an enjoyable experience.
The MX500 Dirt Rocket provides high torque, which is essential to bringing out the best of the engine in off-road terrains. The control of this bike is even more enhanced due to dual disc brakes which are operated by hand. This bike has a 40-minute battery life and a top speed of 15mph. The MX500 Dirt Rocket costs 699.99 USD.
Can you ride a Razor dirt bike on the road?
Razor dirt bikes are designed for off-road surfaces. All of their specifications are for handling sand, mud, and other terrains better. But that doesn't necessarily mean that these bikes are not suitable for pavement. With proper supervision, you can let your kid drive a razor dirt bike on the road.
How fast does a Razor dirt bike go?
The primary target of Razor dirt bikes is children and newbies. They need a dirt bike that has a speed that is neither too much nor too little. If you are in the aforementioned category, the 14-17 mph top speed of a Razor dirt bike will be more than enough for you. But if you have more experience under your belt, this speed will not suit you at all.
What is the biggest Razor Dirt bike?
Razor dirt bikes can handle a whole range of weight classes. The highest weight a Razor dirt bike can handle varies from 140 pounds to 220 pounds. The biggest Razor dirt bike is the Razor MX650, which can handle 220 pounds of weight. It is also the fastest Razor dirt bike with a max speed of 17 miles per hour.
Final Words
It is very normal to enquire how much a Razor dirt bike costs when buying one. No matter which one you intend to buy, the Razor dirt bikes are all within an affordable price range. On top of that, they are very eco-friendly due to being electric powered. So these bikes will be a perfect match for children and rookie dirt bikers.