Motocross racing is a costly sport. Why? Because the dirt bike itself turns out to be quite expensive. Plus, there is a matter of maintenance and the price definitely varies from brand to brand and how well the bike is equipped with features.
The best dirt bikes by well-known brands can cost you around $5000-$10,000+ and you can get used bikes starting from $1000 depending on their age. The kids' dirt bike, on the other hand, you can by for around $400- both gas powered and electric.    
In this article, I'll be sharing information on the latest price of dirt bikes, tricks to buy dirt bikes, and the factors responsible for the bikes' pricing. If you are looking for a dirt bike to purchase, take a peek at the potential prices for your preferred dirt bikes.
Latest Dirt Bike Pricing
Here, I've gathered all the latest pricing of dirt bikes from different brands so that you can choose the best one within your budget. I'll be going from the most priced to the least priced.
| Brand | Model | Price (2021) |
| --- | --- | --- |
| Honda | CRF450RWE | $13,380 |
| TM | MX530 Fi/ MX450 Fi | $12,199/$12,999 |
| TM | MX300 Fi/ MX250 Fi, | $11,995/ $9195, |
| TM | MX300ES/ MX250ESTwo-stroke | $11,699/ $11,199 |
| Husqvarna | FC450 | $10,299 |
| KTM | 450 SX-F | $10,199 |
| Husqvarna | FC 350 | $10,099 |
| KTM | 350 SX-F | $9999 |
| Yamaha | YZ450F | $9399 |
| Kawasaki | KX450 | $9399 |
| Husqvarna | FC250 | $9399 |
| KTM | 250 SX-F | $9299 |
| Suzuki | RM-Z450 | $8999 |
| TM | MX144/ MX125 Two-stroke | $10,399/ $9999 |
| Husqvarna | TC250 two-stroke | $8499 |
| KTM | 250 SX Two-stroke | $8399 |
| Yamaha | YZ250F | $8299 |
| Kawasaki | KX250 | $8299 |
| Honda | CRF250R | $7999 |
| Suzuki | RM-Z250 | $7899 |
| Yamaha | YZ250 Two-stroke | $7499 |
| KTM | 150SX/125SX Two-stroke | $7599/ $7399 |
| Husqvarna | TC125 Two-stroke | $7499 |
| Yamaha | YZ125 Two-stroke | $6599 |
| TM | MX100/ MX85 Two-stroke | $8299/ $8199 |
| Husqvarna | TC85 Two-stroke | $6199 |
| KTM | 85 SX Two-stroke | $6099 |
| Husqvarna | T65 Two-stroke | $5299 |
| KTM | 65SX Two-stroke | $5099 |
| Yamaha | YZ85 Two-stroke | $4699 |
| Kawasaki | KX100 | $4649 |
| Yamaha | YZ65 Two-stroke | $4599 |
| Husqvarna | TC50 Two-stroke | $4499 |
| Kawasaki | KX85 | $4499 |
| KTM | 50SX Two-stroke | $4399 |
| Suzuki | RM85 Two-stroke | $4299 |
| KTM | 50SX Mini Two-stroke | $3899 |
| Kawasaki | KX65 | $3799 |
Kids Dirt Bike Pricing
Here you can look into the prices of kids' dirt bikes from various brands. 
| Brand | Model | Price |
| --- | --- | --- |
| Razor | MX350 | $289 |
| Razor | MX400 | $349.99 |
| Razor | MX500 | $594.59 |
| Razor | SX500 | $600 |
| Honda | CRF50F | $1,549 |
| Yamaha | TTR | $4,449 |
| KTM | 50X | $4,399 |
| KTM | 65 SX | $5,099 |
| Honda | CRF125F | $3,199 |
| SYX Moto | Holeshot 50cc 2-stroke | $385.50 |
Why are dirt bikes expensive?
You must be wondering, why are these dirt bikes so expensive! Well, to begin with, dirt bikes are not made with cheap materials. The making requires high-quality materials and the frame, tires, and engine adds up to the cost. The materials are imported from Japan and Europe, so there is an obvious shipment cost.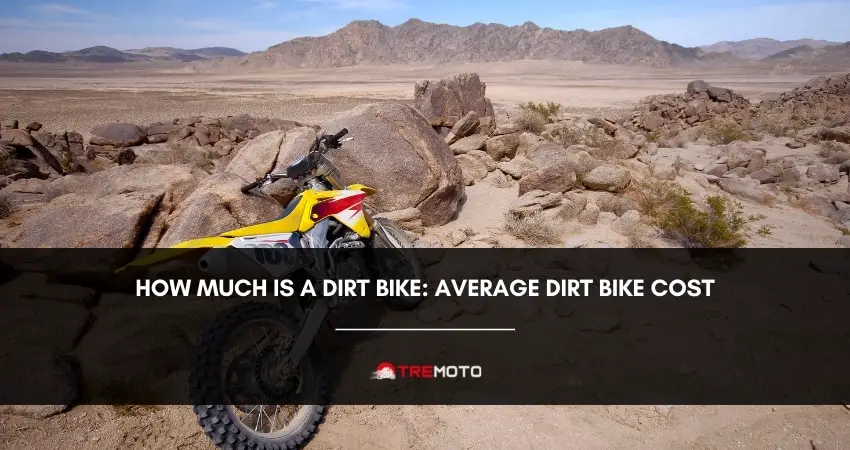 Plus, there is marketing cost, operation costs of dealership, branding, and rider sponsorship that massively adds to the pricing. It can be said that the actual physical materials cost less than half of the pricing, but still, to bring a machine like this to the marketplace sure requires expenses and cannot be avoided.
There is, of course, a cheaper option- Chinese dirt bikes. They will save you some bucks, but you cannot expect them to be as sturdy as Yamaha or Kawasaki dirt bikes. The build quality is definitely not up to the Japanese or European build, but the Chinese dirt bikes are getting popularity for their budget-friendliness.
How much is an electric dirt bike?
If you are looking for an environment-friendly option to satisfy your thirst, then electric bikes are just the thing. Unlike fuel-run dirt bikes, these amazing bikes run on electricity and equally as fun and quite fast.
Electric dirt bikes for adults can range anywhere from $6,000-$11,000, and used electric dirt bikes can be around 35% less than the brand-new ones. It means, if a brand-new electrical dirt bike is $6000, a used electric dirt bike will be around $4000.
There are electric dirt bikes from various brands but KTM is the only major brand so far that has launched an electric dirt bike. You can get a brand-new KTM Freeride E-XC electric bike for $10,499 and a used one from $6000-$8000 depending on the condition and time.
You can also look into other brand's electric dirt bikes such as Alta motors (ranging from $5000-$15,000), Luna Sur-Ron electric dirt bikes (ranging from $3900), Zero Motorcycles dirt bikes (ranging from $5000-$10,995) and so on. 
How much do mini/Kids dirt bikes cost?
Why should adults have all the fun when there is an option for kids? Yes, you can find mini electric and gas-powered dirt bikes for your kids who love adventure and thrill. There are two types of mini dirt bikes to choose from- electric and gas-powered and they are of different price ranges.   
Electric dirt bikes prices
Electric dirt bikes for kids can be quite expensive and there are a lot of brands to choose from. The bikes' price generally ranges between $250-$350.
One of the most popular companies of kid's electric dirt bike companies is Razor. They are actually well-known among kids because of their electric vehicles. You can also try some other brands such as PCC motor, X-Pro, and SYX Moto.
Gas Powered mini dirt bikes prices
If you decide to go with the gas-powered ones, they'll cost a bit more but will definitely be worth it considering the real motocross experience. Brands like SYX Moto, X-pro, Fit right, and Apollo produce gas-powered mini bikes for the youngsters.
You can get a gas-powered SYX mini dirt bike for around $385. If you want to go for well-known brands like Honda or KTM, then be prepared to spend quite some money. And if you want to go for a cheaper option like Chinese mini dirt bikes, you can get them for under $100.    
Tricks to make dirt bike ownership more budget-friendly
If you want to get a dirt bike and you also want to save some money, then following some tricks may come in handy. Here are some tricks and tips that you can adopt to own a dirt bike and save money.
1. Look for deals on Craigslist
The best way of saving bucks on a dirt bike is to buy the used ones. There are people likely to sell used dirt bikes all the time, even in your local area. You can get a good deal on those bikes as low as 30% of the current value of a new dirt bike.
But the catch is, some bikes happen to be stolen so you need to be extra careful about that and investigate before making the purchase.
2. Asking dealership for a used bike
A safe way to purchase a used bike is to ask your dealer. Because dealerships often possess used bikes which have been just traded in need of re-selling. In this case, bargaining should be easy and if you are lucky enough, you might even get warranties. The best part is, you don't have to worry about the bike being stolen as dealers do the checks before listing them for sale.
3. Look for sales
Dealerships do offer end-of-year sales to move the older stocks and restock with the newer models. I am including this information because in these sales you can save up to $1000 off the total cost.
4. Get a Chinese Dirt Bike
If your budget doesn't meet the price of your dream bike, don't be disheartened because there is always a cheaper option- the Chinese dirt bikes. If your passion for motocross is real, then you can have a look at some of the newest Chinese bikes that you can get at half the price of their competitors.
You can ride them for now, practice your skills and save for the one you've been longing for.
So, what are you waiting for?
Dirt bikes aren't just machines, they are a part of a vast corporate business too. The increase in price may seem like a barrier for young bike enthusiasts, but they shouldn't keep them away from reaching their goals. Hope this article on how much is a dirt bike helps you find your dream bike and I also believe that the  day is not so far away when you have the bike of your dreams in your grasp!